Index of All Cemeteries
Alphabetical Index of All Burials
Previous Page
Use the following to search across all the cemeteries listed.
Example: "Smith, Roger" (yes, use the quotes)
003 GREENSBORO HEBREW CEMETERY &nbsp- &nbsp Surname starts with W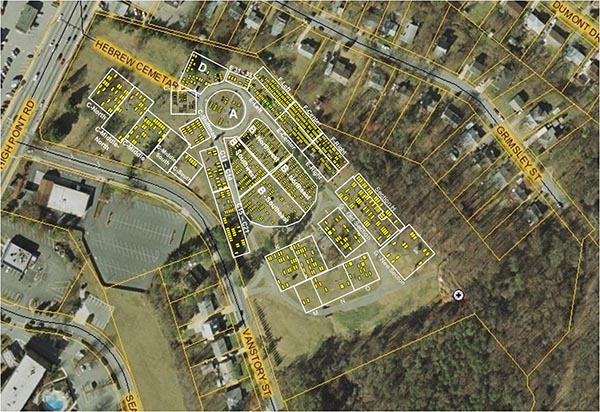 Location - Off High Point Rd (US 29-Alt) at Vanstory St.

Coordinates: 36d 02m 58.8s N; 79d 50m 00.6s W Click here for Google maps

Directions: from the Greensboro Coliseum, take High Point Rd toward the southwest for about five blocks and the Hebrew Cemetery entrance will be on the left between Grimsley St and Vanstory St.

The cemetery was started in 1910. It is owned and maintained by Temple Emanuel for the Greensboro Hebrew Community.

Click here for a map of the cemetery sections.

Surveyed by Gene Baruch in April 2010.


Wainer, Max (b. 9 Nov 1911 - d. 24 Apr 2001)
Section-B, Number-46, Letter-C

Wainer, Rose P. (b. 22 Jan 1902 - d. 9 Feb 1981)
Section-B, Number-46, Letter-D

Wald, Theresa Marks (b. 24 Jun 1909 - d. 20 Jan 1997)
Section-C, Number-4, Letter-B

Wald, William (b. 9 Nov 1912 - d. 16 Jan 1994)
Section-C, Number-4, Letter-A

Wampler, Esther Gordon (b. 21 Mar 1909 - d. 27 Dec 2002)
Section-E, Number-80B, Letter-F

Wampler, Jack P. (b. 12 Aug 1923 - d. 24 Dec 1989)
Section-E, Number-80B, Letter-E

Wasserkrug, Joanie H. (b. 2 Apr 1949 - d. 3 May 2007)
Section-I, Number-621, Letter-A

Watson, Rio Ellen Hoff (b. 1 Apr 1952 - d. 26 Feb 2008)
Section-E, Number-190, Letter-B

Waxman, Rosalie D. (b. 20 May 1935 - d. 12 Sep 2003)
Section-C, Number-333, Letter-B

Weill, Beatrice S. (b. 2 Feb 1890 - d. 24 Mar 1987)
Section-B, Number-26, Letter-C

Weill, Charles Louis (b. 29 Jul 1883 - d. 13 Jun 1953)
Section-B, Number-26, Letter-D

Weinberg, Eva Kronstadt (b. 6 Sep 1917 - d. 27 Jun 2007)
Section-F, Number-45, Letter-A

Weinberg, Murray (b. 6 Dec 1909 - d. 22 Jan 1982)
Section-F, Number-45, Letter-B

Weinman, Blanche Rabinowitz (b. NA - d. 14 Dec 1995)
Section-J, Number-718, Letter-B

Weinstein, Bertha (b. 15 Feb 1877 - d. 23 Nov 1955)
Section-E, Number-3, Letter-B

Weinstein, Helen (b. 9 Sep 1910 - d. 16 Apr 1999)
Section-G (Old), Number-451, Letter-A

Weinstein, Hikdah Schein (b. 8 Oct 1908 - d. 8 Feb 1993)
Section-B, Number-57 & 58, Letter-B

Weinstein, Laura Orleans (b. 30 Jun 0/09 - d. 28 Sep 2001)
Section-B, Number-129, Letter-B

Weinstein, Maurice M. (b. 24 Mar 1922 - d. 15 Nov 1992)
Section-F, Number-47, Letter-A

Weinstein, Milton (b. 2 Feb 1907 - d. 2 Oct 1960)
Section-B, Number-57 & 58, Letter-C

Weinstein, Roger Alan (b. 23 Mar 1954 - d. 15 Nov 2001)
Section-J, Number-719, Letter-A

Weinstein, Sam (b. 15 Mar 1873 - d. 25 Dec 1951)
Section-E, Number-3, Letter-A

Weinstein, Sol Bernard (b. 16 Oct 1904 - d. 1 Feb 1989)
Section-B, Number-129, Letter-A

Weisel, Rose Schulman (b. 22 Apr 1896 - d. 12 Dec 1977)
Section-F, Number-227, Letter-A

Weiskopf, Marvin B. (b. 15 May 1925 - d. 22 Apr 1993)
Section-G (Old), Number-415, Letter-B

Weisler, Irving Aaron (b. 27 Oct 1913 - d. 11 May 1966)
Section-C, Number-19, Letter-15

Weisler, Rita Bernstein (b. 22 Dec 1926 - d. 31 Jan 2001)
Section-C, Number-19, Letter-16

Weiss, Benjamin M. (b. 1872 - d. 1936)
Section-B, Number-80, Letter-A

Weiss, Charlotte V. (b. 10 Oct 1896 - d. 10 Sep 1975)
Section-B, Number-80, Letter-D

Weiss, Helen (b. 1875 - d. 1940)
Section-B, Number-80, Letter-B

Weiss, Samson E. (b. 12 Feb 1898 - d. 19 Sep 1951)
Section-B, Number-80, Letter-C

Weiss, Seymour Jack (b. 5 Oct 1915 - d. 15 Mar 1984)
Section-F, Number-95, Letter-A

Wetzler, Raymond (b. 26 Sep 1942 - d. 15 Jul 2010)
Section-G, Number-631, Letter-A

Williams, Robert M. (b. 8 Dec 1895 - d. 23 Sep 1964)
Section-A, Number-4, Letter-A

Williams, Rosa Sternberger (b. 25 Jan 1892 - d. 20 Jul 1985)
Section-A, Number-4, Letter-B

Winepol, Michael Scott (b. 17 Dec 1976 - d. 13 Aug 2004)
Section-O, Number-974, Letter-A

Winkle, Estelle S. (b. 24 Sep 1894 - d. 9 Mar 1969)
Section-F, Number-42, Letter-A

Winkle, Jacob P. (Jack) (b. 30 Mar 1895 - d. 13 Oct 1965)
Section-F, Number-42, Letter-B

Winklestein, Harris (b. 10 Oct 1918 - d. 11 Mar 1999)
Section-C, Number-402, Letter-B

Witten, Fannie (b. 1884 - d. 1950)
Section-E, Number-51, Letter-A

Witten, Max David (b. 1874 - d. 1952)
Section-E, Number-51, Letter-B

Wolf, Donald Oliver (b. 30 Mar 1926 - d. 16 May 2004)
Section-J, Number-707, Letter-A

Wolf, Edna Glaser (b. 7 Apr 1904 - d. 19 Feb 1995)
Section-G (Old), Number-441, Letter-

Wolf, Geraldine (b. 1909 - d. 1998)
Section-C, Number-301, Letter-B

Wolf, Irwin (b. 1907 - d. 1996)
Section-C, Number-301, Letter-A
Web page updated 6 May 2017
Index of All Cemeteries
Alphabetical Index of All Burials
Previous Page