Index of All Cemeteries
Alphabetical Index of All Burials
Previous Page
Use the following to search across all the cemeteries listed.
Example: "Smith, Roger" (yes, use the quotes)
003 GREENSBORO HEBREW CEMETERY &nbsp- &nbsp Surname starts with C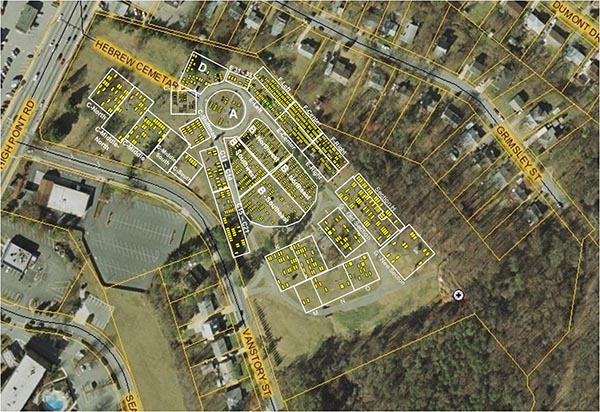 Location - Off High Point Rd (US 29-Alt) at Vanstory St.

Coordinates: 36d 02m 58.8s N; 79d 50m 00.6s W Click here for Google maps

Directions: from the Greensboro Coliseum, take High Point Rd toward the southwest for about five blocks and the Hebrew Cemetery entrance will be on the left between Grimsley St and Vanstory St.

The cemetery was started in 1910. It is owned and maintained by Temple Emanuel for the Greensboro Hebrew Community.

Click here for a map of the cemetery sections.

Surveyed by Gene Baruch in April 2010.


Cahn, Carolina Freiberg (b. 19 Dec 1874 - d. 2 Feb 1953)
Section-E, Number-53, Letter-A

Cahn, Karl (b. 29 Mar 1904 - d. 8 May 1997)
Section-B, Number-132, Letter-C

Cahn, Paula Katz (b. 2 Feb 1903 - d. 10 Dec 1990)
Section-B, Number-132, Letter-D

Camras, Irving (b. 10 Oct 1919 - d. 23 Nov 2006)
Section-F, Number-90, Letter-A

Cantor, Caroline (b. 1915 - d. 1995)
Section-F, Number-225, Letter-A

Carp, George (b. - d. )
Section-F, Number-83, Letter-B. No Marker.

Carp, Jeanette P. (b. 14 Jul 1902 - d. 13 Mar 1982)
Section-F, Number-83, Letter-A

Chandgie, Esther Kurtz (b. 15 Mar 1900 - d. 26 Jun 1957)
Section-B, Number-28, Letter-A

Chandgie, Harry Charles (b. 15 Apr 1898 - d. 21 Jan 1982)
Section-B, Number-28, Letter-B

Charmatz, Jane Suna (b. 30 Jun 1944 - d. 18 Nov 1973)
Section-F, Number-215, Letter-A

Clein, Hyman Henry (b. 1894 - d. 23 Jan 1908)
Section-E, Number-13, Letter-A

Clein, Robert J. (b. 29 Aug 1919 - d. 21 Sep 2008)
Section-G (Old), Number-427, Letter-A

Cohan, Abe (b. 2 Sep 1888 - d. 9 Feb 1967)
Section-F, Number-205, Letter-A

Cohen, Abraham (b. 15 Jun 1875 - d. 2 Jul 1965)
Section-F, Number-37, Letter-B

Cohen, Byron Neal (b. 11 Aug 1940 - d. 23 Jun 1995)
Section-J, Number-717, Letter-B

Cohen, Fannye (b. 15 Dec 1904 - d. 31 Mar 2002)
Section-C, Number-406, Letter-B

Cohen, Hermann (b. 11 Oct 1888 - d. 16 Nov 1980)
Section-B, Number-17, Letter-C

Cohen, Joan S. (b. 22 Jan 1927 - d. 11 Aug 2001)
Section-F, Number-97, Letter-A

Cohen, Joanne Bloom (b. 11 Nov 1938 - d. 9 Mar 2002)
Section-C, Number-17, Letter-H

Cohen, Lawrence Martin (b. 23 Jun 1927 - d. 14 Mar 2007)
Section-C, Number-19, Letter-12

Cohen, Mary Louise (b. 29 Dec 1896 - d. 12 Mar 1999)
Section-F, Number-37, Letter-A

Cohen, Melvin Paul (b. 1 Jun 1926 - d. 18 Jan 1974)
Section-E, Number-29, Letter-A

Cohen, Meyer (b. 15 Aug 1892 - d. 21 Aug 1965)
Section-F, Number-44, Letter-B

Cohen, Ned William (b. 25 Dec 1899 - d. 5 Feb 1975)
Section-C, Number-19, Letter-10

Cohen, Reizel (b. Unknown - d. 5 Sep 1933)
Section-C, Number-16, Letter-B

Cohen, Rosalie Bernstein (b. 29 Jan 1899 - d. 15 Jun 1963)
Section-C, Number-19, Letter-11

Cohen, Rose (b. 1900 - d. 2001)
Section-C, Number-403, Letter-B

Cohen, Sarah M. (b. 29 May 1894 - d. 23 Mar 1963)
Section-F, Number-44, Letter-A

Cohen, Zvi Israel (b. 2 May 1967 - d. 27 Jan 1990)
Section-H, Number-534, Letter-B

Colchamiro, Barbara Paley (b. 20 Mar 1930 - d. 14 Jul 1998)
Section-E, Number-196, Letter-A

Collier, Elaine Adler (b. 12 Aug 1930 - d. 19 Feb 1999)
Section-B, Number-13, Letter-B

Corman, Irvin E. (b. 15 Nov 1926 - d. 5 May 1992)
Section-G (Old), Number-437, Letter-A

Corson, Chester (b. 1912 - d. 1985)
Section-E, Number-209, Letter-A

Corson, Sadie Goldfarb (b. 1913 - d. 1995)
Section-E, Number-209, Letter-B
Web page updated 6 May 2017
Index of All Cemeteries
Alphabetical Index of All Burials
Previous Page