Index of All Cemeteries
Alphabetical Index of All Burials
Previous Page
Use the following to search across all the cemeteries listed.
Example: "Smith, Roger" (yes, use the quotes)
025 SAINT'S DELIGHT PRIMITIVE BAPTIST CHURCH &nbsp- &nbsp T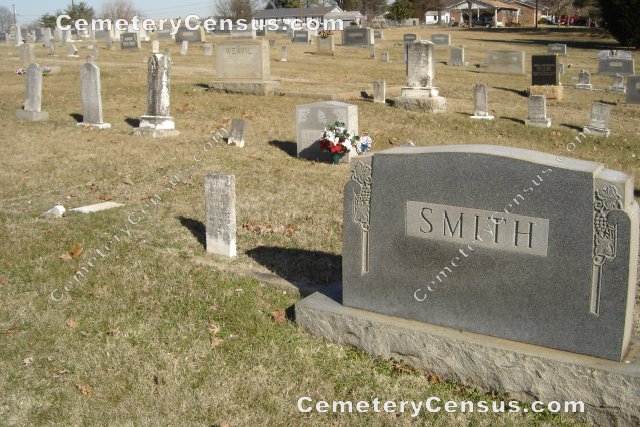 Location - Abbott's Creek Township, 4.5 miles southwest of Kernersville near end of Saint's Delight Church Road, off Linville Road, east of Winston-Salem, in the Sedge Garden Community.

Coordinates: 36d 05m 39.6s N; 80d 08m 57.6s W Click here for Google maps

The cemetery was surveyed by Darla Johnson, Carolyn Marshall and Peggy Taylor.
Date of survey: May 31, 2006. Photographs by Carolyn Marshall.

View #2 of the cemetery. View #3 of the cemetery. View #4 of the cemetery. View of the church. View of two survey takers and Mr. Williard.

Pierce Funeral Service Marker with no data between Wyatt A. Crews and Ruby Griffin Crews.


Teague, Bettie (Stockton) (b. 18 Aug 1869 - d. 5 Apr 1947)

Teague, Dinah (Shields) (b. 22 Sep 1889 - d. 30 May 1919)

Teague, Elijah B. (b. 3 Oct 1886 - d. 16 May 1920)

Teague, Flora M. (b. 11 Dec 1853 - d. 3 Feb 1894)

Teague, Infant (b. 21 Sep 1883 - d. 10 Oct 1883)

Teague, Infant (b. 1 Jun 1886 - d. 1 Jun 1886)

Teague, Isaac (b. 16 Sep 1813 - d. 8 Jun 1889)

Teague, Madge Lee (b. 28 Sep 1894 - d. 20 Mar 1911)

Teague, Martha E. (b. 28 Dec 1870 - d. 21 Dec 1918)

Teague, Martha H. (b. 26 Dec 1822 - d. 19 Feb 1884)

Teague, Oscar M. (b. 14 Feb 1864 - d. 27 Jan 1931)

Teague, Paul Lindsay (b. 17 Aug 1897 - d. 1 Aug 1898)

Teague, Paul Stockton (b. 29 Apr 1906 - d. 19 Dec 1996)

Teague, Rachel (b. 11 Jan 1817 - d. 3 Jan 1881)

Teague, Sarah L. (b. 8 Jan 1857 - d. 5 May 1920)

Teague, William L. (b. 30 May 1866 - d. 15 Dec 1955)

Thomas, Infant daughter (b. 4 Jan 1951 - d. 4 Jan 1951)

Thomas, Oneida (Caudle) (b. 5 Jan 1929 - d. Reserved)

Thomas, William Francis (b. 4 Aug 1927 - d. 23 Oct 1998)

Trent, Allie Lucille (Kirkman) (b. 15 Jul 1895 - d. 10 Nov 1996)

Trent, Roy (b. 20 Apr 1919 - d. 4 Jul 1920)

Trent, Ruth (b. 28 Sep 1925 - d. 23 Sep 1926)

Trent, Z. T., Jr. (b. 30 Apr 1898 - d. 9 Jan 1902)

Tucker, Charles Edward (b. 2 Jan 1928 - d. 28 Jan 1928)

Tucker, Infant sons (b. - d. )
no dates. Parents: J.O. and P.B.)

Tucker, Sarah (b. 5 Dec 1802 - d. 25 Nov 1882)

Tucker, Wyatt (b. 6 Jan 1807 - d. 12 Apr 1893)
86Y 3M 6D. Husband of S.)

Turner, Charlie J. (b. 23 Jun 1878 - d. 12 May 1966)

Turner, Netta S. (b. 10 Oct 1883 - d. 12 Sep 1968)

Tuttle, Clarence H. (b. 14 Aug 1904 - d. 28 Oct 1969)

Tuttle, Madie P. (b. 2 Mar 1910 - d. 6 Jul 1997)
Web page created 1 March 2013
Index of All Cemeteries
Alphabetical Index of All Burials
Previous Page