Index of All Cemeteries
Alphabetical Index of All Burials
Previous Page
Use the following to search across all the cemeteries listed.
Example: "Smith, Roger" (yes, use the quotes)
088 GLEN ALPINE CEMETERY &nbsp- &nbsp Surname starts with A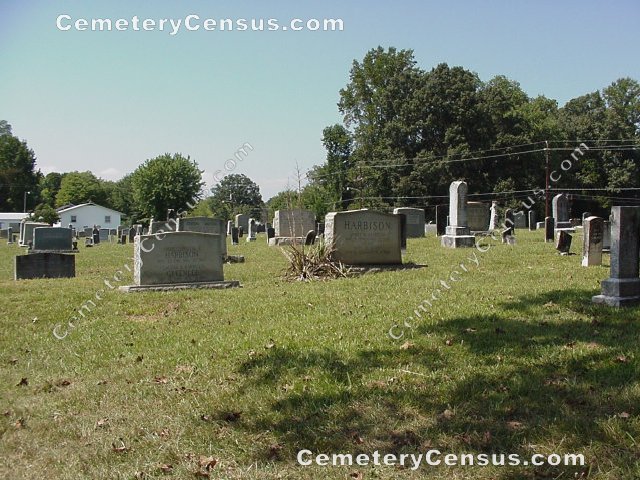 Location - on Linville St in the town of Glen Alpine.

Coordinates: 35d 43m 40.2s N; 81d 47m 07.8s W Click here for Google maps

From Morganton take Hwy 70 to the Town of Glen Alpine, Turn on N. Bridge St. and cross the railroad. At first intersection turn L. on Linville St.

View of the north section of the cemetery. View of the Methodist Church.

The Glenn Alpine Cemetery is actually a community cemetery, and is not owned by either of the churches nor the town of Glen Alpine. The two parts of the cemetery are across the street from each other, but it is treated as one cemetery. The cemetery is maintained by a Pitts family.

Survey provided by Jack Hall in July 2010. Photographs by Jack Hall in October 2011.


Abernathy, Alfred L. (b. 1902 - d. 1962)
Abernathy, Alice P. (b. 4 May 1915 - d. 25 Dec 1975)
Abernathy, Daniel J. (b. 1 Nov 1881 - d. 1 May 1959)
Abernathy, Deliah J. (b. 9 Dec 1881 - d. 20 May 1875)
Abernathy, Dolph A. (b. 23 Nov 1882 - d. 5 Sep 1942)
Abernathy, Exie L. (b. 21 Jan 1890 - d. 16 Sep 1951)
Abernathy, Infant (b. 20 Oct 1935 - d. 20 Oct 1935)
Infant of D. C. Abernathy

Abernathy, Infant (b. 25 Aug 1944 - d. 25 Aug 1944)
Infant of J. E. and Alice Abernathy

Abernathy, James E. (b. 17 Jul 1911 - d. 25 Feb 1951)

Abernathy, John Samuel (b. 15 Nov 1867 - d. 16 Mar 1934)

Abernathy, John V. (b. 18 Oct 1821 - d. 16 Mar 1934)

Abernathy, Johnson K. (b. 24 Feb 1867 - d. 21 Mar 1911)

Abernathy, Julia Bell (b. 1 Nov 1870 - d. 26 Sep 1907)

Abernathy, Margie Mull (b. 15 Jul 1916 - d. 21 Jan 1938)

Abernathy, Nettis Simpson (b. 18 May 1888 - d. 10 May 1985)

Abernathy, Paul Julius (b. 5 Oct 1924 - d. 17 Oct 1982)

Abernathy, William R. (b. 1885 - d. 1949)

Allen, Healen R. (b. 24 Apr 1905 - d. 16 Mar 1979)

Allen, Sidney Leroy (b. 1934 - d. 13 Sep 1965)

Amos, Ella (b. 1890 - d. 1960)

Anderson, Jack (b. 5 Aug 1910 - d. 1 Mar 1973)

Anderson, James M. (b. 3 Dec 1914 - d. 5 Sep 1959)

Anderson, James S. (b. 1883 - d. 2 May 1949)

Anderson, Joe M. (b. 17 Dec 1885 - d. 25 Aug 1962)

Anderson, Julia Elizabeth L. (b. 1889 - d. 17 Dec 1958)

Anderson, Lillie M. (b. 14 Oct 1887 - d. 2 Sep 1961)

Anderson, Luther H. (b. 5 Aug 1910 - d. 1 Mar 1973)
PFC Army Air Force WW-II NC

Anderson, Raye Causby (b. 1 Sep 1912 - d. )

Annas, Eliabeth O. (b. - d. 14 Jun 1883)
Age 1 yr. 2 Mos. 3 days Daughter of G. M. and M. L. Annas

Annas, George Lawson (b. 3 Jan 1912 - d. 30 May 1912)

Annis, Bertha Stacy (b. 18 Jun 1887 - d. 29 Dec 1964)

Annis, Claude Everett (b. 22 Apr 1922 - d. 22 Apr 1922)

Annis, Elizabeth Ray (b. 27 Mar 1916 - d. 10 Sep 1932)
Daughter of Mr. and Mrs G. G. Annis

Annis, G. M. (b. 8 Oct 1855 - d. 5 Sep 1919)

Annis, George G. (b. 17 Nov 1889 - d. 1 Jan 1956)

Annis, Mary Lou Powell (b. 13 Feb 1860 - d. 4 Aug 1933)

Anthony, Charlotte Gibbs (b. 14 Dec 1901 - d. 1 Mar 1925)
Daughter of George and Minnie

Anthony, George B. (b. 1 Feb 1906 - d. 17 Sep 1906)
Son of G. C. and M. M. Anthony

Anthony, George C. (b. 10 Nov 1870 - d. 20 Jul 1912)

Anthony, George Corpening (b. 15 Feb 1879 - d. 2 Mar 1985)
Husband of Minnie Gibbs Anthony

Anthony, Lucinda Eliszabeth (b. 17 Apr 1839 - d. 28 Feb 1910)

Anthony, Maud Patton (b. 1884 - d. 1968)

Anthony, Minnie Gibbs (b. 15 Feb 1879 - d. 2 Mar 1985)
Wife of George C. Anthony

Anthony, P. Luther (b. 10 Sep 1877 - d. 31 Oct 1899)
Son of P. and L. E. Anthony

Anthony, Phillip (b. 21 Oct 1832 - d. 20 Feb 1895)

Anthony, Thomas Winfield (b. 1879 - d. 8 Jun 1928)

Arney, Earl Smith (b. 1902 - d. 2 Apr 1946)

Arney, Grover A. (b. 16 Jan 1912 - d. 23 Jan 1969)

Arney, J. H. (b. 12 Apr 1867 - d. 29 Feb 1950)

Arney, John Esley (b. 29 Oct 1845 - d. 19 Jan 1930)

Arney, Margaret B. (b. 11 Dec 1875 - d. 24 Oct 1960)

Arney, N. C. (b. 27 May 1876 - d. 11 Dec 1937)

Arney, Polly J. (b. 2 Mar 1866 - d. 28 Jan 1892)
Daughter of J. E. and S. Arney

Arney, R. Ralph (b. 2 Dec 1916 - d. 20 Mar 1943)

Arney, Sarah (b. 26 Mar 1835 - d. 21 Dec 1908)

Arney, Sarah M. (b. 4 Oct 1870 - d. 12 Jan 1950)

Arney, William J. (b. 25 Feb 1908 - d. 30 Sep 1954)
NC Inf Ssgt Co. M 358 Inf BSM and OLC PH and OLC
Web page updated 7 August 2016
Index of All Cemeteries
Alphabetical Index of All Burials
Previous Page