Index of All Cemeteries
Alphabetical Index of All Burials
Previous Page
Use the following to search across all the cemeteries listed.
Example: "Smith, Roger" (yes, use the quotes)
043 CANE CREEK FRIENDS MEETING &nbsp- &nbsp Surname starts with A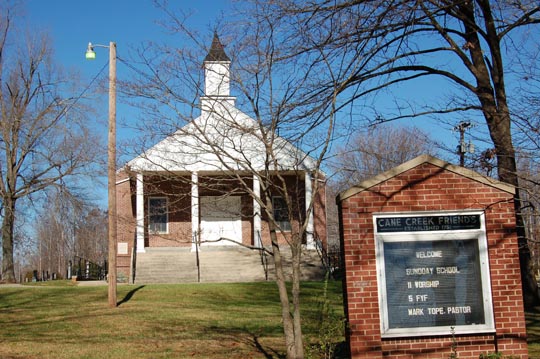 Location - 605 W. Greensboro-Chapel Hill Rd., Snow Camp, NC, near the intersection with Pleasant Hill Church Rd (SR-2371) and Sylvan School Rd (SR-2369).

Coordinates: 35d 53m 23.0s N; 79d 26m 44.0s W Click here for Google maps

Survey provided by Gary Thompson in December 2006. Pictures by Gary Thompson in November 2006.

[Notes from Gary] - The data came from a survey by Mr. & Mrs. L S Hornaday, Jr. compiled in 1981. Much of the data recorded was not included on the stones, but was added from meeting records abstracted by Miss Wilma Griffin, members of families, family bibles and correspondence. Information was also obtained from records begun some forty years ago (in 1981) by Mrs. Anna Lois Dixon. The old section is lettered A-Y, the newer AA-WW. This data is included to make family grouping easier.

Historical Marker.
View of older section of cemetery. Newer section is on other side of church.
View of the Cornerstone of the 4th Meeting House built in 1880 and burned in 1942.
Memorial to British Troops who died in the Old Meeting House during Cornwallis encampment here, March 1781.


A., ?? (b. - d. )

A., B (b. - d. )

A., B (b. 1825 - d. )

A., I W (b. - d. )

A., S (b. - d. )

Adams, James (b. - d. 18 Nov 1773)
Son of William and Susanna (extracted from records)

Alan, Nathan (b. 4 Jun 1787 - d. 2 Nov 1820)
Husband of Martha Cox, Son of John and Rachel Stout (Row H)

Alan, Rachel (b. 10 Mar 1794 - d. 1807)
Daughter of John and Rachel Stout Alan (Row I)

Alan, Samuel (b. 24 Sep 1785 - d. 24 Jun 1787)
age 1y 9m, Son of John and Rachel Stout (Row I)

Albright, Emily A (b. 21 Jun 1855 - d. 16 Jul 1855)

Albright, Lewis (b. 10 Jul 1816 - d. 23 Mar 1860)

Albright, Thos. Gaston (b. 20 Oct 1852 - d. 7 Aug 1854)

Allen, Abigail (b. 26 Nov 1819 - d. 4 Jan 1901)
age 81y 1m 4d, Daughter of Solomon and Hannah Dixon Allen (Row OO)

Allen, Belle V Zachary (b. 1872 - d. 1956)
2nd. Wife of Walter G (Row EE)

Allen, Beulah Unthank (b. 17 Feb 1879 - d. 16 Aug 1946)
Wife of W P, Daughter of John and Dinah Hinshaw Unthank (Row RR)

Allen, Caroline Stuart (b. 13 Jan 1859 - d. 1 Apr 1947)
Wife of John, Daughter of Solomon and Martha O'Daniel Stuart (Row II)

Allen, Charles Fletcher (b. 21 Feb 1878 - d. 21 Jun 1963)
Son of William G and Julia Stout (Row BB)

Allen, D (Dinah Stuart ?) (b. - d. )

Allen, Daniel Barker (b. 22 Aug 1852 - d. 12 Jan 1925)
Husband of Margaret, Son of William and Rebecca Dunn Allen (Row GG)

Allen, Dora Bailey (b. 16 Dec 1894 - d. 21 Oct 1926)
1st. Wife of G W, Daughter of Thomas and Sallie Greer Bailey (Row CC)

Allen, Eliza Branson (b. 22 May 1840 - d. 21 Mar 1920)

Allen, Elizabeth Bailey (b. 1897 - d. 1943)
2nd. Wife of G W, Daughter of George and Martha Overman Bailey (Row CC)

Allen, Elizabeth D (b. 1 Nov 1781 - d. 8 Feb 1849)
Wife of Peter, age 67y, Daughter of Thomas and Abigail Stuart Dixon (Row H)

Allen, Elizabeth Stout (b. 1809 - d. 18 Feb 1849)
Wife of Thomas, age 39y, Daughter of David and Jane Chamness Stout (Row P)

Allen, Ella Herren (b. 26 Mar 1880 - d. 21 Apr 1941)
Wife of Oscar L, Daughter of Levi and Dinah Allen Herren (Row GG)

Allen, Ethel A (b. 2 Mar 1901 - d. 26 Feb 1968)
Daughter of John and Ida Allen (Row BB)

Allen, Eva L Clark (b. 6 Feb 1880 - d. 24 May 1940)

Allen, Fernando G (b. 1874 - d. 28 Nov 1886)

Allen, Franklin D (b. 21 Sep 1936 - d. 21 Sep 1936)
Son of W L and Alma Teague (Row GG)

Allen, G Lester (b. 14 May 1876 - d. 5 Mar 1957)
Husband of Olive, Son of W Graham and Julia Stout (Row LL)

Allen, George Walter (b. 4 Dec 1892 - d. 12 Feb 1980)
Husband of Dora B and E B, Son of Jacob and Rachel Vincent Allen (Row CC)

Allen, Graham Lester (b. 13 Apr 1908 - d. 22 Feb 1973)
Husband of W Lilly, Son of Geo. Lester and Olive Newlin Allen (Row BB)

Allen, Hannah (b. 1 May 1823 - d. 2 Apr 1900)
Daughter of John and Dinah S, age 77y 11m 1d (Row LL)

Allen, Harrison (b. 11 Nov 1845 - d. 3 Aug 1879)
Husband of Charity, Son of Nathan and Lydia Stout (Row J)

Allen, Ida E Allen (b. 25 Apr 1878 - d. 21 Jun 1944)
Wife of John H, Daughter of Daniel and Margaret R (Row BB)

Allen, Isaac (b. 20 Mar 1834 - d. 21 Sep 1837)
age 3y 6m 1d, Son of John and Leticia Fogleman Allen (Row J)

Allen, J Floyd (b. 1 Aug 1911 - d. )
Husband of Ruth W (Row FF)

Allen, Jacob (b. - d. 16 Aug 1915)
Husband of Rachel Vincent, Son of Joseph and Polly Councilman (known to be buried in cemetery, no marker)

Allen, James (b. 19 Dec 1838 - d. 22 Dec 1862)
Son of William and Rebecca Dunn Allen (Row P)

Allen, James Warner (b. 8 Aug 1877 - d. 7 Dec 1881)
Son of W and D, age 4y 3m 29d (Row P)

Allen, Jehu (b. 11 Apr 1820 - d. 10 May ?)
Son of Peter and Eliz. Dixon (Row J)

Allen, Job (b. 19 Jan 1836 - d. 16 May 1907)
Husband of Mary S, Son of John and Dinah Stuart (Row RR)

Allen, John (b. 22 Mar 1749 - d. 23 Sep 1826)
Husband of Rachel Stout, age 77y, Son of John and Phebe Scarlett (Row I)

Allen, John (b. - d. )

Allen, John (b. 1 Sep 1850 - d. 25 Jun 1923)
Husband of Caroline, Son of Joseph and Mary Councilman Allen (Row II)

Allen, John (b. - d. 1 Jan 1813)
Son of Nathan and Martha Cox (extracted from records)

Allen, John Arthur (b. 18 Nov 1981 - d. 19 Nov 1981)
age 1d, Son of Michael and Wanda McGhee Allen

Allen, John Henry (b. 10 Jun 1864 - d. 31 Jul 1950)
Husband of Ida A, Son of Job and Mary E Stout (Row BB)

Allen, John William (b. 4 Sep 1904 - d. 4 Jul 1947)
Son of William and Beulah Unthank (Row II)

Allen, Joseph (b. 27 Aug 1827 - d. 23 Oct 1835)
age 8y, Son of John and Dinah Stuart (Row F)

Allen, Julia Stout (b. 29 Aug 1850 - d. 15 Feb 1889)
Wife of W Graham, Daughter of Fadius and Mahala Gilliam Stout (Row Y)

Allen, Julie (b. - d. )

Allen, Julius (b. 27 Feb 1868 - d. 8 Jul 1869)
Son of Nathan and Eliza Branson Allen (Row U)

Allen, Lucy E (b. 11 Oct 1901 - d. 14 Jan 1981)
Daughter of G Lester and Olive Stuart Allen (Row LL)

Allen, Lydia Stout (b. 26 Nov 1818 - d. 24 Nov 1857)
Wife of Nathan, age 38y 11m 28d, Daughter of David and Jane Chamness Stout (Row P)

Allen, Malinda (b. 4 May 1846 - d. 10 Mar 1920)
mother of William, Daughter of Jos. and Mary C Allen (Row GG)

Allen, Malinda Hatwood (b. 1823 - d. 20 Sep 1873)
Wife of Sampson, age 50y (Row J)

Allen, Malinda Sue (b. 1 Feb 1921 - d. 27 Oct 1923)
Daughter of William J and Eva C (Row GG)

Allen, Margaret E (b. 5 Jun 1852 - d. 15 Jan 1920)
Wife of Daniel, Daughter of Alexander and Eliz Thompson Russell (Row GG)

Allen, Mariah (b. 22 Aug 1826 - d. 3 Dec 1834)
age 8y 4m 29d, Daughter of Solomon and Hannah Dixon Allen (Row O)

Allen, Mary (b. 17 Jun 1818 - d. 13 Nov 1895)
Daughter of John and dinah S, age 77y 4m 26d (Row LL)

Allen, Mary Stout (b. 4 Apr 1831 - d. 11 May 1915)

Allen, Maurice (b. 8 Mar 1896 - d. 5 Sep 1981)
Husband of Ocie C, Son of John and Caroline Stuart Allen (Row EE)

Allen, Nancy Morris (b. 30 Apr 1839 - d. 21 Jan 1875)
Wife of Solomon, age 35y 8m 15d (Row U)

Allen, Nathan (b. 5 Jun 1787 - d. 24 Nov 1820)
Son of John and Rachel, Husband of Martha Cox (extracted from records)

Allen, Nathan (b. 2 Apr 1821 - d. 9 Jul 1898)
Husband of Lydia Stout, Husband of Susan S, Son of John and Dinah Stuart (Row LL)

Allen, Nathan (b. 1 Sep 1837 - d. 28 May 1890)
Husband of Eliza Branson, Son of Jos. and P Councilman (Row LL)

Allen, Newton (b. 29 Nov 1844 - d. 7 May 1889)
Son of William and Rebecca Dunn Allen (Row P)

Allen, Ocie C (b. 8 Jan 1905 - d. 12 Aug 1976)
Wife of Maurice, Daughter of Henry Crutchfield (Row EE)

Allen, Olive Newlin Stuart (b. 6 Jul 1879 - d. 21 Feb 1936)
Wife of G Lester, Daughter of David and Ruth Wells Stuart (Row LL)

Allen, Oscar Lawrence (b. 9 Jul 1876 - d. 8 Apr 1958)
Husband of Ella H, Son of Dan and Margaret (Row GG)

Allen, Peter (b. 14 Mar 1809 - d. 11 Feb 1846)
Husband of Rebecca Hadley, age 36y 10m 27d, Son of Peter and Eliz. Dixon (Row H)

Allen, Peter (b. 1 Aug 1781 - d. 7 Sep 1845)
Husband of Eliz., age 64y, Son of John and Rachel Stout (Row H)

Allen, Peter (b. - d. )

Allen, Polly (b. - d. )

Allen, R (Rachel Stout ?) (b. 1840 - d. )

Allen, Rachel (b. 26 Jul 1821 - d. 24 Mar 1835)
age 13y 4m 28d, Daughter of Solomon and Hannah D (Row O)

Allen, Rachel (b. 24 Mar 1816 - d. 24 Apr 1902)
age 86y 1m, Daughter of John and Dinah Stuart Allen (Row LL)

Allen, Robert Cecil (b. 20 Dec 1923 - d. 11 Apr 1945)
Son of G W and D, NC USNR WW II (Row CC)

Allen, Rossie (b. 24 Dec 1897 - d. 25 Dec 1897)
Son of W J and Eva L Clark (Row NN)

Allen, Ruth Webster (b. 16 Aug 1918 - d. )

Allen, Sampson (b. 1844 - d. 1848)

Allen, Sampson (b. 19 Nov 1823 - d. 8 Sep 1891)
Husband of Malinda, Husband of Mary Unthank, Son of Peter and Eliz. Dixon (Row J)

Allen, Sarah E (b. 10 Feb 1884 - d. 2 Sep 1907)
Daughter of W Graham and Julia Stout Allen (Row Y)

Allen, Stella (b. 15 Aug 1889 - d. 20 Jan 1974)
Daughter of John and Caroline Stuart Allen (Row II)

Allen, Susan Stagg (b. 1834 - d. 25 Dec 1879)
Wife of Nathan Stuart, Wife of Nathan Allen, age 45y (Row R)

Allen, Thomas A (b. 17 Jul 1804 - d. 26 Aug 1878)
Husband of Elizabeth, Husband of Betsy Pugh, age 74y 1m 9d, Son of Peter and Elizabeth Dixon Allen (Row P)

Allen, Thomas Franklin (b. 7 Sep 1874 - d. 7 Dec 1888)
Son of John W and L J (Row P)

Allen, W Ralph (b. 7 Aug 1903 - d. 5 Jan 1979)
Son of John and Ida Allen (Row BB)

Allen, Walter Addison (b. 7 Sep 1879 - d. 7 Aug 1881)

Allen, Walter G, Rev. (b. 1872 - d. 20 Feb 1929)
Husband of Belle Z, Son of Harrison and Charity Dixon Allen (Row EE)

Allen, William (b. 7 Dec 1800 - d. 25 Jan 1878)
Husband of Rebecca Dunn, age 77y 1m 18d, Son of John and Rachel Stout (Row V)

Allen, William Graham (b. 4 Feb 1843 - d. 14 Mar 1925)
Husband of Julia, Son of William and Rebecca Dunn (Row Y)

Allen, William J (b. 20 Nov 1871 - d. 30 Jun 1927)
Husband of Eva C (Row GG)

Allen, William P (b. 28 Feb 1866 - d. 19 Feb 1905)
Husband of Beulah, Son of Job and Mary Stout (Row RR)

Allen, Zimri (b. 17 May 1828 - d. 10 Mar 1844)
age 15y 9m 13d, Son of Solomon and Hannah D (Row O)

Allred, Neal Bennett (b. 29 Jan 1955 - d. 21 Apr 1956)

Andrew, Amy O Thompson (b. 5 Apr 1850 - d. 30 Jan 1925)
Wife of Henry, Daughter of Calvin and Abigail Dixon Thompson (Row UU)

Andrew, Henry A (b. 6 Sep 1851 - d. 15 Jul 1911)
Husband of Amy, age 59y 10m 9d (Row UU)

Andrew, Jesse (b. 24 Sep 1885 - d. 25 Sep 1885)
Son of Henry and Amy T (Row MM)

Andrew, Martha C (b. 21 Mar 1886 - d. 11 Feb 1913)
Wife of W R, age 26y 10m 20d (Row UU)

Andrew, Mary Jane (b. 28 Jun 1874 - d. 5 Apr 1891)
Daughter of Henry and A Thompson (Row MM)

Atkinson, Elihu (b. 16 Jul 1815 - d. )
Son of John and Mary Woody (Row F)

Atkinson, John (b. 25 Nov 1766 - d. 1830)
Husband of Mary W, Son of Thos. and Ruth Cruze (Row F)

Atkinson, Mary Woody (b. 12 Sep 1772 - d. 1 Dec 1859)
Wife of John, Daughter of James and M. Laughlin W. (Row F)

Atkinson, Rebecca H (b. 29 Jun 1815 - d. 13 Jun 1841)
Wife of Samuel, Daughter of William and Mary H Hornaday (Row E)
Web page updated 22 October 2017
Index of All Cemeteries
Alphabetical Index of All Burials
Previous Page