Index of All Cemeteries
Alphabetical Index of All Burials
Previous Page
Use the following to search across all the cemeteries listed.
Example: "Smith, Roger" (yes, use the quotes)
009 CATALE - MOSS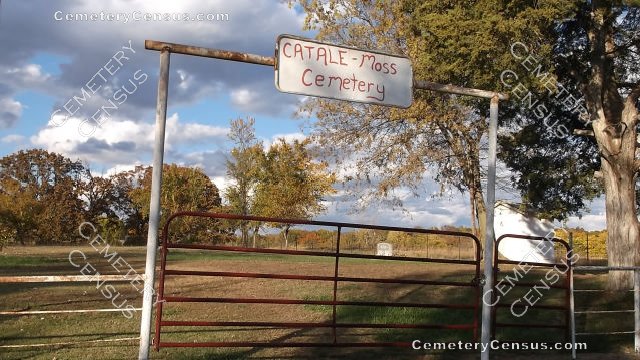 Location - off S-4290 Rd on north side of railroad tracks, between E-310 Rd and E-320 Rd, east of Chelsea.

Coordinates: 36d 33m 31.7s N; 95d 21m 58.1s W Click here for Google maps

Directions: From stop light in Chelsea go East on Rte 66 toward Vinita 4 miles; turn left onto S-4290 Rd and go 1.4 miles just past railroad overpass; turn left and cemetery is 0.25 mile on the right.

Survey by Allen Dew in May 2014. Photographs by Sheryl Lord in 2014.


Moss, Jo Ann Eiklor (b. 26 Oct 1926 - d. 11 May 2005)
Wife of King Soloman Moss. Married 27 Nov 1962. Daughter of Henry Dalton Eiklor and Violia Eliza Boyd Eiklor.

Moss, King Soloman "Pete" (b. 6 Nov 1925 - d. Reserved)
Husband of Jo Ann Eiklor Moss. Married 27 Nov 1962.

Tune, George Ray (b. 19 Feb 1932 - d. 1 Jan 2011)
We love you. You are not forgotten.
Web page updated 4 July 2017
Index of All Cemeteries
Alphabetical Index of All Burials
Previous Page