Index of All Cemeteries
Alphabetical Index of All Burials
Previous Page
Use the following to search across all the cemeteries listed.
Example: "Smith, Roger" (yes, use the quotes)
010 ST. GREGORY'S ABBEY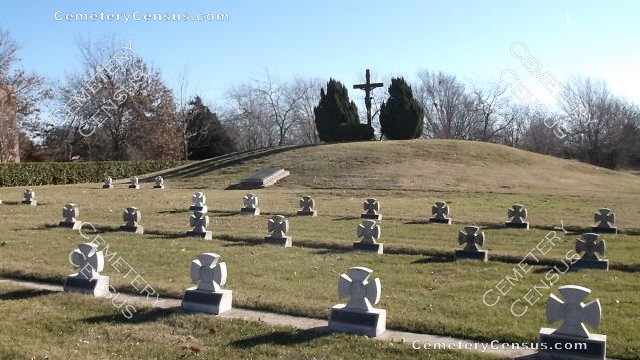 Location - off W. MacArthur St, at St. Gregory's University, Shawnee.

Coordinates: 35d 22m 01.0s N; 96d 57m 11.8s W Click here for Google maps

Survey by Allen Dew in May 2014. Photographs by Sheryl Lord in 2014.

View #2 in the cemetery. View #3 in the cemetery. Memorial Plaque to Sons of St. Gregory's Abby buried elsewhere.


Abbott, V (b. 1953 - d. 1970)
Aldanondo, Henricus (OSB, Fr. Conv.) (b. 1881 - d. 1956)
Allen, Francis E. (Oblate) (b. 1933 - d. 1997)
Althouse, Diane Elaine Hollingsworth (Oblate) (b. 9 Jul 1949 - d. 19 Apr 1995)
Bach, Matthew Thomas (OSB, Bro.) (b. 18 Feb 1942 - d. 16 Feb 2007)
Banderas, Angeles, (OSB, Sr.) (b. 1934 - d. 1985)
Barton, Mark L. (OSB, Bro.) (b. 1942 - d. 1988)
Berning, Cecilia (FSPA, Sister) (b. 1917 - d. 1993)
Berning, Philip A. (OSB, Rt. Reverend) (b. 8 Jun 1915 - d. 17 Nov 2007)

Betzen, Conrad M. (OSB, Rev.) (b. 1931 - d. 1993)

Bishop, Charles A. (Oblate) (b. 1942 - d. 1999)

Bloms, John N. (OSB, Rev.) (b. 1917 - d. 1974)

Bock, Edward C (Dr.) (b. 1922 - d. 1987)

Braun, Marcus (OSB, Rev., DD, Fr.) (b. 29 Feb 1892 - d. 2 Apr 1954)

Brousseau, Albertus, (OSB, Rev.) (b. 22 Nov 1888 - d. 25 Feb 1956)

Brown, Matthew Joseph (OSB, Fr .) (b. 16 Mar 1922 - d. 12 Jul 2013)

Burgess, George M. (Obl. SB) (b. 1926 - d. 1990)

Costello, Maurice (OSB, Rev.) (b. 1900 - d. 1952)

Daigle, Jean L. (b. 1912 - d. 1988)

Dempsey, Daniel J. (OSB, Bro.) (b. 1922 - d. 1998)

Di Vincenzo, Amandus C. (OSB (Rev.) (b. 1914 - d. 1989)

Diesel, Peter L. (OSB, Rev.) (b. 1900 - d. 1977)

Distler, Ann E. (Oblate) (b. 1960 - d. Reserved)

Distler, H. Robert (Obl. SB) "Bob" (b. 1910 - d. 1975)

Distler, Rose Mathilda Bierwirth (Oblate) (b. 22 May 1918 - d. 7 Apr 2010)

Dodson, Robert G. (OSB, Rev.) (b. 1914 - d. 1982)

Doerfler, Hilarius (OSB, Rev.) (b. 1879 - d. 1950)

Donnelly, Patrick Francis, Jr (b. 21 May 1940 - d. 24 Mar 2014)

Dougherty, Joachim (OSB, Rev.) (b. 1874 - d. 1954)

Downey, David James Larry (OSB, Bro.) (b. 16 Oct 1940 - d. 9 Jan 2008)

Dupont, Clemens (OSB, Rev.) (b. 1875 - d. 1962)

Espelette, Carolus (OSB, Rev.) (b. 1883 - d. 1958)

Faue, Mathias G. (OSB, Rev.) (b. 1923 - d. 1988)

Finn, E. C. (Obl., OSB) "Ned" (b. 1912 - d. 1977)

Fowler, Mary Margaret Frey (b. 3 Nov 1943 - d. 4 Oct 2013)

Fuerstenberg, Maurus (OSB, Rev.) (b. 1875 - d. 1959)

Gardner, William B. (Obl. SB, Bro.) (b. 1907 - d. 1969)

Gerrer, Gregorius (OSB, Rev.) (b. 1867 - d. 1946)

Gerrer, Joannes H. (OSB, Obl.) (b. 1870 - d. 1956)

Goold, John Eugene (Oblate) "Gene" (b. 31 Oct 1927 - d. 26 Jul 2001)

Gorostiz, Philomena (OSB, Sr.) (b. 1863 - d. 1952)

Haritohabalet, Blasius (OSB, Rev.) (b. 1867 - d. 1949)

Hitta, Aloysius (OSB, Rev.) (b. 1877 - d. 1946)

Holland, Edward C. (Rev.) (b. 1905 - d. 1963)

Hollingsworth, Dorothy (Oblate) (b. 1924 - d. 2008)

Hollingsworth, James A. (Oblate) (b. 1925 - d. 2003)

Holzer, Margurite (Oblate) (b. 1918 - d. 2005)

Hopkins, Matthew (b. 1882 - d. 1977)

Horn, Augustine S. (OSB, Rev.) (b. 1914 - d. 2003)

Jackman, Rose Virginia (OSB, Obl.) (b. 1896 - d. 1960)

Jones, Justin J. (OSB, Deacon) (b. 1942 - d. 2003)

Justou, Eligius (OSB, Rev.) (b. 1874 - d. 1966)

Kelley, Harvey G. (Obl. SB) (b. 1892 - d. 1970)

Kelley, Stephen G. (OSB, Rev.) (b. 1927 - d. 1987)

Laco, Eduardus (OSB, Fr.) (b. 1869 - d. 1944)

Lansaman, Benedicta (OSB, Sr.) (b. 1872 - d. 1965)

Maloney, Timothy Lawrence (Rev.) (b. 7 Nov 1922 - d. 9 Oct 2008)

Massoth, Charles Damian (OSB, Rev.) "William" (b. 26 Nov 1923 - d. 21 Apr 2013)

Mazurowski, Bernard J. (OSB, Rev.) (b. 1910 - d. 1968)

McNamee, Patritius (OSB, Rev.) (b. 1875 - d. 1954)

Milatz, Eric James (b. 11 Oct 1963 - d. 1 Aug 2001)

Mulcahy, Martinus (OSB, Rev.) (b. 1890 - d. 1954)

Murphy, James (OSB, Rev.) "Daniel Augustine" (b. 29 Nov 1920 - d. 17 Apr 2001)

Murphy, Joseph F. (OSB, Rev.) (b. 1910 - d. 1989)

Nathe, Gerard F. (OSB, Rev.) (b. 1913 - d. 1985)

Niichel, Joseph (OSB, Bro.) (b. 30 Jun 1940 - d. 1 Sep 2011)

O'Rourke, Bernard Joseph (b. 28 Mar 1949 - d. 18 Dec 1984)

Rabideau, Thomas (OSB, Rev.) (b. 1916 - d. 1999)

Redinger, Antonius (OSB, Rev.) (b. 1874 - d. 1945)

Riding, Ian T. (OSB, Rev.) (b. 1944 - d. 1994)

Roberts, Victor W. (OSB, Rev.) (b. 1942 - d. 2001)

Roethler, Frances, (OSB, Obl.) (b. 1892 - d. 1993)

Roethler, Max (OSB, Obl.) "Michael" (b. 1888 - d. 1961)

Roethler, Michael D. (OSB, Rev.) (b. 3 Apr 1930 - d. 26 Jun 1995)

Ryan, Benedict J. (OSB, Rev.) (b. 1886 - d. 1969)

Schumacher, Blase C. (OSB, Rev.) (b. 1905 - d. 1989)

Seneschal, Theodore (OSB, Rev.) (b. 23 Jul 1942 - d. 28 Apr 2005)

Simon, Emil Elmer (b. 7 Mar 1889 - d. 24 Feb 1962)

Simon, Francis Raymond Elmer (OSB, Rev.) (b. 8 Nov 1913 - d. 18 Dec 1995)

Simon, Lefa Melvina Eveland (b. 19 May 1893 - d. 17 Aug 1969)

Sittere, Ludovicus, (OSB (Rev.) (b. 1884 - d. 1955)

Sons, Claude L. (OSB, Rev.) (b. 1905 - d. 1984)

Sontag, Ambrose Steven (OSB, Bro.) (b. 16 Nov 1939 - d. 3 Dec 2006)

Statham, Charles M. (b. 1917 - d. 1971)

Statham, Denis P. (OSB, Rev.) (b. 1919 - d. 1996)

Statham, M. Joseph (OSB, Sr.) (b. 1894 - d. 1985)

Stottman, Herman M. (Obl., SB, Bro.) (b. 1891 - d. 1981)

Suellentrop, Daniel Mark (OSB, Fr.) (b. 3 Feb 1926 - d. 12 Oct 2009)

Sumner, Jeffrey Joel (b. 22 Nov 1966 - d. 4 Aug 2011)

Taton, Francis (OSB, Fr. Conv.) (b. 1863 - d. 1964)

Traynor, Vincent De Paul, (OSB, Rev.) (b. 1916 - d. 2000)

Whitehorn, Lillie Hoag (Oblate) (b. 12 Aug 1902 - d. 24 Nov 1994)

Wichulis, Hieronymus (OSB, Rev.) (b. 1887 - d. 1954)

Young, Mary E. (Obl. SB) (b. 1915 - d. 1978)

Young, William F. (Obl. SB) (b. 1913 - d. 1975)

Yuenger, David (OSB, Pl. Rev.) (b. 1883 - d. 1942)

Zagar, John T (Rev., Oblate) (b. 1931 - d. 2003)
Web page created 11 May 2014
Index of All Cemeteries
Alphabetical Index of All Burials
Previous Page