Index of All Cemeteries
Alphabetical Index of All Burials
Previous Page
Use the following to search across all the cemeteries listed.
Example: "Smith, Roger" (yes, use the quotes)
003 DALTON FAMILY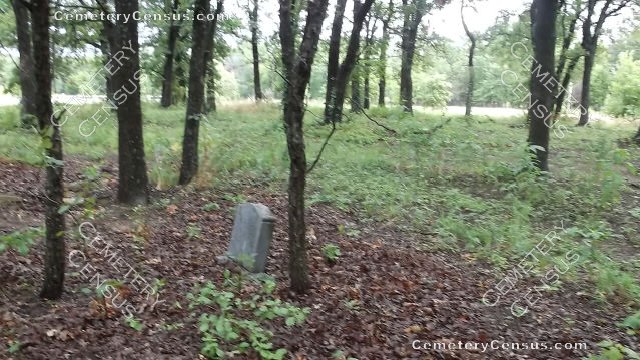 Location - at the intersection of Hwy 377 and Hazel Dell Rd (E-10180 Rd), south of Prague.

Coordinates: 35d 26m 51.4s N; 96d 39m 54.4s W Click here for Google maps

It was a community cemetery founded around 1902. On a family farm near Hazel Dell Rd. and Highway 377 near the highway located in a bunch of oak trees.

From what has been recorded in a historic book of the area there were around twenty headstones. Thirteen out of twenty were burials of the Dalton family.

Survey by Allen Dew in May 2014. Photographs by Sheryl Lord in 2014.

View #2 in the cemetery.


Dalton, Eva ? (b. Dec 1899 - d. Jan 1902)
Daughter of W.A. and S.M. Dalton

Dalton, Infant (b. 30 May 1898 - d. 30 May 1898)
Infant of W.A. and S.M. Dalton

Lee, Wilber N. (b. 27 Mar 1899 - d. 27 Jul 1899)

McClain, Arthur (b. 11 Sep 1897 - d. 29 Jan 1902)
Son of J.E. and A.Z. McClain
Web page created 7 May 2014
Index of All Cemeteries
Alphabetical Index of All Burials
Previous Page