Index of All Cemeteries
Alphabetical Index of All Burials
Previous Page
Use the following to search across all the cemeteries listed.
Example: "Smith, Roger" (yes, use the quotes)
013 HORTON CHAPEL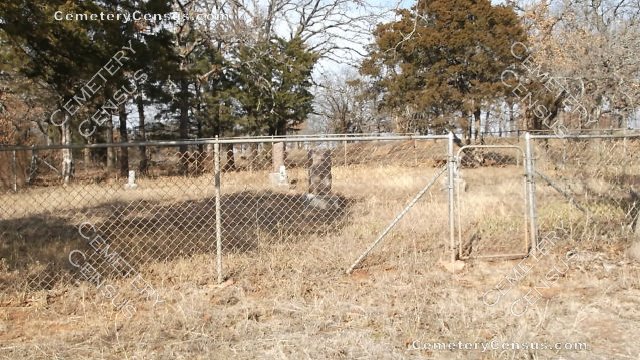 Location - off Britton Rd, just east of S-3380 Rd and Hwy 177, between Harrah and Prague.

Coordinates: 35d 33m 54.9s N; 96d 58m 37.5s W Click here for Google maps

Horton Chapel Church is little to the east of the cemetery, on the north side of Britton Rd.

Survey by Allen Dew in April 2014. Photographs by Sheryl Lord in 2014.

View #2 of the cemetery.


Bowen, Lula Mae (b. 9 Jul 1922 - d. 9 Jul 1922)
Horton, Cora Lee (b. 1 Sep 1906 - d. 2 Nov 1909)
Daughter of W.B. and Donna Horton.
Wife of William B. Horton.
Husband of Dona S. Horton
Daughter of W.P. and Eliza C. Pierson.
Web page created 26 April 2014
Index of All Cemeteries
Alphabetical Index of All Burials
Previous Page