Index of All Cemeteries
Alphabetical Index of All Burials
Previous Page
Use the following to search across all the cemeteries listed.
Example: "Smith, Roger" (yes, use the quotes)
010 OLD TOME CEMETERY (El Cemeterio de Los Ricos)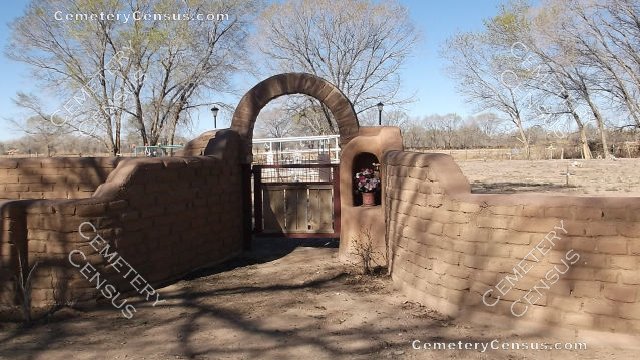 Location - on Tome Lane, off Sedillo Rd, off Hwy 47, Tome.

Coordinates: 34d 44m 19.7s N; 106d 43m 57.2s W Click here for Google maps

Survey by Allen Dew in February 2014. Photographs by Sheryl Lord in February 2014.

This old, forgotten, one acre cemetery, SW of Immaculate Conception Catholic Church in Tome, had been neglected for 100 years, but is now restored. It's name was indicative of the people interred there at the end of the 19th century. There are also many infants buried here.

Additional views of the cemetery:
View #2. - View #3. - View #4. - View #5. - Immaculate Comception Church sign.


Woodmen of the World memorial.

Chavez de Lucero, Florentina (b. 15 Mar 1882 - d. 31 May 1915)

Lucero, Unknown (b. 1828 - d. Unknown)

Padilla, Antonia (b. 14 Feb 1922 - d. 14 Feb 1922)
Son of Luis R Padilla and Eluisa Padilla

Padilla, Eloisa (b. Unknown - d. Unknown)

Padilla, Gabriel (b. Jan 1931 - d. 28 Aug 1931)
Daughter of Luis R Padilla and Eluisa Padilla

Padilla, Luis (b. 1855 - d. 1916)
Adopted by Padre Ralliere

Sanchez, Beatriz S (b. 15 Feb 1874 - d. 3 Mar 1923)

Sanchez, Jesus C. (b. 1867 - d. 1932)
on same marker with Maximo Sanchez

Sanchez, Maximo (b. 1910 - d. 1934)
on same marker with Jesus C. Sanchez

Sanchez, Precila (b. 6 Oct 1915 - d. 10 May 1919)

Sanchez, Rosela (b. 1898 - d. 1918)

Unknown, Unknown (b. Unknown - d. Unknown)

Unknown, Unknown (b. Unknown - d. Unknown)

Unknown, Unknown (b. Unknown - d. Unknown)

Zamora, Amanda Torres (b. 19 Sep 1877 - d. 18 Jul 1928)
Web page created 10 March 2014
Index of All Cemeteries
Alphabetical Index of All Burials
Previous Page