Index of All Cemeteries
Alphabetical Index of All Burials
Previous Page
Use the following to search across all the cemeteries listed.
Example: "Smith, Roger" (yes, use the quotes)
005 PERALTA CEMETERY (Spanish Methodist Cemetery)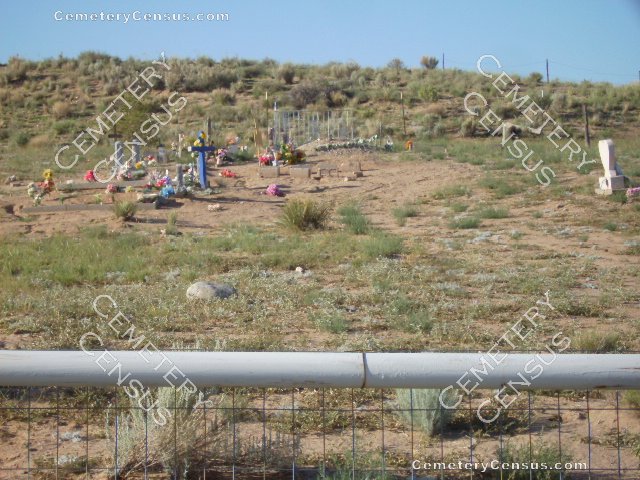 Location - at the end of Quiet Lane off La Ladera Rd, east of Peralta.

Coordinates: 34d 50m 34.7s N; 106d 39m 48.2s W Click here for Google maps

Survey by Allen Dew in February 2014. Photographs by Sheryl Lord in February 2014.

Although there are fairly new graves many of the graves are old, neglected and unmarked. There are rock piles and mounds of various ages. Some are marked with boulders, fence-type posts or mortuary temporary markers.


Abeyta, Maria S (b. Unknown - d. Unknown)
Armijo, Sofia C (b. Unknown - d. 16 Oct 2002)
Baca, Rebeca M (b. 1878 - d. 1948)
Bejarano, Isidro (b. 15 May 1925 - d. 23 Dec 2013)
Chavez, Alta M (b. 9 Mar 1884 - d. 30 Jan 1959)
Chavez, Beatris Saavedra (b. Unknown - d. Apr 1937)
Chavez, Delfinia P (b. 17 May 1925 - d. 15 Feb 1987)

Chavez, Emelda I. (b. Unknown - d. 18 Oct 2008)

Chavez, Eva G (b. 1 Jan 1918 - d. 16 Sep 1998)

Chavez, Francisco (b. 1890 - d. 1970)

Chavez, Ida (b. Unknown - d. 3 Mar 1947)

Chavez, Josephina C (b. 1895 - d. 1972)

Chavez, Juan A (b. Unknown - d. 30 Jun 1934)

Chavez, Modesto (b. Unknown - d. 18 Dec 1919)

Chavez, Modesto C (b. 15 Mar 1915 - d. 1 Oct 2002)

Chavez, Pearla M (b. Unknown - d. Unknown)

Chavez, Priscilla G (b. 16 Dec 1960 - d. 21 Nov 2006)

Chavez, Serio Louis (b. 3 Nov 1935 - d. 24 Apr 2005)

Craig, Jerene Violet (b. 27 Nov 1920 - d. 2 Aug 1936)

Gallegos, Aaron (b. Unknown - d. 30 Dec 2004)

Garcia, Bennie (b. 6 Oct 1935 - d. 2 Nov 2005)

Garcia, George (b. 16 Feb 1942 - d. 12 Feb 1995)

Garcia, Higinio P (b. 12 Jul 1910 - d. 7 Mar 1999)

Garcia, M (b. Unknown - d. Unknown)

Garcia, Quirina (b. 12 Feb 1916 - d. 9 Feb 2008)

Garcia, Vincent E (b. 1 Oct 1960 - d. 22 Jul 2008)

Garcia, Virginia Maria Louisa (b. 7 May 1935 - d. 26 Sep 2008)

Gurule De Perea, Pudenciama (b. 17 Apr 1870 - d. 19 Apr 1934)

Montoya, Eilias N (b. 18 Jan 1911 - d. 28 Dec 1911)

Montoya, Ester M (b. 23 Apr 1865 - d. 8 Feb 1954)

Montoya, Terenta (b. 17 Jan 1912 - d. 28 Nov 1912)

Moya, Alfredo S (b. Unknown - d. Oct 1973)

Moya, Josette E (b. 14 Jun 1973 - d. 15 Jun 1973)

Moya, Ramon (b. Unknown - d. 7 Jun 2001)

Otero, Jose A (b. Unknown - d. Jul 1975)

Perea, Calicia Manuelita (b. Unknown - d. 13 Oct 1999)

Perea, Demetrio (b. Unknown - d. 19 Apr 1936)

Perea, Donaciano (b. Unknown - d. 12 Jun 1999)

Perea, Francisco "Frank" (b. 12 Jan 1897 - d. 3 Mar 1946)

Perea, Manuelita R (b. 1901 - d. 1971)

Perea, Maria V (b. Unknown - d. Unknown)

Perea, Miriam (b. 14 Dec 1904 - d. 4 Sep 1935)

Perea, Rosa (b. Unknown - d. Feb 1992)

Perea, Sn Demetrio (b. 28 Aug 1936 - d. 14 Oct 1987)

Ramirez, E (b. Unknown - d. Unknown)

Ramirez, Roberto (b. 13 Dec 1930 - d. 26 Aug 2002)

Sato, Ben (b. 24 Dec 1882 - d. 4 Apr 1964)

Sato, Teofila C (b. 2 Jan 1904 - d. 5 Feb 1932)

Smith, Mary Magnolia Norris (b. 11 Jul 1902 - d. 17 Jan 1937)

Torres, Gillie T (b. Unknown - d. Sep 1965)

Torres, Leonora (b. Unknown - d. 2 Jul 1922)

Unknown, Unknown (b. Unknown - d. Unknown)

Unknown, Unknown (b. Unknown - d. Unknown)

Unknown, Unknown (b. Unknown - d. Unknown)

Unknown, Unknown (b. Unknown - d. Unknown)

Unknown, Unknown (b. Unknown - d. Unknown)

Unknown, Unknown (b. Unknown - d. Unknown)

Unknown, Unknown (b. Unknown - d. Unknown)

Unknown, Unknown (b. Unknown - d. Unknown)

Unknown, Unknown (b. Unknown - d. Unknown)

Unknown, Unknown (b. Unknown - d. Unknown)

Unknown, Unknown (b. Unknown - d. Unknown)

Unknown, Unknown (b. Unknown - d. Unknown)

Unknown, Unknown (b. Unknown - d. Unknown)

Unknown, Unknown (b. Unknown - d. Unknown)

Unknown, Unknown (b. Unknown - d. Unknown)

Unknown, Unknown (b. Unknown - d. Unknown)

Unknown, Unknown (b. Unknown - d. Unknown)

Unknown, Unknown (b. Unknown - d. Unknown)

Unknown, Unknown (b. Unknown - d. Unknown)

Unknown, Unknown (b. Unknown - d. Unknown)

Unknown, Unknown (b. Unknown - d. Unknown)

Unknown, Unknown (b. Unknown - d. Unknown)

Unknown, Unknown (b. Unknown - d. Unknown)

Unknown, Unknown (b. Unknown - d. Unknown)

Unknown, Unknown (b. Unknown - d. Unknown)

Unknown, Unknown (b. Unknown - d. Unknown)

Unknown, Unknown (b. Unknown - d. Unknown)

Unknown, Unknown (b. Unknown - d. Unknown)

Unknown, Unknown (b. Unknown - d. Unknown)

Unknown, Unknown (b. Unknown - d. Unknown)

Unknown, Unknown (b. Unknown - d. Unknown)

Unknown, Unknown (b. Unknown - d. Unknown)

Unknown, Unknown (b. Unknown - d. Unknown)

Unknown, Unknown (b. Unknown - d. Unknown)

Unknown, Unknown (b. Unknown - d. Unknown)

Unknown, Unknown (b. 1913 - d. Jan 1914)

Unknown, Unknown (b. Unknown - d. Unknown)

Unknown, Unknown (b. Unknown - d. Unknown)

Unknown, Unknown (b. Unknown - d. Unknown)

Unknown, Unknown (b. Unknown - d. Unknown)

Unknown, Unknown (b. Unknown - d. Unknown)

Yamato, Clara Chavez (b. 1901 - d. 29 Sep 1925)

Yamato, Niche "Nichi" (b. Unknown - d. 7 Jan 1926)
Web page created 10 March 2014
Index of All Cemeteries
Alphabetical Index of All Burials
Previous Page