Index of All Cemeteries
Alphabetical Index of All Burials
Previous Page
Use the following to search across all the cemeteries listed.
Example: "Smith, Roger" (yes, use the quotes)
002 LOS LUNAS HOSPITAL AND TRAINING SCHOOL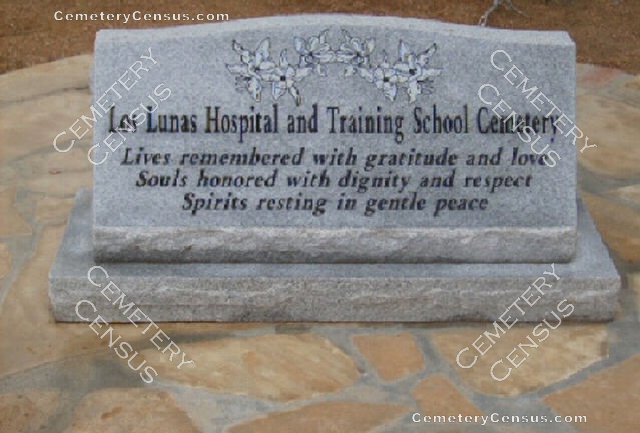 Location - off Main St SW at Canal Blvd SW, Las Lunas.

Coordinates: 34d 48m 53.0s N; 106d 44m 34.0s W Click here for Google maps

Survey by Allen Dew in February 2014. Photographs by Sheryl Lord in February 2014.

View #2 of the cemetery.

The facility was closed in the mid 1990s.


Alexander, April Suzette (b. 4 Apr 1972 - d. 30 Jun 1990)
Allen, Michael (b. 24 Jul 1949 - d. 30 Mar 1977)
Apodaca, Charlotte (b. 15 Nov 1974 - d. 24 Apr 1985)
Aragon, Dolores (b. 14 Jun 1914 - d. 21 May 1991)
Aragon, Larry Dale (b. 28 Dec 1956 - d. 30 Sep 1987)
Armendariz, Mary Helen (b. 29 Jul 1955 - d. 7 Jun 1980)
Bailey, David (b. 8 Jun 1950 - d. 22 Oct 1969)
Barreras, Lawrence (b. 21 Sep 1948 - d. 10 Apr 1993)
Becenti, Georgine (b. 19 Aug 1960 - d. 12 Jan 1964)
Begay, Herman (b. 26 Oct 1949 - d. 12 May 1965)
Binyon, Donna (b. 17 Feb 1956 - d. 26 Feb 1989)
Blackmore, Allan Comber (b. 1957 - d. 1976)
Blea, Rebecca (b. 13 Jun 1956 - d. 11 Jan 1987)
Bolstad, Patricia (b. 6 Sep 1957 - d. 6 Feb 1971)
Botello, Felicia (b. 9 Sep 1965 - d. 1 Apr 2009)
Braxton, Grace (b. 22 Aug 1910 - d. 25 Nov 1981)
Brown, Harvey (b. 31 Dec 1947 - d. 2 Apr 1967)
Brown, Judd (b. 29 Sep 1975 - d. 7 Feb 1977)
Casaus, Fabian G (b. 13 May 1971 - d. 2 Jul 1996)
Chavez, Abel (b. 21 Jan 1958 - d. 9 Nov 1971)
Chavez, Joe Sotelo (b. 19 Mar 1949 - d. 4 Oct 2002)
Chavez, Richard P (b. 26 Jun 1967 - d. 20 Aug 1984)
Cordova, Anthony (b. 19 Jan 1950 - d. 30 Apr 1987)
Davis, Clifford (b. 16 Jul 1970 - d. 7 Sep 1987)
Day, Gloria J (b. 16 Jan 1983 - d. 14 May 1993)
Gallegos, John Delon (b. 2 Nov 1965 - d. 22 Aug 1976)
Garcia, Corine (b. 25 Feb 1975 - d. 8 Nov 1975)
Garcia, Jose F (b. 12 Oct 1945 - d. 21 Oct 1969)
Garcia, Roy (b. 13 May 1912 - d. 14 Sep 1970)
Germany, William "Billy" (b. 5 Jun 1964 - d. 19 Oct 1994)
Gonzales, Enrique (b. 20 Apr 1959 - d. 3 Mar 1975)
Gonzales, James (b. 4 Jan 1971 - d. 27 Jun 1993)
Gonzales, Simon A (b. 26 Aug 1969 - d. 18 Jun 1976)
Gutierrez, Anthony J (b. 26 Dec 1954 - d. 28 Feb 1968)
Hannan, James Gordon (b. 27 May 1974 - d. 18 Nov 1986)
Harrison, Robert (b. 12 Aug 1962 - d. 11 Jan 1965)
Hawley, James G, Jr (b. 31 Dec 1963 - d. 6 Nov 1970)
Herrera, Phyllis (b. 12 Sep 1959 - d. 21 May 1968)
Howe, Leonard (b. 9 Jul 1949 - d. 3 Jan 1974)
Hurbina, Ernesto (b. 11 Jan 1941 - d. 24 Dec 1989)
Jeffries, June M (b. 15 Nov 1940 - d. 24 Aug 1994)
Jimenez, Juanita (b. 10 Aug 1963 - d. 4 Apr 1964)
Johnson, Timothy D (b. 21 Apr 1976 - d. 5 Aug 1976)
Johnston, Mark (b. 13 Aug 1962 - d. 28 Mar 1973)
Kiraly, Jeffrey (b. 23 Mar 1955 - d. 1 Jan 1964)
Knoll, Marshall (b. 29 Oct 1956 - d. 20 Feb 1981)
Lara, Shamarie (b. 8 Jun 1974 - d. 15 Mar 1976)
Little, Anthony Daniel (b. 11 Dec 1983 - d. 4 Jun 1999)
Lopez, Richard J (b. 18 Mar 1970 - d. 1 May 1970)
Lucero, Jose L (b. 28 Jan 1953 - d. 30 Dec 1963)
Maestas, Katherine (b. 7 Nov 1951 - d. 5 Nov 1974)
Maez, Michael (b. 15 Jun 1962 - d. 11 Sep 1964)
Manchego, Jana Lee (b. 25 Jul 1963 - d. 3 Dec 1983)
Marshall, Lisa (b. 6 Feb 1974 - d. 19 Nov 1974)
Martinez, Angela (b. 29 Oct 1967 - d. 4 Jun 1984)
Martinez, Fred (b. 1 Aug 1941 - d. 13 Mar 1977)
Martinez, Juan J (b. 21 Apr 1945 - d. 19 Oct 1987)
Martinez, Mary V (b. 26 May 1969 - d. 12 Mar 1991)
Massey, Ronald (b. 28 Feb 1957 - d. 5 Feb 1964)
Matthews, Arreta Joyce (b. 10 Dec 1966 - d. 26 Sep 1986)
Mayer, Miguel "The Mayor" (b. 15 Sep 1952 - d. 2 Dec 2008)
Merritt, Joey (b. 1951 - d. 1972)
Millan, James (b. 26 Aug 1945 - d. 1 Apr 1966)
Mitchell, Faith (b. 10 Dec 1969 - d. 7 Aug 1971)
Morrison, Larry (b. 6 Aug 1952 - d. 18 Sep 1978)
Munden, Gerald (b. 4 Feb 1953 - d. 10 Nov 1979)
Mustache, Sarah (b. 13 Sep 1952 - d. 9 Nov 1967)
Nez, Jennifer (b. 6 Jan 1961 - d. 30 Jul 1981)
Nicely, Micheal (b. 24 Jul 1980 - d. 19 Jul 1985)
Norcott, Kathryn M (b. 20 Dec 1957 - d. 13 May 1984)
Parker, Amy (b. 4 Jan 1974 - d. 30 Apr 1993)
Proffit, Katrina (b. 5 Mar 1965 - d. 10 Apr 1965)
Pruit, Krystal (b. 17 Sep 1961 - d. 19 Nov 1985)
Pugh, Rene John (b. 28 May 1965 - d. 16 Sep 1973)
Rael, Brijida (b. 10 Apr 1918 - d. 19 Oct 1965)
Rael, Lydia (b. 28 Feb 1958 - d. 1 Feb 1976)
Richer, Stephanie (b. 1 Mar 1971 - d. 25 Aug 1973)
Rivera, Esther (b. 4 May 1944 - d. 16 May 1966)
Roberts, Shannon Denise (b. 29 Jan 1972 - d. 3 Feb 1980)
Roybal, Erlinda Ann (b. 13 Oct 1951 - d. 30 Oct 1965)
Salas, Adelino (b. 24 May 1935 - d. 28 Jul 2009)
Sanchez, Consuelo (b. 7 Oct 1941 - d. 25 Oct 1994)
Schobey, Federica (b. 13 Jun 1973 - d. 13 Oct 1973)
Sievert, Cynthia Gail (b. 13 Sep 1965 - d. 30 Jul 1976)
Smith, Jerry D (b. 7 Aug 1970 - d. 15 Feb 1991)
Suina, Mary (b. 30 Mar 1950 - d. 18 Apr 1987)
Swartz, Kevin (b. 23 Feb 1960 - d. 26 May 1980)
Tavasci, Benny "Boogie" (b. 8 May 1949 - d. 4 Jun 2000)
Trujillo, Andrew (b. 5 Dec 1962 - d. 10 Nov 1970)
Trujillo, Peggy (b. 23 Dec 1951 - d. 5 Jul 1981)
Trujillo, Robert (b. 12 Sep 1965 - d. 7 Aug 1966)
Trujillo, Susan (b. 4 Oct 1970 - d. 26 Apr 1993)
Turrietta, Leanne (b. 8 Feb 1968 - d. 7 Nov 1981)
Varoz, Loretta J (b. 14 Dec 1968 - d. 6 Jan 1971)
Wicker, Roy Patrick (b. 9 Mar 1973 - d. 27 Jul 1988)
Wiley, Regina (b. 6 Jul 1971 - d. 7 Oct 1988)
Williams, Betty Jo (b. 16 Oct 1955 - d. 4 Feb 1993)
Wilson, Velda (b. 16 Jun 1966 - d. 11 Jul 1987)
Wood, Cheryl Ann (b. 15 Jan 1958 - d. 15 Jul 1997)
Woody, Alfred (b. 12 Jul 1961 - d. 23 Dec 1963)
Young, Kimberly M (b. 25 Aug 1976 - d. 9 Nov 1976)
Zepper, Faith Hope (b. 8 Feb 1964 - d. 21 Oct 1964)
Web page created 10 March 2014
Index of All Cemeteries
Alphabetical Index of All Burials
Previous Page