Index of All Cemeteries
Alphabetical Index of All Burials
Previous Page
Use the following to search across all the cemeteries listed.
Example: "Smith, Roger" (yes, use the quotes)
087 SPILLMAN FAMILY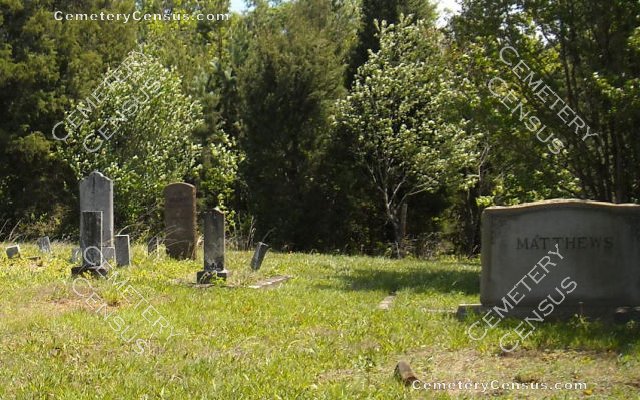 Location - on Baltimore Rd about 0.4 mile from Yadkinville Rd (old Hwy 421).

Coordinates: 36d 07m 08.3s N; 80d 30m 52.7s W Click here for Google maps

Directions: From Yadkinville, take the Yadkinville Road (old 421) east to the intersection with the Baltimore Road (SR-1570). Turn left (north) and go about 0.4 mile. Look for headstones at the top of the high bank on the right.

Survey by Allen Dew in January 2013. Photographs by Martha Wick in January 2013. Updated by Bob Carter in June 2014.


Mathis, Hubert R. (b. 23 Jul 1893 - d. 7 Feb 1895)
Son of Sidney T. Matthews and Elizabeth C. Mitchell

Mathis, William H. (b. 7 Nov 1879 - d. 20 Aug 1881)
Son of Sidney T. Matthews and Elizabeth C. Mitchell

Matthews, Elizabeth C. Mitchell (b. 10 Jan 1856 - d. 17 Feb 1934)
Wife of Sidney T. Matthews

Matthews, Infant Daughter (b. 10 Jun 1900 - d. 15 Jun 1900)
Daughter of Sidney T. Matthews and Elizabeth C. Mitchell

Matthews, Sidney T. (b. 14 Aug 1855 - d. 18 Nov 1906)
Husband of Elizabeth C. Mitchell

Matthews, William (b. 12 Jan 1814 - d. 8 Mar 1866)

Phillips, Millie (b. 26 Jun 1823 - d. 10 Dec 1860)

Phillips, Sarah (b. 10 May 1799 - d. 10 Apr 1859)

Spillman, Alice J. Tate Hutchens (b. 28 May 1857 - d. 29 Dec 1903)
Wife of 1) Henry Hutchens, m. 7 Jan 1877 in Yadkin County and 2) Mathews Dayton Spillman, m. 9 Jul 1891 in Yadkin County - Daughter of Louis Francis Tate and Rachel C. Hobson

Spillman, Anna (b. 1 Jul 1865 - d. 28 Jul 1866)
Daughter of James Spillman and Elizabeth Speer

Spillman, Claude Dayton Jr (b. 30 Aug 1928 - d. Unknown)
Son of Claude Dayton Spillman Sr and Susan Williard - Caretaker

Spillman, Elizabeth Speer (b. 18 Jul 1818 - d. 2 Jan 1896)

Spillman, James (b. 14 Oct 1818 - d. 20 Oct 1854)
Husband of Elizabeth Speer

Spillman, Jasper (b. 1835 - d. 1866)

Spillman, Laura B. Hutchens (b. 27 Sep 1877 - d. 3 Apr 1922)
Wife of John Henry Spillman, m. 29 Dec 1907 in Yadkin County (he buried at East Bends Friends Meeting) - Daughter of John Henry and Alice Hutchens

Spillman, Mathews Dayton (b. 7 Dec 1844 - d. 18 Sep 1923)
Husband of 1) Rachel unknown and 2) Alice J. Tate Hutchens, m. 9 Jul 1891 in Yadkin County - Son of William Spillman and Ruth B. Holcomb

Spillman, Matthew (b. 18 Apr 1839 - d. 24 Dec 1839)
Son of William Spillman and Ruth B. Holcomb

Spillman, Permelia Ann Davis (b. 7 Nov 1842 - d. 28 Feb 1918)
Wife of William Spillman - Daughter of Thomas Davis and Anna Malinda Speas

Spillman, Rachel (b. Unknown - d. Unknown)
Believed to be former wife of Mathews Dayton Spillman

Spillman, Ruth B. Holcomb (b. 15 Dec 1799 - d. 14 Dec 1881)

Spillman, William (b. 14 Dec 1840 - d. 6 Aug 1919)
Husband of Permelia Ann Davis - Son of William Spillman and Ruth B. Holcomb

Spillman, William (b. 8 May 1792 - d. Oct 1890)
Husband of Ruth B. Holcomb

Tate, Lewis F. "Francis" (b. 18 Mar 1836 - d. 20 Aug 1898)
Husband of Rachel C. Hobson

Tate, Rachel C. Hobson (b. 6 Feb 1832 - d. 10 Dec 1896)
Wife of Lewis Francis Tate

Tate, Sarah E. (b. 9 Apr 1866 - d. 26 Oct 1900)
Daughter of Lewis Francis Tate and Rachel C. Hobson
Web page updated 20 August 2016
Index of All Cemeteries
Alphabetical Index of All Burials
Previous Page