Index of All Cemeteries
Alphabetical Index of All Burials
Previous Page
Use the following to search across all the cemeteries listed.
Example: "Smith, Roger" (yes, use the quotes)
077 SHACKTOWN CHURCH OF CHRIST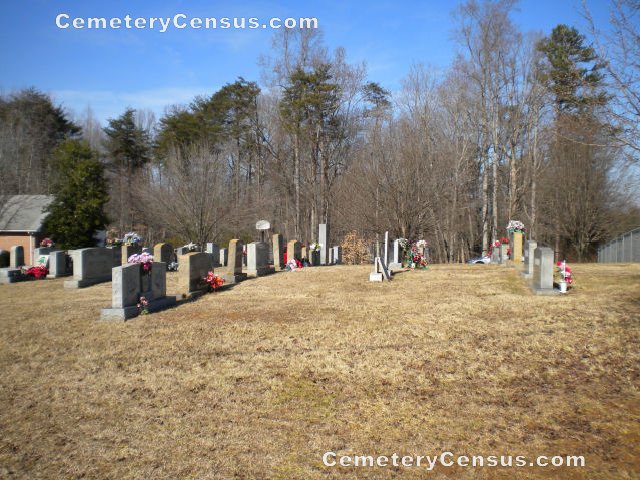 Location: 2551 Old Stage Rd, Yadkinville, Yadkin Co., NC.

Coordinates: 36d 07m 02.5s N; 80d 35m 39.4s W Click here for Google maps

Directions: When coming from Winston-Salem on US 421, take exit 253 which is Old Stage Rd. At the end of the ramp, turn right and go 0.1 mile to the stop sign. Then turn left on Shacktown Rd and go 0.3 miles and church and cemetery are on the right at the intersection with Styers Mill Rd.

View of the church.

Surveyed by Bob Carter on January 18, 2010.

Also known as: Shacktown Cemetery.
Township or district: South Liberty.
Public or Private: Public access.
GPS Accuracy (ft.): 29.
Elevation above sea level (ft.): 902.
Status of cemetery: Maintained.

Cemetery is protected by a chain link fence on two sides.
Survey by Allen Dew in January 2013.


Adams, Allen Ellwood (b. 14 Dec 1916 - d. 7 Aug 1972)
Adams, Lela York (b. 1920 - d. Unknown)
Boggs, Carl Ray (b. 26 Aug 1904 - d. 19 Dec 1967)
Boggs, Henry Isom (b. 11 Feb 1900 - d. 27 Sep 1957)
Bolin, Benjamin C. (b. 12 Dec 1911 - d. 20 Dec 2006)
Bolin, Farrell Claude (b. 22 Apr 1914 - d. 25 Sep 1949)
Bolin, Mary C. Dinkins (b. 15 Mar 1879 - d. 18 Dec 1947)
Bolin, Rachell Dinkins (b. 7 Apr 1923 - d. Unknown)
Chandler, Patricia Ann (b. 13 Sep 1962 - d. 1 Mar 1963)
Childress, John E. (b. 15 Jun 1907 - d. 27 Sep 1953)
Childress, Myrtle M. (b. 7 May 1912 - d. Unknown)
Cranmer, Willard Luther (b. 23 May 1878 - d. 21 May 1959)
Curlings, Jimmy W (b. 17 Feb 1941 - d. 4 May 1990)
Dancy, Frances Elizabeth Willard (b. 14 Aug 1924 - d. 1 Dec 1984)
Dinkins, Allen (b. 15 Sep 1932 - d. 19 May 1934)
Dinkins, Benjamin Harrison (b. 12 May 1889 - d. 15 Sep 1980)
Dinkins, Charlie Gray (b. 2 Oct 1898 - d. 8 Mar 1988)
Dinkins, Epsia Caroline (b. 9 Sep 1906 - d. 1 Sep 1983)
Dinkins, Malinda Jane (b. 12 Jul 1861 - d. 28 Oct 1944)
Dinkins, Maude Lillian Russell (b. 10 Feb 1905 - d. 23 Jun 1990)
Dinkins, Mote (b. 17 Jan 1875 - d. 11 Nov 1959)
Dinkins, Phisa Long (b. 29 Jun 1879 - d. 1 Jul 1974)
Dinkins, Sam Henry (b. 30 Aug 1863 - d. 2 Feb 1930)
Felts, Ronnie Franklin (b. 3 Apr 1954 - d. 26 Apr 1969)
Hege, Austin F (b. 28 Apr 1915 - d. 25 Mar 1981)
Hege, Della Sue (b. 7 Oct 1915 - d. 17 Dec 1986)
Hinshaw, Ford Day (b. 9 Feb 1905 - d. 4 Feb 1978)
Hinshaw, Medrith Evelyn Winfrey (b. 27 Jan 1916 - d. 9 Mar 1982)
Hoots, Benjamin J (b. 1 Aug 1923 - d. 19 Feb 1999)
Hoots, Olive Barber (b. 31 Dec 1923 - d. 20 Apr 2007)
Hutchens, Fred D. (b. 22 May 1905 - d. 20 May 1956)
Hutchens, Locksley H. (b. 19 Nov 1929 - d. 14 Sep 1953)
Hutchens, Lola Sprinkle (b. 29 May 1907 - d. 11 Sep 1991)
Hutchens, Malen Frank (b. 20 Nov 1901 - d. 27 May 1974)
Hutchens, Mammie Dinkins (b. 8 Jul 1894 - d. 16 Aug 1954)
Hutchens, Margaret Jane "Maggie" Dinkins (b. 26 Feb 1895 - d. 1 Jan 1974)
Hutchens, Russell (b. 3 Mar 1943 - d. 19 Apr 1987)
Hutchens, Samuel Arthur (b. 17 Jun 1904 - d. 8 Mar 1949)
Kiger, Baxter H (b. 20 Sep 1912 - d. 2 Mar 1999)
Kiger, Eunice Irene McCollum (b. 20 Aug 1920 - d. 31 Jan 1995)
McCollum, Alice Myrtle Taylor (b. 1 Sep 1892 - d. 24 Jun 1968)
McCollum, Grady (b. 28 Apr 1928 - d. 10 Dec 1973)
McCollum, Mary Ann Trivette (b. 13 Oct 1932 - d. 28 Dec 2011)
McCollum, Pamela Ann (b. 10 Oct 1957 - d. 9 Mar 1958)
McCollum, Virginia Elizabeth Barber (b. 10 May 1929 - d. 2 Jan 1999)
McCollum, William Gray (b. 28 Feb 1885 - d. 13 Oct 1969)
Rhodes, Gene Gray (b. 15 Oct 1941 - d. 15 Aug 1953)
Rhodes, Kenneth R (b. 7 Sep 1939 - d. 26 Jan 1982)
Rose, Edna Pruitt (b. 27 Jul 1927 - d. 17 Dec 2000)
Rose, Thomas Watson, Sr (b. 15 Oct 1924 - d. 29 Mar 2000)
Royal, Hilda E. Hoots (b. 4 Apr 1934 - d. 9 Aug 1956)
Shore, Carl Evan (b. 28 May 1880 - d. 1 Oct 1958)
Shore, Ida Watkins (b. 10 Jan 1917 - d. 3 Dec 2008)
Shore, Lulla Willard (b. 14 Mar 1882 - d. 6 Feb 1963)
Shugart, Billy L (b. 28 Aug 1930 - d. 27 Dec 2003)
Trivette, Franklin D (b. 23 Dec 1941 - d. 9 May 1998)
Trivette, Grady H. (b. 25 Jan 1908 - d. 1 Oct 1960)
Trivette, Sarah Elizabeth Reynolds (b. 19 Mar 1916 - d. 3 Apr 2008)
Watkins, Jerry Neal (b. 20 Jul 1940 - d. 16 Jan 1998)
Watkins, Joseph Raymond (b. 23 May 1908 - d. 25 Feb 1963)
Watkins, Joseph Thomas (b. 26 Apr 1870 - d. 3 Jan 1944)
Watkins, Lester Odell (b. 4 Feb 1911 - d. 16 Sep 1951)
Watkins, Maranda Jane Bennett (b. 27 Apr 1874 - d. 29 Jun 1948)
Watkins, Nellie Pearl Bolin (b. 6 Jun 1917 - d. 29 Mar 1993)
Watkins, Nonnie Alice (b. 27 Jul 1903 - d. 7 Sep 1995)
Watkins, Ronald G (b. 14 Oct 1949 - d. 15 Jun 1992)
Watkins, Sam (b. 12 Dec 1905 - d. 6 Sep 1965)
Watkins-Vestal, Virginia Dinkins (b. 7 Feb 1920 - d. 21 May 2004)
Willard, Julia Ann Zachary (b. 5 Mar 1865 - d. 27 Jun 1931)
Willard, Luther Cramer (b. 23 May 1878 - d. 21 May 1959)
Willard, Roy C. (b. 8 Apr 1915 - d. 23 Mar 2003)
Willard, Thomas Lee (b. 26 Mar 1867 - d. 28 Apr 1932)
Willard, Velna Mae Holt (b. 13 Sep 1918 - d. 25 Feb 1945)
Williams, Benjamin (b. 15 Jun 1892 - d. 9 Mar 1966)
Williams, Tina Ann (b. 14 Mar 1874 - d. 8 Jan 1962)
York, Anice Lou (b. 1943 - d. 1944)
York, Celia Mae Adams (b. 24 Feb 1911 - d. 5 Jul 2000)
York, Luther Clarence (b. 12 Apr 1908 - d. 29 Mar 1988)
Web page created 3 February 2013
Index of All Cemeteries
Alphabetical Index of All Burials
Previous Page