Index of All Cemeteries
Alphabetical Index of All Burials
Previous Page
Use the following to search across all the cemeteries listed.
Example: "Smith, Roger" (yes, use the quotes)
073 BRANON FRIENDS MEETING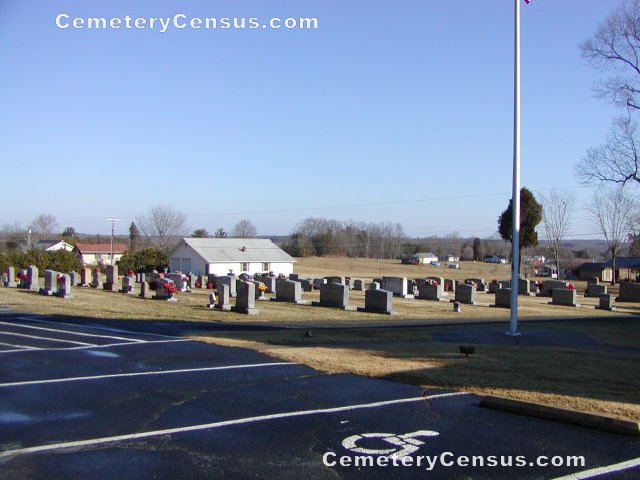 Location: Branon Church Rd, Hamptonville, Yadkin Co., NC.

Coordinates: 36d 07m 08.8s N; 80d 44m 21.6s W Click here for Google maps

Directions: From intersection of Old US 421 (Main Street) and US 601 in Yadkinville, go west on Old US 421 for 4.8 miles and turn left on Branon Church Rd. Then go a tenth of a mile and church and cemetery are on the left.

View of the church.

Surveyed by Bob Carter on January 18, 2010.
Township or district: Deep Creek.
Public or Private: Public access.
GPS Accuracy (ft.): 18.
Elevation above sea level (ft.): 992.
Status of cemetery: Maintained.

Some names are Branon, Sprinkle, Helton, Nicks, Hemric, Wooten, Vanhoy, Buxton, Hobson, Perkins, Collins, Randleman, Cook, King, Brown, Shugart, Messick, Brooks, Beamon & Boles.


Bates, David A "Andy" (b. 24 Dec 1976 - d. 7 Aug 1995)
Bates, Nora Bell (b. 30 Sep 1965 - d. 15 Mar 1966)
Beamer, Betty Lou Reynolds (b. 22 Sep 1939 - d. 20 Dec 1987)
Beamer, Fred Isaac (b. 15 Nov 1936 - d. 28 Apr 1979)
Beamer, Grady Edward (b. 22 Oct 1934 - d. 18 Jun 1990)
Beamer, Janice Karen Wagoner (b. 4 Apr 1958 - d. 29 Aug 2008)
Boles, Ellie M Crouse (b. 29 Dec 1860 - d. 6 Jan 1934)
Boles, Gladys W (b. 23 Dec 1900 - d. 22 Jan 1990)
Boles, John W (b. 14 Oct 1856 - d. 20 May 1935)
Brandon, Arthur Forest (b. 4 Dec 1913 - d. 18 Oct 1990)
Brandon, Ruby Mae Cox (b. 5 Feb 1908 - d. 20 Feb 1992)
Brannon, Charles Davis (b. 22 Sep 1917 - d. 6 Feb 1988)
Brannon, Jessie Ruth Brown (b. 20 Feb 1921 - d. 4 Sep 2000)
Brannon, Larry Davis (b. 20 Dec 1943 - d. 7 Mar 2011)
Brannon, Miles H (b. 6 Jul 1890 - d. 29 Nov 1973)
Branon, Claud Clutch (b. 27 Feb 1902 - d. 20 Mar 1980)
Branon, Ellis Fletcher (b. 1 Oct 1863 - d. 3 May 1941)
Branon, James W (b. 20 Jan 1932 - d. 3 Jun 2009)
Branon, Julia M (b. 28 Sep 1827 - d. 10 Jan 1922)
Branon, Larry Davis (b. 20 Dec 1943 - d. 7 Mar 2011)
Branon, Maggie Swisher (b. 10 Jun 1908 - d. 27 Mar 1987)
Branon, Mary Irene Buxton (b. 12 Jan 1923 - d. 6 Mar 1991)
Branon, Nancy Matildia Ireland (b. 17 Mar 1859 - d. 19 Apr 1936)
Branon, Robert Glenn (b. 12 Jun 1904 - d. 4 Mar 1976)
Branon, Vonie Branon (b. 21 Sep 1902 - d. 27 Apr 1973)
Branon, W Craig (b. 1912 - d. 24 Jun 1945)
Brooks, Miles William (b. 15 Oct 1889 - d. 9 Oct 1971)
Brooks, Vallie L Cook (b. 5 Apr 1895 - d. 16 Mar 1978)
Brown, Claud S (b. 25 Nov 1931 - d. 3 Apr 2000)
Brown, George Poindexter (b. 3 Jan 1926 - d. 5 Jun 2005)
Brown, Robert Dean "Yogi" (b. 8 Jun 1960 - d. 30 Mar 2010)
Brown, Sanford "Hugh" (b. 8 Jun 1928 - d. 18 Nov 2008)
Burton, Gora Underwood (b. 9 Feb 1892 - d. 9 Jan 1978)
Burton, Numa Wit (b. 15 Jul 1892 - d. 3 Apr 1956)
Buxton, Annie P (b. 28 Oct 1890 - d. 21 Feb 1939)
Buxton, Bertha Mae Reavis (b. 9 Jul 1899 - d. 29 Nov 1974)
Buxton, Charles Edward (b. 25 Mar 1920 - d. 1 Nov 1961)
Buxton, Louisa Silvana Van Hoy (b. 28 Apr 1866 - d. 12 Sep 1941)
Buxton, Mary A (b. 29 Apr 1864 - d. 9 Nov 1935)
Buxton, Ralph P (b. 28 Jun 1889 - d. 15 May 1954)
Buxton, Richard Lee (b. 20 Jan 1890 - d. 12 Nov 1961)
Buxton, William Curtis (b. 11 Jul 1853 - d. 5 May 1936)
Cheek, Kermit Sylvester (b. 29 Apr 1918 - d. 18 Jun 1954)
Collins, Harriett R Swaim (b. 4 Oct 1867 - d. 15 Aug 1945)
Collins, Moses (b. 10 May 1869 - d. 28 Jun 1938)
Cook, Ethel Ireland (b. 15 Sep 1892 - d. 27 Nov 1984)
Cook, Rosa Lee (b. 23 Aug 1896 - d. 7 Dec 1977)
Cook, Sarah Louise "Sallie" Martin (b. 2 Mar 1868 - d. 12 Oct 1949)
Cook, Thomas Harvey (b. 1 Jan 1902 - d. 30 Jul 1985)
Cook, Thomas Mark (b. 11 Dec 1871 - d. 6 May 1956)
Crowell, Jettie Hemric (b. 12 Sep 1898 - d. 10 Nov 1974)
Crowell, Lucille (b. 17 Apr 1926 - d. Jun 1927)
Dobbins, Peggy Reece (b. 24 Jun 1934 - d. 15 Sep 2010)
Dunn, Betty Sue Bennett (b. 24 Sep 1958 - d. 12 Feb 1982)
Elledge, Mary Lee Simcox (b. 14 Jun 1931 - d. 28 Mar 2012)
Evans, James W (b. 5 Jan 1893 - d. 20 Sep 1963)
Evans, Sarah Carolina Martin (b. 9 Feb 1863 - d. 21 Feb 1949)
Flynn, Albert Thad (b. 20 Jun 1922 - d. 9 Dec 1986)
Flynn, James Paul (b. 28 Apr 1916 - d. 28 Feb 1994)
Flynn, Pansy Frances Callahan (b. 4 Aug 1917 - d. 18 Mar 1978)
Flynn, Rachel White (b. 14 Sep 1928 - d. 10 Sep 1980)
Garner, Audrey Van Hoy (b. 9 May 1917 - d. 8 Oct 2009)
Garner, Robert Lee (b. 28 Nov 1904 - d. 10 Dec 1969)
Glass, Randy Franklin (b. 20 Apr 1963 - d. 27 May 1991)
Gomez, Octaviano "O.G." (b. 20 Mar 1973 - d. 17 Apr 2002)
Gordon, Henry Bryce (b. 16 Dec 1946 - d. 12 Nov 1965)
Gregory, Woodie L G (b. 25 Apr 1933 - d. 11 Dec 2008)
Hatcher, Robert Glenn (b. 20 Jul 1920 - d. 16 Jun 1962)
Hatcher, Robert Glenn (b. 20 Jul 1920 - d. 16 Jun 1962)
Hawks, Charles Marcus (b. 4 Mar 1936 - d. 13 Apr 2003)
Hawks, George Washington (b. 25 Oct 1905 - d. 10 Mar 1983)
Hawks, Nettie C (b. 2 Jan 1900 - d. 4 Dec 1995)
Hayes, Ethel Irene Swisher (b. 2 Jun 1922 - d. 14 May 1974)
Hayes, Ray Wilson (b. 13 Jun 1920 - d. 15 Mar 2000)
Helton, Charles Walter (b. 3 Jan 1878 - d. 21 Sep 1967)
Helton, Manie McGrady Branon (b. 23 Apr 1880 - d. 13 Jun 1980)
Helton, Mary Hazel (b. 30 Aug 1914 - d. 13 Jul 2007)
Hemric, Alfred Pleasant (b. 15 May 1930 - d. 20 Jan 1990)
Hemric, Amelia Victoria Martin (b. 8 Sep 1862 - d. 30 Dec 1929)
Hemric, Charles P (b. 4 Dec 1868 - d. 27 Mar 1919)
Hemric, Dottie Lee (b. 23 Jul 1893 - d. 21 Jul 1966)
Hemric, Lillian Gladys Hemrick (b. 23 May 1916 - d. 10 Nov 1990)
Hemric, Mary Wooten (b. 27 Jan 1894 - d. 7 Apr 1973)
Hemric, William H (b. 26 Aug 1890 - d. 16 Oct 1963)
Henderson, Bertha Banon (b. 6 Jun 1889 - d. 13 May 1960)
Hobson, Clyde Marshall (b. 13 Jul 1919 - d. 8 Aug 1973)
Hobson, Roxie Marion Swisher (b. 30 Dec 1913 - d. 29 Jun 1980)
Hoots, Betty (b. 25 Jan 1931 - d. 10 Jan 1943)
Hoots, Gladys Helton (b. 27 Jul 1902 - d. 19 Oct 2003)
Ireland, Elsie Victoria (b. 2 Mar 1897 - d. 3 Nov 1918)
Ireland, Francis Lee (b. 16 Sep 1870 - d. 24 Mar 1953)
Ireland, Hattie Wooten (b. 12 Sep 1909 - d. 26 Jul 2001)
Ireland, Infant Son (b. Jun 9 - d. Unknown)
Ireland, James Lee (b. 1 Oct 1904 - d. 7 Mar 1998)
Ireland, Lillie J (b. 7 Dec 1899 - d. 9 Nov 1917)
Ireland, Mary Louise Branon (b. 12 Mar 1867 - d. 4 May 1954)
Ireland, Swanora (b. 16 Aug 1940 - d. 13 Jan 1942)
Jester, Blaney M (b. 4 Oct 1939 - d. 1 Mar 2008)
Jester, Rebecca Lynn (b. 26 Jan 1958 - d. 26 Jan 1958)
King, Eugene Franklin (b. 27 Dec 1889 - d. 26 Sep 1974)
King, Martha Ellen Brannon (b. 6 Jul 1899 - d. 21 Aug 1999)
King, Mary Alice Long (b. 23 Sep 1864 - d. 17 Oct 1949)
King, William Lee (b. 10 Jun 1853 - d. 8 May 1935)
Long, Arthur Gorman (b. 20 Feb 1904 - d. 26 Jul 1988)
Long, Augustus Lee (b. 10 Aug 1909 - d. 23 Aug 1993)
Long, David S (b. 21 Aug 1866 - d. 20 Mar 1904)
Long, Dickie Kent (b. 27 Sep 1951 - d. 1 May 2004)
Long, George McNeil (b. 10 Jul 1918 - d. 5 May 1999)
Long, John Issac (b. 28 Jun 1903 - d. 17 Jul 1904)
Long, Julia Ann Swink (b. 4 Oct 1862 - d. 8 May 1934)
Long, Pauline Boles (b. 6 Aug 1919 - d. 25 Mar 2009)
Long, Samuel Janthan (b. 20 Nov 1981 - d. 10 Mar 1998)
Long, Samuel Jones "Sam" (b. 12 Jul 1907 - d. 21 May 1993)
Long, Thomas Henry (b. 7 Apr 1859 - d. 14 Nov 1914)
Manning, Frances Kay "Peanut" (b. 29 Jun 1969 - d. 29 Jul 1991)
Maxwell, Royce C (b. 12 May 1910 - d. 5 May 1979)
Messick, Floyd M (b. 8 Jun 1878 - d. 20 Mar 1953)
Messick, George L (b. 14 Mar 1911 - d. 19 May 1981)
Messick, James Clifford "Pete" (b. 27 Nov 1915 - d. 7 Jul 1997)
Messick, Nancy J Swisher (b. 6 Feb 1879 - d. 6 Feb 1954)
Messick, Ruby Florence (b. 12 Jun 1913 - d. 14 Aug 1987)
Mitchell, Larry W (b. 7 Jan 1950 - d. 20 Apr 1996)
Mooney, Nora Lee Boles (b. 21 Aug 1891 - d. 12 Nov 1947)
Mooney, Squire Cornelius (b. 13 Aug 1888 - d. 20 May 1941)
Nance, Annie Reavis (b. 15 Feb 1910 - d. 5 Feb 2003)
Nance, Grady Edward (b. 12 Sep 1908 - d. 8 Mar 1994)
Nicks, Ernest Wesley (b. 6 May 1929 - d. 7 Feb 1991)
Nicks, James Pearson (b. 21 Dec 1888 - d. 18 Aug 1977)
Nicks, Mildred Sprouse (b. 21 Sep 1903 - d. 5 Apr 1988)
Peele, Claude Elmer (b. 18 May 1916 - d. 23 Dec 1959)
Peele, Dorothy Faye Woodruff (b. 25 Mar 1927 - d. 7 Dec 1999)
Peele, Flora Ellen Eads (b. 14 Dec 1892 - d. 18 Sep 1963)
Peele, Squire Leo (b. 23 Oct 1922 - d. 12 Mar 1968)
Peele, Squire Newton (b. 7 Aug 1891 - d. 4 Feb 1956)
Perkins, Maggie Baler (b. 6 Apr 1885 - d. 8 Feb 1954)
Perkins, R Emmett (b. 27 May 1885 - d. 28 Mar 1972)
Randleman, Maude Boles (b. 31 Mar 1898 - d. 24 Nov 1977)
Randleman, Willie Gray (b. 28 Feb 1906 - d. 11 May 1964)
Renegar, Florence Sizemore (b. 30 Mar 1925 - d. 7 Jun 1976)
Renegar, Harold Alonzo (b. 1 Sep 1926 - d. 28 Dec 1979)
Renegar, Lois S (b. 25 Jul 1939 - d. 25 Feb 1995)
Renegar, Worth William (b. 12 Dec 1936 - d. 16 Feb 1990)
Salley, Virgel LeRoy (b. 12 Nov 1923 - d. 18 Apr 1979)
Seagraves, Charlie Ray (b. 7 Apr 1944 - d. 18 Jan 2010)
Seagraves, Infant Boy (b. 7 Jun 1975 - d. 7 Jun 1975)
Seagraves, Infant Daughter (b. 17 Jan 1974 - d. 17 Jan 1974)
Shore, Anna Margaret (b. 13 Oct 1983 - d. 13 Oct 1983)
Shore, Jeffrey Lee (b. 4 Aug 1967 - d. 5 Aug 1967)
Shugart, Hattie Branon (b. 20 May 1895 - d. 28 Nov 1970)
Simcox, Betty Sue (b. 2 Oct 1933 - d. 19 Mar 2004)
Simcox, Clarence C (b. 13 Sep 1906 - d. 18 Nov 1964)
Simcox, Ila Blanche Buxton (b. 9 Jun 1899 - d. 31 Jul 1972)
Simcox, Janice Myra Fields (b. 6 Jan 1935 - d. 6 Apr 1966)
Sizemore, Bessie Thelma Wooten (b. 15 Jan 1899 - d. 27 Sep 1969)
Sizemore, Miles Avery (b. 20 Jun 1897 - d. 20 Apr 1980)
Smith, Charles Augusta (b. 4 Jan 1882 - d. 14 Apr 1960)
Steelman, Allen William (b. 15 Sep 1907 - d. 26 Jan 1966)
Steelman, Anna Reta Simcox (b. 10 Feb 1914 - d. 30 Jul 1955)
Steelman, Bobby Lee (b. 30 Mar 1941 - d. 20 Feb 1959)
Steelman, Davis Long (b. 29 Nov 1924 - d. 31 Dec 1996)
Steelman, Dina Long (b. 26 Oct 1884 - d. 22 Sep 1968)
Steelman, Etta Mae Melton (b. 23 Jul 1920 - d. 14 Jun 2012)
Steelman, Herman Lee (b. 9 Jun 1910 - d. 26 Aug 1923)
Steelman, Infant Son (b. 15 May 1906 - d. 17 May 1906)
Steelman, Tracy Diane Rominger (b. 4 Feb 1971 - d. 8 Jul 2003)
Steelman, William Marshall (b. 1 Aug 1883 - d. 9 Apr 1946)
Stone, Charles D. W. (b. 21 Aug 1916 - d. 21 Aug 1992)
Stone, Lucille Ruth Wagoner (b. 7 Feb 1923 - d. 30 Sep 2005)
Surrett, Maggie Bell Boggs (b. 18 Dec 1889 - d. 5 Apr 1972)
Swaim, James Ray (b. 20 Sep 1941 - d. 28 Nov 1956)
Swaim, Thelma Estelle Cheek (b. 8 Feb 1924 - d. 13 Dec 1995)
Swink, Crissie S Fesperman (b. 12 Jan 1842 - d. 8 Mar 1926)
Swisher, Alvin Elisha (b. 3 Mar 1912 - d. 5 Dec 1965)
Swisher, Ellen Laurena (b. 28 Jul 1873 - d. 2 Aug 1949)
Swisher, Francis M (b. 4 May 1875 - d. 10 Sep 1943)
Swisher, Grady Preston (b. 17 Apr 1905 - d. 24 May 1990)
Swisher, Harold Gray (b. 16 Oct 1932 - d. 28 Jan 1971)
Swisher, Jessie L (b. 5 May 1906 - d. 3 Jun 1983)
Swisher, Jody Dale (b. 25 Jan 1971 - d. 25 Jan 1971)
Swisher, John Hurley (b. 9 Dec 1915 - d. 9 Oct 1969)
Swisher, Madge Long (b. 1 Oct 1910 - d. 15 Oct 1999)
Swisher, Mary Ellen Cook (b. 13 Jun 1904 - d. 21 Nov 1950)
Swisher, Nellie E Mathes (b. 3 Mar 1882 - d. 28 Jan 1938)
Swisher, Plutina Belle (b. 4 Mar 1877 - d. 9 Feb 1953)
Swisher, Stella Gray Wooten (b. 23 Aug 1905 - d. 26 Dec 1996)
Underwood, Claude E (b. 22 Feb 1928 - d. 2 Jun 1986)
Underwood, Della Deal (b. 2 Feb 1893 - d. 15 Dec 1918)
Underwood, James D (b. 13 Jun 1923 - d. 14 Jan 1985)
Underwood, John C (b. Unknown - d. 1893)
Underwood, John H (b. 15 Aug 1846 - d. 12 Dec 1914)
Underwood, Miles Cole (b. 2 May 1888 - d. 24 Apr 1968)
Underwood, Nettie N (b. 1905 - d. 1907)
Underwood, Pleasant H (b. 1876 - d. 1885)
Underwood, Rose (b. 1884 - d. 1884)
Underwood, Roxie Dina Mathis (b. 27 Dec 1888 - d. 20 Aug 1963)
Underwood, Sarah Caroline Nicks (b. 14 Mar 1857 - d. 4 Jun 1921)
Underwood, Sarah M (b. 1885 - d. 1893)
Van Hoy, Hattie J (b. 18 Nov 1897 - d. 5 Mar 1993)
Van Hoy, Mittie A Joyner (b. 7 Jul 1890 - d. 10 Oct 1956)
Van Hoy, Norman Williams (b. 30 Mar 1937 - d. 1 Oct 1980)
Van Hoy, William Ford (b. 7 Jan 1889 - d. 28 Oct 1976)
Vanhoy, Charles Lee (b. 6 Dec 1878 - d. 23 Dec 1953)
Vanhoy, Infant Girl (b. 5 Sep 1921 - d. 5 Sep 1921)
Vanhoy, Joseph Wade (b. 5 Mar 1931 - d. 17 Mar 1935)
Vanhoy, Miles Sanford (b. 13 Nov 1885 - d. 31 Mar 1975)
Vanhoy, Ruby Thelma Ireland (b. 27 Sep 1908 - d. 7 Jan 1961)
Vanhoy, Wade Anderson (b. 17 Dec 1887 - d. 22 Mar 1974)
Wagoner, Harvey L (b. 18 Dec 1932 - d. 28 Mar 2005)
Wall, Michael Jackson (b. 12 Jun 1978 - d. 20 Jun 1978)
Willard, Albert Lee (b. 23 Aug 1936 - d. 5 Jan 1995)
Willard, Joseph Franklin (b. 28 Jun 1890 - d. 16 Sep 1959)
Willard, Mary Victoria King (b. 9 Jan 1900 - d. 4 Dec 1965)
Wishon, Ezra Allen (b. 5 Sep 1923 - d. 30 Nov 1940)
Wishon, Infant (b. Unknown - d. Unknown)
Wishon, Roy F (b. 31 Jul 1928 - d. 21 Aug 1976)
Wooten, Annie Lavora (b. 10 Apr 1904 - d. 6 Mar 1976)
Wooten, Bettie D (b. 1891 - d. 26 Dec 1892)
Wooten, Blum Eugene (b. 10 Aug 1895 - d. 25 Sep 1959)
Wooten, Carl Winfield (b. 8 Aug 1903 - d. 2 Jan 1963)
Wooten, Cephus W (b. 26 Apr 1922 - d. 21 Mar 1987)
Wooten, Cora Elizabeth Hobson (b. 5 Mar 1917 - d. 13 Oct 2002)
Wooten, Harrison Eugene (b. 19 Sep 1931 - d. 14 Jun 1980)
Wooten, James Thomas (b. 23 Oct 1922 - d. 12 Oct 1980)
Wooten, John Sanford (b. 6 Jul 1930 - d. 5 Nov 2009)
Wooten, John Thomas "Tommy" (b. 14 Aug 1951 - d. 12 Jul 2005)
Wooten, John Winfield (b. 26 Jun 1928 - d. 28 Aug 2001)
Wooten, Johnny C (b. 14 Jan 1888 - d. 12 Nov 1963)
Wooten, Jonah F (b. 17 Aug 1881 - d. 1 Feb 1967)
Wooten, Lillie Reavis (b. 20 Dec 1880 - d. 9 Jan 1964)
Wooten, Maggie Lena Heath (b. 4 Apr 1899 - d. 2 Aug 1990)
Wooten, Martha Ann Ireland (b. 27 Jun 1857 - d. 28 Jun 1940)
Wooten, Martha Ellen Greene (b. 14 Jun 1861 - d. 11 Feb 1933)
Wooten, Martha Jane Brown (b. 8 Jul 1924 - d. 21 Jul 2007)
Wooten, Miles Franklin (b. 31 Mar 1897 - d. 6 Dec 1957)
Wooten, Nancy Alice Weatherman (b. 17 Jul 1887 - d. 31 Jul 1968)
Wooten, Nancy Perlie (b. 10 Mar 1886 - d. 30 Jan 1906)
Wooten, Nettie (b. 1890 - d. 1890)
Wooten, Octavia Collins (b. 29 Dec 1893 - d. 30 Apr 1967)
Wooten, Opal May (b. 11 Jul 1916 - d. 11 Jul 1916)
Wooten, Rosa Myrtle (b. 22 Nov 1884 - d. 2 Dec 1964)
Wooten, Roy Franklin, Sr (b. 29 Jul 1920 - d. 3 Jan 1999)
Wooten, Sanford M (b. 20 Apr 1881 - d. 21 Feb 1933)
Wooten, Sanford Winfield (b. 19 Sep 1912 - d. 10 Jun 2003)
Wooten, Thomas J (b. 1857 - d. 30 Jul 1936)
Wooten, Unknown (b. Unknown - d. Unknown)
Wooten, Willard E, Jr (b. 18 Dec 1943 - d. 31 Aug 1962)
Wooten, Winfield S (b. 20 Feb 1861 - d. 19 Feb 1903)
Web page updated 20 August 2016
Index of All Cemeteries
Alphabetical Index of All Burials
Previous Page