Index of All Cemeteries
Alphabetical Index of All Burials
Previous Page
Use the following to search across all the cemeteries listed.
Example: "Smith, Roger" (yes, use the quotes)
050 WHITAKER FAMILY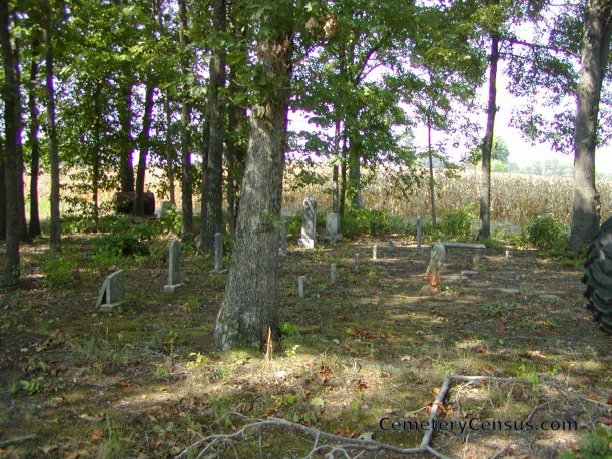 Location: 2404 Whitaker Rd, Boonville, Yadkin Co., NC.

Coordinates: 36d 09m 18.6s N; 80d 43m 26.0s W Click here for Google maps

Directions: From intersection of Main St (Old US Hwy 421) and US Hwy 601 in Yadkinville, go west on Hwy 421 for 2.5 miles and turn right on Center Rd (SR 1331). Then go abt. 1.3 miles and turn left on Whitaker Rd (SR 1334), then go abt .5 miles and cemetery is behind private residence on the right..

View #2 of the cemetery. View of the old Whitaker Homeplace. View of the Whitaker Rd - Center Rd. sign.

Surveyed by Bob Carter on August 25, 2007.

Also known as: Lorenzo Dow Whitaker Cemetery.
Township or district: Deep Creek.
Public or Private: Private Property.
GPS Accuracy (ft.): 28.
Elevation above sea level (ft.): 1066.
Status of cemetery: Maintained.

Old family cemetery of Lorenzo Dow Whitaker. Burials are Lorenzo Dow Whitaker (b. 8-7-1842, d. 2-19-1933) and 1st wife Margaret Lydia Gough (b. 2-10-1848, d. 10-21-1905). Children of Lorenzo and Lydia are Calvin M. (b. 1-24-1875, d. 12-29-1912 in Cincinnati, OH); Emma Lula (b. 11-22-1889, d. 8-16-1892); Miles D. (b. 11-11-1870, d. 8-31-1877); Laura Adelia (3-8-1869, d. 1-11-1877); Joshua A. (b. 1-14-1879, d. 5-18-1922). Also, Thelma Whitaker (b. abt 1918, d. 1922, child of Joshua A. Whitaker and wife Clara)..


Whitaker, Calvin M. (b. 24 Jan 1875 - d. 29 Dec 1912)
Whitaker, Emma Lula (b. - d. )
Whitaker, Joshua A. (b. 14 Jan 1879 - d. 18 May 1922)
husband of Clara Whitaker
Age 90 yrs 6 mos 12 days. husband of Margaret Lydia Gough Whitaker
Age 62 yrs 8 mos 11 days. wife of Lorenzo Dow Whitaker
infant daughter of Joshua A. and Clara Whitaker. "How soon fades the tender flower."
Web page updated 20 August 2016
Index of All Cemeteries
Alphabetical Index of All Burials
Previous Page