Index of All Cemeteries
Alphabetical Index of All Burials
Previous Page
Use the following to search across all the cemeteries listed.
Example: "Smith, Roger" (yes, use the quotes)
049 COURTNEY BAPTIST CHURCH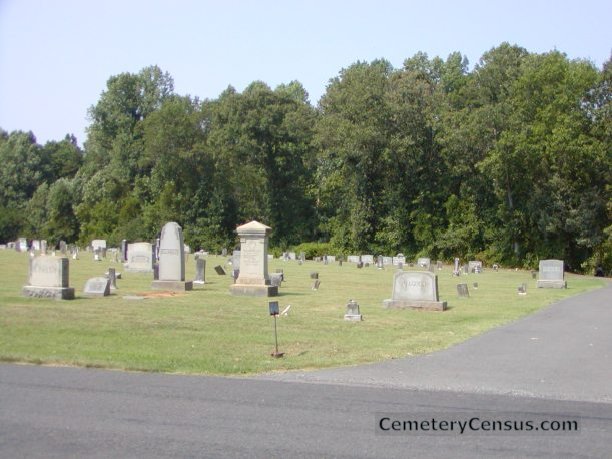 Location: Courtney Church Rd, Courtney, Yadkin Co., NC.

Coordinates: 36d 03m 26.7s N; 80d 37m 12.5s W Click here for Google maps

Directions: From intersection of US Hwy 601 and Courtney-Huntsville Rd (abt 3.9 miles south of US 421 in Yadkinville), go east on Courtney-Huntsville Rd for 1.1 miles and turn right on Courtney Church Rd. Then go .2 miles and church is on the left and cemetery on the right.

View #2 of the cemetery. View of the church.

Surveyed by Bob Carter on August 18, 2007.
Also known as: Cross Roads Baptist Church.
Township or district: South Liberty.
Public or Private: Public access.
GPS Accuracy (ft.): 15.
Elevation above sea level (ft.): 901.
Status of cemetery: Maintained.

Very old cemetery of about 600-800 burials. About 1/4 are old field stones or hand carved markers and difficult to read dating back to mid 1800s, maybe earlier. Church was formerly named Cross Roads Baptist Church and organized in 1835 in an area called Chinquapin Cross Roads and the Bryan Settlement, an area where early settlers moved south on the Great Wagon Road from VA, PA and MD.


Allgood, Hopa N Sutphin (b. 1904 - d. 1929)
Allgood, Paul (b. 10 Sep 1904 - d. 2 Oct 1926)
Anderson, Elsie Jackson (b. 4 Sep 1913 - d. 14 Jan 2003)
Anderson, Wayne Roger "Bud" (b. 10 Jan 1945 - d. 7 Jan 2000)
Anthony, Amy Garner (b. 19 Jun 1870 - d. 9 Jan 1937)
Baity, Abigail Collette (b. 23 Sep 1836 - d. 3 May 1893)
Baity, Andrew F (b. 15 Dec 1860 - d. 1 Nov 1943)
Baity, Anna Elizabeth (b. 13 May 1882 - d. 13 Mar 1925)
Baity, Augusta Lealer (b. 16 Feb 1887 - d. 14 Jan 1896)
Baity, Bertha Lee (b. 24 Sep 1890 - d. 6 Sep 1902)
Baity, Billy Dean (b. 27 Mar 1937 - d. 9 May 1937)
Baity, Bobby Gene (b. 27 Mar 1937 - d. 10 May 1937)
Baity, Bruce (b. 2 Feb 1888 - d. 20 Nov 1933)
Baity, Carrie Lee Goins (b. 13 Nov 1905 - d. 5 Apr 1991)
Baity, Carrie Wooten (b. 27 Jul 1889 - d. 2 May 1969)
Baity, Catherine Danner (b. 15 Mar 1813 - d. 20 Jan 1896)
Baity, Cleta H (b. 17 May 1899 - d. 18 Apr 1989)
Baity, Clyde Newsome (b. 1 Jul 1902 - d. 23 May 1986)
Baity, Corp Francis A (b. 21 Sep 1830 - d. 21 May 1904)
Baity, David H. (b. 19 Nov 1868 - d. 31 Dec 1939)
Baity, David Washington (b. 6 Mar 1834 - d. 9 Feb 1920)
Baity, Dorothy Lucille Kiger (b. 13 Nov 1919 - d. 10 Mar 2010)
Baity, Elizabeth (b. Oct 1831 - d. Jul 1852)
Baity, Fannie Blanche Burgess (b. 31 Jan 1909 - d. 15 Jan 1982)
Baity, Flora Annie Dalton (b. 1 Feb 1915 - d. 6 Jul 1989)
Baity, Floyd Isaac (b. 10 Dec 1888 - d. 28 Nov 1955)
Baity, George Wesley (b. 4 Oct 1831 - d. 15 Jul 1900)
Baity, Isaac Israel (b. 12 Mar 1874 - d. 5 Nov 1932)
Baity, Isham "Isom" (b. 19 Oct 1804 - d. 23 Dec 1892)
Baity, James W (b. 15 May 1927 - d. 23 Jan 2002)
Baity, John (b. 15 Mar 1813 - d. 29 Jan 1896)
Baity, John Henry (b. 10 Aug 1912 - d. 30 Dec 1996)
Baity, John I. (b. 23 Aug 1811 - d. 9 Oct 1853)
Baity, John P. H. (b. 28 Sep 1839 - d. 16 Jan 1912)
Baity, John William David (b. 31 Jan 1855 - d. 3 Jul 1935)
Baity, Joseph Harison (b. 5 Apr 1873 - d. 12 Oct 1944)
Baity, Julyjana "Julia" Odolczyk (b. 1 Jun 1927 - d. 13 Aug 1998)
Baity, Laura A. Bohannon (b. 16 Sep 1854 - d. 6 Feb 1948)
Baity, M. L. (b. 15 Sep 1805 - d. Unknown)
Baity, Mary Cranfill (b. 26 Jul 1831 - d. 1 Apr 1925)
Baity, Mary Frances (b. 8 May 1910 - d. 21 Mar 1985)
Baity, Mary K (b. 26 Mar 1857 - d. 1 Aug 1857)
Baity, Minnie Belle (b. 16 Feb 1888 - d. 7 Jun 1901)
Baity, Mollie E (b. 28 Jun 1869 - d. 15 Aug 1946)
Baity, Pleasant H. "Pleas" (b. 10 Jul 1844 - d. 14 Feb 1928)
Baity, Polly H. Plowman (b. 18 Oct 1842 - d. 21 Oct 1894)
Baity, Sallie Catherine (b. 25 Apr 1877 - d. 22 Jun 1975)
Baity, Sarah Ann (b. Aug 1835 - d. Unknown)
Baity, Sarah Jean "Salley" Hoots (b. 12 Jun 1814 - d. 22 Dec 1835)
Baity, Sarah M Rutledge (b. 31 Jan 1859 - d. 15 May 1899)
Baity, Thomas Jefferson (b. 28 Jul 1879 - d. 29 Oct 1881)
Baity, Thomas Noah (b. 28 Nov 1879 - d. 11 Apr 1961)
Baity, Thurman W (b. 1 Dec 1913 - d. 22 Mar 1916)
Baity, Vashti Ferchos James (b. 15 Aug 1875 - d. 24 Aug 1953)
Baity, Vilna Verona (b. 8 Aug 1901 - d. 7 Feb 1981)
Baity, Virginia L. "Jennie" Hoots (b. 22 Nov 1869 - d. 19 Oct 1924)
Baity, William D (b. 1830 - d. Unknown)
Baity, Wilsie Gray (b. 26 Oct 1914 - d. 20 Mar 1990)
Barnes, Jack (b. 19 Jun 1920 - d. 16 Jun 2010)
Beaman, Mary Lou Groce (b. 20 Mar 1865 - d. 2 Nov 1937)
Beaman, Ozzel G (b. 1 Dec 1894 - d. 18 Jul 1899)
Beaman, Shuler (b. 17 Sep 1867 - d. 23 Aug 1941)
Beaman, William Silas (b. 20 Dec 1897 - d. 17 May 1916)
Beamon, Infant Son (b. Dec 1891 - d. Dec 1891)
Beamon, Louisa Jane "Eliza" Reavis (b. 16 Sep 1851 - d. 1 Sep 1918)
Beamon, Sylvanah Winfield "Vanner" (b. 28 Nov 1857 - d. 2 Mar 1931)
Bodford, Willis "Wiggs" (b. 20 May 1929 - d. 20 Feb 1995)
Boger, Alvona Lou Ratledge (b. 1916 - d. 12 Sep 2006)
Bowman, Betty Ann "Annie" (b. 23 Apr 1914 - d. 3 Jul 2000)
Bowman, Etta Ellen Sutphin (b. 27 Aug 1898 - d. 3 Jan 1932)
Bowman, James Michael (b. 6 Nov 1948 - d. 9 Dec 1948)
Bowman, Linda (b. 26 Jan 1944 - d. 8 Mar 1944)
Bowman, Riley Franklin (b. 2 Apr 1893 - d. 10 Sep 1947)
Bradley, Virginia Louise H (b. 20 May 1922 - d. 12 Aug 1985)
Brannock, Marshall "Bud" (b. 15 Dec 1912 - d. 15 Apr 1967)
Brannock, Mattie Myers (b. 19 May 1916 - d. 28 Jan 2005)
Burgess, Charles Edgar (b. 19 Mar 1924 - d. 18 Aug 1997)
Burgess, Infant (b. 19 Sep 1931 - d. 19 Sep 1931)
Burgess, James Charlie (b. 11 Oct 1871 - d. 27 Apr 1929)
Burgess, Joseph Franklin (b. 21 May 1898 - d. 23 Jun 1975)
Burgess, Joseph Richard (b. 12 Nov 1938 - d. 28 Nov 1995)
Burgess, Lydia Jeanette Wooten (b. 15 Oct 1895 - d. 19 Aug 1975)
Burgess, Martha Jane Brandon (b. 25 Sep 1873 - d. 19 Sep 1931)
Burgess, Nannie Elizabeth Harp (b. 20 Aug 1901 - d. 2 Nov 1990)
Burgess, Ollive Lowery (b. 24 Jun 1929 - d. 18 Mar 2012)
Burgess, William Edgar (b. 22 May 1900 - d. 1 Dec 1978)
Caudle, Infant Daughter (b. 26 May 1941 - d. 26 May 1941)
Caudle, Millicent (b. 8 Apr 1955 - d. 8 Apr 1955)
Childress, Melvin Gray (b. 30 Mar 1934 - d. 10 Sep 2010)
Clarkson, Betty Jean Pettit (b. 15 Aug 1936 - d. Unknown)
Cleary, David F (b. 29 Apr 1947 - d. 27 Sep 1995)
Cockerham, Peggy Reavis (b. 26 Aug 1937 - d. 17 Nov 2006)
Cockerham, Tammy (b. 15 Jan 1965 - d. 16 Jan 1965)
Cole, Emma Lou R. (b. 13 Apr 1935 - d. 22 Jun 1986)
Comer, Emory (b. Unknown - d. Unknown)
Comer, N. H. (b. 7 Apr 1823 - d. 23 Sep 1863)
Corl, Lucy Etta (b. 4 Mar 1854 - d. Unknown)
Corl, Sylvester Monroe (b. 30 Jul 1860 - d. 20 Mar 1939)
Cox, Beatrice Gaynell Miller (b. 17 Jan 1934 - d. 26 Nov 1987)
Cranfill, Andrew (b. 29 Oct 1869 - d. 26 Apr 1941)
Cranfill, Andrew Jackson (b. 13 Jun 1835 - d. 30 Sep 1916)
Cranfill, Charles Calvin (b. 29 Oct 1866 - d. 6 Mar 1914)
Cranfill, Effie Rutledge (b. 5 Jul 1872 - d. 27 Nov 1946)
Cranfill, Elkanah (b. 16 Nov 1830 - d. 28 May 1889)
Cranfill, Isaac Judson (b. 13 Dec 1869 - d. Apr 1949)
Cranfill, John A. (b. 7 Jun 1872 - d. 29 Dec 1895)
Cranfill, Kattie Garner (b. 18 Aug 1872 - d. 12 Mar 1910)
Cranfill, Lee Arlith (b. 7 Dec 1911 - d. 11 Nov 1964)
Cranfill, Levi (b. 24 Oct 1865 - d. 11 Jun 1949)
Cranfill, Levi (b. 29 Dec 1808 - d. 11 Sep 1873)
Cranfill, Lucinda "Lucy" (b. 28 Jan 1809 - d. 5 Sep 1857)
Cranfill, Lucy Jane Shores (b. 21 Mar 1839 - d. 28 Jun 1878)
Cranfill, Martha Jane Dixon (b. 31 Mar 1833 - d. 5 Feb 1884)
Cranfill, Mary Alice Miller (b. 15 May 1877 - d. 3 Nov 1931)
Cranfill, Mary M (b. 20 Sep 1835 - d. 15 Mar 1860)
Cranfill, Mary Reavis (b. 7 Sep 1876 - d. 7 Jun 1960)
Cranfill, Sarah Jane Baity (b. 15 Feb 1866 - d. 17 Jan 1955)
Cranfill, Versie Mae (b. 15 May 1896 - d. 9 Sep 1984)
Craver, Charles Emory "Charlie" (b. 25 Aug 1855 - d. 30 Jan 1941)
Craver, Donald H. (b. 22 Dec 1935 - d. 10 Dec 2007)
Craver, Fairy Luticia Carter (b. 11 Feb 1905 - d. 6 Feb 1973)
Craver, Florence Bell (b. 28 Jan 1885 - d. 16 Feb 1957)
Craver, Infant Daughter (b. 26 Dec 1931 - d. 26 Dec 1931)
Craver, Infant Son (b. 29 Nov 1926 - d. 29 Nov 1926)
Craver, Luther G (b. 13 Dec 1887 - d. 31 Mar 1957)
Craver, Mary Elizabeth Gough (b. 7 Oct 1866 - d. 30 Oct 1945)
Critz, Haman (b. 15 Jun 1830 - d. 19 Nov 1895)
Dalton, Mary L Bowman (b. 4 Aug 1888 - d. 9 May 1968)
Dalton, Samuel T (b. 7 Sep 1885 - d. 25 Dec 1957)
Danner, Eugene (b. 10 Oct 1880 - d. 29 Jan 1963)
Danner, Francis M (b. 4 Jan 1833 - d. 21 Nov 1909)
Danner, Frederick Tilden (b. 22 Sep 1876 - d. 23 Jan 1971)
Danner, Katherine Shermer (b. 6 Feb 1755 - d. 17 Jul 1844)
Danner, Mary Louise Baity (b. 25 Jul 1880 - d. 17 May 1977)
Danner, Rebecca E Cranfill (b. 2 Apr 1842 - d. 18 Feb 1925)
Danner, Stella (b. 19 Oct 1887 - d. 28 May 1965)
Danner, Walter N (b. 2 May 1873 - d. 26 May 1931)
Dixon, Lela Elizabeth Essic (b. 29 Mar 1896 - d. 25 Feb 1969)
Doss, Connie Spillman (b. 8 Nov 1955 - d. 19 Jan 2012)
Douglas, James A (b. 3 Mar 1920 - d. 7 Feb 2001)
Efney, Floyd (b. 26 Aug 1901 - d. 29 Aug 1985)
Efney, Lila Ruth Stuphin (b. 20 Dec 1899 - d. 5 Apr 1988)
Essic, Annie I (b. 24 Sep 1893 - d. 4 Dec 1902)
Essic, David Burton (b. 14 Oct 1898 - d. 26 Feb 1952)
Essic, David Gasper (b. 1 Oct 1860 - d. 15 May 1943)
Essic, Mary Ellen Sprinkle (b. 27 Jan 1866 - d. 24 Oct 1942)
Fleming, Kathleen Peele Cranfill (b. 23 May 1924 - d. 20 Mar 2010)
Fleming, Stanley Earl (b. 11 May 1913 - d. 29 Nov 1987)
Foster, A. G. (b. 6 Jun 1846 - d. 9 Oct 1883)
Foster, Doris Burchette (b. 22 Oct 1925 - d. 22 Feb 1999)
Foster, Glenn Mitchell (b. 9 Jul 1919 - d. 6 Apr 2011)
Foster, Mary Della Williams (b. 5 Jan 1880 - d. 26 Jul 1961)
Foster, Rebecca Gabard (b. 20 Jan 1840 - d. 29 Jun 1877)
Foster, Stephen Collins (b. 3 Feb 1940 - d. 7 Jan 1998)
Gabard, Nancy Foster (b. 26 Apr 1804 - d. 23 Jun 1894)
Gabard, William (b. 3 Oct 1803 - d. 26 May 1883)
Garner, Amy Stanley (b. 3 May 1809 - d. 1860)
Garner, Bettie (b. 1873 - d. 1891)
Garner, Bettie (b. Unknown - d. 20 Sep 1874)
Garner, Francis Armstead (b. 1834 - d. 1926)
Garner, Infant Daughter (b. Unknown - d. 23 Feb 1879)
Garner, John (b. 5 Jan 1799 - d. 21 Apr 1850)
Garner, John W. (b. 9 Dec 1872 - d. 22 Sep 1892)
Garner, Lula B. (b. Unknown - d. 27 Aug 1885)
Garner, Lydia M. (b. 21 Sep 1874 - d. 21 Sep 1875)
Garner, Martha C. Reavis (b. 1839 - d. 30 Jan 1863)
Garner, Mary Jane May (b. 1848 - d. 1932)
Garner, Phebe Adams (b. 11 Sep 1836 - d. 9 Mar 1911)
Garner, William Washington (b. 11 Feb 1833 - d. 23 Oct 1883)
Gough, Delma "Bud" (b. 16 Jul 1929 - d. 12 Oct 1993)
Grimes, Noah E. (b. 9 Jan 1863 - d. 7 Sep 1954)
Groce, Claude I (b. 23 May 1888 - d. 27 Jul 1914)
Groce, Laura F (b. 1 Jun 1862 - d. 12 Mar 1926)
Groce, Levi Newton (b. 4 Mar 1851 - d. 26 Oct 1929)
Hall, Pleasant (b. Unknown - d. Jun 1886)
Harp, Armanda (b. 25 Aug 1869 - d. 25 Sep 1946)
Harp, Dora Estelle Collette (b. 26 Jul 1874 - d. 14 Jul 1954)
Harp, James Monroe (b. 26 Jun 1858 - d. 16 Jul 1927)
Harp, John Cornelius (b. 14 Dec 1870 - d. 17 Jun 1937)
Harpe, Tyrus Edward (b. 20 Aug 1910 - d. 26 Aug 1984)
Holden, Infant Son (b. Unknown - d. Mar 1889)
Holden, Jettie (b. 26 Feb 1888 - d. 25 Mar 1988)
Hoots, David Washington "Wash" (b. 26 Jul 1866 - d. 24 Jul 1895)
Hoots, Martha Ann Danner (b. 20 Jun 1862 - d. 2 Dec 1950)
Hoots, Sarah Catherine Danner (b. 29 Dec 1833 - d. 29 Jul 1928)
Howell, John Vance (b. 5 Jan 1860 - d. 28 Nov 1950)
Huffman, Ida Jane (b. 23 Dec 1888 - d. 19 Apr 1963)
Huffman, James F (b. 21 May 1889 - d. 3 Mar 1971)
Huffman, Robert Blaine (b. 1 Jul 1925 - d. 20 May 1998)
Hutchens, Avonelle Key (b. 14 Jun 1940 - d. 23 Dec 1967)
Hutchens, Carolyn Bowman (b. 10 Apr 1940 - d. 27 Mar 2007)
Hutchens, Conard David (b. 18 May 1912 - d. 13 Apr 1986)
Hutchens, Marty E (b. 9 Oct 1962 - d. 25 Mar 1979)
Hutchens, Randall Lee (b. 2 Feb 1963 - d. 11 Mar 1997)
Johnson, Elga Howard "El" (b. 27 Dec 1933 - d. 16 Jul 1998)
Jones, Ida Mae Huffman (b. 16 May 1912 - d. 19 Oct 1971)
Jones, Julia Rutledge (b. 7 Oct 1880 - d. 25 Nov 1961)
Jones, Thomas Matthew (b. 1 May 1900 - d. 27 Mar 1991)
Key, Ceabern M (b. 14 Oct 1917 - d. 3 May 1979)
Key, Hillery M (b. 5 Jan 1945 - d. 1 Aug 1988)
Key, James W (b. 21 Oct 1935 - d. 31 Dec 2003)
Key, Mary M Hutchens (b. 2 May 1916 - d. 30 May 1997)
Key, Nellie Pearl (b. 14 Sep 1938 - d. 14 Sep 1938)
Laymon, Sara Lois (b. 26 Jul 1929 - d. 26 Feb 1931)
Luck, Elva Baity (b. 1 Jun 1901 - d. 11 Nov 1985)
Luck, George W (b. 25 Dec 1924 - d. 26 Apr 1925)
Luck, William S (b. 8 Dec 1889 - d. 3 Aug 1968)
Marshall, Anna Elizabeth (b. 1882 - d. 1925)
Marshall, Jesse N. (b. 21 Jun 1884 - d. 9 Mar 1964)
Marshall, John W D (b. 1855 - d. 1935)
Marshall, Laura Ann (b. 1854 - d. 1948)
Marshall, Mae Belle Baity (b. 6 Nov 1884 - d. 7 Feb 1941)
Marshall, Nina Bruce (b. 1888 - d. 1933)
Martin, Doris Mae (b. 16 Jun 1924 - d. 21 Jun 1925)
Martin, E. S. (b. 8 Sep 1869 - d. 1891)
Martin, Gertrude Jane Allgood (b. 19 Apr 1901 - d. 13 May 1951)
Martin, John Frank (b. 2 Jan 1899 - d. 20 Nov 1964)
Masten, Rhodesia Lowery (b. 7 Sep 1912 - d. 17 Aug 1998)
Matthews, Crater Swanson (b. 28 Mar 1918 - d. 4 Feb 1978)
Matthews, Dorothy Caudle (b. 4 Jul 1927 - d. 10 Sep 2000)
May, Bon Terrell (b. 6 Jan 1901 - d. 17 Dec 1979)
May, Elizabeth Cranfill (b. 2 Nov 1829 - d. 15 Jun 1905)
May, Nathan Samuel Chafin (b. 19 Sep 1856 - d. 17 Dec 1920)
May, Rush (b. 2 Nov 1858 - d. 1916)
May, Samuel (Rev.) (b. 30 Mar 1815 - d. 31 Mar 1891)
May, Zina Evelyn (b. 12 Sep 1900 - d. 12 Jun 1901)
Miller, Maud C. Essic (b. 29 Oct 1886 - d. 2 May 1933)
Moser, Effie Key (b. 2 Dec 1894 - d. 25 Sep 1946)
Moser, Jasper Young (b. 3 Nov 1888 - d. 20 May 1958)
Moser, Jasper Young "Jack", Jr (b. 7 Aug 1924 - d. 4 Mar 1972)
Mundy, Estelle Norman (b. 6 Jun 1907 - d. 30 Mar 1993)
Mundy, Phyllis Ann (b. 2 May 1947 - d. 2 Mar 1997)
Myers, Grover Cleveland (b. 8 Jul 1886 - d. 13 Jan 1968)
Myers, Minnie Louisa Wilkins (b. 18 May 1893 - d. 10 Nov 1969)
Norman, Alza Moser (b. 26 Aug 1913 - d. 26 Mar 1954)
Norman, Herman G (b. 14 Dec 1903 - d. 13 Nov 1939)
Norman, James M (b. 17 May 1877 - d. 12 Mar 1952)
Norman, James W (b. 4 Feb 1924 - d. 12 Jul 1944)
Norman, John Henry (b. 14 Nov 1881 - d. 20 Oct 1944)
Norman, Mary C Azman (b. 27 Dec 1884 - d. 15 May 1966)
Norman, Minnie V Layman (b. 27 Apr 1894 - d. 24 Sep 1956)
Norman, Roy A (b. 24 Mar 1922 - d. 1 Oct 1943)
Norman, William Howard (b. 8 May 1909 - d. 26 Mar 1954)
Norris, Flora Holcomb (b. 4 Mar 1911 - d. 22 Dec 2007)
Norris, Steve B (b. 12 Feb 1909 - d. 8 Apr 2010)
Parker, Hessie Ola Peele (b. 2 Sep 1911 - d. 24 Jul 1995)
Parker, Samuel Dillard (b. 11 Jun 1898 - d. 25 Sep 1978)
Peele, Edward Franklin (b. 11 Jan 1927 - d. 24 Jan 2012)
Peele, James Byrd (b. 21 Jun 1886 - d. 10 Feb 1960)
Peele, Jennie Frances Coe (b. 27 Nov 1889 - d. 20 Jan 1970)
Peoples, Sarah Jane Norman (b. 4 Feb 1843 - d. 2 Jun 1898)
Peoples, William A (b. Jan 1838 - d. Dec 1902)
Ratledge, Arthur C. (b. 29 Jun 1893 - d. 9 Oct 1995)
Ratledge, Betty Lou (b. 28 Oct 1936 - d. 13 Nov 1982)
Ratledge, Chaffin (b. 10 Sep 1895 - d. 23 May 1897)
Ratledge, Cletus Howard (b. 23 Aug 1902 - d. 4 Aug 1989)
Ratledge, Edna May (b. 15 Jan 1922 - d. 18 May 1989)
Ratledge, Flora D. (b. 18 Feb 1894 - d. 18 Nov 1981)
Ratledge, Ruby Baity (b. 18 Jan 1905 - d. 8 Sep 1995)
Ratledge, S. Emma Baity (b. 13 Sep 1867 - d. 16 Feb 1960)
Ratledge, Susan Emma Baity (b. 13 Sep 1867 - d. 16 Feb 1960)
Reavis, Charles Bragg (b. 19 Jun 1854 - d. 5 Jul 1939)
Reavis, Crystal Angela (b. 7 May 1965 - d. 21 Oct 1985)
Reavis, Gerald Ray (b. 7 Dec 1939 - d. 5 Feb 2001)
Reavis, Martha B (b. 7 Aug 1875 - d. 18 Oct 1894)
Reavis, Permelia (b. 26 Feb 1852 - d. 2 Jan 1881)
Reavis, Sarah Jane "Sallie" Cranfill (b. 30 Oct 1861 - d. 25 Oct 1943)
Reavis, Virginia Hash (b. 1 Jul 1907 - d. 1 Jan 1937)
Reavis, William Alfred (b. 19 Sep 1857 - d. 1884)
Renegar, Corl S (b. 5 Nov 1918 - d. 24 Jul 1924)
Renegar, Emma M (b. 5 Apr 1889 - d. 5 Nov 1916)
Richardson, Infant Son (b. Unknown - d. Unknown)
Richardson, Wade Junior (b. 11 Jul 1936 - d. 12 Jan 2010)
Rivers, John W. (b. 13 Oct 1942 - d. 26 Feb 1998)
Rollins, Infant Son (b. 15 Oct 1906 - d. 17 Oct 1906)
Royall, Juston Lance (b. 27 May 1996 - d. 27 May 1996)
Rutledge, Ben (b. 2 May 1889 - d. 20 Dec 1983)
Rutledge, Bettie (b. 7 Sep 1882 - d. 3 Dec 1910)
Rutledge, Billy R. (b. 30 Jun 1930 - d. 10 Jun 1989)
Rutledge, Dona K (b. 1 May 1900 - d. 13 Nov 1994)
Rutledge, Helen Potts (b. 12 Jan 1935 - d. Unknown)
Rutledge, Infant Daughter (b. Unknown - d. 18 Mar 1921)
Rutledge, Infant Son (b. 14 Apr 1886 - d. 9 Apr 1887)
Rutledge, James Ben, Sr (b. 19 May 1928 - d. 17 Aug 2000)
Rutledge, Kathleen H. (b. 9 Nov 1932 - d. 19 Apr 1981)
Rutledge, Margaret Allgood (b. Aug 1829 - d. 1900)
Rutledge, Nancy Lee (b. 22 Oct 1850 - d. 17 Jan 1924)
Rutledge, Turnie Josephine (b. 13 Jul 1874 - d. 27 Jun 1965)
Rutledge, William (b. 1806 - d. 1898)
Rutledge, Zachary Taylor (b. 6 Mar 1849 - d. 30 Nov 1932)
Shelton, John W (b. 1 Feb 1856 - d. 26 Jan 1893)
Shelton, Thomas Hanes "Tommy" (b. 14 Nov 1938 - d. 24 Jan 2011)
Shermer, Eva Howell (b. 28 Jul 1891 - d. 17 Jun 1982)
Shermer, John Grover (b. 30 Aug 1892 - d. 26 Aug 1956)
Shore, Raymond Clayton (b. 4 Nov 1934 - d. 14 Aug 2005)
Simmons, Rebecca Stimpson (b. Nov 1848 - d. 4 Dec 1921)
Smith, Kenneth Earl (Rev.) (b. 21 Jul 1923 - d. 2 Apr 2009)
Smith, Wade Leon (b. 24 Jan 1936 - d. 20 May 1983)
Spillman, Betty Jean Mcewen (b. 30 Oct 1936 - d. 6 Mar 2004)
Spillman, Columbus Gray (b. 16 Sep 1899 - d. 19 Feb 1959)
Spillman, David Dean (b. 17 Dec 1956 - d. 1 Mar 1979)
Spillman, Henry Ray (b. 26 Sep 1932 - d. 20 Jul 1996)
Spillman, Herman E (b. 19 Aug 1930 - d. 3 Aug 2011)
Spillman, Infant Daughter (b. 15 Apr 1927 - d. 15 Apr 1927)
Spillman, Lola S Baity (b. 5 Apr 1899 - d. 24 May 1965)
Sprinkle, Bettie Howell (b. 19 Jun 1866 - d. 21 Mar 1932)
Sprinkle, George Francis (b. 4 Mar 1830 - d. 27 Apr 1877)
Sprinkle, John Henry (b. 4 Apr 1859 - d. 3 Jul 1942)
Sprinkle, Mary C. Baity (b. 14 Jan 1868 - d. 1 Mar 1953)
Sprinkle, Mary Isabell Bolin (b. 19 Mar 1831 - d. 19 Feb 1915)
Sprinkle, Rebecca Jane Dixon (b. Unknown - d. Unknown)
Steelman, Dora Alena Harding (b. 10 Aug 1862 - d. 18 Jan 1944)
Steelman, Edsel Maurice (b. 27 Apr 1929 - d. 16 Nov 1990)
Steelman, James Webster (b. 13 Aug 1884 - d. 4 May 1978)
Steelman, Joseph Clyde (b. 21 Dec 1915 - d. 28 Aug 1972)
Steelman, Morrison Odell (b. 15 Sep 1910 - d. 13 Feb 1980)
Steelman, Ruth Martin (b. 29 Mar 1921 - d. 14 Sep 2009)
Steelman, Sidney Conrad (b. 9 Jan 1897 - d. 17 Sep 1970)
Steelman, Thomas Ashbury (b. 12 Jul 1852 - d. 25 May 1899)
Stokes, Dorris B unknown (b. 28 Oct 1935 - d. Unknown)
Stokes, Hubert Leonard (b. 12 Sep 1932 - d. 3 Aug 1966)
Stone, Angel Briana (b. 9 Sep 2001 - d. 9 Sep 2001)
Stone, Chloe Danyelle (b. 4 Sep 2002 - d. 4 Sep 2002)
Sutphin, Albert Everett (b. 26 Dec 1908 - d. 27 Feb 1987)
Sutphin, Luna Anita Cranfill (b. 17 Oct 1908 - d. 9 Nov 2005)
Sutphin, Rhoda Ellen Jackson (b. 13 Jan 1881 - d. 4 May 1942)
Sutphin, Tazewell Jasper (b. 3 Apr 1879 - d. 9 May 1971)
Sutphin, Violet Mae Dalton (b. 28 Sep 1918 - d. 6 Jan 1997)
Sutphin, Willie Lee (b. 29 Jun 1913 - d. 3 Aug 1979)
Todd, Herbert Noel (b. 27 Jan 1918 - d. 24 May 1971)
Trivett, Pinkney (b. 24 Sep 1838 - d. 7 Jun 1918)
Walker, Mary Opal "Opal" Essic (b. 6 Sep 1908 - d. 25 Jan 1989)
Wall, Ila Beatrice Vestal (b. 16 Jul 1906 - d. 26 Sep 1985)
Wall, Leonard F (b. 20 May 1924 - d. 10 May 1986)
Wall, Marjory Myers (b. 5 Aug 1923 - d. 9 May 2010)
Wall, Ray Anderson (b. 4 Nov 1925 - d. Jul 1980)
Wall, Willie Anderson (b. 26 Jun 1891 - d. 29 Oct 1962)
Warner, Frances H Baity (b. 6 Nov 1934 - d. 8 Jul 2009)
Warner, Warren Eben (b. 15 Nov 1962 - d. 29 Jun 1984)
Webb, H. G. (b. 20 Dec 1932 - d. 25 Apr 1984)
Webb, Theora Dalton (b. 28 Nov 1912 - d. 12 Dec 1966)
Webster, Jennie Groce (b. 12 Jun 1832 - d. 10 Jan 1901)
Willyard, Elvina Miller (b. 25 May 1835 - d. 25 Apr 1898)
Willyard, Ollie R (b. 7 Jan 1876 - d. 17 Jul 1907)
Willyard, Solomon Mahlon(Mayland) (b. 27 Feb 1832 - d. 18 Feb 1916)
Wishon, Grover Cleveland (b. 1 Sep 1887 - d. 3 Jan 1984)
Wishon, Wocia Allgood (b. 7 Jan 1893 - d. 29 Mar 1974)
Web page updated 20 August 2016
Index of All Cemeteries
Alphabetical Index of All Burials
Previous Page