Index of All Cemeteries
Alphabetical Index of All Burials
Previous Page
Use the following to search across all the cemeteries listed.
Example: "Smith, Roger" (yes, use the quotes)
048 DEEP CREEK FRIENDS MEETING (NEW CEMETERY)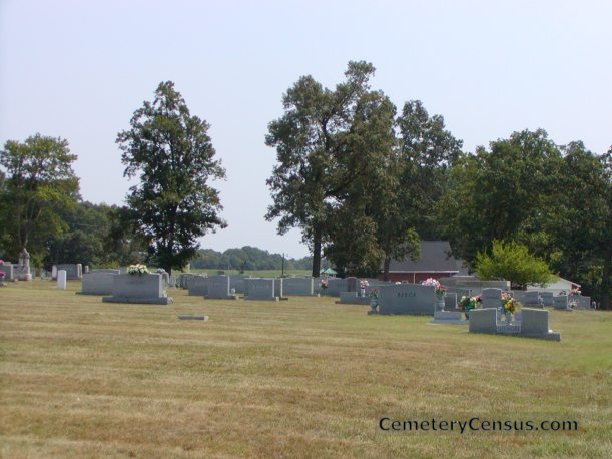 Location: Deep Creek Church Rd, Yadkinville, Yadkin Co., NC.

Coordinates: 36d 10m 55.5s N; 80d 39m 10.0s W Click here for Google maps

Directions: From US 601 & Main Street (old US 421) in Yadkinville, go north on Hwy 601 for 3.9 miles & turn right on Country Club Rd (SR 1503). Then go 1.8 miles & turn left on Rockford Rd (SR 1506). Then go .1 mile & turn right on Deep Creek Church Rd. Then go .2 miles & church & new cemetery are on the right & old cemetery is on the left after the church..

View #2 of the cemetery. View #3 of the cemetery. View of the church.

Surveyed by Bob Carter on August 18, 2007.
Township or district: North Liberty.
Public or Private: Public access.
GPS Accuracy (ft.): 14.
Elevation above sea level (ft.): 1013.
Status of cemetery: Well maintained.

New Deep Creek cemetery is next to church and is more current with stone markers predominantly in the 1900s..
All burials at Deep Creek Friends Meeting are listed in the New Cemetery.


Adams, Arthur Garfield (b. 10 Oct 1884 - d. 24 May 1959)
Adams, Etta Jane Collins (b. 17 Apr 1898 - d. 14 Mar 1944)
Adams, Fred (b. 23 Jun 1904 - d. 9 Aug 1979)
Adams, George (b. 7 Oct 1771 - d. 21 Mar 1827)
Adams, George Davis Phillips (b. 2 Aug 1835 - d. 14 May 1900)
Adams, H Hershel (b. 7 Sep 1915 - d. 3 Jun 2002)
Adams, John (b. 1791 - d. Aug 1874)
Adams, Leslie G. (b. 16 May 1919 - d. 5 Jan 1999)
Adams, Maranda (b. 1869 - d. 1910)
Adams, Mary Francis Phillips (b. 1792 - d. Unknown)
Adams, Moses (b. 18 Aug 1769 - d. Unknown)
Adams, Nancy (b. 14 Dec 1822 - d. 10 Feb 1906)
Adams, Nathan (b. 9 Sep 1865 - d. 17 Jul 1942)
Adams, Nellie Ruth (b. 21 Sep 1919 - d. 27 Jul 2010)
Adams, Novella "Granny" Wagoner (b. 4 Aug 1930 - d. 10 Aug 2012)
Adams, Opal D (b. 26 Jul 1915 - d. 28 Sep 1984)
Adams, Patience Lucinda Sizemore (b. 2 Jul 1868 - d. 7 May 1932)
Adams, Robert Howard (b. 22 Dec 1918 - d. 4 Apr 1997)
Adams, Ronald R. (b. 27 Nov 1948 - d. 1 Dec 1973)
Adams, Roxie Rhodenia Carter (b. 26 May 1885 - d. 31 Oct 1972)
Adams, S. (b. Unknown - d. Unknown)
Adams, Susan Brindle (b. 1837 - d. 19 May 1900)
Adams, Susanna Martin (b. 18 Jun 1734 - d. 2 Dec 1816)
Adams, W. (b. Unknown - d. Unknown)
Adams, William (b. 15 Sep 1734 - d. 13 Jul 1816)
Adams, William M (b. 20 Apr 1836 - d. 12 Jan 1899)
Adams, William M. (b. 14 Oct 1860 - d. 14 Dec 1925)
Adams, Wilma Sue (b. 14 Feb 1943 - d. 4 Apr 1960)
Adams, Zeno (b. 28 Sep 1921 - d. 13 Feb 2006)
Allen, Sandra Trivette (b. 10 Jul 1944 - d. 1 Mar 2004)
Andrew, Daisy E Wooten (b. 30 May 1889 - d. 1 Nov 1945)
B., T. (b. Unknown - d. 15 May 1827)

Bavender, Clyde Albert (b. 25 Jan 1913 - d. 22 Aug 1996)

Bavender, Gregory C (b. 10 Jun 1932 - d. 8 May 1996)

Bavender, Mildred Marie (b. 28 Aug 1913 - d. 1 Aug 1986)

Beaman, Charles F, Sr (b. 19 May 1918 - d. 24 Oct 1969)

Beaman, Mary Faries (b. 25 Jul 1923 - d. 20 Apr 1996)

Benbow, Ann (Dr.) (b. 6 Sep 1801 - d. 25 Jun 1864)

Benbow, Jesse S (b. 14 Oct 1861 - d. 25 Oct 1863)

Benbow, Thomas (b. 11 Sep 1797 - d. 8 Mar 1878)

Benbow, Thomas (b. 5 Jun 1859 - d. 29 Aug 1859)

Bolin, Carolyn Jeanette (b. 19 Jun 1964 - d. 5 Jan 1965)

Bolin, Lonnie Gray, Jr (b. 28 Mar 1961 - d. 5 Jan 1965)

Bolin, Marty Lee (b. 26 Mar 1962 - d. 5 Jan 1965)

Bolin, Nellie Mae Driver (b. 18 Jun 1938 - d. 5 Jan 1965)

Bovander, Unknown (b. Unknown - d. Unknown)

Bovender, Andrew Jackson (b. 18 Nov 1817 - d. 18 Oct 1866)

Bovender, Ann Vestal (b. 7 Mar 1826 - d. 28 Feb 1903)

Bovender, Catherine Sarah Sizemore (b. 30 Jun 1867 - d. 3 Nov 1947)

Bovender, Child (b. Unknown - d. Unknown)

Bovender, Child (b. 1898 - d. Unknown)

Bovender, Green (b. 12 Sep 1861 - d. 3 Sep 1937)

Bovender, Hattie K (b. 22 May 1901 - d. 12 Sep 1992)

Bovender, Hobert N (b. 22 Apr 1897 - d. 10 Jun 1972)

Bovender, Infant daughter (b. 8 Jan 1908 - d. ??? 13 1908)

Bovender, Infant son (b. 8 Jan 1908 - d. 1908)

Bovender, James Milas (b. 9 Apr 1895 - d. 3 Apr 1969)

Bowers, Nora Lee Hall (b. 16 May 1951 - d. 25 Aug 1993)

Brickel, Lucy A (b. 1870 - d. 1875)

Brooks, Ellen "Toppie" Caudle (b. 7 Oct 1936 - d. 24 Nov 2006)

Brooks, Glenda A (b. 30 Dec 1940 - d. 21 May 2006)

Brooks, Joseph E. (b. 6 May 1933 - d. 14 May 1974)

Brown, A Hugh (b. 31 Dec 1821 - d. 19 Jan 1879)

Brown, Grace Ann Vestal Steelman (b. 11 Mar 1873 - d. 21 Jul 1946)

Brown, Jane Adams (b. 15 Feb 1755 - d. Unknown)

Brown, John H (b. 19 Jan 1860 - d. 3 Apr 1937)

Brown, Julia M Shore (b. Unknown - d. 20 Dec 1880)

Brown, Nancy Elizabeth "Betty" Adams (b. 23 Oct 1870 - d. 5 Apr 1943)

Brown, Thomas (b. 28 Oct 1749 - d. Unknown)

Bryan, Anna (b. 17 Feb 1793 - d. 1 Aug 1838)

Bryant, Mollie J (b. 7 Feb 1876 - d. 20 Oct 1902)

Burton, Margarett Rhoda Sizemore (b. 28 Apr 1873 - d. 2 Feb 1958)

Burton, Rhoda Wishon (b. 28 Apr 1873 - d. 2 Feb 1958)

Calton, Rachel (b. Unknown - d. 6 Jun 1831)

Carter, George Lee (b. 1 Mar 1881 - d. 31 Jan 1975)

Carter, George W (b. 10 Apr 1854 - d. 17 Jul 1941)

Carter, Isaac (b. 1752 - d. 16 Apr 1802)

Carter, Isaac (b. Unknown - d. 20 Dec 1800)

Carter, Julia M (b. 24 Nov 1856 - d. 8 Jan 1907)

Carter, Julia Zachary (b. 21 May 1866 - d. 4 Sep 1947)

Carter, Mary Bray (b. 1754 - d. 5 Jan 1839)

Carter, Mary Matilda (b. Unknown - d. Oct 27)

Carter, Maud E (b. 5 Nov 1888 - d. 18 Oct 1957)

Carter, Sarah P (b. 18 Jul 1874 - d. 21 Oct 1943)

Carter, W A (b. 3 Jun 1866 - d. 26 Jul 1938)

Caudle, Bertha A. Brown (b. 6 Mar 1882 - d. 1 Jul 1949)

Caudle, Edith Maye (b. 7 Apr 1928 - d. 7 Apr 1928)

Caudle, John Wesley (b. 17 Mar 1880 - d. 15 Apr 1959)

Caudle, Lou Ellen "Louella" Myers (b. 17 Jul 1876 - d. 22 May 1924)

Caudle, Robert Harrell (b. 4 May 1927 - d. 27 Jul 1927)

Caudle, Roger Edward (b. 3 Oct 1930 - d. 3 Oct 1930)

Cave, Wendy Mae Driver (b. 1 Mar 1978 - d. 16 Sep 2001)

Chandler, Hazel C. (b. 29 May 1939 - d. 6 Nov 2001)

Chavers, Paula Kay Driver (b. 20 Jun 1968 - d. 22 Mar 2012)

Cheek, Joseph J (b. 20 Sep 1934 - d. 1 May 1999)

Cline, Floyd Allen, Sr (b. 2 Dec 1932 - d. 4 Jul 1988)

Coe, J. Escar (b. 6 Mar 1910 - d. 23 Oct 1986)

Coe, Nancy Bovender (b. 20 Jul 1947 - d. 17 Sep 2005)

Coe, Pearl C. (b. 31 Mar 1916 - d. 23 Oct 1984)

Coe, Roy Odell (b. 19 Jun 1927 - d. 9 Nov 2010)

Colbert, Benjamin Franklin (b. 9 Apr 1879 - d. 14 Jan 1981)

Colbert, Infant Boy (b. 3 May 1940 - d. 3 May 1940)

Colbert, Mary M Williard (b. 25 Jul 1879 - d. 30 Nov 1942)

Colbert, Mary Marble Lovin (b. 5 Jun 1894 - d. 11 Apr 1973)

Colbert, Solomon M (b. 20 Oct 1919 - d. 19 Jul 1975)

Collins, Annis E Carter (b. 12 Jul 1857 - d. 19 Dec 1941)

Collins, Anthony Lewis (b. 1 Dec 1951 - d. 2 Dec 1951)

Collins, Betty Lou (b. 15 Apr 1935 - d. 29 Oct 2003)

Collins, Cora S (b. 10 Mar 1896 - d. 16 Jul 1973)

Collins, Fanny S (b. 29 Mar 1889 - d. 7 Jun 1892)

Collins, Flora Bell Wishon (b. 11 Mar 1888 - d. 31 Aug 1972)

Collins, Gertie Jane (b. 20 May 1908 - d. 27 Aug 1986)

Collins, Infant Son (b. 1 Aug 1939 - d. 1 Aug 1939)

Collins, Infant Son (b. 24 Feb 1940 - d. 25 Feb 1940)

Collins, James William, Jr (b. 1 Feb 1930 - d. 23 Feb 1992)

Collins, Larry Dean (b. 19 Aug 1937 - d. 28 Oct 1971)

Collins, Laura (b. 24 May 1899 - d. 30 Mar 1931)

Collins, Martha Sizemore (b. 1825 - d. 1895)

Collins, Nellie Ruth (b. 3 Nov 1925 - d. 22 Mar 1926)

Collins, Robert Nelson (b. 26 Apr 1909 - d. 1 Oct 1963)

Collins, Sadie Wooten (b. 1 Oct 1898 - d. 16 Jun 1981)

Collins, Thomas S (b. 16 Sep 1894 - d. 14 Nov 1976)

Collins, Wilma Sue (b. 3 Feb 1946 - d. 16 Feb 1996)

Daniel, Lydia C (b. 18 Dec 1835 - d. 13 Oct 1912)

Davis, Charles (b. Dec 1814 - d. Unknown)

Davis, Elizabeth (b. 5 Jul 1818 - d. 15 Dec 1902)

Davis, Hannah (b. Unknown - d. 2 Oct 1806)

Davis, Jacob (b. 7 Jan 1784 - d. 20 Jul 1872)

Davis, Lucy Rose (b. 18 Jun 1786 - d. 12 Aug 1857)

Davis, Mattie Pearl Leamon (b. 26 Dec 1900 - d. 15 May 1968)

Davis, Unknown (b. Unknown - d. Unknown)

Dobbins, Ann Marshall (b. 29 Mar 1812 - d. Unknown)

Dobbins, Eula Groce (b. 30 Apr 1912 - d. 26 Aug 2000)

Dobbins, Infant Children (b. Unknown - d. Unknown)

Dobbins, Jacob (b. 11 Feb 1745 - d. 8 Mar 1798)

Dobbins, Jacob (b. 8 Jun 1795 - d. 26 May 1863)

Dobbins, Jane (b. 9 Nov 1805 - d. 14 Mar 1870)

Dobbins, Jemima Reece (b. 9 Jul 1772 - d. 14 Jul 1824)

Dobbins, Jesse Franklin (b. 6 Mar 1876 - d. 20 Nov 1905)

Dobbins, Jesse Virgil (b. 5 Oct 1902 - d. 31 Dec 1992)

Dobbins, Jesse Virgil (b. 24 Oct 1830 - d. 10 May 1883)

Dobbins, Jessee (b. Unknown - d. 1825)

Dobbins, John (b. 21 Apr 1772 - d. 1826)

Dobbins, Keziah (b. Unknown - d. 1828)

Dobbins, Nerius E. (b. 2 Sep 1824 - d. 3 Sep 1824)

Dobbins, Sarah Catherine Mackie (b. 8 Aug 1837 - d. 24 Feb 1906)

Dobbins, Sarah Rhoda "Sallie" Long (b. 7 May 1878 - d. 17 Jan 1945)

Dobbins, Shubal (b. Unknown - d. 23 Jul 1855)

Driver, Bruce Sidney (b. 11 Nov 1931 - d. 29 Sep 1996)

Driver, Earnestine (b. 2 Jun 1949 - d. 9 Apr 2007)

Driver, Giles Acock (b. 25 Jun 1900 - d. 29 May 1976)

Driver, James Rubin (b. 29 Oct 1936 - d. 26 Dec 1980)

Driver, John Henry (b. 28 Oct 1944 - d. 24 May 1983)

Driver, Lillian Gertrude Hutchens (b. 18 Feb 1903 - d. 30 May 1968)

Driver, Michael J (b. 15 Sep 1972 - d. 20 Apr 1990)

Driver, Ronda Gray, Sr (b. 25 Apr 1941 - d. 20 Oct 2010)

Edyvean, Shirley G. (b. 3 Dec 1930 - d. 29 May 2006)

Erskine, John D (b. 27 Sep 1908 - d. 12 Oct 1994)

Essex, Epsie Dobbins (b. 12 Dec 1888 - d. 20 May 1957)

Faries, Dollie Willard (b. 1 Sep 1893 - d. 7 Nov 1984)

Fleming, Daisy (b. 8 Jan 1882 - d. 7 Oct 1896)

Fleming, David (b. 8 Mar 1767 - d. 14 Jan 1838)

Fleming, David (b. 13 Sep 1835 - d. 24 Sep 1858)

Fleming, Henry William (b. 10 Aug 1847 - d. 28 Jul 1903)

Fleming, Jesse (b. 13 Jan 1781 - d. 14 Jul 1865)

Fleming, John Creasy (b. 7 May 1919 - d. 24 Dec 1971)

Fleming, Ludia Ann Vestal (b. 6 Jan 1848 - d. 12 Aug 1921)

Fleming, Luther C. (b. 20 Jan 1880 - d. 30 Oct 1938)

Fleming, Margaret Adams (b. Unknown - d. Unknown)

Fleming, Milley (b. 8 Oct 1799 - d. 30 Dec 1873)

Fleming, Thomas W. (b. 12 Aug 1832 - d. 15 Apr 1866)

Fleming, Uriah (b. 10 Jun 1798 - d. 8 Jun 1886)

Fleming, Winnie C. Carter (b. 23 Jul 1896 - d. 25 Nov 1949)

Flynn, Fannie Gill (b. 28 Jul 1897 - d. 6 Apr 1934)

Flynn, Harrison M. (b. 18 Oct 1888 - d. 18 Jun 1967)

Flynn, Hiram Thomas (b. 1870 - d. 1960)

Flynn, Rosie M. (b. 1878 - d. 1932)

Flynn, Scenia O. (b. 1904 - d. 1931)

Gentry, Bobbie Shore (b. 7 Apr 1933 - d. 21 Sep 2010)

Gentry, John Maury (b. 21 Apr 1942 - d. 13 Jun 2008)

Gentry, Ruby Sizemore (b. 27 Oct 1915 - d. 4 Sep 2008)

Gentry, Sherman David (b. 22 May 1914 - d. 10 Jan 1995)

Groce, Amanda Naomi Money (b. 14 Feb 1895 - d. 14 Aug 1977)

Groce, William Nelson (b. 15 Sep 1893 - d. 24 May 1974)

H., S. (b. Unknown - d. 26 Aug 1822)

Hadley, Bridget Foote (b. 17 Apr 1732 - d. 15 Dec 1807)

Hadley, Eunice Jones (b. 1760 - d. Unknown)

Hadley, Hester Ann (b. 3 Jun 1843 - d. 7 Sep 1844)

Hadley, Mary (b. 9 Oct 1838 - d. 7 Sep 1844)

Hadley, Mary Spencer (b. 1770 - d. 14 Sep 1844)

Hadley, Simon (b. 5 Mar 1737 - d. 24 Jul 1803)

Hadley, Simon, Jr (b. 2 Oct 1766 - d. 8 Oct 1831)

Hadley, Thomas (b. 25 Dec 1756 - d. 20 Aug 1822)

Halcomb, L D (b. 15 Jul 1838 - d. 3 Mar 1882)

Halcomb, R J (b. 17 Apr 1843 - d. 15 Aug 1863)

Hall, Clarence E (b. 31 Jul 1911 - d. 13 Feb 1971)

Hall, Edna Sizemore (b. 4 Feb 1928 - d. 10 May 1994)

Hall, Garland Turner (b. 23 Apr 1905 - d. 14 Aug 1977)

Hall, Ida Pearl Sizemore (b. 23 Apr 1913 - d. 28 Nov 1975)

Hall, James E (b. 17 Jun 1944 - d. 21 Jul 2009)

Hall, Laura Belle (b. 6 Aug 1920 - d. 5 Mar 1990)

Hall, Leonard H (b. 19 Aug 1917 - d. 31 Jan 1997)

Harris, Child (b. Jul 1901 - d. Mar 1920)

Harris, Ibra Grant (b. 5 Sep 1871 - d. 10 Feb 1958)

Harris, Jesse F. (b. 10 Dec 1904 - d. 1909)

Harris, Leet Wooten (b. 25 Aug 1871 - d. 22 Nov 1953)

Harris, Lillie W (b. 17 Apr 1908 - d. 8 Jun 1980)

Harris, Walter J (b. 26 Feb 1906 - d. 23 Mar 1978)

Harrison, Anna (b. Unknown - d. Unknown)

Harrison, Daniel (b. Unknown - d. Unknown)

Harrison, Lola May (b. 15 May 1899 - d. 6 Apr 1982)

Harrison, Martha N (b. Unknown - d. Unknown)

Harrison, Mary A (b. Unknown - d. Unknown)

Harrison, Nancy J (b. Unknown - d. Unknown)

Harrison, Thomas F (b. Unknown - d. Unknown)

Harrison, Thomas R (b. Unknown - d. Unknown)

Hewitt, Annie Florence Thomson (b. 15 Apr 1873 - d. 9 Jan 1918)

Highfill, Willie Irene (b. 7 Oct 1907 - d. 7 May 1988)

Hinshaw, Elizabeth Reece (b. 1817 - d. 12 Apr 1838)

Hinshaw, Hannah (b. 1805 - d. 20 Jun 1887)

Hinshaw, Hannah Seasfield (b. 1745 - d. 1835)

Hinshaw, John E, Sr (b. 1802 - d. 31 Jan 1885)

Hinshaw, M A (b. Unknown - d. 24 Nov 1837)

Hinshaw, Sol (b. 1838 - d. Feb 1863)

Hinshaw, Thomas (b. 30 Sep 1747 - d. 26 May 1825)

Hobson, Abram (b. 16 Sep 1839 - d. 21 Sep 1857)

Hobson, Ariadna Moore (b. 18 Jan 1815 - d. 11 Mar 1857)

Hobson, Avery A (b. 27 Nov 1904 - d. 20 Jan 1976)

Hobson, Bobby Richard (b. 27 May 1938 - d. 2 Sep 2010)

Hobson, David (b. 1777 - d. 1854)

Hobson, David Lacey (b. 5 Jun 1807 - d. 9 Sep 1888)

Hobson, Derrick T (b. 8 Dec 1970 - d. 30 Jan 1973)

Hobson, Hannah (b. 29 Jan 1777 - d. 26 Oct 1850)

Hobson, Infant Girl (b. 19 Nov 1925 - d. 19 Nov 1925)

Hobson, John A (b. 6 Apr 1880 - d. 10 Jan 1956)

Hobson, John B. "Long John" (b. 16 Dec 1833 - d. 30 Apr 1859)

Hobson, Joshua (b. 30 Oct 1816 - d. 30 Jun 1834)

Hobson, Lonnie Marion (b. 17 Feb 1940 - d. 9 Jun 1983)

Hobson, Lucy Sizemore (b. 31 Dec 1907 - d. 6 Feb 1992)

Hobson, Lydia (b. 9 Jun 1841 - d. 9 Feb 1883)

Hobson, Mary Bond (b. 16 Jan 1800 - d. 31 Aug 1831)

Hobson, Mary C (b. 16 Nov 1868 - d. 7 Dec 1868)

Hobson, Mary Vestal (b. 18 Jun 1813 - d. 28 Dec 1833)

Hobson, Matilda Lakey (b. 16 Aug 1808 - d. 17 Dec 1860)

Hobson, Mayme C (b. 31 Jan 1906 - d. 16 Feb 1990)

Hobson, Obedience "Biddy" (b. 14 Jul 1790 - d. 18 Jun 1828)

Hobson, Rachel (b. 3 Dec 1824 - d. 20 Jul 1843)

Hobson, Stephen (b. 15 Feb 1763 - d. 26 Aug 1803)

Hobson, Thad W (b. 28 Jul 1900 - d. 12 Mar 1991)

Hobson, Thomas A. (b. 8 Oct 1931 - d. 10 Jun 2009)

Hobson, William (b. 18 Apr 1787 - d. 18 Sep 1844)

Holbrook, Nora Lee Willard (b. 6 May 1905 - d. 9 May 1927)

Holcomb, C A (b. 10 Oct 1802 - d. 23 Jan 1826)

Holcomb, Emily E (b. 4 Aug 1840 - d. 30 Jan 1858)

Holcomb, Grimes Andeton (b. 11 Oct 1802 - d. 23 Jun 1876)

Holcomb, Mary (b. Unknown - d. 1892)

Holcomb, Mary Salome Stockberger (b. 17 Feb 1810 - d. 20 Aug 1892)

Holcombe, Mary (b. 19 Oct 1848 - d. 28 Mar 1853)

Hoots, Esteen Marie Speer (b. 18 Aug 1926 - d. 10 Aug 2012)

Huff, Daniel (b. 7 Jan 1809 - d. 26 Apr 1857)

Huff, Dinah Hobson (b. 4 Nov 1809 - d. 1 Nov 1891)

Huff, Frances Catherine (b. 3 Mar 1914 - d. 24 Aug 1979)

Huff, Joshua (b. 8 Aug 1788 - d. Unknown)

Huff, Laura Dobbins (b. 7 Jul 1880 - d. 24 May 1947)

Huff, Nathan Edward (b. 20 Jun 1883 - d. 11 Mar 1963)

Huff, Paulina J (b. 30 Apr 1825 - d. 15 Jun 1825)

Hutchens, Addys Cline (b. 29 Apr 1930 - d. 7 Jan 1998)

Hutchens, Fidelia (b. 2 Jun 1866 - d. 9 Dec 1905)

Hutchens, Grady Frank (b. 24 Apr 1924 - d. 15 Jan 2002)

Hutchens, Shuford Odell (b. 27 Jan 1921 - d. 19 Aug 1951)

Hutchens, Stefanie Deanna (b. 24 Feb 1973 - d. 14 Jan 1975)

Hutchens, William H (b. 3 Sep 1886 - d. 10 Aug 1906)

Hutchins, John Benjamin (b. 30 Aug 1777 - d. 3 Jun 1855)

Jarvis, Stephen (b. Unknown - d. 25 Jan 1828)

Jarzynski, Matthew Lee (b. 16 Jun 1986 - d. 19 Apr 2008)

Johnson, Infant son (b. 28 Oct 1969 - d. 28 Oct 1969)

Johnson, Maxine Willard (b. 24 Dec 1928 - d. 1 Jun 2009)

Johnson, Samuel (b. 1776 - d. 14 Jul 1869)

Johnson, Wade Forrest, Jr (b. 22 Jun 1964 - d. 22 Jun 1964)

Keys, Elizabeth (b. Unknown - d. 30 Jul 1833)

Keys, Mary Piggot (b. 9 Apr 1767 - d. 17 Feb 1820)

Kimmer, Brenda K. (b. 8 Nov 1962 - d. 8 Nov 1962)

Leamon, Elisha W (b. 23 Dec 1876 - d. 4 Jan 1935)

Leamon, James Hilery (b. 25 Jul 1905 - d. 18 Jan 1954)

Leamon, Lula Willard (b. 12 May 1907 - d. 3 Sep 1992)

Leamon, Myrtle Hartness (b. 26 Sep 1904 - d. 8 Jan 1933)

Leamon, Rebecca L Mills (b. 8 Aug 1876 - d. 19 Mar 1942)

Long, Henry (b. 1911 - d. Unknown)

Long, John H. (b. 17 Dec 1862 - d. 20 Dec 1935)

Long, Martha C (b. 14 Apr 1845 - d. 12 Jan 1916)

Long, N. Permelia Dobbins (b. 24 Sep 1868 - d. 14 May 1951)

Lunsford, Gladys D. (b. 18 Dec 1942 - d. 1 Apr 1985)

Lyons, Gail T. (b. 15 Jun 1937 - d. 2 Oct 2003)

Mackie, Abrah (b. Unknown - d. Mar)

Mackie, Anna Martin (b. 20 Dec 1799 - d. 15 Apr 1864)

Mackie, Caroline Davis (b. 15 Nov 1829 - d. 29 May 1891)

Mackie, Jesse (b. 13 Mar 1839 - d. 22 Jan 1878)

Mackie, John (b. 25 Nov 1822 - d. 25 Jun 1900)

Mackie, John (b. 1 May 1760 - d. 26 Nov 1822)

Mackie, Naomi Moffitt (b. 11 Jun 1763 - d. 19 Mar 1840)

Mackie, P G (b. 7 Mar 1834 - d. 5 Dec 1840)

Mackie, Phisia Rebecca Williams (b. 6 Jan 1841 - d. 12 Jan 1923)

Mackie, Robert (b. 29 Oct 1794 - d. 24 Jan 1872)

Mackie, Sidney F. (b. 21 Mar 1907 - d. 30 Mar 1926)

Mackie, Walter L. (b. 6 Jan 1875 - d. 13 Nov 1909)

Mackie, Williams (b. 21 Sep 1867 - d. 31 Jul 1873)

Marshall, Joseph (b. 19 Feb 1764 - d. 25 Oct 1805)

Marshall, Ruth Hadley (b. 11 May 1770 - d. 18 May 1852)

Martin, John (b. 6 May 1756 - d. 24 Mar 1836)

Martin, Margaret Hadley (b. 15 Apr 1764 - d. 24 May 1846)

Martin, Simon Hadley (b. 5 May 1797 - d. 16 Oct 1854)

Matthews, Minnie L (b. 20 Apr 1916 - d. 1 Jun 1995)

Matthews, Shelley Sampson (b. 3 Sep 1968 - d. 7 Aug 2006)

Matthews, William Yancy (b. 9 Mar 1914 - d. 24 Nov 1973)

McCollem, John (b. 1831 - d. 1915)

McCollem, Ruth (b. Sep 1892 - d. 1911)

McDessy, George (b. 1899 - d. 1979)

McDessy, Gladys Warden (b. 15 Mar 1913 - d. Unknown)

McKeel, Mamie Sizemore (b. 21 Jan 1916 - d. 12 Nov 1988)

McKnight, Annis (b. 26 Sep 1872 - d. 18 Sep 1963)

McKnight, J. Y. (b. 28 Jul 1855 - d. 22 Feb 1927)

Miller, Mina Kate Warden (b. 8 Mar 1922 - d. 22 Aug 2003)

Miller, William Marshall (b. 2 Feb 1916 - d. 11 Jul 1997)

Mills, James (b. 12 Apr 1826 - d. 1907)

Mills, Martha A. (b. 8 Feb 1842 - d. 9 Feb 1902)

Murphy, John A (b. 25 Sep 1863 - d. 10 May 1934)

Myers, Missouri Warden (b. 1854 - d. 15 Aug 1934)

Nichols, Infant Son (b. 1868 - d. 1868)

Nichols, Lydia M (b. Jun 1853 - d. 17 Jul 1859)

Nichols, Noah (b. 2 Feb 1833 - d. 12 Apr 1914)

Nichols, Sarah D (b. 3 Feb 1830 - d. 8 Dec 1909)

Nicols, F.N. (b. 1791 - d. Unknown)

Nicols, Infant (b. 1866 - d. 1866)

Nicols, Lydia M (b. Jun 1853 - d. 17 Jul 1859)

Nicols, Noah (b. 2 Feb 1833 - d. 12 Apr 1914)

Nicols, Sarah (b. 3 Feb 1830 - d. 18 Dec 1909)

North, Abraham (b. Unknown - d. Unknown)

North, B. (b. Unknown - d. 21 Jan 1825)

North, R. (b. Unknown - d. 1802)

North, Rachel (b. 1800 - d. 1839)

North, Rebecca (b. 1 Oct 1825 - d. 9 May 1892)

Oaks, Henry Pinkston (b. 25 Jan 1849 - d. 3 Feb 1919)

Oaks, Rachel Jane Sizemore (b. 8 Aug 1848 - d. 14 Mar 1929)

Oaks, William A. (b. 1870 - d. 1876)

Osborn, William, II (b. 14 Dec 1756 - d. 14 Sep 1813)

Overby, Turnie Elizabeth Williams (b. 13 Jun 1874 - d. 9 Mar 1965)

Pardue, David Barker (b. 3 Sep 1868 - d. 15 Mar 1955)

Pardue, David Eugene, Sr (b. 19 Feb 1911 - d. 10 Nov 1988)

Pardue, Delancia Caroline Caudle (b. 21 Feb 1869 - d. 4 Jun 1955)

Pardue, Laura Edna (b. 17 Oct 1894 - d. 30 Jul 1981)

Pardue, Zetta Carrie (b. 24 Nov 1906 - d. 25 Jun 1999)

Parker, Bural (b. 27 Jan 1857 - d. 4 Aug 1918)

Parker, Clifford Mack (b. 11 Aug 1923 - d. 29 Jan 1975)

Parker, E. F. (b. Unknown - d. Unknown)

Parker, Ethel Jane Collins (b. 23 Jan 1921 - d. 8 Jun 1998)

Parker, James Leonard (b. 22 Aug 1926 - d. 26 May 1938)

Parker, Joe Henry (b. 18 Mar 1920 - d. 31 Jul 1992)

Parker, Mary (b. 12 Jul 1857 - d. 19 Aug 1919)

Parker, Sallie B. Hutchens (b. 27 Aug 1892 - d. 5 Sep 1929)

Parker, Simon (b. 12 May 1900 - d. 27 Apr 1945)

Pendry, Alfred (b. 15 Jul 1815 - d. 27 Apr 1885)

Pendry, Lucinda Farrington (b. 9 Jun 1822 - d. 24 Aug 1895)

Reece, Abraham (b. 1746 - d. 6 Nov 1822)

Reece, Charlie Esker (b. 4 Dec 1896 - d. 12 Aug 1983)

Reece, Clarence D (b. 26 Jun 1902 - d. 25 May 1930)

Reece, Daniel (b. 1773 - d. 15 Sep 1822)

Reece, Kiziah (b. Unknown - d. 9 Jun 1833)

Reece, Lucy Mae C (b. 25 Nov 1927 - d. 23 Oct 1992)

Reece, Lydia (b. 13 Jul 1835 - d. 9 Apr 1856)

Reece, Margaret Hadley (b. 1790 - d. 1838)

Reece, Marvin (b. 20 Jun 1896 - d. 3 Nov 1979)

Reece, Mary (b. Unknown - d. 14 Jun 1843)

Reece, Mary (b. Unknown - d. 1819)

Reece, Mary Huff (b. 1753 - d. 26 Sep 1830)

Reece, Ruie (b. 1895 - d. 1941)

Reece, Ruth (b. Unknown - d. Unknown)

Reece, Toy W. (b. 15 Jul 1904 - d. 9 Jan 1988)

Reynolds, M.R. (b. Unknown - d. 6 Jun 1828)

Reynolds, Mary (b. Unknown - d. 5 May 1841)

Russell, Hazel Marie (b. 26 Sep 1923 - d. 17 May 1925)

Russell, Minnie D. Vestal (b. 15 Jun 1879 - d. 31 Oct 1901)

Russell, Solucius Lycurgus (Dr.) (b. 21 Jun 1858 - d. 17 Jan 1943)

S., F. (b. Unknown - d. Unknown)

Schultz, Bessie (b. 1888 - d. 1953)

Schultz, Sonny (b. 26 Mar 1871 - d. 1 Apr 1940)

Sherman, Paul Lewis (b. 2 May 1926 - d. 6 Nov 1979)

Shermer, Mamie (b. 1900 - d. 1905)

Shives, Arthur Burns (b. 2 Sep 1908 - d. 17 May 1993)

Shives, Harvey B (b. 28 Aug 1902 - d. 1 Aug 1996)

Shives, Roxie O Bovender (b. 23 Mar 1900 - d. 24 Aug 1985)

Shore, Annie Loe Walker (b. 15 Nov 1902 - d. 9 Feb 1991)

Shore, Aquilla Eugene (b. 22 May 1849 - d. 18 Aug 1932)

Shore, Avery Clifford "Perk" (b. 14 Feb 1904 - d. 31 Aug 1992)

Shore, Beulah Fleming (b. 28 Mar 1903 - d. 23 Apr 1991)

Shore, Beulah N (b. 24 Mar 1900 - d. 2 Jul 1988)

Shore, Carl Sanders (b. 20 Feb 1897 - d. 26 Jun 1969)

Shore, Claude A (b. 8 Oct 1903 - d. 22 Dec 1993)

Shore, Cora C. (b. Unknown - d. 29 Dec 1883)

Shore, Dollie Bex Caudle (b. 20 Feb 1875 - d. 15 Nov 1956)

Shore, Elizabeth (b. 9 Nov 1901 - d. 5 Aug 1998)

Shore, Fannie Della (b. 23 Nov 1906 - d. 24 Apr 1997)

Shore, Fannie J. Shugart (b. 1868 - d. 1957)

Shore, Ida Fleming (b. 20 Oct 1871 - d. 26 Apr 1946)

Shore, Iler Beatrice Long (b. 16 Aug 1899 - d. 9 Apr 2006)

Shore, Infant (b. 17 Feb 1893 - d. 17 Feb 1893)

Shore, Infant (b. 27 Jun 1897 - d. 27 Jun 1897)

Shore, Infant (b. 29 Nov 1909 - d. 29 Nov 1909)

Shore, Infant (b. 16 Dec 1916 - d. 16 Dec 1916)

Shore, Infant (b. 1920 - d. 1920)

Shore, Infant (b. 23 Dec 1926 - d. 23 Dec 1926)

Shore, Infant Daughter (b. 15 Jun 1943 - d. 15 Jun 1943)

Shore, Infant Daughter (b. 24 Sep 1939 - d. 24 Sep 1939)

Shore, Infant Son (b. 1 Oct 1938 - d. 1 Oct 1938)

Shore, James Paul (b. 6 Jun 1930 - d. 29 Jan 1935)

Shore, Jessie A. (b. 26 Dec 1910 - d. 16 Mar 1911)

Shore, John Henry (b. 16 Oct 1891 - d. 5 Oct 1895)

Shore, John Herman (b. 3 Feb 1899 - d. 4 Oct 1969)

Shore, John Montgomery (b. 21 May 1912 - d. 25 May 1996)

Shore, John Wesley (b. 5 Sep 1853 - d. 19 Feb 1928)

Shore, Julia Coista Smith (b. 18 Mar 1880 - d. 21 May 1971)

Shore, Julius G. (b. 25 Aug 1903 - d. 30 Sep 1912)

Shore, L. Sanders (b. 2 Dec 1861 - d. 16 Dec 1947)

Shore, Laura A. Long (b. 1864 - d. 1901)

Shore, Laura T (b. 27 Nov 1866 - d. 7 Jul 1907)

Shore, Lonnie Preston (b. 27 Feb 1889 - d. 23 Apr 1979)

Shore, Lucy Miller (b. 4 Feb 1904 - d. 2 Sep 1986)

Shore, Luther (b. 1898 - d. 1979)

Shore, Mamie Eunice (b. 22 Feb 1893 - d. 21 Feb 1977)

Shore, Martha M. (b. 21 Nov 1935 - d. 7 Jun 2008)

Shore, Marvin H (b. 5 Jul 1894 - d. 26 Dec 1985)

Shore, Mattie Evella (b. 14 Aug 1898 - d. 15 Jan 1899)

Shore, Nancy Obitha Holcomb (b. 3 Oct 1857 - d. 26 Jul 1915)

Shore, Nellie A (b. 12 Aug 1908 - d. 9 Apr 1988)

Shore, Nora Lula (b. 8 Oct 1907 - d. 19 Oct 1991)

Shore, Pansy Donnell (b. 1 Aug 1905 - d. 13 Sep 1967)

Shore, Philip Sanders (b. 30 Oct 1943 - d. 8 Jun 2010)

Shore, Ray Walter (b. 25 Jun 1932 - d. 30 Mar 2007)

Shore, Ruth Crissman (b. 21 Mar 1919 - d. 20 Apr 1998)

Shore, Sanford (b. 1906 - d. 1907)

Shore, Thad Weldon (b. 9 Nov 1902 - d. 12 Jul 1977)

Shore, Thelma (b. 1902 - d. 1980)

Shore, Vallie V (b. 14 Feb 1886 - d. 19 May 1982)

Shore, Vonnie Coram (b. 14 Jan 1906 - d. 15 Jun 1996)

Shore, Walter Paul (b. 7 Jan 1907 - d. 10 Sep 1989)

Shore, Walter Wiley (b. 11 Oct 1880 - d. 30 Aug 1950)

Shore, Wiley S (b. 11 Oct 1863 - d. 13 Jul 1949)

Shore, William A. (b. 25 Mar 1851 - d. 7 Sep 1915)

Shore, William Montgomery (b. 20 Aug 1883 - d. 1 May 1953)

Shore, William Vance (b. 22 Sep 1894 - d. 14 Jan 1985)

Shore, Zelma Pearl (b. 21 Feb 1905 - d. 10 Aug 1941)

Shugart, Maude (b. 1906 - d. 1906)

Sizemore, Abraham (b. 26 Jul 1835 - d. Jan 1873)

Sizemore, Alana Desiree (b. 19 Jan 2002 - d. 2 Mar 2004)

Sizemore, Alcie (b. 20 Feb 1842 - d. 19 Apr 1910)

Sizemore, Annie L (b. 12 Jul 1914 - d. 21 May 1985)

Sizemore, Calvin Lee (b. 8 Feb 1924 - d. 10 Jun 1924)

Sizemore, Darren James (b. 19 Jul 1995 - d. 9 Oct 1999)

Sizemore, Dogia Brown (b. 28 Jan 1877 - d. 13 Jul 1929)

Sizemore, Eli Greenberry (b. 7 Nov 1862 - d. 20 Aug 1925)

Sizemore, Eligh G. (b. 26 Feb 1926 - d. 7 Apr 1928)

Sizemore, Elizabeth Smith (b. 1 Jul 1834 - d. 25 Nov 1925)

Sizemore, Eula Maggie Collins (b. 29 Jun 1904 - d. 3 Apr 1987)

Sizemore, Fred Nelson (b. 26 May 1916 - d. 7 Mar 1987)

Sizemore, Freddy Scott (b. 10 Aug 1976 - d. 10 Aug 1976)

Sizemore, Grace Shirley Jeffers (b. 4 Jan 1907 - d. 20 Sep 1990)

Sizemore, Grace Virginia Willard (b. 3 Oct 1916 - d. 22 Dec 1993)

Sizemore, Grace White (b. 22 May 1930 - d. 14 Aug 2010)

Sizemore, Gurnie E (b. 22 Sep 1889 - d. 18 May 1944)

Sizemore, Harvey W (b. 6 Jan 1918 - d. 30 Dec 1987)

Sizemore, Hessie Collins (b. 22 Nov 1906 - d. 18 May 1995)

Sizemore, Huston H (b. 27 Jul 1864 - d. 16 Oct 1897)

Sizemore, Ida (b. 1876 - d. 1891)

Sizemore, Ila Adams (b. 24 Nov 1900 - d. 7 Apr 1923)

Sizemore, Infant Daughter (b. 1888 - d. 1888)

Sizemore, Infant Girl (b. 16 Jun 1934 - d. 16 Jun 1934)

Sizemore, Irene C (b. 8 Oct 1920 - d. Unknown)

Sizemore, Isom (b. 10 Jan 1794 - d. 1 Jan 1885)

Sizemore, Jack, Sr (b. 16 Dec 1937 - d. 23 Sep 1968)

Sizemore, James Ernest (b. 8 May 1892 - d. 1 May 1973)

Sizemore, James Gaither (b. 25 Jan 1927 - d. 16 Aug 1990)

Sizemore, James Henry (b. 22 Aug 1839 - d. 6 Apr 1915)

Sizemore, James Rickey (b. 21 May 1952 - d. 2 May 1960)

Sizemore, James Ruben (b. 29 Dec 1874 - d. 29 Jan 1960)

Sizemore, James Russell (b. Unknown - d. Unknown)

Sizemore, John F (b. 21 May 1915 - d. Apr 1973)

Sizemore, John Ford, Jr (b. 18 Apr 1936 - d. 11 Oct 2006)

Sizemore, Jones Jackson (b. 3 Jan 1896 - d. 1 Sep 1963)

Sizemore, Julia Wooten (b. 25 Feb 1897 - d. 4 Feb 1987)

Sizemore, Julius Sidney (b. 16 May 1891 - d. 9 Oct 1954)

Sizemore, June Montgomery (b. 22 May 1921 - d. 8 Oct 1992)

Sizemore, Kate Bell (b. 19 Aug 1925 - d. 22 Feb 1994)

Sizemore, Laura E (b. 1874 - d. 1912)

Sizemore, Lillie (b. 29 Mar 1870 - d. 15 Jul 1946)

Sizemore, Lily? M. (b. 1937 - d. 1939)

Sizemore, Lisa Jane (b. 26 Jul 1963 - d. 25 Jun 1988)

Sizemore, Lois Jeanette (b. 5 Jul 1944 - d. 9 Oct 1944)

Sizemore, Lona Brown (b. 1890 - d. 1971)

Sizemore, Lula A Whitehead (b. 15 May 1868 - d. 7 Oct 1955)

Sizemore, Lula Effie (b. 27 Apr 1897 - d. 24 Dec 1990)

Sizemore, Mary Ada Stinson (b. 2 Dec 1897 - d. 4 Feb 1957)

Sizemore, Mary Ellen Shell (b. 21 Jul 1977 - d. 30 Oct 2004)

Sizemore, Mary Wishon (b. 16 Oct 1863 - d. 7 Mar 1933)

Sizemore, Maude L. (b. 26 Nov 1919 - d. 18 Dec 1919)

Sizemore, Melvin J (b. 3 Feb 1906 - d. 4 Oct 1997)

Sizemore, Michael Gray "Yule" (b. 1 Sep 1960 - d. 30 Apr 1989)

Sizemore, Noah Eck (b. 1860 - d. 1952)

Sizemore, Parris N. (b. 17 Oct 1898 - d. 1 Sep 1963)

Sizemore, Patience Reece (b. 4 Jul 1807 - d. 3 Oct 1897)

Sizemore, Pearl (b. 30 Jan 1904 - d. 14 May 1924)

Sizemore, Robert Sanders (b. 27 Jan 1844 - d. 16 Jan 1925)

Sizemore, Ronda Lee (b. 27 Feb 1936 - d. 31 May 2002)

Sizemore, Ruby Oliver (b. 9 Nov 1912 - d. 7 Jun 2005)

Sizemore, Samuel J (b. 13 Jan 1902 - d. 16 Jan 1993)

Sizemore, Sarah Clarinda Shore (b. 2 Apr 1878 - d. 26 Apr 1933)

Sizemore, Sarah Malissa Haire (b. 5 Nov 1846 - d. 24 Mar 1926)

Sizemore, Shady Frank (b. 16 Oct 1926 - d. 5 Dec 1991)

Sizemore, Shirley "Erlene" Stanley (b. 8 Jul 1937 - d. 3 Nov 1998)

Sizemore, Shirley M. (b. 19 Mar 1936 - d. 16 Oct 1999)

Sizemore, Sidney (b. 7 May 1874 - d. 25 Aug 1958)

Sizemore, Tommy Jones (b. 29 Apr 1937 - d. 20 Jan 1979)

Sizemore, W Clyde (b. 4 Feb 1923 - d. 3 Dec 1958)

Sizemore, Walter Montgomery "Gomery" (b. 1889 - d. 1963)

Sizemore, Wiley (b. 7 Mar 1872 - d. 29 Mar 1942)

Sizemore, Wiley Ben (b. 30 Jun 1927 - d. 5 Jun 1938)

Sizemore-Lawson, Sarah Jane (b. 20 Apr 1937 - d. 28 Jun 2010)

Smith, A Roscoe (b. 6 Mar 1898 - d. 10 Dec 1965)

Smith, Aubrey Roscoe (b. 2 May 1930 - d. 31 Jan 2007)

Smith, Chrystena Brown (b. 13 Feb 1851 - d. 18 Feb 1930)

Smith, Eli (b. 18 Jan 1849 - d. 17 Dec 1920)

Smith, Eli (b. 30 May 1801 - d. 9 Aug 1858)

Smith, Faith (b. 19 Jun 1809 - d. 4 Jan 1893)

Smith, Gary William (b. 29 Nov 1962 - d. 24 Nov 2008)

Smith, Gaynelle Moxley (b. 17 Jun 1936 - d. 5 Dec 2007)

Smith, John M. (b. 25 Jan 1870 - d. 14 Nov 1939)

Smith, Julius Dalton (b. 2 Mar 1883 - d. 14 Apr 1959)

Smith, Laura Elizabeth (b. 15 Sep 1933 - d. 13 Oct 2006)

Smith, Lillian B (b. 17 Jun 1903 - d. 8 Aug 1973)

Smith, Lula Walker (b. 17 Sep 1891 - d. 20 Dec 1967)

Smith, Mary Peoples (b. 14 Nov 1929 - d. 20 Jun 2003)

Smith, Miner Ray (b. 10 Jun 1903 - d. 18 Mar 1914)

Smith, Sarah P Vestal (b. 25 Sep 1879 - d. 4 Dec 1959)

Smith, Unknown (b. Unknown - d. 2 Dec 1828)

Smitherman, Foy Everette (b. 7 Jul 1907 - d. 16 Apr 1963)

Smitherman, Robert Joe (b. 2 Apr 1933 - d. 3 Jul 1959)

Smitherman, Rose Schrafel (b. 7 Aug 1909 - d. 30 Nov 2000)

Sneed, Andrew Jackson (b. 5 Nov 1899 - d. 3 Dec 1972)

Sneed, Annie Wishon (b. 19 Jan 1907 - d. 7 Jun 1972)

Sneed, Beulah Lee Groce (b. 16 Oct 1913 - d. 8 May 1988)

Sneed, Eliza Jane Brannock (b. Aug 1909 - d. 31 Jan 1952)

Sneed, Foley Brayton (b. 9 Jun 1909 - d. 16 Nov 1967)

Sneed, James Arthur "Jim" (b. 27 Jan 1893 - d. 2 Jan 1965)

Sneed, Laura W (b. 15 Nov 1893 - d. 26 Jun 1975)

Sneed, Troy Ford (b. 12 Sep 1911 - d. 4 May 2000)

Speer, Corea R. (b. Aug 1889 - d. Oct 1889)

Speer, Willie M. (b. 3 May 1886 - d. 31 May 1892)

Stallings, Beulah L. (b. 10 Sep 1907 - d. 12 Aug 1944)

Stallings, Earlie F. (b. 16 Apr 1916 - d. 18 Sep 1983)

Stallings, Jane Adams (b. 1862 - d. 1941)

Stallings, John E. (b. 7 Aug 1852 - d. 14 Sep 1925)

Stallings, Kizziah Sizemore (b. 14 Jul 1828 - d. 13 Mar 1914)

Stallings, Maggie E. (b. 30 Nov 1886 - d. 2 Mar 1926)

Stallings, Malinda L. Nicks (b. 1847 - d. 1899)

Stallings, William C. (b. 1850 - d. 1946)

Stallings, William M. (b. 17 Jul 1885 - d. 28 Jul 1950)

Stanley, Archelaus (b. 1736 - d. 1807)

Stanley, Elizabeth Ladd (b. 1736 - d. 1799)

Steelman, Alma D. (b. 1904 - d. 1992)

Steelman, Anise Delancy Vestal (b. 17 Jul 1868 - d. 27 Jun 1896)

Steelman, Annie (b. 12 Sep 1860 - d. 7 Jan 1885)

Steelman, Arnold Elsie (b. 19 Apr 1896 - d. 29 May 1966)

Steelman, Columbus Houston (b. 16 Feb 1859 - d. 28 Dec 1920)

Steelman, H. Frank (b. 20 Sep 1926 - d. 3 Apr 1989)

Steelman, Helen Hobson (b. 17 Mar 1930 - d. 27 Oct 2003)

Steelman, Henry C. (b. Unknown - d. Oct)

Steelman, Infant Daughter (b. Unknown - d. Unknown)

Stinson, Isaac (b. 1802 - d. 19 Oct 1886)

Stinson, Nathaniel (b. 5 Aug 1858 - d. 10 Apr 1942)

Stinson, Sarah Malindia Stallings (b. 15 Jul 1862 - d. 9 Sep 1952)

Stinson, Victoria (b. 4 Sep 1891 - d. 7 Jun 1892)

Taylor, Alice (b. 9 Mar 1896 - d. 26 May 1896)

Taylor, Bupton Ray (b. 1 May 1882 - d. 12 Mar 1929)

Taylor, John J "Jack" (b. 20 May 1852 - d. 30 Apr 1922)

Taylor, John Kepler (b. 1 Jan 1892 - d. 27 Jan 1952)

Taylor, Lola (b. 20 Dec 1880 - d. 7 May 1968)

Taylor, Sarah Frances (b. 18 Jan 1855 - d. 20 Jul 1939)

Taylor, Zeno (b. 3 Apr 1896 - d. 9 Oct 1896)

Thompson, Mabel S. (b. 28 Feb 1915 - d. 11 Jun 1999)

Thompson, Tyree L. (b. 16 May 1922 - d. 16 Mar 1997)

Vestal, Child (b. Aug - d. Unknown)

Vestal, D. Jarvis (b. 1853 - d. 1893)

Vestal, Elizabeth (b. 15 Apr 1786 - d. 30 Sep 1840)

Vestal, Elsie Franklin (b. 11 Nov 1888 - d. 29 Nov 1916)

Vestal, H. L. (b. 25 Mar 1847 - d. 6 May 1893)

Vestal, Henry Leo (b. 27 Jun 1877 - d. 7 Jan 1886)

Vestal, Hester L. (b. 31 Mar 1852 - d. 10 Jan 1930)

Vestal, James Hamlin (b. 2 Aug 1886 - d. 26 Jan 1963)

Vestal, Jesse (b. 31 Jul 1808 - d. 6 Mar 1861)

Vestal, John (b. 1807 - d. 1832)

Vestal, John (b. 8 Sep 1825 - d. 11 Sep 1856)

Vestal, Lucy Hamlin Robertson (b. 22 Sep 1856 - d. 18 May 1939)

Vestal, Martha (b. 28 May 1809 - d. ??? 8 1875)

Vestal, Nancy Jarvis (b. 23 Jan 1893 - d. 23 Apr 1954)

Vestal, Narcissa (b. 25 Jun 1825 - d. 31 Jun 1885)

Vestal, Nathan G. (b. 14 Feb 1853 - d. 11 Sep 1927)

Vestal, Nathaniel H "Nathan" (b. Jun 1831 - d. 26 Dec 1900)

Vestal, Nettie Rhoda Murphy (b. 4 Apr 1890 - d. 9 Feb 1963)

Vestal, P. M. (b. 20 Nov 1849 - d. 23 Dec 1911)

Vestal, Stephen J (b. 27 Sep 1817 - d. Unknown)

Waddell, Tammy Sue Barber (b. 6 Jul 1964 - d. 24 Jan 1999)

Wall, Ernest (b. Jul 1946 - d. Unknown)

Wall, Lora H (b. 30 Dec 1911 - d. 18 Jun 2005)

Wall, Nancy Catherine (b. 2 Jun 1941 - d. 23 Jul 1941)

Wall, Noah M (b. 29 Dec 1899 - d. 5 Feb 1971)

Wall, T. J. (b. 7 Jan 1915 - d. 9 Jan 1997)

Warden, Betty Jane Pardue (b. 14 Sep 1898 - d. 5 May 1938)

Warden, Caleb Monroe (Rev.) (b. 19 Oct 1859 - d. 21 Sep 1934)

Warden, Charlie Wilson (b. 3 Feb 1896 - d. 21 Apr 1959)

Warden, Cora E. (b. ??? 24 1883 - d. 10 Feb 1886)

Warden, David Franklin (b. 23 Jul 1924 - d. Unknown)

Warden, David Hugh (b. 11 Jan 1966 - d. 12 Apr 2005)

Warden, Effie (b. 23 Dec 1891 - d. 10 Apr 1957)

Warden, Ella Augusta Smith (b. 17 Aug 1894 - d. 19 May 1977)

Warden, Elsie W. (b. 2 Jul 1922 - d. 3 Jun 2004)

Warden, Everett (b. Unknown - d. 1892)

Warden, Foy William (b. 21 Dec 1922 - d. 13 Jul 1984)

Warden, Franklin (Rev.) (b. 5 Sep 1849 - d. 5 Jun 1929)

Warden, Guy H. (Rev.) (b. 20 May 1920 - d. 25 Oct 2003)

Warden, Hugh Bennett (b. 20 Oct 1923 - d. 7 Jan 1989)

Warden, Infant Daughter (b. 7 Jun 1928 - d. 7 Jun 1928)

Warden, Infant Son (b. 1 Jan 1927 - d. 1 Jan 1927)

Warden, Jennie Vee Collins (b. 26 Nov 1931 - d. 26 Jan 2009)

Warden, John Ira (b. 25 Oct 1855 - d. 25 Dec 1917)

Warden, Judy R. (b. 16 May 1952 - d. 14 Feb 2003)

Warden, Margaret Hasseltine Reece (b. 4 Jun 1862 - d. 29 Feb 1932)

Warden, Martha L (b. 7 Jul 1930 - d. 7 May 2005)

Warden, Mattie (b. Aug - d. 25 Jul 1902)

Warden, Ollie L. Carter (b. 12 Apr 1858 - d. 23 Oct 1936)

Warden, Pearlie W. (b. 19 Mar 1900 - d. 14 May 1902)

Warden, Perchie Starling (b. 3 Feb 1921 - d. 11 May 2006)

Warden, Sarah (b. 30 Mar 1818 - d. 8 Mar 1905)

Warden, Verne W. (b. 28 May 1927 - d. 5 Nov 1998)

Warden, Vickie Elaine (b. 3 Jun 1955 - d. 1 Dec 1960)

Warden, Wesley (b. 23 Jan 1879 - d. 22 Jan 1933)

Weatherman, Jesse Clarence (b. 4 Sep 1973 - d. 4 Sep 1973)

Whitaker, Howard (b. 11 Apr 1921 - d. 8 Dec 1992)

Whitaker, Nathan Eugene (b. 16 Oct 1945 - d. 23 Dec 2000)

Whitaker, Stella V. (b. 22 Jan 1912 - d. 5 Oct 1994)

Wilbanks, Corp Homer Walter (b. 12 May 1918 - d. 15 Nov 1987)

Wilbanks, Helen Marie Willard (b. 21 Feb 1924 - d. Apr 1993)

Willard, Abram A. (b. 7 Mar 1863 - d. 2 May 1959)

Willard, Almeda Flynn (b. 1 Apr 1869 - d. 15 Dec 1940)

Willard, Calvin Green (b. 25 May 1927 - d. 16 Apr 2010)

Willard, Elkanah G "Perk" (b. 2 Oct 1856 - d. 2 Nov 1942)

Willard, Ellis Clinton (b. 2 Oct 1867 - d. 19 Jul 1947)

Willard, Floyd Benton (b. 29 Sep 1932 - d. 2 Apr 1962)

Willard, Hallie B Adams (b. 30 Jul 1905 - d. 23 May 1937)

Willard, Hazel Ultra (b. 15 Apr 1915 - d. 9 Jan 1916)

Willard, Herbert Gray (b. 14 Jun 1931 - d. 20 Jul 2000)

Willard, John M (b. 29 Jul 1856 - d. 5 Jan 1924)

Willard, Jonathan (b. 8 Nov 1785 - d. 12 May 1854)

Willard, Kenyan Green (b. 10 Sep 1893 - d. 29 Nov 1973)

Willard, Mary Jane Flynn (b. 27 Jun 1871 - d. 19 Jul 1965)

Willard, Mary L (b. 4 Aug 1914 - d. 6 Mar 1920)

Willard, Nancy Choplin (b. 19 May 1848 - d. 19 Aug 1914)

Willard, Nellie S. (b. 12 Jun 1934 - d. 16 Aug 1979)

Willard, Phillip Gray (b. 26 Jul 1956 - d. 26 Jul 1956)

Willard, W. J. F. (b. 2 Apr 1876 - d. 28 Apr 1934)

Willard, William Jasper (b. 9 Aug 1851 - d. 9 Jan 1934)

Williams, Comiller Ann (b. 7 May 1849 - d. 23 Jul 1914)

Williams, Delphia (b. 24 May 1880 - d. 12 Sep 1886)

Williams, Nancy Jane (b. 18 Jun 1856 - d. 18 Dec 1938)

Williams, Thomas Lee (b. 26 Feb 1846 - d. 7 Jun 1924)

Williams, Unknown (b. ??? 28 1884 - d. Dec 8)

Winfrey, N. N. (b. 1814 - d. 1822)

Winfrey, Sarah A Hendricks (b. 2 Aug 1853 - d. 18 Nov 1925)

Winfrey, T. H. (b. 14 Aug 1832 - d. 8 Jul 1846)

Winfrey, Thomas (b. 20 Sep 1794 - d. 1 Feb 1838)

Wishon, A. J. (b. ??? 26 1838 - d. ??? 18 1912)

Wishon, Amanda Nicks (b. 14 Sep 1861 - d. 21 Oct 1939)

Wishon, B. Frank (b. 7 Nov 1867 - d. 14 Dec 1950)

Wishon, Betty (b. Unknown - d. ??? 18 1914)

Wishon, Elsie Martin (b. 21 Jun 1895 - d. 13 May 1970)

Wishon, Everett (b. 22 Apr 1895 - d. 1945)

Wishon, Fanny Warden (b. 7 Oct 1888 - d. 10 Dec 1977)

Wishon, Grace (b. 30 Oct 1917 - d. 20 Apr 1919)

Wishon, Gurney (b. 8 Aug 1900 - d. 30 May 1902)

Wishon, Helen H. (b. 23 Jan 1910 - d. 27 May 1982)

Wishon, John W (b. 20 Feb 1859 - d. 8 Feb 1932)

Wishon, Julia L Mackie (b. 24 Jan 1864 - d. 7 Jul 1941)

Wishon, Lewranal A (b. Sep 1855 - d. 1 May 1860)

Wishon, Luther M. (b. 12 May 1891 - d. 22 Mar 1975)

Wishon, Martha C. Vestal (b. 10 Apr 1847 - d. 20 Oct 1925)

Wishon, Martha Jane Sizemore (b. 25 Feb 1866 - d. 27 Sep 1939)

Wishon, Mary Jane Warden (b. 29 May 1893 - d. 10 Sep 1969)

Wishon, Miles S (b. 5 Oct 1869 - d. 4 Apr 1898)

Wishon, Nancy (b. 11 Jan 1856 - d. 18 Feb 1881)

Wishon, Nathan (b. 15 Sep 1861 - d. 1 May 1925)

Wishon, Parlie L (b. 29 Dec 1876 - d. 18 Mar 1932)

Wishon, Thomas (b. 6 Aug 1880 - d. 13 May 1889)

Wishon, Unknown (b. Unknown - d. 15 Dec 1893)

Wishon, Unknown (b. 1852 - d. 1885)

Wishon, William Ed (b. 24 Mar 1886 - d. 1 May 1976)

Wood, Christopher Mathew (b. 23 Jun 1969 - d. 5 May 2004)

Wood, Louise Whitaker (b. 22 Aug 1948 - d. 6 Jan 2004)

Wooten, Birdie (b. 5 Jul 1905 - d. 25 Jun 1953)

Wooten, Buford (b. 7 Jun 1908 - d. 17 Apr 1989)

Wooten, Clarence H (b. 22 Mar 1919 - d. Unknown)

Wooten, Crawford (b. 2 Aug 1866 - d. 30 Jul 1934)

Wooten, Eliza Emma Sizemore (b. 14 Nov 1862 - d. 30 Apr 1939)

Wooten, Etta Wishon (b. 13 Jul 1876 - d. 27 Oct 1958)

Wooten, Fred Jay (b. 2 Feb 1927 - d. 29 Dec 1976)

Wooten, Gary C (b. 8 Nov 1943 - d. 10 Feb 1999)

Wooten, Infant (b. 2 Nov 1932 - d. 2 Nov 1932)

Wooten, Infant twins (b. 25 May 1925 - d. 25 May 1925)

Wooten, Jack Herbert (b. 11 Jan 1940 - d. 26 Oct 1942)

Wooten, James C. (b. Unknown - d. Unknown)

Wooten, Jasper Anderson (b. 25 Jan 1868 - d. 8 Apr 1926)

Wooten, Jesse W (b. 22 Jan 1916 - d. 26 Jun 2003)

Wooten, Julius Avery (b. 23 Aug 1906 - d. 19 Aug 1942)

Wooten, Kenneth G, Sr (b. 3 Feb 1932 - d. 3 Jan 2002)

Wooten, Kenneth Gray, Jr (b. 18 May 1958 - d. 28 Aug 1994)

Wooten, Lavada Caudle (b. 12 Feb 1876 - d. 30 Jul 1910)

Wooten, Lois E. (b. 1930 - d. 1931)

Wooten, Mary Etta Vestal (b. 18 Jun 1869 - d. 10 Aug 1956)

Wooten, Nathan Wilburn (b. 2 Nov 1873 - d. 9 Nov 1931)

Wooten, Nettie (b. 15 Jan 1892 - d. 5 Jun 1911)

Wooten, Permelia (b. 3 Jan 1861 - d. 4 May 1887)

Wooten, Robert W (b. 8 Oct 1860 - d. 2 Mar 1947)

Wooten, Rossie Speaks (b. 25 Jun 1912 - d. Unknown)

Wooten, Ruby W (b. 20 Aug 1921 - d. 4 Jun 1981)

Wooten, Sarah B. (b. 10 Oct 1897 - d. 29 Jan 1979)

Wooten, Treva Mae Mills (b. 27 May 1900 - d. 13 Jan 1975)

Wooten, Ules C (b. 14 Feb 1904 - d. 2 Dec 1957)

Wooten, Unknown (Wife) (b. Aug 1835 - d. 31 Dec 1913)

Wooten, William Edward (b. 10 Sep 1884 - d. 4 Oct 1973)

Wright, Carrie L (b. 1914 - d. 21 Jul 1974)

Wright, James Everett (b. 8 Jan 1936 - d. 24 Dec 1974)

Wright, James Everette (b. 13 Aug 1935 - d. 12 Dec 1979)

Wright, Newell Emory (b. 23 Feb 1912 - d. 13 Jan 1979)

Zachary, Daniel (b. 29 Dec 1820 - d. 31 Mar 1904)

Zachary, Elizabeth (b. 30 Oct 1828 - d. 14 Jul 1876)

Zachary, Howard Gurnie (b. 13 Nov 1923 - d. 14 Mar 1997)

Zachary, Howard Gurnie (b. 13 Nov 1923 - d. 14 Mar 1997)

Zachary, Jemima Johnson (b. 28 Aug 1755 - d. 24 May 1849)

Zachary, Lora Belle Williams (b. 20 Sep 1873 - d. 15 Nov 1920)

Zachary, Mary Kate (b. 4 May 1925 - d. 7 Mar 1991)

Zachary, Robert G (b. 28 Dec 1826 - d. 26 Jun 1888)

Zachary, Russell Sanford (b. 20 Jan 1857 - d. 7 Apr 1900)

Zachary, Sanford V (b. 17 May 1896 - d. 31 Jan 1926)

Zachary, Thomas A (b. 21 Sep 1863 - d. 28 Dec 1924)

Zachary, William Winston (b. 4 Jan 1856 - d. 8 Sep 1878)

Zachary, William, Sr (b. 22 Dec 1750 - d. 14 Nov 1829)
Web page updated 20 August 2016
Index of All Cemeteries
Alphabetical Index of All Burials
Previous Page