Index of All Cemeteries
Alphabetical Index of All Burials
Previous Page
Use the following to search across all the cemeteries listed.
Example: "Smith, Roger" (yes, use the quotes)
043 TURNERS CREEK BAPTIST CHURCH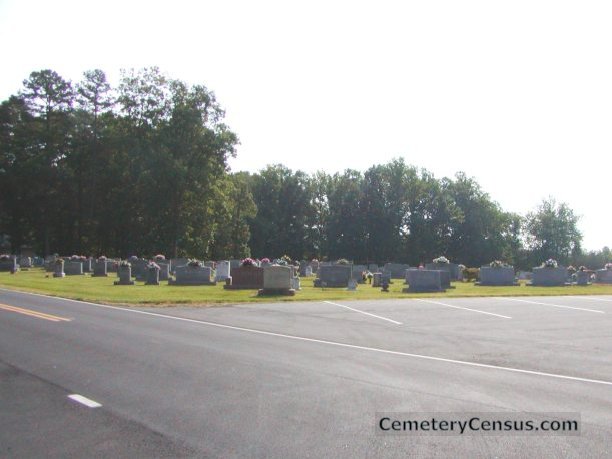 Location: Courtney-Huntsville Rd, Courtney, Yadkin Co., NC.

Coordinates: 36d 04m 48.8s N; 80d 35m 14.9s W Click here for Google maps

Directions: From US 421 and Speer Bridge Rd, go south on Speer Bridge Rd for 2.2 miles and turn right on Courtney-Huntsville Rd. Then go 1.8 miles and church and cemetery are on the left.

View of the church.

Surveyed by Bob Carter on August 18, 2007.
Township or district: South Liberty.
Public or Private: Public access.
GPS Accuracy (ft.): 14.
Elevation above sea level (ft.): 892.
Status of cemetery: Well maintained.

Cemetery has graves predominantly in the last 100 years.
Survey by Allen Dew in January 2013.


Adams, Maggie Zachary (b. 30 Jun 1894 - d. 2 Apr 1973)
Adams, Terah Otis (Rev.) (b. 20 Aug 1895 - d. 25 Jul 1950)
Alford, Cassie Brown (b. 26 Jul 1913 - d. 12 Oct 1994)
Alford, Donald Eugene (b. 10 Sep 1938 - d. 10 Jun 1955)
Alford, Prentiss Lewis (b. 3 Oct 1904 - d. 26 Jul 1966)
Allgood, Alisha Jean (b. 25 Nov 1984 - d. 29 Nov 1984)
Badgett, Donald Bruce (b. 8 Apr 1935 - d. 25 Sep 1970)
Baity, Gertrude Maggie Palmer (b. 27 Jan 1910 - d. 2 Aug 1988)
Baity, James Thurman (b. 3 Mar 1932 - d. 5 Aug 2001)
Baity, Locksley Hall (b. 21 May 1930 - d. 26 Jan 1969)
Baity, Will M. (b. 22 Mar 1908 - d. 24 Jan 1968)
Bates, Margaret Ann Miller (b. 18 Aug 1943 - d. 25 Sep 2011)
Caudle, Everette M. (b. 16 Feb 1906 - d. 29 Jul 1984)
Caudle, Linda Shore (b. 19 Jun 1948 - d. 12 Nov 1997)
Caudle, Pauline Williams (b. 3 Aug 1916 - d. 18 Feb 2011)
Collins, Gaynelle Hayes (b. 23 Jan 1946 - d. 27 Aug 2005)
Craver, Grover Cleveland (b. 20 Feb 1894 - d. 2 Sep 1974)
Dinkins, Minnie Lee Groce (b. 4 Aug 1881 - d. 23 May 1940)
Dinkins, William Hayes (b. 18 Dec 1875 - d. 23 May 1940)
Douglas, Roy Thomas (b. 26 Mar 1932 - d. 23 Dec 1998)
England, Harold Eugene (Rev.) (b. 16 Sep 1938 - d. 11 Aug 2010)
Gough, David Harold (b. 30 Jun 1924 - d. 1 Jul 2002)
Gough, David Miles (b. 13 Nov 1872 - d. 23 Mar 1940)
Gough, Escar Levi (b. 6 Aug 1920 - d. 5 Feb 1937)
Gough, Exie Louellen Plowman (b. 10 Jul 1918 - d. 21 Jul 2004)
Gough, Hattie Sprinkle (b. 14 Apr 1919 - d. 7 Apr 2008)
Gough, James Howard (b. Unknown - d. Unknown)
Gough, Mamie Cranfill (b. 15 Jun 1898 - d. 23 Aug 1977)
Gough, Robert Herman (b. 13 Oct 1905 - d. 25 Feb 1978)
Groce, Laura Lee Ola Beamon (b. 12 Jun 1923 - d. 4 Dec 2010)
Grubbs, Jack L (b. 19 May 1945 - d. 2 Sep 2010)
Gunter, Clifton Lee (b. 13 Aug 1905 - d. 15 Aug 1970)
Holcomb, Violet Badgett (b. 6 Oct 1929 - d. 20 Dec 1985)
Holcomb, William Lloyd (b. 18 Apr 1924 - d. 26 Mar 1968)
Hutchens, Jerlean Miller (b. 4 Dec 1936 - d. 9 Feb 2011)
Hutchens, Mary Yarber (b. 21 May 1923 - d. 27 Apr 1967)
Hutchens, Paul (b. 23 Dec 1912 - d. 21 Feb 2005)
Hutchens, Ruby R. Shore (b. 27 Aug 1919 - d. 9 Apr 2002)
Jolly, Nellie Plowman (b. 28 Apr 1934 - d. 6 Nov 2010)
Key, Aric Rufus (b. 16 Aug 1868 - d. 29 Dec 1943)
Key, Cornelia Florence Wood (b. 16 Oct 1870 - d. 24 Jul 1964)
Melton, John Dellos "J. D.", Jr (b. 20 May 1923 - d. 16 Sep 2012)
Miller, Benjamin Harrison (b. 15 Jul 1888 - d. 25 May 1970)
Miller, Dorothy Salmons (b. 26 Oct 1920 - d. 26 Oct 2009)
Miller, Frances Ruth (b. 29 Jan 1941 - d. 11 Mar 1951)
Miller, Mahalia Shore (b. 12 Nov 1892 - d. 10 Apr 1972)
Miller, Sharon Denise Miller (b. 3 Sep 1961 - d. 6 Feb 2011)
Parker, Samuel "SD" (b. 17 May 1942 - d. 25 May 2010)
Perrucci, Rhonda Lynette Allgood (b. 13 Apr 1981 - d. 19 Dec 2005)
Plowman, Bessie Mae Williams (b. 7 Jun 1896 - d. 31 Jul 1935)
Plowman, Dovie Bullard (b. 20 Apr 1905 - d. 3 Mar 1990)
Plowman, Eliza Jane Shores (b. 13 Feb 1877 - d. 23 May 1956)
Plowman, Jethro Pastor (b. 18 Sep 1899 - d. 9 Sep 1974)
Plowman, Mary Lillie McBride (b. 10 Jun 1895 - d. 29 Aug 1974)
Plowman, Robert Hayes (b. 27 May 1877 - d. 10 Aug 1965)
Plowman, Wesley William (b. 19 Apr 1893 - d. 26 Feb 1949)
Plowman, William David (b. 13 May 1903 - d. 17 Jan 1973)
Potts, Eloise Hutchens (b. 23 Jan 1923 - d. 30 Nov 2005)
Potts, Monroe Bradley (b. 27 Jun 1920 - d. 7 Feb 1985)
Shore, Alfred N. (b. 3 Jul 1904 - d. 12 Nov 1952)
Shore, Edith B. (b. 1924 - d. Unknown)
Shore, Esther O'Mara (b. 28 Nov 1919 - d. 10 Oct 1988)
Shore, Gurthie Lee Draughn (b. 31 Oct 1936 - d. 2 May 2002)
Shore, Gwynn Harding (b. 1 Apr 1884 - d. 5 Oct 1937)
Shore, Hattie Blanche Allen (b. 22 May 1888 - d. 18 Feb 1970)
Shore, Herman McDonald (b. 3 Jun 1917 - d. 4 Jul 1978)
Shore, Ida B. (b. 15 Jul 1883 - d. 20 Nov 1958)
Shore, Isaac Albert (b. 28 Jul 1896 - d. 6 Dec 1974)
Shore, Isaac Leo (b. 1 Nov 1912 - d. 14 Jan 1998)
Shore, James J. (b. 28 Feb 1923 - d. 1 Mar 1974)
Shore, Loanza "Babe" (b. 23 Dec 1884 - d. 15 Mar 1969)
Shore, Lydia Beaman (b. 29 May 1857 - d. 10 Apr 1948)
Shore, Sallie B. Miller (b. 9 Apr 1890 - d. 4 Jul 1973)
Speer, Betty Gray (b. 18 May 1952 - d. 24 Oct 2011)
Speer, Grady Leo, Sr (b. 1 Oct 1930 - d. 21 Jun 2009)
Speer, Nellie Gunter (b. 24 May 1934 - d. 14 Jan 2005)
Sprinkle, Columbus C. (b. 28 Aug 1857 - d. 21 May 1926)
Sprinkle, Joseph Henry (b. 8 May 1874 - d. 15 Oct 1954)
Sprinkle, Mary E. Shore (b. 17 Jun 1883 - d. 27 Sep 1926)
Stanley, Vera Plowman (b. 4 Jun 1903 - d. 20 Jun 1963)
Thacker, Grady Lee (b. 12 Sep 1919 - d. 9 Dec 2005)
Thacker, Nannie Page (b. 4 Jan 1918 - d. 28 Apr 2012)
Tise, Charlie Jacob (b. 12 Jan 1914 - d. 19 Jul 1979)
Tise, Geneva Dinkins (b. 11 Feb 1915 - d. 20 Sep 1952)
Wells, David Rush (b. 9 Mar 1872 - d. 1 Jan 1941)
Wells, Lula Lash (b. 18 Apr 1876 - d. 12 Jun 1931)
Wells, Millie Janie Plowman (b. 15 May 1876 - d. 22 Jun 1954)
Wells, William Green (b. 18 Mar 1873 - d. 24 Sep 1952)
Willard, Ila L. Plowman (b. 28 Mar 1917 - d. 9 Apr 1987)
Williams, Gary Ray (b. 22 Mar 1948 - d. 28 Aug 1948)
Yarber, Bertha L. (b. 22 Oct 1897 - d. 10 Jul 1997)
Yarber, D. W. (b. 23 May 1890 - d. Unknown)
Yarber, Frances A. Key (b. 14 Jan 1911 - d. 28 Sep 1941)
Yarber, Infant Son (b. 1926 - d. 1926)
Yarber, Robert W. (b. 25 Aug 1887 - d. 17 Oct 1952)
Web page updated 20 August 2016
Index of All Cemeteries
Alphabetical Index of All Burials
Previous Page