Index of All Cemeteries
Alphabetical Index of All Burials
Previous Page
Use the following to search across all the cemeteries listed.
Example: "Smith, Roger" (yes, use the quotes)
039 GLEN, TYRE FAMILY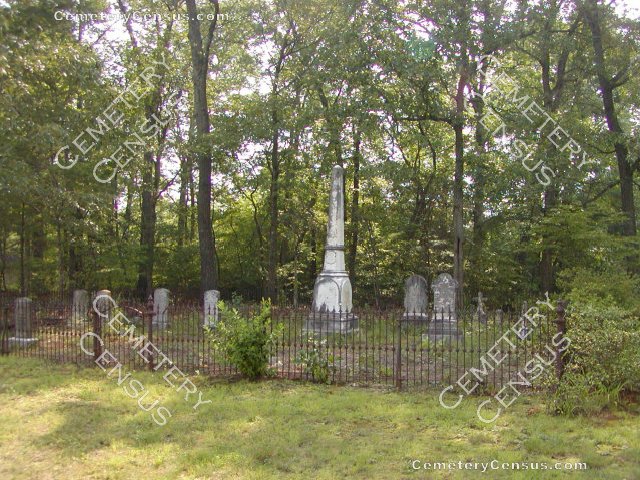 Location: 1324 Flint Hill Rd, East Bend, Yadkin Co., NC.

Coordinates: 36d 08m 56.9s N; 80d 28m 02.8s W Click here for Google maps

Directions: From intersection of Old US Hwy 421 and Baltimore Rd, go east on Hwy 421 for 3.6 miles and turn left on Flint Hill Rd (SR 1549). Then go .6 miles and cemetery is on the right at a private residence and is enclosed in a wrought iron fence.

Surveyed by Bob Carter on July 27, 2007.
Township or district: Forbush.
Public or Private: Private Property.
GPS Accuracy (ft.): 19.
Elevation above sea level (ft.): 912.
Status of cemetery: Maintained.

Small family cemetery of early plantation owner, Tyre Glen. Maintained by homeowner. Earliest burials in 1871 and there is evidence of 5-10 burials w/out markers.

Survey by Allen Dew in January 2013.


Glen, Laura (b. 7 Apr 1849 - d. 22 Dec 1872)
Glen, Margaret Ann Bynum (b. 8 Jun 1816 - d. 3 Jul 1871)
Glen, Thomas (b. 4 Apr 1851 - d. 23 Oct 1876)
Glen, Tyre (b. 27 Dec 1800 - d. 7 Oct 1875)
Glenn, Ann Speer (b. Feb 1781 - d. 1860)
Glenn, Elizabeth (b. 1815 - d. Unknown)
Glenn, Jane (b. 1806 - d. Unknown)
Glenn, Sarah A. S. (b. 1818 - d. Unknown)
Glenn, Thomas (b. 1773 - d. 4 Oct 1847)
Hellen Jones, Frances "Fannie" Glen (b. 18 Sep 1861 - d. 5 Nov 1930)
Hellen, Fannie Glen (b. 14 Oct 1884 - d. 23 Jun 1957)
Howes, Bertha Hellen (b. 17 Mar 1883 - d. 25 Oct 1942)
Howes, Robert V. (b. 7 Apr 1871 - d. 23 Feb 1958)
Jones, Pride, II (b. Unknown - d. Unknown)
Jones, Pride, III (b. 22 Oct 1896 - d. 1 Jun 1926)
Jones, Unknown (b. 1898 - d. Unknown)
Williams, Margaret Bynum (b. 22 Sep 1867 - d. 26 Oct 1871)
Williams, Margaret Louisa "Lou" Glen (b. 9 Sep 1840 - d. 16 May 1871)
Web page created 4 February 2013
Index of All Cemeteries
Alphabetical Index of All Burials
Previous Page