Index of All Cemeteries
Alphabetical Index of All Burials
Previous Page
Use the following to search across all the cemeteries listed.
Example: "Smith, Roger" (yes, use the quotes)
023 ENON CHAPEL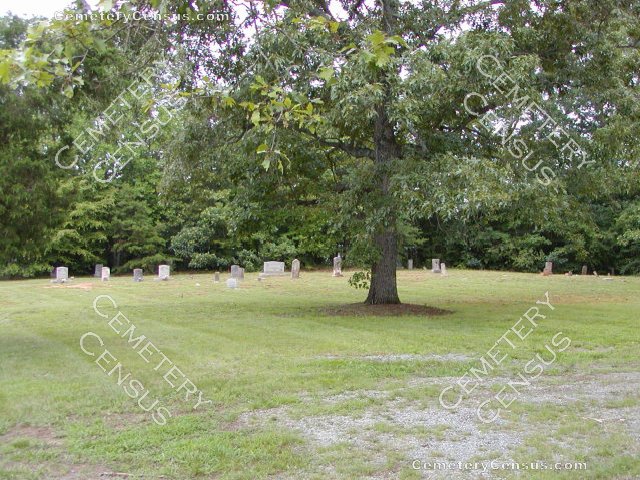 Location: Old US Hwy 421, East Bend, Yadkin Co., NC.

Coordinates: 36d 07m 45.1s N; 80d 29m 02.1s W Click here for Google maps

This also known as: Cedar Hill AME Zion Church and All Faiths Mission Church.

Directions: From intersection of Old US Hwy 421 and Baltimore Rd, go east on Hwy 421 for 2.4 miles and church and cemetery are on the left.

View#2 of th cemetery. View of the church. View of the church sign.

Surveyed by Bob Carter on July 13, 2007.
Township or district: Forbush.
Public or Private: Public access.
GPS Accuracy (ft.): 21.
Elevation above sea level (ft.): 839.
Status of cemetery: Needs maintenance.

African-American church. Unknown when first established or prior names of church. Last burial appears to be 1992 but there are other areas that may have burials without markers.

Photographs by Bob Carter in 2011 and Martha Wick in January 2013.


Alexander, Osborne G. (b. 1874 - d. 24 Nov 1943)
age 69 - b. Alexander Co, NC and d. Forsyth Co, NC - Son of Sidney Alexander and Sarah Morrison

Carter, Mattie (b. 4 Aug 1907 - d. 9 Jan 1918)
Daughter of William Carter (Davie Co, NC) and Susan Eccles (Yadkin Co, NC) - Mattie was b. Davie Co, NC and d. Forsyth Co, NC

Davis, Alice (b. 1847 - d. 27 Sep 1921)
No DOB on grave - lived in Yadkin County Home for the Poor and was mother of Carrie Davis

Glenn, David Nick (b. 15 Oct 1820 - d. 14 Aug 1901)
Founder of the Church - wife's name was Jane Dameron, m. 30 Aug 1829 in Lincoln Co, NC

Glenn, Margaret T. Puryear (b. 24 Nov 1865 - d. 20 Jan 1920)
Wife of Emanuel Glenn, m. 2 Apr 1885 - Daughter of Robert Puryear and Elvira Jarrett

Glenn, Mary Shore (b. 25 Nov 1885 - d. 13 Jun 1953)
Wife of - Daughter of Emanuel Shore and Tina Stimpson

Glenn, Sylvia (b. 3 Jun 1863 - d. 15 May 1934)

Hickerson, Bettie Turner (b. 1870 - d. 10 Jul 1915)
age 45 - Wife of Alexander L. Hickerson (his burial unknown) - m. 14 Sep 1899

J., D. J. (b. Unknown - d. Unknown)
Foot marker D.J.J. only at north tree line. Burial plot.

Jarratt, Matilda Lizette Matthews (b. 7 Mar 1850 - d. 20 Dec 1926)
Wife of Henry Jarratt. Daughter of Enoch Matthews and Elizabeth Conrad Matthews.

Jarratt, William Augustus (b. 3 Jul 1874 - d. 15 Apr 1920)
Husband of Amanda Matthews - Son of Henry and Matilda Jarratt

Jarrett, Lucinda Spillman (b. 29 Jul 1888 - d. 7 Jun 1930)
Wife of Frank Jarratt. Daughter of William Virgil Spillman and Cordelia Eccles Spillman.

K., J. J. (b. Unknown - d. Unknown)
Foot marker J.J.K. only at north tree line. Burial plot.

Lewis, Josephine Puryear (b. 1894 - d. 20 Aug 1936)
age 42 - Wife of Burgess Lewis - Daughter of James Puryear and Nancy Eccles

Little, Elizabeth Matthews (b. 17 Mar 1916 - d. 8 Feb 1984)
Daughter of Gwyn Matthews and Ada Glenn

Martin, Carrie Davis (b. 25 Sep 1888 - d. 1 Sep 1924)

Matthews, Ada Glenn (b. 27 Sep 1886 - d. 28 Feb 1968)
Wife of Gwyn Cornelius Matthews - Daughter of Sylvia Glenn

Matthews, Albert Ellis (b. 14 Feb 1882 - d. 6 Oct 1956)
Son of Orange Matthews and Josephine Conrad

Matthews, Elizabeth Josephine Conrad "Betty" (b. 18 Sep 1833 - d. 19 Jan 1909)

Matthews, Enoch (b. 17 Apr 1823 - d. 17 May 1914)
Husband of Elizabeth "Betty" Conrad

Matthews, Etha A. (b. 10 May 1900 - d. 22 Nov 1902)
Daughter of Orange M. Matthews and Ida Williams Matthews

Matthews, Frank Louis (b. 11 Apr 1853 - d. 14 Feb 1922)
Husband of Ida Hendricks - Son of Enoch Matthews and Betty Conrad

Matthews, Gwyn Cornelius (b. 17 Sep 1879 - d. 18 Apr 1958)
Husband of Ada Glenn - Son of Frank Louis Matthews and Ida Hendricks

Matthews, Ida Hendricks (b. 8 Feb 1858 - d. 26 Mar 1943)
Wife of Frank Louis Matthews

Matthews, Maggie Lucky (b. 11 Feb 1873 - d. 9 Oct 1940)
Wife of Orange A. Mathews - Daughter of Ashley and Jane Lucky

Matthews, Orange A. (b. 4 Jun 1861 - d. 8 May 1936)
Husband of Ida Williams (m. 16 Feb 1896), Maggie Lucky and Josephine Conrad - Son of Enoch Matthews and Betty Conrad - under spruce tree near road. Son of Enoch Matthews and Elizabeth Conrad Matthews

Matthews, Rosa B. Spillman (b. 12 Feb 1889 - d. 14 Apr 1955)
Wife of J. A. Matthews (his burial unknown) and Wife of J. A. Spillman. Daughter of William V. Spillman and Cordelia Ecceles Spillman

Matthews, Susan (b. 15 Sep 1885 - d. 1889)
Daughter of Orange M. Mathews and Josephine P. Matthews

Matthews, William M. (b. 12 Aug 1899 - d. 12 Sep 1906)
Son of Orange M. Matthews and Ida Williams Matthews

Puryear, Mamie E. (b. 7 Jan 1874 - d. 12 Feb 1909)
Mother of William Henry Puryear

Puryear, William Henry (b. 6 Feb 1909 - d. 19 Jun 1909)

Shore, James S. (b. 9 Sep 1905 - d. 23 Jan 1922)

Spillman, Annie Pearl (b. 23 May 1923 - d. 7 Feb 1992)
Daughter of George Anderson Spillman and Leecy Viola Porter

Spillman, Cordelia Eccles "Delia" (b. 15 Dec 1853 - d. 16 Sep 1954)
Wife of William Virgil Spillman - Daughter of Lucinda Eccles

Spillman, Elizabeth "Lizzie" (b. 12 Oct 1895 - d. 1 Sep 1941)
Daughter of William Virgil Spillman and Cordelia Eccles. (Dates on marker do not match death certificate)

Spillman, George Anderson (b. 5 Aug 1885 - d. 21 May 1978)
Husband of Leecy Viola Porter - Son of William Virgil Spillman and Cordelia Eccles - Pvt, US Army, WW I

Spillman, Leecy Viola Porter (b. 22 Jun 1903 - d. 31 Jan 1925)
Wife of George Anderson Spillman - Daughter of Grant Porter and Ada Thornton

Spillman, William Virgil (b. 29 Feb 1852 - d. 29 Feb 1920)
Husband of Cordelia Eccles - Son of Elvira Spillman

Transou, Rosa Perry (b. Apr 1884 - d. 20 Sep 1954)
Wife of William T. Transou

Transou, William T. (b. 3 Dec 1875 - d. 19 Nov 1959)
Husband of Rosa Perry, m. 11 Feb 1915

Unknown, ?? (b. Unknown - d. Unknown)
metal funeral home marker without dates or name

Unknown, ?? (b. Unknown - d. Unknown)
metal funeral home marker without dates or name
Web page updated 20 August 2016
Index of All Cemeteries
Alphabetical Index of All Burials
Previous Page