Index of All Cemeteries
Alphabetical Index of All Burials
Previous Page
Use the following to search across all the cemeteries listed.
Example: "Smith, Roger" (yes, use the quotes)
020 FORBUSH FRIENDS MEETING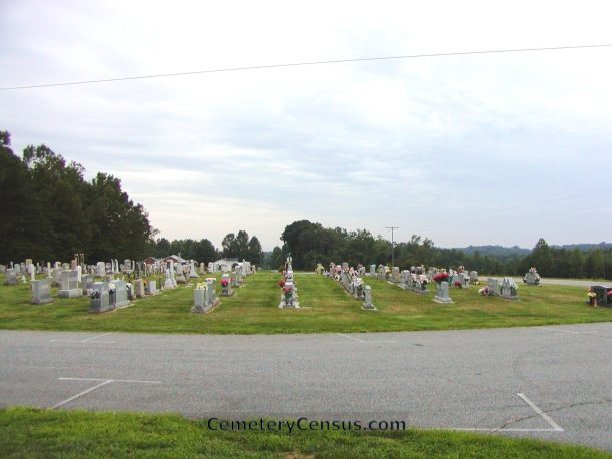 Location: 4460 Forbush Rd, Forbush, Yadkin Co., NC.

Coordinates: 36d 11m 53.2s N; 80d 34m 25.4s W Click here for Google maps

Directions: From NC 67 (bypass) and Flint Hill Rd (stop light) in East Bend, go west on NC 67 for 2.8 miles and turn left on Mill Hill Rd (SR 1542). Then go 1.9 miles and turn left on Forbush Rd (SR 1570) and go another .5 miles and church and cemetery are on the left.

View #2 of the cemetery. View of the church.

Surveyed by Bob Carter on July 13, 2007.
Township or district: Forbush.
Public or Private: Public access.
GPS Accuracy (ft.): 13.
Elevation above sea level (ft.): 1022.
Status of cemetery: Well maintained.

Very old historic Quaker (Friends) cemetery and church. Earliest burials are probably in the late 1700s or early 1800s. Many burials are unreadable and church has replaced some old field stone markers with flat granite markers with "unknown" on them..


Barneycastle, Mary Allen (b. 6 Nov 1903 - d. 8 Feb 1986)
Brown, Albert L (b. 17 Jun 1870 - d. 25 Nov 1956)
Brown, Allen Curtis (b. 26 May 1923 - d. 12 Jul 1996)
Brown, Allen W (b. 17 Oct 1943 - d. 10 May 2002)
Brown, Annie Lucille Matthews (b. 1 Dec 1922 - d. 26 Feb 1989)
Brown, Bernard C (b. 5 Oct 1923 - d. 9 Jul 2002)
Brown, Beulah Mae (b. 26 Apr 1901 - d. 8 Dec 1978)
Brown, Bobby Neil (b. 3 Feb 1930 - d. 7 Dec 1945)
Brown, Buford E (b. 15 Mar 1904 - d. 12 Jun 1956)
Brown, Carl A (b. 22 Sep 1920 - d. 11 Apr 2003)
Brown, Charles David (b. 21 Sep 1935 - d. 15 Feb 1972)
Brown, Charles Fred (b. 9 Jan 1923 - d. 20 Feb 2004)
Brown, Charlie Frank (b. 31 Jan 1923 - d. 17 May 1992)
Brown, Charlie Graham (b. 8 Oct 1894 - d. 27 Jun 1972)
Brown, Conard Martin (b. 20 Jul 1913 - d. 6 Sep 1995)
Brown, David Frank (b. 17 Sep 1899 - d. 10 Nov 1970)
Brown, Della Mae Matthews (b. 14 Apr 1917 - d. 12 Mar 2004)
Brown, Derotha Alice Norman (b. 16 Sep 1883 - d. 29 Jan 1966)
Brown, Fannie Henning (b. 7 May 1843 - d. 8 Jul 1922)
Brown, Foster Kinney (b. 2 Jul 1913 - d. 12 Dec 1961)
Brown, Fronia Stewart (b. 23 Nov 1925 - d. 12 Sep 1955)
Brown, Grady Lee (b. 29 Aug 1928 - d. 18 Feb 1990)
Brown, Grady R "Robbie" (b. 19 Sep 1968 - d. 20 Jun 2003)
Brown, Harvey H (b. 1 Aug 1913 - d. 10 Nov 1983)
Brown, Hattie Maude Hobson (b. 14 Sep 1908 - d. 17 Dec 1990)
Brown, Henry M (b. 1884 - d. Unknown)
Brown, Inez Matthews (b. 26 Feb 1934 - d. 25 Mar 2008)
Brown, Jackson (b. 10 Aug 1849 - d. 2 Feb 1922)
Brown, Jacqueline Davis (b. 21 Jul 1934 - d. 23 Apr 1989)
Brown, Jeanna Leigh (b. 5 May 1965 - d. 23 Sep 1983)
Brown, Jesse Winfield (b. 25 May 1876 - d. 29 Mar 1957)
Brown, Keith Carlyle (b. 8 May 1939 - d. 12 Feb 1954)
Brown, Larry Lee (b. 13 Dec 1938 - d. 4 Jan 1939)
Brown, Laverne Webb (b. 7 Jun 1924 - d. 9 Mar 1998)
Brown, Leana Sue (b. 5 Mar 1898 - d. 28 Jun 1953)
Brown, Lucille Hicks (b. 11 Dec 1915 - d. 25 Jan 1982)
Brown, Lucille Miller (b. 1 Jul 1919 - d. 23 Apr 1995)
Brown, Luther (b. 28 Apr 1917 - d. 12 Dec 1918)
Brown, Margie Carter (b. 16 Jul 1925 - d. 15 Mar 2010)
Brown, Mary C Wooten (b. 10 Mar 1880 - d. 21 Jul 1939)
Brown, Mattie Elizabeth Wooten (b. 12 Mar 1899 - d. 10 Jun 1969)
Brown, Moody Hampton (b. 29 Sep 1905 - d. 23 Mar 1976)
Brown, Roy L (b. 30 Apr 1915 - d. 29 Jun 2001)
Brown, Rufus Hugh (b. 1 Jun 1926 - d. 3 Oct 1971)
Brown, Treva Vestal (b. 8 Feb 1901 - d. 1 Mar 1982)
Brown, Velva M (b. 9 May 1906 - d. 20 Apr 1986)
Brown, Vernon Auguston (b. 26 May 1929 - d. 20 May 2000)
Brown, William Rayford (b. 21 Jun 1941 - d. 26 May 1985)
Bryant, Nellie Hutchens (b. 10 Oct 1921 - d. 28 Jun 2009)
Bullins, Bertha A Hutchens (b. 14 Jun 1941 - d. 12 Apr 1970)
Calhoun, Mary Kathleen Jester (b. 24 Sep 1935 - d. 19 Aug 1955)
Cave, Edward C (b. 15 Jul 1929 - d. 13 Sep 2007)
Choplin, Alice Brown (b. 1 Sep 1881 - d. 16 Feb 1962)
Choplin, Thomas Leak (b. 8 Jan 1921 - d. 30 Aug 1991)
Church, Lee E (b. 25 Dec 1924 - d. 20 Jun 1940)
Clodfelter, Clarice Bruce (b. 20 Sep 1920 - d. 26 Dec 1977)
Clodfelter, James Leon, Jr (b. 10 Sep 1940 - d. 17 Sep 1981)
Coram, Mollie Patterson (b. 25 Dec 1873 - d. 9 Oct 1958)
Davis Matthews, Rachel Mondora "Dora" Norman (b. 3 Jun 1873 - d. 4 Jan 1962)
Davis, Baby Boy (b. 1885 - d. 1885)
Davis, Bonnie Jean Watts (b. 31 May 1933 - d. 23 Jul 2011)
Davis, Dora Norman (b. 3 Jun 1874 - d. 4 Jan 1962)
Davis, Dorothy Mae (b. 27 Feb 1941 - d. 10 Mar 1941)
Davis, Edgar Dalton (b. 14 Mar 1935 - d. 6 Nov 1948)
Davis, Estella M (b. 9 Feb 1887 - d. 16 Dec 1933)
Davis, Etta H (b. 1 Sep 1909 - d. 6 Mar 2004)
Davis, Etta M (b. 1 Nov 1902 - d. 27 Feb 1981)
Davis, Eugene D (b. 28 Nov 1899 - d. 17 Aug 1996)
Davis, Franklin "Will" (b. 4 Dec 1923 - d. 1 May 2010)
Davis, Harold D (b. 27 Jun 1935 - d. 18 Sep 1991)
Davis, Hillery A (b. 2 Jan 1862 - d. 31 Jan 1900)
Davis, Jerry F (b. 20 Jul 1933 - d. 20 Jul 1933)
Davis, Jesse (b. 9 Jun 1889 - d. 2 Feb 1968)
Davis, Larry Dean (b. 11 Nov 1943 - d. 5 Jan 1944)
Davis, Lewis F (b. 6 Feb 1913 - d. 8 Apr 1969)
Davis, Lula V. (b. 1883 - d. 1889)
Davis, Matthew E (b. 25 Feb 1983 - d. 11 Jan 2006)
Davis, Mattie Lee Murphy (b. 23 Mar 1929 - d. 18 Feb 2011)
Davis, Maudie Hutchens (b. 19 Jul 1915 - d. 21 Aug 1999)
Davis, Neva Brown (b. 24 Aug 1901 - d. 24 May 1992)
Davis, Norma Jean (b. 2 Feb 1928 - d. 9 Mar 1928)
Davis, Rebecca Ellen (b. 14 May 1938 - d. 28 Sep 1939)
Davis, Richard Verl (b. 13 Sep 1931 - d. 9 Nov 1999)
Davis, Robert Wayne (b. 11 Nov 1957 - d. 20 Aug 1983)
Davis, Sarah Harriet Hutchens (b. 11 Jun 1865 - d. 1 Apr 1898)
Davis, Sarah Matilda Hutchins (b. 20 Nov 1852 - d. 7 Jun 1932)
Davis, Thomas W (b. 13 May 1882 - d. 19 Feb 1963)
Davis, Troy R (b. 6 May 1911 - d. 4 May 1985)
Davis, Wartha Fletcher (b. 24 Dec 1876 - d. 27 Sep 1936)
Davis, Wilda Laura Lineberry (b. 1 Jan 1889 - d. 18 Jun 1967)
Davis, Willman R (b. 30 Nov 1936 - d. 16 Jan 1937)
Dinkins, Fred (b. 25 Dec 1859 - d. 13 Aug 1955)
Dinkins, Jean Leslie Hobson (b. 14 Jun 1911 - d. 2 Mar 1982)
Dinkins, Mary J Phillips (b. 27 Apr 1867 - d. 5 Sep 1946)
Fletcher, Adelene Hutchens (b. 13 Aug 1919 - d. 1 Nov 1998)
Fletcher, Bertha L (b. 3 May 1897 - d. 15 Nov 1903)
Fletcher, Calvin T (b. 12 Nov 1856 - d. 24 Mar 1942)
Fletcher, Hailey Tayler (b. Unknown - d. Unknown)
Fletcher, Hattie L (b. Unknown - d. Unknown)
Fletcher, Henrietta Phillips (b. 12 Mar 1858 - d. 21 Mar 1940)
Fletcher, Infant Son (b. 28 Apr 1913 - d. 1 May 1913)
Fletcher, John Thomas (b. Unknown - d. Unknown)
Fletcher, Mary F Taylor (b. 3 Jun 1862 - d. 9 Sep 1899)
Fletcher, Melvin Astor (b. 20 Oct 1941 - d. 22 Oct 1941)
Fletcher, Paul Astor (b. 29 Sep 1916 - d. 12 Dec 1990)
Fletcher, Retta Mae Stutts (b. 1 Nov 1890 - d. 11 Dec 1987)
Fletcher, Richard Dean (b. 15 Jul 1950 - d. 26 Jan 1951)
Fletcher, Westley Ernest (b. 18 Mar 1883 - d. 21 Sep 1961)
Fletcher, William Boyd (b. 21 Nov 1854 - d. 3 Mar 1940)
Fletcher, William Clyde (b. 10 Feb 1895 - d. 4 Jul 1918)
Foster, Chester Jackson, Jr (b. 19 May 1927 - d. 6 Aug 1977)
Fulp, Albert W (b. 3 May 1876 - d. 27 Dec 1946)
Fulp, Fannie N (b. 5 Aug 1886 - d. 28 Mar 1979)
Fulp, Floyd M (b. 10 Jan 1907 - d. 4 Nov 1962)
Fulp, Gypsie Wooten (b. 27 May 1910 - d. 17 Nov 1998)
Fulp, James Wesley (b. 10 Sep 1923 - d. 31 Aug 2004)
Groce, Edna Phillips (b. 30 Sep 1918 - d. 24 Mar 1986)
Hamm, Eugene J. (b. 20 Feb 1924 - d. 15 May 2004)
Hawks, Howard M (b. 30 Mar 1934 - d. 18 Mar 1987)
Hayes, Debby Marie Vestal (b. 20 Oct 1963 - d. 17 Apr 2011)
Heath, William (b. 1866 - d. 1934)
Hobson, Alma Fay (b. 12 May 1908 - d. 6 Aug 2000)
Hobson, Archie Roy (b. 18 Mar 1932 - d. 13 Jul 1933)
Hobson, Claude Henry (b. 17 Oct 1907 - d. 7 Jan 1992)
Hobson, David C (b. 16 Feb 1887 - d. 5 Nov 1955)
Hobson, Edith Davis (b. 7 Jul 1921 - d. 10 Jan 1999)
Hobson, Esther Wooten (b. 1 Aug 1895 - d. 10 Apr 1992)
Hobson, Eunice (b. 8 Feb 1869 - d. 4 Sep 1878)
Hobson, Goldie Wooten (b. 27 Oct 1910 - d. 18 Apr 1985)
Hobson, Henry E (b. 19 Aug 1882 - d. 4 Nov 1967)
Hobson, Hubert W (b. 26 Jan 1905 - d. 18 Jul 1908)
Hobson, Ida M (b. 1876 - d. 1915)
Hobson, Infant Son (b. 25 Sep 1927 - d. 20 Oct 1927)
Hobson, Infant Son (b. 6 Feb 1868 - d. 6 Feb 1868)
Hobson, James Elmer (b. 4 Mar 1894 - d. 5 Apr 1986)
Hobson, Jamie Norman (b. 5 Jan 1907 - d. 26 Jun 1991)
Hobson, John Henry (b. 10 May 1846 - d. 2 Oct 1928)
Hobson, Lethie Jane Mikles (b. 15 Feb 1894 - d. 14 Jul 1983)
Hobson, Margaret D "Renda" Pendry (b. 18 Jun 1846 - d. 4 Aug 1921)
Hobson, Martha Permelia Matthews (b. 8 Jan 1882 - d. 15 Sep 1967)
Hobson, Mary Ann Lutinia Flemmings (b. 17 Nov 1877 - d. 23 Jun 1959)
Hobson, Nancy Geneva Mikles (b. 1905 - d. 1953)
Hobson, Nettie M (b. 14 Jan 1903 - d. 16 Aug 1903)
Hobson, Paul B (b. 23 Feb 1926 - d. 6 Mar 1926)
Hobson, Pemelia Mikles (b. 28 Sep 1878 - d. 4 Jul 1960)
Hobson, Rachel Bryce (b. 5 Mar 1915 - d. 14 Mar 1918)
Hobson, Richard Thomas (b. 30 Dec 1871 - d. 3 May 1955)
Hobson, Robert C (b. 10 May 1874 - d. 7 Dec 1952)
Hobson, Roxie Jane Davis (b. 19 Apr 1917 - d. 6 Aug 2012)
Hobson, Roy H (b. 17 Nov 1916 - d. 26 Sep 1977)
Hobson, Rufus Jack (b. 29 Jul 1876 - d. 20 Feb 1961)
Hobson, Sallie Esma Webb (b. 6 Feb 1900 - d. 9 Jan 1990)
Hobson, Temperance R "Tempy" Williams (b. 2 Jun 1875 - d. 28 Sep 1909)
Hobson, Troy C (b. 30 Sep 1894 - d. 3 Sep 1968)
Hobson, Tyra Fenny (b. 21 May 1921 - d. 25 Dec 1996)
Hobson, Vaudy Leo (b. 20 Jul 1918 - d. 1 Apr 2000)
Hobson, Verna Anna (b. 8 Apr 1912 - d. 6 Jul 1915)
Hobson, William Henry (b. 20 May 1868 - d. 27 Jun 1939)
Hobson, Willie Herman (b. 21 Apr 1897 - d. 16 Dec 1978)
Hudson, Edna Kafrances (Hutchens) Williams (b. 10 Apr 1937 - d. 12 Dec 2012)
Hutchens, A Lynn Freedle (b. 8 Sep 1956 - d. 29 Jan 2010)
Hutchens, Alvin H (b. 20 May 1926 - d. 20 Apr 2009)
Hutchens, Amos L. (b. 22 Apr 1800 - d. 8 Oct 1888)
Hutchens, Bessie Ann Choplin (b. 7 Jul 1887 - d. 2 Jun 1965)
Hutchens, Carrie B. Williams (b. 3 Jul 1867 - d. 28 May 1951)
Hutchens, Charles Henry (Rev.) (b. 24 Aug 1893 - d. 26 Sep 1958)
Hutchens, Charlie Frank (b. 15 May 1922 - d. 23 Aug 1996)
Hutchens, Charlie Frank (b. 17 Oct 1918 - d. 2 Jun 1999)
Hutchens, Clarence Edward (b. 8 Jul 1955 - d. 10 May 1980)
Hutchens, Cora L Williams (b. 3 Jan 1870 - d. 1 Feb 1952)
Hutchens, Curtis B. (b. 18 Feb 1901 - d. 31 Mar 1901)
Hutchens, David (b. Unknown - d. Feb 10)
Hutchens, David A (b. 2 May 1831 - d. 13 Mar 1909)
Hutchens, David Franklin (b. 19 Aug 1866 - d. 12 Apr 1945)
Hutchens, Dicy Wall (b. 30 Aug 1889 - d. 18 Feb 1988)
Hutchens, Eli Herman (b. 1 Jun 1896 - d. 18 Mar 1964)
Hutchens, Elsie Virginia Douglas (b. 31 Jul 1904 - d. 28 Dec 1975)
Hutchens, Era Matthews (b. 3 Dec 1897 - d. 20 Oct 1986)
Hutchens, Estelle Doss (b. 25 Apr 1923 - d. 12 Oct 1995)
Hutchens, Fanny (b. ??? 9 1852 - d. 1853)
Hutchens, George D (b. 10 Apr 1809 - d. 29 Sep 1890)
Hutchens, Graham (b. Unknown - d. Unknown)
Hutchens, Hezekiah (b. 21 May 1834 - d. 17 Apr 1907)
Hutchens, Isaac (b. 21 Sep 1828 - d. 20 Apr 1893)
Hutchens, James Lad (b. 30 Dec 1866 - d. 1 Sep 1951)
Hutchens, Jaroma Larance "Romie" (b. 5 Jun 1919 - d. 27 Jan 1979)
Hutchens, Jessifie Sneed (b. 15 Apr 1825 - d. 12 Nov 1899)
Hutchens, John Ellis (b. 23 May 1863 - d. 11 Apr 1933)
Hutchens, John Rhodes (b. 14 Dec 1829 - d. 22 Jan 1917)
Hutchens, Joyce Martin (b. 14 Jan 1924 - d. 19 Apr 1977)
Hutchens, Juit Leak (b. 8 Oct 1906 - d. 17 Sep 1973)
Hutchens, Julius Agbert (b. 16 Sep 1889 - d. 21 Nov 1930)
Hutchens, Larry Claude (b. 1 Nov 1947 - d. 20 Nov 1967)
Hutchens, Lewis (b. 29 Mar 1858 - d. 1 Apr 1930)
Hutchens, Lola Vivian (b. 10 Dec 1900 - d. 15 Aug 1973)
Hutchens, Lucy A E (b. 6 Aug 1840 - d. 4 May 1927)
Hutchens, Lucy C (b. 10 Apr 1878 - d. 13 Dec 1901)
Hutchens, Luther Otto (b. 15 May 1896 - d. 25 Sep 1983)
Hutchens, Margaret Elizabeth Whitfield (b. 15 Oct 1919 - d. 29 Apr 1973)
Hutchens, Margaret Matilda "Peggy" Williams (b. 8 Oct 1826 - d. 10 Mar 1892)
Hutchens, Mary (b. 26 Sep 1841 - d. 4 Oct 1884)
Hutchens, Mattie Pearl (b. 4 Oct 1900 - d. 28 Mar 1980)
Hutchens, Mildred Mae Brown (b. 17 Feb 1927 - d. 23 Jun 2000)
Hutchens, Nancy Loutishie Mikles (b. 24 Jun 1876 - d. 30 Oct 1942)
Hutchens, Nellie Ida (b. 28 Dec 1897 - d. 8 Oct 1919)
Hutchens, Nora E. (b. 30 Aug 1896 - d. 28 Apr 1898)
Hutchens, Quit Wright (b. 6 Oct 1909 - d. 6 Nov 1982)
Hutchens, Rachel D (b. 10 Jul 1854 - d. 9 Mar 1888)
Hutchens, Ralph W (b. 26 Oct 1918 - d. 24 Mar 1936)
Hutchens, Rubert L. (b. 20 Nov 1889 - d. 6 Jun 1890)
Hutchens, Rufus Weldon (b. 31 Jul 1903 - d. 1 May 1994)
Hutchens, Ruth Permelia Williams (b. 31 Mar 1871 - d. 24 Nov 1943)
Hutchens, Sarah Ellen Newsome (b. 8 Oct 1856 - d. 11 Sep 1918)
Hutchens, Sarah Ellen Williams (b. 19 Nov 1877 - d. 21 Feb 1901)
Hutchens, Sarah Frances Williams (b. 4 Mar 1868 - d. 27 Oct 1936)
Hutchens, Sarah H. "Sally" Rhodes (b. 19 Mar 1799 - d. 6 Oct 1880)
Hutchens, Sarah Smitherman (b. 28 Mar 1899 - d. 2 Jul 1995)
Hutchens, Shirley Ann (b. 28 Aug 1936 - d. 28 Oct 1958)
Hutchens, Susannah Norman (b. 9 Dec 1833 - d. 22 Feb 1921)
Hutchens, Susannah Wooten (b. 19 Feb 1836 - d. 15 Mar 1923)
Hutchens, Thomas Caswell (b. 13 Aug 1851 - d. 20 Jun 1939)
Hutchens, Thomas Edward (b. 24 May 1938 - d. 14 Nov 1938)
Hutchens, Thomas Evan "Wobbin" (b. 24 Sep 1890 - d. 31 Oct 1976)
Hutchens, Thomas H (b. 27 Oct 1866 - d. 1 Jun 1926)
Hutchens, William Gray "Bill" (b. 26 Apr 1929 - d. 4 Feb 1986)
Hutchins, Curfield F (b. 23 Apr 1905 - d. 28 Feb 1971)
Hutchins, Evola Cumby (b. 28 Jul 1914 - d. 8 Apr 2000)
Hutchins, Foster P (b. 20 Jun 1912 - d. 13 Jun 1988)
Hutchins, John R (b. 14 Dec 1829 - d. 22 Jan 1917)
Hutchins, Magdalene M (b. 8 Sep 1918 - d. 21 Feb 1996)
Hutchins, Martin Monroe (b. 29 Apr 1940 - d. 12 Aug 2009)
Hutchins, Roger James (b. 3 Oct 1919 - d. 17 Mar 2002)
Jester, Bessie Hutchens (b. 31 Oct 1898 - d. 14 Oct 1966)
Jester, Cynthia Ann "Annie" Caudill (b. 13 Jun 1895 - d. 30 Jan 1988)
Jester, Dollie Jones (b. 20 May 1891 - d. 16 Mar 1969)
Jester, Ernest (b. 6 Oct 1893 - d. 7 Jan 1973)
Jester, Grace Vestal (b. 22 Feb 1925 - d. 11 Nov 1980)
Jester, Infant (b. 16 Nov 1941 - d. 16 Nov 1941)
Jester, James Arthur Harrison (b. 15 Oct 1888 - d. 20 Jul 1962)
Jester, Martin Ernest (b. 6 Oct 1893 - d. 7 Jan 1973)
Jester, Mary Francis Mikles (b. 5 Mar 1866 - d. 19 Dec 1936)
Jester, Mary M (b. 1 Mar 1927 - d. 2 Apr 2012)
Jester, Mary Mae Groce (b. 19 Jun 1908 - d. 1 Dec 2005)
Jester, Ollie Hobson (b. 21 May 1883 - d. 20 Jul 1922)
Jester, Rose May Matthews (b. 19 Mar 1919 - d. 5 Apr 2004)
Jester, Walter James (b. 30 Jun 1863 - d. 28 Oct 1925)
Jester, William Ellis (b. 1900 - d. 23 May 1951)
Jester, William James (b. 6 Jul 1940 - d. 14 Aug 1940)
Jester, Willie (b. 6 Jul 1940 - d. 6 Jul 1940)
Key, R Wade (b. 16 Mar 1921 - d. 22 Jan 2000)
Key, Vicy Gay Wooten (b. 30 Dec 1920 - d. 29 Mar 2011)
King, Hazel Virginia Lakey (b. 26 Oct 1917 - d. 3 Dec 2006)
King, Lawrence R (b. 30 Jun 1919 - d. 21 Aug 2006)
Kirke, James W (b. May 1864 - d. 18 Oct 1886)
Kirke, Martha D (b. 24 Feb 1866 - d. 26 Nov 1886)
Kittrell, John William (b. 23 Dec 1862 - d. 1 Apr 1938)
Kittrell, Virginia "Jinnie" Fleming (b. 25 Aug 1863 - d. 17 Nov 1945)
Lackey, Infant Son (b. 20 Jun 1910 - d. 20 Jun 1910)
Lakey, "Infant" (b. 1913 - d. 1913)
Lakey, Arthur Benbow (b. 27 May 1914 - d. 16 Jul 2000)
Lakey, Arthur F (b. 13 Mar 1881 - d. Unknown)
Lakey, Dollie Hobson (b. 12 May 1884 - d. Unknown)
Lakey, E M Patterson (b. 3 Aug 1846 - d. 12 Nov 1891)
Lakey, Elizabeth Mahala Patterson (b. 3 Aug 1846 - d. 11 Nov 1891)
Lakey, Infant Son (b. 20 Jun 1910 - d. 20 Jun 1910)
Lawson, Ida Ross Hutchens (b. 23 Feb 1926 - d. 14 Apr 2001)
Lawson, William Joel (b. 1 Jul 1928 - d. 25 Nov 1997)
Lunsford, Archie Ray (b. 14 Apr 1934 - d. 26 Jul 1986)
Lunsford, Kenneth Gray (b. 13 May 1943 - d. 25 Sep 2010)
Lunsford, Reuben Fate "REUB" (b. 18 Jul 1904 - d. 27 Sep 1974)
Lunsford/Heath, Mary Jones (b. Sep 1880 - d. 23 Mar 1934)
Marion, Janet Brown (b. 26 Jan 1931 - d. 2 Nov 2004)
Marsh, Bessie Patterson (b. 8 Sep 1914 - d. 27 Nov 1990)
Marsh, Fred W (b. 29 May 1914 - d. 7 Mar 1991)
Matthews, Arnie Paul (b. 24 Mar 1920 - d. 9 Jun 1961)
Matthews, Barnette C (b. 4 Jun 1871 - d. 25 Apr 1937)
Matthews, Betty Lou Shaw (b. 10 Apr 1940 - d. 1 Jul 1987)
Matthews, Billy Franklin (b. 16 Dec 1934 - d. 4 Feb 2009)
Matthews, Bobby June, Sr (b. 16 Jun 1930 - d. 24 Sep 2011)
Matthews, Carroll J (b. 6 May 1936 - d. 14 Jul 1999)
Matthews, Charles Wesley (b. 9 Apr 1930 - d. 19 Nov 2006)
Matthews, Christopher Carroll (b. 9 Jul 1962 - d. 9 Jul 1962)
Matthews, Dock Thomas (b. 8 Jul 1899 - d. 7 May 1985)
Matthews, Earley Marshall (b. 8 Jul 1898 - d. 7 Mar 1971)
Matthews, Fred Clifton (b. 28 May 1918 - d. 11 Mar 1994)
Matthews, Fred Lewis (b. 19 Feb 1909 - d. 24 Mar 1973)
Matthews, Gholar Herman (b. 15 Nov 1898 - d. 6 Aug 1986)
Matthews, Glenn Lowell (b. 27 Apr 1923 - d. 8 Jan 1996)
Matthews, Gray Wayne (b. 23 Sep 1951 - d. 26 Sep 1951)
Matthews, Ida Frances Myers (b. 1 Sep 1890 - d. 7 Apr 1970)
Matthews, Infant Daughter (b. 1924 - d. 1924)
Matthews, Infant Daughter (b. 2 May 1959 - d. 2 May 1959)
Matthews, Infant Daughter (b. 16 Dec 1963 - d. 16 Dec 1963)
Matthews, Infant Daughter (b. 1921 - d. 1921)
Matthews, Infant Son (b. 1910 - d. 1910)
Matthews, Infant Son (b. 1912 - d. 1912)
Matthews, Infant Son (b. 1913 - d. 1913)
Matthews, Jasper Ellis (b. 9 Dec 1905 - d. 1 Sep 1970)
Matthews, Jimmy Ray (b. 29 Jan 1934 - d. 29 May 2006)
Matthews, Joe Leonard (b. 3 Aug 1938 - d. 12 Mar 1966)
Matthews, John Henry (b. 1 Jul 1887 - d. 6 Mar 1965)
Matthews, Joseph Tyre (b. 14 Aug 1893 - d. 17 Jul 1968)
Matthews, Juneous Robert "Doonie" (b. 22 May 1920 - d. 10 Mar 2005)
Matthews, Justina Wall (b. 13 Apr 1898 - d. 9 Feb 1941)
Matthews, Lillie May Norman (b. 6 May 1892 - d. 11 Sep 1973)
Matthews, Lola Blanche (b. 28 Apr 1918 - d. 20 Feb 1920)
Matthews, Lottie Pardue (b. 16 May 1914 - d. 22 Sep 1998)
Matthews, Marie Hicks (b. 13 May 1912 - d. 27 Sep 1997)
Matthews, Mary Belle Dinkins (b. 17 May 1901 - d. 16 Dec 1994)
Matthews, Mawyer D (b. 12 Apr 1927 - d. 29 Jun 2008)
Matthews, Michael David (b. 7 Dec 1960 - d. 7 Dec 1960)
Matthews, Nelson Gray (b. 7 Feb 1932 - d. 24 Jun 1993)
Matthews, Nina Prim (b. 27 Aug 1895 - d. 8 Mar 1967)
Matthews, Norma Etta (b. 22 Aug 1931 - d. 19 Apr 1933)
Matthews, Otis Wather (b. 15 Mar 1895 - d. 25 Jan 1985)
Matthews, Robert Columbus (b. 6 Jun 1889 - d. 6 Sep 1962)
Matthews, Rosa Ann Hobson (b. 27 Sep 1869 - d. 14 Mar 1934)
Matthews, Rosa Jane (b. 22 Feb 1913 - d. 24 Feb 1913)
Matthews, Rubin Junior (b. 6 Sep 1922 - d. 9 Oct 1962)
Matthews, Sadie Virginia Hobson (b. 21 Apr 1902 - d. 9 Jan 1975)
Matthews, Sarah Susana Wooten (b. 26 Dec 1896 - d. 20 Dec 1987)
Matthews, Timothy Dale (b. 17 Sep 1961 - d. 25 Oct 1967)
Melton, Arthur F (b. 18 Mar 1881 - d. Unknown)
Mikles, Naomi Frances Hobson (b. 7 Jul 1913 - d. 27 Feb 1996)
Mikles, Richard Lee (b. 21 Jul 1912 - d. 23 May 1999)
Mikles, Sarah E (b. Jul 2 - d. 3 Dec 1900)
Mikles, William G (b. 30 Sep 1931 - d. 9 Oct 1931)
Miller, George Thomas (b. 28 Jul 1925 - d. 4 Jul 1973)
Montgomery, Tamara Hutchens (b. 6 Jun 1962 - d. 2 Jun 1999)
Morris, Nina Brown (b. 4 Dec 1905 - d. 17 Mar 2005)
Murphy, Emma L Wise (b. 2 Jun 1876 - d. 21 May 1953)
Murphy, George Nelson (b. 20 Jul 1910 - d. 1 Jun 1972)
Murphy, John W (b. 3 Jul 1913 - d. 2 May 1950)
Murphy, Lonzo Wilford (b. 13 Oct 1917 - d. 1983)
Murphy, William Ray (b. 10 Aug 1873 - d. 30 Mar 1960)
Norman, Alice Wall (b. 15 Jul 1881 - d. 4 Dec 1947)
Norman, Barbara Ann (b. 1 Jan 1941 - d. 1 Dec 1952)
Norman, Bessie Lee Vestal (b. 25 May 1889 - d. 4 Jan 1975)
Norman, Bonnie Lou (b. 20 May 1959 - d. 24 May 1959)
Norman, Chandler Wesley (b. 18 Nov 1891 - d. 6 Jul 1931)
Norman, Claire Williams (b. 1 Jul 1906 - d. 16 Jul 1981)
Norman, Connie Sue (b. 20 May 1959 - d. 25 May 1959)
Norman, Dallas A (b. 25 Apr 1896 - d. 5 Jan 1984)
Norman, Edith Hunt (b. 17 Sep 1918 - d. 21 Feb 1994)
Norman, Elsie Jennie Wooten (b. 23 Sep 1884 - d. 2 Feb 1977)
Norman, Flora L (b. 31 Jul 1868 - d. 16 Sep 1870)
Norman, Fred Ambrose (b. 23 Jul 1911 - d. 17 Nov 1985)
Norman, George Vernon (b. 14 May 1938 - d. 24 Aug 1962)
Norman, Gurney C (b. 24 Feb 1880 - d. 17 Dec 1956)
Norman, Henry I (b. 23 Sep 1843 - d. 10 Sep 1917)
Norman, Hiram W (b. 3 Aug 1867 - d. 10 Mar 1874)
Norman, Hyatt Dula (b. 29 Nov 1882 - d. 12 Mar 1964)
Norman, Irene Pansy (b. 5 Jan 1913 - d. 12 Jan 1913)
Norman, James A (b. 7 Dec 1859 - d. 2 Jul 1937)
Norman, James B (b. 25 May 1917 - d. 18 Dec 1987)
Norman, Joe Hamp (b. 13 Jan 1884 - d. 20 May 1960)
Norman, John (b. 28 May 1850 - d. 27 Feb 1930)
Norman, John Evan (b. 12 Jul 1884 - d. 27 Sep 1937)
Norman, Julia A Vestal (b. 17 Apr 1861 - d. 25 Aug 1924)
Norman, Kenyon Vinson (b. 6 Sep 1908 - d. 15 Jun 1982)
Norman, Lawrence "Hick" (b. 21 Apr 1916 - d. 16 Feb 1978)
Norman, Lela Vestal (b. 16 Mar 1880 - d. 2 Jan 1970)
Norman, Lewis (b. 24 May 1848 - d. 13 Apr 1934)
Norman, Lillion Ernestine (b. 15 May 1913 - d. 18 Jan 1936)
Norman, Margaret Louise Hutchens (b. 20 Mar 1856 - d. 18 Aug 1918)
Norman, Martha Williams (b. 8 Aug 1860 - d. 12 Nov 1940)
Norman, Melissa Faye (b. 20 Jun 1967 - d. 8 Oct 1967)
Norman, Millie Wooten (b. 21 May 1882 - d. 28 Jun 1988)
Norman, Mittie V Bavender (b. 20 May 1852 - d. 17 Jan 1920)
Norman, Paul Leak (b. 28 Oct 1922 - d. 30 May 1940)
Norman, Percy M (b. 8 Feb 1911 - d. 3 Jan 1985)
Norman, Pete H (b. 19 Dec 1852 - d. 2 Aug 1943)
Norman, Rufus Henry (b. 13 May 1882 - d. 2 Nov 1957)
Norman, Viola Hobson (b. 2 Mar 1901 - d. 23 Oct 1981)
Patterson, Addie Lee Hunt (b. 18 May 1916 - d. 29 Nov 1993)
Patterson, Arza R (b. 7 Aug 1909 - d. 1 Feb 1933)
Patterson, Betty Lou (b. 29 Jun 1937 - d. 12 Apr 2000)
Patterson, Dallas Graham (b. 13 Jun 1911 - d. 24 May 1989)
Patterson, Davis Wilson (b. 21 Dec 1853 - d. 9 Feb 1899)
Patterson, Davis Wilson, Jr (b. 30 Mar 1936 - d. 7 Sep 1936)
Patterson, Dovie E (b. 20 Jan 1870 - d. 29 Dec 1881)
Patterson, Elizabeth F. Richardson (b. 29 Sep 1829 - d. 7 Jun 1878)
Patterson, Elizabeth Poindexter Sears (b. 1 Sep 1856 - d. 14 Feb 1929)
Patterson, Grace F (b. 10 Mar 1912 - d. 8 Jul 1967)
Patterson, Hazel Fletcher (b. 27 Oct 1915 - d. 14 Oct 2000)
Patterson, Infant Son (b. 3 Jan 1906 - d. 5 Jan 1906)
Patterson, Jesse D (b. 10 Aug 1841 - d. 10 Mar 1928)
Patterson, John (b. 21 Mar 1832 - d. 2 Dec 1905)
Patterson, John Joshua (b. 10 Feb 1871 - d. 10 Mar 1949)
Patterson, John Thomas (b. 11 Jan 1913 - d. 1 Jun 1991)
Patterson, Laura (b. 21 Nov 1876 - d. 6 Nov 1886)
Patterson, Margaret Elizabeth Hutchens (b. 2 Apr 1879 - d. 7 Feb 1958)
Patterson, Mary Ann Allgood (b. 10 Aug 1840 - d. 30 Dec 1915)
Patterson, Rachel D (b. 10 Feb 1835 - d. 30 Jun 1881)
Patterson, Rebecca Davis (b. 23 Feb 1829 - d. 12 Feb 1911)
Patterson, Roy S (b. 16 May 1907 - d. 12 Jun 1987)
Patterson, William C. "Willie" (b. 24 Oct 1860 - d. 8 Jan 1885)
Patterson, William Williams (b. 31 May 1824 - d. 21 Dec 1902)
Penley, Carolyn Joyce Brown (b. 24 Jan 1943 - d. 5 Mar 1998)
Phillips, Clyde Davis "Tink" (b. 17 Dec 1933 - d. 2 May 1980)
Phillips, Ella Frances Davis (b. 11 Apr 1893 - d. 10 Apr 1964)
Phillips, Grady Lee (b. 21 Sep 1940 - d. 16 Sep 1988)
Phillips, Howard Lee (b. 15 Aug 1920 - d. 10 Apr 2001)
Phillips, Infant Brock (b. 10 Aug 2006 - d. 10 Aug 2006)
Phillips, Infant Carter (b. 10 Aug 2006 - d. 10 Aug 2006)
Phillips, Infant Sophie (b. 10 Aug 2006 - d. 10 Aug 2006)
Phillips, Johnny Wade (b. 27 Dec 1928 - d. 29 Aug 1986)
Phillips, Lillian M Wooten (b. 17 Jun 1918 - d. 21 Mar 2002)
Phillips, Vernie A. (b. 4 Oct 1900 - d. 7 Mar 1974)
Phillips, Vernie Anderson "Yank" (b. 4 Oct 1899 - d. 7 Mar 1974)
Powell, Laura Fulp (b. 20 Aug 1874 - d. 7 Nov 1945)
Prim, Cora Jester (b. 29 Oct 1869 - d. 6 Feb 1938)
Prim, Huston Monroe (b. 1 Aug 1858 - d. 5 Dec 1925)
Prim, Isaac (b. 24 Dec 1828 - d. 3 Jan 1918)
Prim, Joseph B (b. 30 Apr 1900 - d. 5 Jun 1969)
Prim, Lonia Jackson (b. 1 Jul 1902 - d. 8 Jan 1990)
Prim, Millie M M (b. 15 Jun 1879 - d. 7 Sep 1892)
Prim, Sarah C (b. 13 Jan 1865 - d. 3 May 1892)
Puckett, John, Jr (b. 13 Sep 1931 - d. 10 Feb 2002)
Richardson, Eugene Earl (b. 16 Sep 1927 - d. 31 May 2005)
Richardson, Juanita Matthews (b. 16 Dec 1921 - d. 3 Nov 2001)
Ring, Bertha Brown (b. 12 Oct 1888 - d. 21 Sep 1968)
Robertson, Ronald Eugene (b. 6 Aug 1947 - d. 26 Apr 2011)
Rockett, Ethel Jester (b. 14 Jul 1910 - d. 10 Aug 1989)
Rockett, Worth (b. 18 Dec 1908 - d. 7 Dec 1983)
Rowland, John W (b. Nov 1844 - d. Jan 1883)
Russell, Bessie Davis (b. 24 Feb 1924 - d. 21 Nov 1996)
Russell, Edith Matthews (b. 21 Sep 1925 - d. 1 Oct 2009)
Russell, Kenneth Andrew (b. 9 Dec 1918 - d. 30 Jan 1997)
Saunders, John Herbert (b. 12 Nov 1908 - d. 7 Dec 1947)
Saunders, Pauline (b. 12 Jul 1910 - d. 12 Mar 1986)
Schofield, Frederick Sewell, Jr (b. 30 Jun 1926 - d. 13 Mar 2011)
Scott, Charles Wade (b. 30 Apr 1939 - d. 17 Sep 2012)
Sease, Viva Fletcher Lunsford (b. 7 Nov 1914 - d. 7 Sep 1981)
Shore, George Ray (b. 30 Nov 1899 - d. 22 Mar 1985)
Shore, Sallie Hutchens (b. 29 Aug 1905 - d. 14 Feb 1996)
Smisor, Ann Reece (b. 26 Jul 1932 - d. 5 Feb 1993)
Smitherman, Cecelia Edith Hutchens (b. 31 Jul 1909 - d. ??? 7 1999)
Smitherman, Derl Gray (b. 23 Oct 1930 - d. 13 Jan 1978)
Smitherman, Doris Faye Hayes (b. 15 Nov 1937 - d. 16 Jun 1983)
Smitherman, Edwin Hal (b. 17 Dec 1933 - d. 8 Jun 2012)
Smitherman, James Robert (b. 26 Nov 1974 - d. 4 Dec 1974)
Smitherman, Yancy Abner (b. 14 Jul 1909 - d. 6 May 1992)
Spainhour, Betty Wooten (b. 24 May 1933 - d. 15 May 1998)
Spainhour, Debbie Denise (b. 31 Dec 1962 - d. 1 May 2009)
Speaks, Imogene Nixon (b. 21 Oct 1931 - d. 19 Aug 1989)
Speaks, Toy Lee, Jr (b. 24 Oct 1925 - d. 5 Oct 1986)
Speer, Emma L Taylor (b. 17 Sep 1890 - d. 7 Apr 1936)
Speer, Luther Lee (b. 18 Nov 1893 - d. 8 Jul 1958)
Spillman, Elvina Hutchens (b. 25 Apr 1831 - d. 24 Nov 1900)
Spillman, Emma Viola (b. 5 Nov 1900 - d. 5 Jul 1986)
Spillman, Frank (b. 10 Aug 1869 - d. 4 Jul 1938)
Spillman, Margaret Linda Hutchens (b. 6 Apr 1868 - d. 23 Jan 1943)
Spillman, Thomas A (b. 31 Aug 1833 - d. 24 Aug 1908)
Sprinkle, Infant Daughter (b. 1902 - d. 1902)
Sprinkle, Joseph Chester (b. 12 May 1914 - d. 19 May 1914)
Sprinkle, Mildred Maxine (b. 16 Sep 1924 - d. 19 Jan 1927)
Sprinkle, Mote T (b. 2 Jun 1878 - d. 23 Oct 1954)
Sprinkle, Sarah E Hobson (b. 1878 - d. 1923)
Sprinkle, Virginia "Jennie" Hobson (b. 4 Oct 1881 - d. 14 May 1936)
Stevenson, Lula Hobson (b. 4 Oct 1890 - d. 25 Aug 1977)
Taylor, Infant Son (b. 20 Mar 1903 - d. 20 Mar 1903)
Taylor, John M (b. 19 Jan 1834 - d. 23 Apr 1902)
Taylor, Margaret M (b. 21 Oct 1844 - d. 13 Aug 1909)
Taylor, Mary J (b. 18 Jul 1839 - d. ??? 4 1857)
Vestal, Annie Lela Norman (b. 2 Mar 1893 - d. 16 Jan 1977)
Vestal, Charlie A, Jr (b. 25 May 1905 - d. 21 Nov 1908)
Vestal, Christopher B "Slicker" (b. 29 Jan 1979 - d. 8 May 2001)
Vestal, Dallas Newell (b. 1 Dec 1891 - d. 7 May 1979)
Vestal, Daniel M (b. 31 Mar 1857 - d. 8 Dec 1929)
Vestal, Elsie M (b. 8 Aug 1907 - d. 21 Oct 1911)
Vestal, Eva Virginia (b. 1 Apr 1903 - d. 8 Sep 1962)
Vestal, Hampton Monroe (b. 12 Oct 1886 - d. 17 Oct 1971)
Vestal, Harvey R (b. 15 Apr 1915 - d. 10 May 1999)
Vestal, Hillary Eli (b. 18 Jun 1925 - d. 29 Sep 1994)
Vestal, Infant Son (b. 21 Dec 1911 - d. 21 Dec 1911)
Vestal, John Daniel (b. 7 Aug 1829 - d. 4 Oct 1884)
Vestal, John J (b. 31 Jan 1873 - d. 3 Nov 1955)
Vestal, Lillian R (b. 10 Jan 1930 - d. 1 Dec 1985)
Vestal, Mamie Kittrell (b. 28 May 1896 - d. 7 Apr 1983)
Vestal, Mary Pearson "Mollie" Apperson (b. 23 Dec 1859 - d. 10 Jan 1925)
Vestal, Pearlie (b. 1888 - d. 1891)
Vestal, Pearlie Steelman (b. 1 Jan 1928 - d. 4 May 2007)
Vestal, Sarah A. Wooten (b. 16 Aug 1832 - d. 29 Jun 1892)
Vestal, Sarah Ann Carter (b. 6 Jul 1889 - d. 31 Oct 1976)
Vestal, Sarah Wooten (b. 6 Feb 1878 - d. 17 Jan 1952)
Vestal, Swannia Sprinkle (b. 10 May 1911 - d. 10 Feb 1943)
Vestal, Tandy Barnett (b. 17 Apr 1881 - d. 10 Feb 1975)
Vestal, Thomas Bruce (b. 5 Jul 1918 - d. 7 Dec 1969)
Vestal, Willie Hayes (b. 30 Jan 1918 - d. 9 Jul 1998)
Vestal, Winford Elbert (b. 29 Mar 1927 - d. 12 Oct 2004)
Webb, Annie Hobson (b. 3 Jun 1905 - d. 17 Feb 1990)
Webb, Bessie Matthews (b. 16 Mar 1907 - d. 22 Oct 1998)
Webb, Charles Linden (b. 16 Mar 1930 - d. 15 Oct 2005)
Webb, Charlie Edgar (b. 10 Sep 1904 - d. 27 Dec 1985)
Webb, Clarence (b. 11 Jul 1906 - d. 28 Feb 1988)
Webb, Cora Bell Brown (b. 17 Sep 1907 - d. 3 Feb 1990)
Webb, Della Lilly Matthews (b. 13 Jul 1892 - d. 15 Sep 1987)
Webb, Elza Ann "Polly" (b. 25 Oct 1933 - d. 26 Nov 1999)
Webb, Hilary Thomas (b. 28 Nov 1898 - d. 2 May 1985)
Webb, John Andy (b. 20 Dec 1901 - d. 23 Apr 1974)
Webb, Mary J Stallings (b. 28 May 1932 - d. 25 Nov 2009)
Webb, Michael Thomas "Tommy" (b. 4 Dec 1955 - d. 20 Nov 1986)
Webb, Pearson A "Pete" (b. 10 Dec 1926 - d. 24 May 2003)
Whitaker, Gladys Hobson (b. 24 Mar 1928 - d. 31 Mar 1981)
Whitman, Neal (b. 14 Dec 2006 - d. 14 Dec 2006)
Whitman, Syble Webb (b. 14 Dec 1935 - d. 13 Aug 2008)
Williams, Alcy Jane Wooten (b. 6 Nov 1839 - d. 20 Jun 1936)
Williams, Connie Matthews (b. 5 Nov 1899 - d. 28 Sep 1994)
Williams, Ellis Isbell (b. 27 Jul 1841 - d. 3 Feb 1934)
Williams, Elsie Virginia Vestal (b. 10 Nov 1858 - d. 8 Feb 1929)
Williams, Emma J. Schoening (b. 25 Jan 1885 - d. 23 Jun 1973)
Williams, Franklin G (b. 17 Jan 1853 - d. 22 Aug 1929)
Williams, John E. (b. 27 Apr 1880 - d. 24 Dec 1961)
Williams, Joy Clinton (b. 20 Nov 1908 - d. 13 Dec 1978)
Williams, Martha P (b. Unknown - d. 9 Jun 1859)
Williams, Sally Hobson (b. 17 Feb 1910 - d. 14 Oct 2002)
Williams, William C (b. 17 Oct 1902 - d. 10 Jun 1997)
Williard, Infant Daughter (b. 5 Oct 1870 - d. 5 Oct 1870)
Williard, Nancy Catherine (b. 3 May 1858 - d. 2 Jul 1895)
Wooten, Annie Angell (b. 13 Mar 1910 - d. 26 Feb 2001)
Wooten, Archie D (b. 28 Jan 1938 - d. 29 Aug 2000)
Wooten, Benbow J (b. 27 Apr 1914 - d. 19 Nov 2002)
Wooten, Bertha L (b. 5 Jul 1891 - d. 18 Jul 1893)
Wooten, Betty Lou W (b. 27 May 1930 - d. 19 Mar 1986)
Wooten, Blanche Hunt (b. 1 Jul 1906 - d. 30 Jan 1997)
Wooten, Buford Gray (b. 12 Apr 1937 - d. 7 Nov 2004)
Wooten, Charles L (b. 1 May 1866 - d. 15 Feb 1956)
Wooten, Charles Robert, Sr (b. 28 Nov 1935 - d. 17 Apr 2012)
Wooten, Charlie Ralph (b. 2 Jan 1913 - d. 26 Dec 1952)
Wooten, Clyde G (b. 8 Apr 1905 - d. 21 Apr 1982)
Wooten, David Monroe (b. 9 Jul 1870 - d. 19 May 1943)
Wooten, Eldon Wane (b. 4 Oct 1929 - d. Nov 1929)
Wooten, Eli (b. 23 Oct 1843 - d. 17 Mar 1915)
Wooten, Elva Fulp (b. 8 Oct 1913 - d. 7 Jan 1998)
Wooten, Elva Ida (b. 27 Feb 1909 - d. 19 Feb 1910)
Wooten, Fathay (b. 23 Sep 1884 - d. 23 Sep 1884)
Wooten, Gary Vernon (b. 5 Apr 1958 - d. 21 Apr 2012)
Wooten, Infant Daughter (b. 4 Jul 1900 - d. 18 Jun 1901)
Wooten, Infant Daughter (b. Sep 1889 - d. Sep 1889)
Wooten, Infant Son (b. 4 Jun 1906 - d. 4 Jun 1906)
Wooten, Infant Son (b. 13 Nov 1909 - d. 12 Dec 1909)
Wooten, Infant Son (b. 30 Nov 1922 - d. 4 Dec 1922)
Wooten, Infants Son & Daughter (b. 18 Apr 1927 - d. 18 Apr 1927)
Wooten, Jamie Lee (b. 2 Jul 1917 - d. 1 Sep 1917)
Wooten, Jesse (b. 9 Jan 1830 - d. 4 Dec 1927)
Wooten, Jewel Marie (b. 23 Apr 1909 - d. 6 Jun 1979)
Wooten, John Thomas (b. 27 Aug 1871 - d. 7 Feb 1929)
Wooten, Laura Myrtle Hutchens (b. 25 Jan 1890 - d. 22 Nov 1971)
Wooten, Lola Wall (b. 9 Jun 1905 - d. 3 Feb 1983)
Wooten, Lora Z Williams (b. 3 Nov 1874 - d. 24 Nov 1909)
Wooten, Margaret Ailsy Fleming (b. 3 Feb 1803 - d. 25 Aug 1889)
Wooten, Martha J Hobson (b. 14 Dec 1869 - d. 31 Aug 1954)
Wooten, Mary Florence Hutchens (b. 2 Apr 1875 - d. 12 Jan 1964)
Wooten, Mary Paulina Norman (b. 25 May 1842 - d. 30 Aug 1886)
Wooten, Minnie E Williams (b. 20 Jan 1874 - d. 6 Nov 1954)
Wooten, Nancy E (b. 28 Jul 1862 - d. 19 Jan 1886)
Wooten, Paul Ramon (b. 1 Dec 1919 - d. 19 Dec 1919)
Wooten, Pride E (b. 20 Apr 1903 - d. 23 Jun 1989)
Wooten, Randy Allen (b. 3 Nov 1960 - d. 15 Jun 2005)
Wooten, Reda Pearl (b. 12 Jul 1933 - d. 10 Mar 1963)
Wooten, Renzo F (b. 24 Jun 1913 - d. 10 Nov 1986)
Wooten, Ruth (b. 19 Jul 1830 - d. 10 Jun 1860)
Wooten, Sadie Davis (b. 16 Feb 1915 - d. 2 Mar 2009)
Wooten, Thomas (b. 12 Feb 1804 - d. 1 Aug 1880)
Wooten, Thomas Joseph (b. 3 Aug 1911 - d. 10 Jul 1912)
Wooten, Thomas Leo (b. 1 Jan 1907 - d. 21 Feb 1994)
Wooten, Victor Brice (b. 15 Jan 1931 - d. 28 Oct 1956)
Wooten, Vicy B Norman (b. 10 Feb 1846 - d. 22 Mar 1916)
Wooten, Vicy Blanche (b. 18 Jun 1915 - d. 10 Jun 2002)
Wooten, William Edgar (b. 20 Jun 1887 - d. 29 Aug 1960)
Wooten, William Grant, Jr (b. 30 Dec 1916 - d. 4 Jan 1975)
Wooten, William Henry Grant (b. 23 May 1869 - d. 31 May 1955)
Web page updated 3 January 2016
Index of All Cemeteries
Alphabetical Index of All Burials
Previous Page