Index of All Cemeteries
Alphabetical Index of All Burials
Previous Page
Use the following to search across all the cemeteries listed.
Example: "Smith, Roger" (yes, use the quotes)
012 PROSPECT UNITED METHODIST CHURCH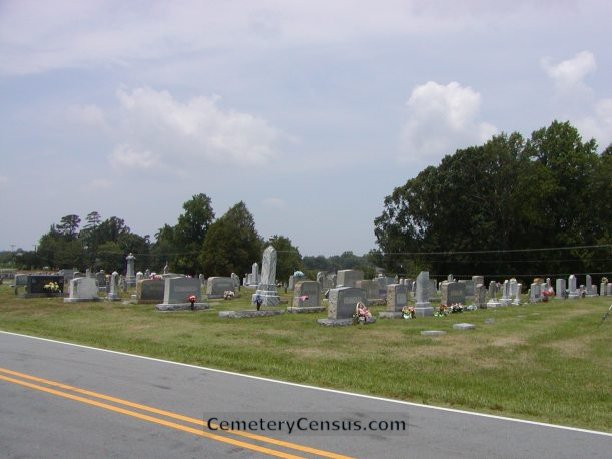 Location: 3541 Smithtown Rd, East Bend, Yadkin Co., NC.

Coordinates: 36d 13m 29.6s N; 80d 33m 31.9s W Click here for Google maps

Directions: From intersection of NC 67 and Smithtown Rd, go north on Smithtown Rd for abt 1 mile and church and cemetery are on the right.

View of the church.

Surveyed by Bob Carter on July 6, 2007.
Township or district: East Bend.
Public or Private: Public access.
GPS Accuracy (ft.): 14.
Elevation above sea level (ft.): 1065.
Status of cemetery: Well maintained.

Survey by Allen Dew in January 2013.


Adams, Dorothy Louisa Matthews (b. 16 Aug 1929 - d. 20 Nov 2005)
Adams, Warren G (b. 20 Aug 1920 - d. 14 Mar 1993)
Allen, Faith L. Wooten (b. 8 Dec 1837 - d. 1906)
Allen, Myron Grey (b. 17 Nov 1902 - d. 2 Jul 1914)
Allen, William (b. 1 Jul 1830 - d. 9 Jun 1909)
Beane, Lillie Matthews (b. 19 Mar 1932 - d. 30 Apr 1987)
Blakeley, Maggie Seymore (b. 25 Sep 1883 - d. 18 Apr 1972)
Blakley, George Washington (b. 1838 - d. 16 Jul 1923)
Blakley, Harrell Isabell (b. 1884 - d. 1965)
Blakley, Henry L (b. 1863 - d. 1950)
Blakley, Hulda Elizabeth Reed (b. 4 Sep 1863 - d. 18 Feb 1918)
Blakley, Infant (b. 19 Dec 1865 - d. 23 Dec 1865)
Son of G.W. and S.S. Blakley

Blakley, Infant daughter (b. 25 Apr 1919 - d. 25 Apr 1919)

Blakley, James R (b. 12 Oct 1883 - d. 8 Jul 1885)

Blakley, Jesse E (b. 1870 - d. 1884)

Blakley, Jesse N (b. 1884 - d. 1949)

Blakley, John L (b. 1878 - d. 1974)

Blakley, Josephina B (b. 18 Apr 1915 - d. 4 Jul 1915)

Blakley, Josie E. (b. 29 Sep 1870 - d. 3 Dec 1884)

Blakley, Maggie Ellen Seymore (b. 1883 - d. 1972)

Blakley, Mary Jane Pendry (b. 10 Jun 1868 - d. 18 Apr 1915)

Blakley, Paul E (b. 1877 - d. 1913)

Blakley, Paul Hampton (b. 7 Mar 1877 - d. 27 Jun 1913)

Blakley, Sallie E (b. 23 Apr 1888 - d. 21 Dec 1889)

Blakley, Sallie J (b. Sep 1872 - d. Jul 1873)

Blakley, Sarah Susannah Matthews (b. 12 Jan 1846 - d. 15 Nov 1914)

Blakley, Simeon (b. 21 Dec 1887 - d. 21 Dec 1887)

Blakley, Tina D (b. 1887 - d. 1981)

Blakley, Tina Louise (b. 10 May 1927 - d. 27 Sep 1998)

Blakley, Virginia (b. May 1884 - d. 25 Jul 1884)

Blakley, William Temple (b. 21 Apr 1859 - d. 26 Feb 1943)

Brown, Howard Gray (b. 21 Apr 1927 - d. 4 Feb 1991)

Brown, Myrtle B (b. 19 Mar 1908 - d. 30 Sep 1993)

Brown, Romie Anderson (b. 26 Sep 1902 - d. 7 Jun 1975)

Bullin, Amitta C "Mittie" Blakley (b. 23 Sep 1880 - d. 1930)

Bullin, Claude Edward "Jim", Jr (b. 6 Jun 1934 - d. 5 May 1954)

Bullin, Enoch J. (b. 12 Aug 1880 - d. 16 Nov 1963)

Bullin, Paul Junior (b. 29 Jun 1929 - d. 28 Jan 2009)

Bullin, Sarah Baker (b. 16 Nov 1902 - d. 27 Nov 1969)

Bullin, Zena Mae (b. 22 Jun 1951 - d. 23 Oct 1951)

Burton, David Franklin (b. 15 Nov 1831 - d. 17 Nov 1905)

Burton, Mary T Mendenhall (b. 20 Aug 1861 - d. 7 Jun 1945)

Cheek, Catherine Tucker (b. 18 Jul 1936 - d. 13 Apr 2001)

Cheek, Mark Numa (b. 9 Jan 1958 - d. 11 Nov 1972)

Childress, Leo Blakley (b. 29 Aug 1907 - d. 4 Feb 1986)

Choplin, Amelia Jane Blakley (b. 30 Sep 1885 - d. 8 Oct 1965)

Choplin, Charles Edward (b. 20 Sep 1942 - d. 24 Jan 2005)

Choplin, Effie (b. 19 Jun 1926 - d. 20 Jun 1926)

Choplin, Gladys Celia Scott (b. 10 Dec 1916 - d. 1 Nov 1992)

Choplin, Joe Wesley (b. 7 Apr 1937 - d. 5 Jun 2010)

Choplin, John Wesley (b. 20 Apr 1862 - d. 23 Jan 1902)

Choplin, John Wesley, Jr (b. 9 Mar 1889 - d. 12 Oct 1957)

Choplin, Joseph Sidney (b. 15 Dec 1865 - d. 18 Jun 1929)

Choplin, Martha Angell (b. 7 Oct 1852 - d. 24 Apr 1914)

Choplin, Permelia Owens (b. 10 Mar 1861 - d. 1 Mar 1936)

Choplin, Rachel Agnes (b. 4 May 1919 - d. 4 May 1919)

Choplin, Sarah Agnes Wall (b. 1 Nov 1883 - d. 4 May 1919)

Choplin, Susannah "Susie" Taylor (b. 24 Sep 1836 - d. 22 Oct 1907)

Choplin, Wesley (b. 21 May 1839 - d. 19 Dec 1917)

Choplin, Wesley Clark (b. 14 May 1917 - d. 20 Jun 1992)

Choplin, William Moody (b. 11 Dec 1915 - d. 11 Dec 1915)

Church, Stacy Matthews (b. 1 Sep 1903 - d. 1 Jan 1994)

Church, Zollie Levite (b. 15 Nov 1898 - d. 11 Mar 1980)

Crews, Abner Henry (b. 26 May 1867 - d. 6 Oct 1937)

Crews, Jeanette Alice "Nettie" Peele (b. 30 Jul 1873 - d. 28 Aug 1942)

Davis, Annie W. (b. 1907 - d. 1986)

Davis, Arzy (b. 1925 - d. 22 Sep 1980)

Davis, Benny Jones (b. 15 Dec 1915 - d. 23 Oct 1989)

Davis, Calvin B. (b. 16 Dec 1925 - d. 4 Apr 1945)

Davis, Charles Robert (b. 22 Nov 1943 - d. 6 Mar 1945)

Davis, Dallas W. (b. 1 Feb 1912 - d. 19 Dec 1968)

Davis, Emma Ruth Martin (b. 21 Mar 1917 - d. 19 Jan 2007)

Davis, Flora Hutchens (b. 30 Nov 1902 - d. 25 May 1984)

Davis, Frank Ray (b. 21 Aug 1897 - d. 13 Mar 1975)

Davis, Infant Son (b. 19 Jan 1961 - d. 19 Jan 1961)

Davis, Infant Sons (b. 19 Apr 1934 - d. 19 Apr 1934)

Davis, Isabel W. (b. 24 Apr 1888 - d. 14 Feb 1974)

Davis, Isabell Sanders (b. 20 Apr 1881 - d. 3 Mar 1949)

Davis, J. Edward (b. 20 Apr 1882 - d. 30 May 1936)

Davis, James Calvin (b. 10 Jan 1924 - d. 1 May 2003)

Davis, James Monroe (b. 18 Nov 1859 - d. 26 Jul 1929)

Davis, Joanna M. Truelove (b. 22 Mar 1833 - d. 13 Apr 1909)

Davis, Joe (b. 18 Sep 1916 - d. 23 Mar 1929)

Davis, John C. (b. 28 Jul 1833 - d. 30 Nov 1903)

Davis, Jones (b. 1830 - d. 1896)

Davis, Josiah Mahlon "James" (b. 24 Sep 1854 - d. 22 Jan 1933)

Davis, Larry Nelson (b. 9 Sep 1952 - d. 10 Jul 2010)

Davis, Martha (b. 20 Dec 1817 - d. 7 Aug 1887)

Davis, Mary Dozier (b. 19 May 1856 - d. 24 Jun 1905)

Davis, Mary M (b. 10 Jun 1853 - d. 16 Apr 1916)

Davis, Miles Herndon (b. 1891 - d. 1959)

Davis, Millie E (b. 7 Apr 1888 - d. 14 Feb 1889)

Davis, Minnie E. Adams (b. 24 Dec 1883 - d. 12 May 1958)

Davis, Nannie Chandler (b. 29 Feb 1884 - d. 5 Nov 1963)

Davis, R. Hayes (b. 22 Jun 1876 - d. 9 Feb 1937)

Davis, Robert David "Smiley" (b. 15 Aug 1930 - d. 23 Nov 2002)

Davis, S Wolford (b. 1906 - d. 1967)

Davis, Thomas Carl (b. 2 Aug 1917 - d. 6 Nov 1997)

Davis, Troy S. (b. 5 Feb 1910 - d. 13 Aug 1910)

Davis, William Sanford (b. 22 Jan 1857 - d. 20 Aug 1938)

Douglas, Goldie Mae Bullin (b. 9 May 1932 - d. 27 Nov 1995)

Finney, Clement M (b. 18 Jul 1906 - d. 5 Dec 1986)

Finney, Gerald C (b. 2 May 1930 - d. 26 Jun 2009)

Finney, Marie M (b. 7 Mar 1902 - d. 16 Dec 1991)

Fleming, James Monroe (b. Apr 1878 - d. 27 Jun 1906)

Fleming, Joanah Tull (b. 8 Sep 1818 - d. 25 Aug 1863)

Fletcher, Clyde Leak (b. 20 Oct 1921 - d. 30 May 1948)

Fletcher, Cora Choplin (b. 11 Mar 1891 - d. 5 Aug 1970)

Fletcher, James Monroe (b. 15 Mar 1851 - d. 12 Dec 1912)

Fletcher, Joe Davis (b. 18 Sep 1916 - d. 22 Mar 1929)

Fletcher, Robert Court (b. 10 Sep 1893 - d. 6 Apr 1958)

Fletcher, Roby Davis (b. 20 Jun 1886 - d. 25 Jun 1962)

Fletcher, Titus Wesley (b. 18 Sep 1911 - d. 29 Dec 1957)

Fletcher, Vernie B (b. 29 Sep 1912 - d. 22 Aug 2003)

Goins, Kenneth Randall (b. Unknown - d. 26 Dec 1995)

Graves, Carrie Virginia (b. 20 Jul 1937 - d. 20 Jul 1937)

Hall, John Gerdie (b. 2 Mar 1887 - d. 4 Nov 1978)

Hall, Martha Florella Davis (b. 27 Apr 1862 - d. 20 Mar 1943)

Hall, William Fountain (b. 8 Mar 1858 - d. 9 Dec 1896)

Harper, Charlie A. (b. 23 Sep 1889 - d. 7 Dec 1962)

Harper, Ethel W. (b. 10 Feb 1897 - d. 8 Dec 1985)

Harrell, Isabell Blakley (b. 30 Jan 1884 - d. 13 Dec 1965)

Hicks, Donna Ann (b. 4 Mar 1961 - d. 4 Mar 1961)

Hill, Margaret Ann (b. 25 Aug 1947 - d. 5 Oct 2004)

Hobson, June Frances "Sissy" Matthews (b. 7 Jun 1926 - d. 20 Sep 2006)

Hobson, Otis Weldon (b. 26 Jul 1924 - d. 4 Jan 1993)

Hunter, Luther Henry (b. 23 Sep 1910 - d. 8 Nov 2011)

Hunter, Nellie Gray Bullin (b. 23 May 1920 - d. 13 Jan 1992)

Hutchens, Danny Lee (b. 28 Jun 1968 - d. 25 Sep 2001)

Hutchens, John Dallas (b. 29 May 1888 - d. 10 Dec 1973)

Hutchens, Sarah Rebecca Davis (b. 16 Jun 1888 - d. 7 Jan 1975)

Hutchens, Vernie M. (b. 6 Aug 1927 - d. 6 Jun 2001)

Jester, Elizabeth G (b. 1 Jul 1856 - d. 30 Aug 1890)

Jester, Fannie (b. Unknown - d. Unknown)

Jester, Nancy F (b. 8 Feb 1852 - d. 31 Oct 1869)

Jester, Walter, Jr (b. 1 Mar 1946 - d. 10 Oct 2003)

Lain, Delphine Lineberry (b. 18 Jan 1840 - d. 20 Dec 1895)

Lain, William Radford (b. 3 Mar 1830 - d. 18 Sep 1918)

Lane, Columbus Hampton (b. 7 Jul 1867 - d. 19 Jun 1928)

Lane, Delphine Lineberry (b. 18 Jan 1840 - d. 22 Dec 1895)

Lane, Mary Lula Wallace (b. 14 Oct 1870 - d. 1 Oct 1957)

Lane, Wallace Hampton (b. 4 Oct 1910 - d. 5 Dec 1919)

Lane, William Radford (b. 2 Mar 1830 - d. 17 Sep 1918)

Leamon, Sarah "Sallie" Choplin (b. 5 Apr 1841 - d. 21 Aug 1933)

Lewis, Sara Blakley (b. 25 Apr 1919 - d. 29 Oct 1983)

Lineberry, Augusta Blakley (b. 2 Jul 1859 - d. 6 Jun 1928)

Lineberry, Claude James (b. 2 Jul 1917 - d. 4 Aug 1979)

Lineberry, Cora Bryant (b. 10 May 1883 - d. 14 Jan 1962)

Lineberry, Coy Howard (b. 13 Jan 1921 - d. 31 May 1921)

Lineberry, Dorothy Nelson (b. 12 Oct 1925 - d. 25 Dec 2006)

Lineberry, Earnest Harrison (b. 26 Jul 1894 - d. 31 Mar 1956)

Lineberry, Florence Blakeley (b. 31 Jan 1902 - d. 30 Mar 1923)

Lineberry, Foyster Benbow (b. 25 May 1914 - d. 14 Apr 1997)

Lineberry, Grace Andrews (b. 25 Feb 1926 - d. 18 May 2009)

Lineberry, Gurney L. (b. Aug 1895 - d. Mar 1986)

Lineberry, Guy Ellis (b. 23 Nov 1926 - d. 6 Aug 1978)

Lineberry, Ida M. (b. 1892 - d. 1966)

Lineberry, Janet Lee (b. 7 Oct 1961 - d. 14 Apr 1983)

Lineberry, Lora M. (b. 18 Oct 1898 - d. 24 Aug 1989)

Lineberry, Luther Graham (b. 22 Sep 1893 - d. 25 May 1968)

Lineberry, Marthia (b. 1854 - d. 1918)

Lineberry, Mary Davis (b. 7 Jul 1894 - d. 9 Jan 1984)

Lineberry, Mollie M (b. 10 Jan 1899 - d. 13 Aug 1976)

Lineberry, Opal Warren (b. 4 Apr 1921 - d. 30 Mar 1992)

Lineberry, Plumer V. (b. 29 May 1924 - d. 29 Mar 1927)

Lineberry, Riley (b. 3 May 1864 - d. 12 Jun 1936)

Lineberry, Rosa Frances C. (b. 14 Aug 1889 - d. 2 Dec 1971)

Lineberry, Roy (b. Unknown - d. Unknown)

Lineberry, Samuel Curtis (b. 7 Jul 1923 - d. 28 Mar 1949)

Lineberry, Samuel J. (b. 15 Jul 1886 - d. 11 Nov 1957)

Lovelace, Hester Lane (b. 27 Oct 1898 - d. 20 Dec 1970)

Marler, Cora S. (b. 25 Apr 1871 - d. 15 Jun 1955)

Marler, Etta Norman (b. 24 Dec 1894 - d. 18 Apr 1983)

Marler, J. H. (b. Unknown - d. Unknown)

Marler, John Pleas (b. 10 Feb 1870 - d. 18 May 1942)

Marler, Walter H. (b. 1 May 1897 - d. 25 Apr 1991)

Martin, Mitchell Gray (b. 6 Oct 1891 - d. 14 Apr 1963)

Mathis, Richard Asbury (b. 24 Jun 1924 - d. 20 Oct 2007)

Matthew, Moyer Virgil (b. 16 Feb 1911 - d. 11 Sep 1991)

Matthews, Absalom (b. 27 Dec 1793 - d. 19 Aug 1875)

Matthews, Albert Pete (b. 11 May 1920 - d. Jun 1977)

Matthews, Amittie Poindexter (b. 7 Jan 1811 - d. 7 Feb 1886)

Matthews, Annie C. (b. 22 Mar 1877 - d. 16 Dec 1957)

Matthews, Annie Myers (b. 14 Apr 1888 - d. 29 Apr 1977)

Matthews, Bertha Hutchens (b. 6 May 1927 - d. 10 Feb 2009)

Matthews, Bertha Martin (b. 3 Sep 1894 - d. 7 Mar 1962)

Matthews, Bessie Lucinda (b. 24 Mar 1905 - d. 13 Oct 1996)

Matthews, Betty J (b. 8 Apr 1931 - d. 17 Mar 1935)

Matthews, Betty Lou "Shug" (b. 3 Apr 1953 - d. 22 Mar 2010)

Matthews, Biddie D (b. 16 Aug 1861 - d. 24 Mar 1929)

Matthews, Blanche Pilcher (b. 13 Aug 1916 - d. 25 Jan 2001)

Matthews, Bobby Lee (b. 1918 - d. 1919)

Matthews, Bobby Neal (b. 16 Aug 1931 - d. 11 Oct 2002)

Matthews, Bobby Neal (b. 20 Apr 1937 - d. 30 Apr 2005)

Matthews, Bruster G (b. 12 Jul 1906 - d. 20 Oct 1930)

Matthews, Callie Wall (b. 15 Aug 1886 - d. 21 Jul 1948)

Matthews, Charlie David (b. 17 Oct 1878 - d. 9 Sep 1935)

Matthews, Charlie Lewis (b. 21 Aug 1923 - d. 10 Aug 2003)

Matthews, Clifton (b. 29 Mar 1908 - d. 28 Dec 1970)

Matthews, Clyde Wesley (b. 2 Jun 1919 - d. 10 Oct 1971)

Matthews, Clyde Wesley, Jr (b. 10 Oct 1945 - d. 29 Jan 1985)

Matthews, Creola Lineberry (b. 1 May 1900 - d. 12 Oct 1966)

Matthews, Dalton J. (b. 1 Aug 1862 - d. 4 Oct 1952)

Matthews, Davis E. (b. 8 Dec 1858 - d. 21 Oct 1939)

Matthews, Ed A. (b. 1867 - d. 1940)

Matthews, Edith S. (b. 27 Aug 1919 - d. 6 Aug 1999)

Matthews, Edward Carson (b. 11 Nov 1923 - d. 21 Jun 2008)

Matthews, Eliza Jane "Liza" Choplin (b. 27 Sep 1886 - d. 18 Jan 1943)

Matthews, Elva R. Norman (b. 16 Oct 1903 - d. 6 Aug 1929)

Matthews, Emma Hauser (b. 2 Nov 1889 - d. 4 Dec 1961)

Matthews, Eulala Margaret (b. 13 Sep 1901 - d. 4 Aug 1966)

Matthews, Eunice Bowman (b. 1869 - d. 31 May 1899)

Matthews, Eva May (b. 1905 - d. 1918)

Matthews, Everett William (b. 28 Jun 1903 - d. 10 May 1995)

Matthews, Felbert Rose (b. 28 Feb 1896 - d. 24 Sep 1922)

Matthews, Fern W (b. 27 Jun 1914 - d. 28 Feb 1976)

Matthews, Floyd Willie (b. 7 Jan 1915 - d. 12 Jan 1995)

Matthews, Folger G. (b. 1914 - d. 1983)

Matthews, Frances M. (b. 23 Oct 1860 - d. 18 Aug 1925)

Matthews, Frances P. "Uncle Frank" (b. 1838 - d. 4 Dec 1910)

Matthews, Francis Poindexter "Deck" (b. 27 Feb 1892 - d. 14 Jan 1950)

Matthews, Fred S. (b. 3 Aug 1923 - d. 7 Mar 1953)

Matthews, G E (b. 4 Feb 1893 - d. 9 Nov 1894)

Matthews, Gypsie Ann (b. 10 Jan 1910 - d. 10 Feb 1999)

Matthews, Henry "Big Hen" (b. 1824 - d. 1873)

Matthews, Hernon (b. 25 Oct 1898 - d. 26 Nov 1986)

Matthews, Hezekiah "Key" (b. 6 Oct 1821 - d. 2 Oct 1885)

Matthews, Homer E (b. 12 May 1897 - d. 6 Apr 1919)

Matthews, Ida Davis (b. 20 Feb 1877 - d. 26 Feb 1956)

Matthews, J R (b. 15 Jul 1901 - d. 25 Nov 1902)

Matthews, Jack W "Jack Bill" (b. 29 Dec 1890 - d. 14 Aug 1953)

Matthews, James A. (b. 5 Nov 1867 - d. 8 Apr 1950)

Matthews, James H (b. 13 Oct 1894 - d. 16 Oct 1924)

Matthews, James Lindon (b. 19 Sep 1922 - d. 10 May 1950)

Matthews, John "Edd" (b. 24 Jun 1894 - d. 22 Sep 1956)

Matthews, John J. (b. 1935 - d. 1935)

Matthews, John Roswell (b. 30 Sep 1912 - d. 28 Jan 1980)

Matthews, John V (b. 17 Apr 1841 - d. 31 Jul 1895)

Matthews, John W (b. 16 Feb 1859 - d. 1882)

Matthews, Joseph E. (b. 3 Nov 1900 - d. 10 Jan 1988)

Matthews, Joseph Frances (b. 21 Aug 1882 - d. 11 Mar 1942)

Matthews, Juanita R. (b. 11 Sep 1929 - d. 6 Sep 2007)

Matthews, Leona W. (b. 1926 - d. 1926)

Matthews, Lillie (b. 29 Apr 1873 - d. 15 Nov 1891)

Matthews, Lillie Annie Matthews (b. 3 Nov 1876 - d. 25 Jun 1928)

Matthews, Luther Preston (b. 14 Nov 1882 - d. 27 Sep 1947)

Matthews, Martha Warden (b. Dec 15 - d. 26 Sep 1918)

Matthews, Martin E (b. 10 Oct 1924 - d. 10 Oct 1924)

Matthews, Mary (b. 5 May 1863 - d. 7 May 1911)

Matthews, Mary A "Polly" Caudle (b. 13 Oct 1840 - d. 26 Oct 1906)

Matthews, Mary C. (b. 5 Jan 1871 - d. 21 Jun 1954)

Matthews, Mary E. Perry (b. 18 Nov 1848 - d. 2 Oct 1928)

Matthews, Mary M. Davis (b. 10 Jun 1853 - d. 16 Apr 1916)

Matthews, Mary Pardue (b. 8 Feb 1893 - d. 27 Nov 1935)

Matthews, Mattie Missouri (b. 21 May 1894 - d. 27 Jan 1923)

Matthews, Michael Gray (b. 1 Mar 1952 - d. 26 Sep 1955)

Matthews, Mildred (b. 25 May 1888 - d. 9 Mar 1889)

Matthews, Minnie Pendry (b. 23 Oct 1912 - d. 20 Jul 1996)

Matthews, Moyer Virgil (b. 16 Feb 1911 - d. 11 Sep 1991)

Matthews, Mozelle W. (b. 6 Oct 1932 - d. 17 Jun 1993)

Matthews, Nancy Annie Norman (b. 28 Jul 1865 - d. 26 Dec 1933)

Matthews, Nancy Louisa Warden (b. 10 Jun 1857 - d. 3 Mar 1923)

Matthews, Nola W. (b. 16 Jan 1899 - d. 16 Nov 1986)

Matthews, Nora Vermal (b. 16 Feb 1911 - d. 31 Aug 1954)

Matthews, Novella Davis (b. 1875 - d. 1951)

Matthews, Paul T. (b. 6 Apr 1921 - d. 4 Jul 1923)

Matthews, Pauline Dura Maynard (b. 15 Sep 1921 - d. 1 Nov 1973)

Matthews, Plesent R. (b. 4 Jul 1901 - d. 2 Jan 1942)

Matthews, Plummer Fletcher (b. 22 Sep 1913 - d. 21 Feb 1985)

Matthews, Richard I (b. 17 Nov 1873 - d. 14 Jul 1939)

Matthews, Robert J "Bob" (b. 31 May 1841 - d. 25 Oct 1917)

Matthews, Robert L. (b. 22 Apr 1870 - d. 7 Apr 1957)

Matthews, Robert W. (b. 20 Oct 1896 - d. 9 Jan 1978)

Matthews, Sanford A. (b. 15 Sep 1853 - d. 5 Apr 1918)

Matthews, Sanford Eugene (b. 27 Aug 1890 - d. 21 Jan 1940)

Matthews, Sanford Wesley "Sam Bill" (b. 15 Jun 1884 - d. 25 Apr 1956)

Matthews, Sarah C (b. 12 Oct 1867 - d. 10 May 1904)

Matthews, Sarah Darinda Jester (b. Aug - d. Jun 30)

Matthews, Sarah L (b. 19 Sep 1905 - d. 1 Jul 1907)

Matthews, Shirley Martin (b. 19 Jun 1939 - d. 15 Jun 2003)

Matthews, Sudie Pruitt (b. 12 Apr 1909 - d. 27 Mar 1969)

Matthews, Theadocia (b. 23 Nov 1866 - d. 1 Jan 1900)

Matthews, Thomas (b. Unknown - d. Unknown)

Matthews, Thomas Franklin (b. 8 Jan 1824 - d. 19 Mar 1916)

Matthews, Thomas H. (b. 10 Jan 1862 - d. 3 May 1905)

Matthews, Thomas Henry (b. 15 Jan 1881 - d. 18 Feb 1953)

Matthews, Thomas Henry (b. 8 Nov 1872 - d. 24 Jun 1951)

Matthews, Troy Alfred (b. 27 May 1915 - d. 10 Jan 1973)

Matthews, Vernie Lineberry (b. 25 Apr 1909 - d. 7 Aug 1983)

Matthews, Virginia Shrel (b. 26 Feb 1934 - d. 25 Sep 1940)

Matthews, Wallace (b. 7 Mar 1888 - d. 25 Dec 1958)

Matthews, Walter Leak (b. 1915 - d. 1917)

Matthews, Waymouth O (b. 16 Apr 1910 - d. 13 Jan 1993)

Matthews, Wesley Monroe (b. 18 Jun 1875 - d. 20 Jun 1957)

Matthews, William Anderson "Bill" (b. 16 Dec 1855 - d. 11 Aug 1942)

Matthews, William C (b. 26 May 1886 - d. 30 Jun 1887)

Matthews, William F "Captain Bill" (b. 16 Jun 1933 - d. 20 Feb 2007)

Matthews, William Ray (b. 10 Aug 1916 - d. 26 Mar 1973)

Matthews, William Riley (b. 17 Jul 1832 - d. 17 Jun 1916)

Matthews, William S. (b. 22 Jan 1857 - d. 20 Aug 1938)

Matthews, William Tyson "Joey" (b. 8 Feb 1952 - d. 22 Jun 2009)

Matthews, William W. (b. 20 Jun 1922 - d. 1 Sep 1997)

Matthews, Wilson (b. 27 Jan 1911 - d. 5 Jul 1962)

Matthews, Zeno (b. 1 Oct 1890 - d. 9 May 1908)

McKay, Linda Matthews (Dr.) (b. 13 Sep 1940 - d. 20 Jul 2008)

Mickey, Crawlie Taylor (b. 30 May 1888 - d. 7 Dec 1958)

Mickey, John W. (b. 16 Oct 1885 - d. 15 Jan 1986)

Miller, Lucy Bell Matthews (b. 23 Nov 1906 - d. 22 Sep 2002)

Miller, Mary Frances Matthews (b. 20 Jan 1931 - d. 4 Jun 2009)

Miller, Thomas Allison (b. 21 Jun 1916 - d. 5 Mar 1993)

Moore, Harriett Smith (b. Sep 1867 - d. 20 Nov 1936)

Murphy, Benjamin Harrison (b. 10 Mar 1889 - d. 25 Dec 1943)

Murphy, Eddie Gray (b. 26 May 1932 - d. 7 Jan 2002)

Murphy, Even E. (b. 20 May 1887 - d. 26 Jul 1961)

Murphy, Freddie Vey (b. 4 Dec 1915 - d. 11 Dec 1922)

Murphy, George K. (b. 1885 - d. 1956)

Murphy, John (b. 25 Dec 1842 - d. 7 Dec 1922)

Murphy, Lela Davis (b. 1901 - d. 1993)

Murphy, Matilda Jane Bovender (b. 8 Jan 1846 - d. 1 Sep 1917)

Murphy, Pearl Kirby (b. 17 Jun 1894 - d. 2 Dec 1974)

Murphy, Pearlie N. (b. 1891 - d. 1965)

Murphy, Rachel S (b. 27 Oct 1879 - d. 27 Oct 1879)

Myers, Thurman T., Sr (b. 26 Sep 1924 - d. 2 May 2001)

Norman, Cora Stimpson (b. 5 Sep 1891 - d. 31 Aug 1915)

Norman, Henry James (b. 30 Aug 1915 - d. 25 Dec 1938)

Norman, John Thomas (b. 20 Dec 1890 - d. 14 Dec 1935)

Parkes, Elizabeth Speers (b. 30 Dec 1908 - d. 10 Apr 1994)

Parks, Richard T. (b. 21 Aug 1958 - d. 12 Mar 2001)

Perry, Alice Davis (b. 5 Feb 1885 - d. 25 Apr 1955)

Perry, Alma Maye (b. 3 May 1905 - d. 22 Oct 2005)

Perry, Anne Elizabeth Sims (b. 14 May 1851 - d. 29 Jul 1924)

Perry, Clingman D (b. 12 Apr 1903 - d. 24 Jun 1903)

Perry, Dora Elizabeth Angell (b. 3 Aug 1882 - d. 12 Aug 1943)

Perry, Elizabeth B (b. 6 May 1873 - d. 6 Dec 1877)

Perry, Elizabeth J (b. 18 Oct 1827 - d. 30 Aug 1862)

Perry, Gilley Ann (b. 8 Jan 1861 - d. 15 Aug 1862)

Perry, Henry (b. 20 Apr 1818 - d. 6 Mar 1879)

Perry, Infant (b. Unknown - d. Unknown)

Perry, Issac H (b. 30 May 1846 - d. 22 Dec 1896)

Perry, John Joseph "Joe" (b. 4 Aug 1852 - d. 13 Mar 1931)

Perry, Marjorie Ann (b. 8 Apr 1908 - d. 24 Oct 2006)

Perry, Nathan Evan (b. 23 Nov 1877 - d. 23 Jan 1945)

Perry, William D (b. 26 Sep 1833 - d. 14 Oct 1852)

Perry, William H. (b. 16 May 1873 - d. 7 Feb 1955)

Phillips, Deanna Anne (b. 5 Mar 1963 - d. 14 Feb 1978)

Phillips, Deborah Lynn "Tootie" (b. 18 Oct 1960 - d. 14 Feb 1978)

Phillips, Frances Jane Fletcher (b. 17 May 1930 - d. 22 Nov 2007)

Phillips, Tony Stevens (b. 15 Feb 1959 - d. 12 May 1959)

Pinnix, Edna Kay Lineberry (b. 25 May 1952 - d. 8 Dec 2008)

Poindexter, Fred Jefferson (b. 7 Jul 1916 - d. 9 Mar 1973)

Poindexter, Mary Lula Matthews (b. 11 Nov 1920 - d. 14 Sep 1981)

Polk, Peggy Ogburn (b. 21 Sep 1934 - d. 4 May 2009)

Reece, Charles Owen (b. 5 Aug 1895 - d. 23 Aug 1950)

Reece, Fred C. (b. 3 May 1919 - d. 15 Jan 1998)

Reece, Mattie V. Perry (b. 7 May 1895 - d. 23 Jul 1972)

Robertson, Irma Blanche Matthews (b. 2 Oct 1908 - d. 6 Mar 1994)

Rockett, Bobby W. (b. 23 Apr 1937 - d. 9 Feb 2012)

Rockett, Infant Son (b. 26 Aug 1962 - d. 26 Aug 1962)

Saunders, Dorethia M. (b. 3 Jan 1906 - d. 28 Jan 1999)

Saunders, Lela Mae (b. 8 Feb 1925 - d. 25 Apr 1925)

Saunders, Luther M. (b. 27 Jan 1905 - d. 31 Jul 1983)

Saunders, Sammie S. (b. 18 Aug 1944 - d. 1 Aug 1945)

Scott, Flora Lillian Blakley (b. 16 Feb 1906 - d. 18 Feb 1978)

Scott, Orlice Coon (b. 25 Jul 1901 - d. 5 Jul 1986)

Scudder, F (b. Unknown - d. 1825)

Sherman-Wooten, Mary Lynn Wooten (b. 15 Jul 1965 - d. 19 Jul 2006)

Shugart, Everette E. (b. 29 Oct 1904 - d. 29 Apr 1930)

Smith, James Floyd "Jimmy", Jr (b. 2 Nov 1935 - d. 15 Sep 1972)

Smitherman, Joseph A. Jody (b. 15 Aug 1917 - d. 30 Mar 1997)

Smitherman, Nancy Perry (b. 24 May 1875 - d. 3 Aug 1952)

Speers, Barnett C (b. 30 May 1870 - d. 3 Jan 1926)

Speers, Rosa Lee Harrell (b. 8 May 1877 - d. 8 Jan 1964)

Spillman, Charles Edison (b. 27 Aug 1943 - d. 14 Aug 1947)

Spillman, Edith Grace (b. 2 Dec 1921 - d. 29 Nov 1935)

Spillman, Jane E Blakley (b. 4 May 1880 - d. 18 Jan 1964)

Spillman, John H. (b. 1898 - d. 1973)

Spillman, Ralph Walter (b. 16 Oct 1925 - d. 16 Jun 1926)

Spillman, Vernie B. (b. 1904 - d. 1985)

Steelman, Annie Pearl Reece (b. 28 Nov 1916 - d. 7 Jun 1973)

Stimpson, Alma Leona (b. 30 Jul 1906 - d. 9 Aug 1931)

Stimpson, Clark Henry (b. 23 Sep 1909 - d. 26 Sep 1990)

Stimpson, Elsie Mae Hutchens (b. 8 Sep 1918 - d. 25 Apr 1975)

Stimpson, Henry Lee (b. 27 Jul 1864 - d. 10 Mar 1910)

Stimpson, Joann (b. 28 May 1947 - d. 28 May 1947)

Stimpson, Julius Floyd (b. 2 Apr 1907 - d. 4 Aug 1982)

Stimpson, Loid U (b. 2 Apr 1907 - d. 16 Jun 1908)

Stimpson, Lucy Vestal (b. 4 Mar 1907 - d. 25 May 1953)

Stimpson, Sarah Ann Douglass (b. 10 Sep 1872 - d. 3 Oct 1942)

Suddreth, Nell Ray (b. 26 May 1932 - d. 16 Aug 2002)

Taylor, Alvis Finny (b. 28 Apr 1928 - d. 2 Dec 1969)

Taylor, Capra (b. 15 Jun 1898 - d. 29 Jun 1910)

Taylor, Capra J (b. 6 Sep 1876 - d. 31 Oct 1906)

Taylor, Coy Monroe (b. 26 Mar 1925 - d. 23 Aug 1944)

Taylor, Elisha David (b. 28 Jun 1885 - d. 8 May 1973)

Taylor, Hiram P (b. 27 Feb 1874 - d. 1 Jun 1906)

Taylor, Lester Y (b. 4 Mar 1902 - d. 13 Aug 1904)

Taylor, Lunda M. (b. 3 Mar 1851 - d. 10 Jul 1933)

Taylor, Mary Susan Mathews (b. 13 May 1847 - d. 20 Jul 1921)

Taylor, Matthew (b. 1 Apr 1848 - d. 10 Oct 1930)

Taylor, Mentora Blakley (b. 18 Apr 1889 - d. 19 Dec 1973)

Taylor, Nannie Jester (b. 27 Jul 1889 - d. 19 Sep 1961)

Taylor, Ruby (b. 1919 - d. 2 Jun 1931)

Taylor, Rufus K. (b. 29 Jan 1881 - d. 25 Jan 1939)

Taylor, T A (b. ??? 3 1853 - d. 18 Jun 1889)

Titman, Margaret Speers (b. 3 Aug 1910 - d. 28 Aug 1991)

Tucker, Dora Isabelle Taylor (b. 2 Oct 1879 - d. 17 Sep 1945)

Tucker, Eva J (b. 13 Feb 1905 - d. 26 May 1992)

Tucker, Hattie Cooper (b. 10 Oct 1905 - d. 20 Sep 1989)

Tucker, John Evan (b. 7 Aug 1877 - d. 5 Nov 1941)

Tucker, John Hampton (b. 26 Jun 1849 - d. 6 Feb 1943)

Tucker, John Henry (b. 26 Jun 1902 - d. 30 Aug 1962)

Tucker, Willie Ray (b. 18 Sep 1933 - d. 25 Sep 1934)

Ulrich, Bettie L Hayes (b. 24 Aug 1874 - d. 29 Oct 1894)

Ulrich, Flora Taylor (b. 23 Feb 1877 - d. 6 May 1946)

Ulrich, Lewis William (b. 11 Apr 1892 - d. 3 Jan 1918)

Ulrich, Louis (b. 24 Nov 1862 - d. 24 Aug 1942)

Ulrich, T Kohl (Dr.) (b. 9 Jul 1902 - d. 3 Nov 1937)

Underwood, Ressie Mildred (b. 31 May 1899 - d. 21 Aug 1969)

Vogler, Infant Daughter (b. 16 Aug 1914 - d. 16 Aug 1914)

Vogler, Violet Maxine (b. 22 May 1906 - d. 4 Jul 1907)

Wagoner, Mamie Smitherman (b. 25 Feb 1906 - d. 30 Mar 1993)

Wall, Carroll Lee (b. 9 Jan 1935 - d. 9 May 1959)

Wall, J. Tunie (b. 16 Jan 1900 - d. 7 Apr 1970)

Wall, Lillie S. (b. 15 Mar 1901 - d. 25 Apr 1988)

Wall, Ray Junior (b. 30 Jan 1925 - d. 26 Nov 2004)

Warnke, Harry Frederick (b. 20 Jul 1892 - d. 12 Jun 1939)

Warnke, Mamie Ulrich (b. 2 Apr 1894 - d. 17 Nov 1963)

Watkins, Hansel Augustus (b. 28 Mar 1917 - d. 20 May 2007)

Watkins, Maude T. (b. 22 Sep 1918 - d. 11 Feb 1998)
Web page updated 20 August 2016
Index of All Cemeteries
Alphabetical Index of All Burials
Previous Page