Index of All Cemeteries
Alphabetical Index of All Burials
Previous Page
Use the following to search across all the cemeteries listed.
Example: "Smith, Roger" (yes, use the quotes)
011 STONY KNOLL UNITED METHODIST CHURCH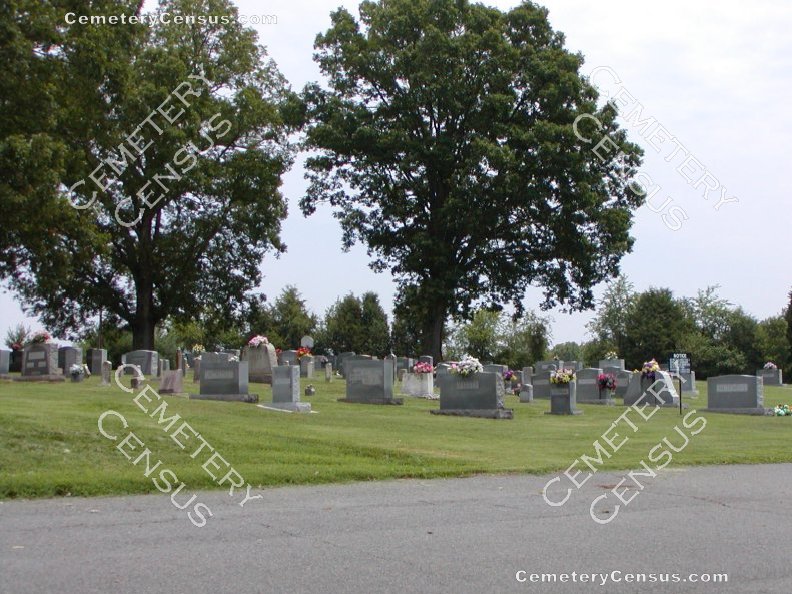 Location: 2340 Flint Hill Rd, East Bend, Yadkin Co., NC.

Coordinates: 36d 10m 51.9s N; 80d 28m 47.5s W Click here for Google maps

Directions: From intersection of NC 67 and Flint Hill Rd, go south on Flint Hill Rd for 3.4 miles and church and cemetery are on the left.

View of the church.

Surveyed by Bob Carter on July 6, 2007.
Township or district: East Bend.
Public or Private: Public access.
GPS Accuracy (ft.): 15.
Elevation above sea level (ft.): 991.
Status of cemetery: Well maintained.

Cemetery has over 200 graves and current burials with most appearing to be in the 1900s.
Survey by Allen Dew in January 2013.


Adams, Jerry Chris (b. 31 Mar 1954 - d. 14 Jun 2003)
Angel, Blanche Iola (b. 15 Sep 1912 - d. 24 Jun 1914)
Angel, Jimmie (b. 17 Nov 1908 - d. 17 Nov 1908)
Angell, Sarah Susan Lineberry (b. 14 Jul 1876 - d. 17 Aug 1953)
Angell, William Evander (b. 7 Jan 1877 - d. 15 Jun 1960)
Benscoter, Lucille H (b. 4 Oct 1925 - d. 24 Mar 1992)
Benscoter, Nancy L (b. 6 Oct 1947 - d. 7 Oct 1947)
Benscoter, Thomas E (b. 31 Aug 1918 - d. 5 May 1991)
Blakely, John Irvin (b. 5 May 1914 - d. 31 Mar 2000)
Blakley, Billy Ray (b. 17 Dec 1946 - d. 1 Feb 2008)
Booth, Mary Shore (b. 2 Aug 1907 - d. 8 Mar 1987)
Brann, Wade E (b. 30 Jan 1909 - d. 9 Feb 1972)
Caudle, Dewey (b. 7 Jun 1923 - d. 22 Dec 1982)
Caudle, Infant Son (b. 3 Sep 1932 - d. 3 Sep 1932)
Caudle, Lillie (b. 24 Apr 1903 - d. 4 Aug 1984)
Caudle, Shirley Mae (b. 22 May 1952 - d. 25 Jun 1952)
Cave, Alfred Scott (b. 8 Apr 1974 - d. 16 Sep 2001)
Cave, Benny Harrison (b. 20 Nov 1942 - d. 21 Nov 2000)
Collins, Lois p (b. 28 Jun 1936 - d. 8 May 1981)
Cook, Kay F (b. 30 Oct 1947 - d. 20 Dec 2011)
Cook, Ray Harding (b. 3 Apr 1941 - d. 4 Apr 1941)
Cornelius, Ashley Rockett (b. 26 Jul 1980 - d. 29 Mar 1982)
Cornelius, Blanche H (b. 7 Nov 1904 - d. 12 Sep 1997)
Cornelius, Fern W (b. 1915 - d. 1999)
Cornelius, Henry A (b. 1907 - d. 1983)
Cornelius, Jason Scott (b. 28 Aug 1976 - d. 10 May 1978)
Cornelius, Luther W (b. 11 Nov 1903 - d. 1 May 2001)
Craft, Emma M Speer (b. 1 Oct 1894 - d. 19 Nov 1981)
Craft, Richard Watson (b. 23 Feb 1884 - d. 1 Apr 1940)
Crotts, Marlene Smitherman (b. 20 Jul 1947 - d. 31 Aug 2001)
Doub, Archie Ward (b. 15 Oct 1918 - d. 14 Nov 2011)
Doub, David Ward (b. 24 Mar 1951 - d. 1 Nov 1982)
Douglas, Patsy Fay (b. 12 Jul 1940 - d. 13 Dec 1940)
Dowell, Florida C (b. 21 Jul 1927 - d. 21 Sep 2003)
Dowell, William Clarence (b. 10 Nov 1925 - d. 9 Jul 1989)
Dunn, Ada Logan (b. 6 Sep 1916 - d. 25 Sep 1987)
Evans, Edna Coe (b. 9 Apr 1912 - d. 9 May 2008)
Evans, Roger Lee (b. 25 Jun 1949 - d. 27 May 2005)
Flynn, Blanche S (b. 1916 - d. 1968)
Flynn, Roger Wilson (b. 29 Mar 1949 - d. 6 Nov 2002)
Flynn, Romie W (b. 1914 - d. 1993)
Frye, Frank M (b. 5 Apr 1895 - d. 11 Aug 1968)
Frye, James J. T. (b. 25 Apr 1939 - d. 15 May 1939)
Frye, Jessie Frances (b. 16 Oct 1912 - d. 2 Jan 1933)
Frye, Nathan A (b. 1832 - d. 15 Dec 1928)
Gordon, Infant Daughter (b. Unknown - d. 23 Dec 1945)
Gough, Hariet E (b. 1842 - d. 1916)
Gough, Hubert G (b. 4 Jul 1921 - d. 11 Oct 1985)
Gough, James (b. 1839 - d. 6 Jul 1913)
Gough, Jess Clark (b. 28 Jan 1908 - d. 26 Dec 1952)
Gough, John Lester (b. 18 Jul 1909 - d. 3 Mar 1974)
Gough, John Thomas (b. 7 Feb 1948 - d. 14 Nov 1973)
Gough, Lena S (b. 1921 - d. 1992)
Gough, Nettie (b. 21 May 1872 - d. 20 Apr 1931)
Gough, Thad T (b. 12 Mar 1906 - d. 24 Jan 1955)
Gough, Thomas W (b. 1911 - d. 1988)
Hatcher, Irene Speer (b. 17 Dec 1920 - d. 12 Jul 1968)
Hatcher, James H (b. 15 Jun 1924 - d. 12 Sep 2001)
Henning, Adelene Hope (b. 26 Dec 1917 - d. 6 Nov 1924)
Henning, Rose Augusta (b. 22 Nov 1862 - d. 23 Dec 1943)
Henning, Thomas Elwood (b. 1916 - d. 1937)
Henning, Unknown (b. Feb 1888 - d. Feb 1888)
Henning, William T (b. 4 Aug 1857 - d. 13 Aug 1938)
Hennings, Fannie E (b. 1867 - d. 1956)
Hennings, Grady L "Lat" (b. 6 May 1905 - d. 1 Apr 1999)
Hennings, Henry Thomas (b. 5 Jan 1894 - d. 16 Mar 1963)
Hennings, Ina N (b. 1904 - d. 1987)
Hennings, Janice Hall Myers (b. 13 Feb 1935 - d. 8 Sep 2006)
Hennings, Joseph M (b. 1861 - d. 1926)
Hennings, Lesta C (b. 21 Jan 1901 - d. 28 Jun 1993)
Hennings, Marvin (b. 1 Nov 1890 - d. 29 Nov 1890)
Hennings, Nancy N (b. 1898 - d. 1984)
Hennings, Rober Ernest (b. 24 Feb 1896 - d. 7 Nov 1959)
Hennings, Sophronia Binkley (b. 11 Mar 1895 - d. 11 Apr 1984)
Hennings, William J (b. 1901 - d. 1983)
Hicks, Infant Son (b. 13 Apr 1925 - d. Unknown)
Hinshaw, Jesse Frank, Sr (b. 13 Feb 1919 - d. 9 Jul 1995)
Hinshaw, June Taylor (b. 15 Dec 1924 - d. 3 Feb 2000)
Hunter, Charlie S (b. 5 Oct 1878 - d. 13 Jul 1940)
Hunter, Ella J (b. 1888 - d. 1928)
Hunter, Ferbie Frye (b. 25 Oct 1871 - d. 30 Apr 1961)
Hunter, Gertie M (b. 21 Jul 1893 - d. 26 May 1968)
Hunter, Goldie H (b. 10 Feb 1925 - d. 16 Apr 2005)
Hunter, Infant Son (b. 1928 - d. 1928)
Hunter, Leslie (b. Unknown - d. 24 Dec 1902)
Hunter, Luther (b. Unknown - d. Unknown)
Hunter, Margaret E (b. 20 Jan 1849 - d. 28 May 1898)
Hunter, Mary Ellie (b. 11 Dec 1882 - d. 26 May 1926)
Hunter, Roy A "Tinker" (b. 27 Sep 1943 - d. 2 Jul 2009)
Hunter, Roy M (b. 14 Apr 1922 - d. 19 Jan 1980)
Hunter, Roy T (b. 22 May 1908 - d. 25 Dec 1909)
Hunter, Viola Augusta (b. 26 May 1884 - d. 26 Feb 1978)
Hunter, Wiley H (b. 18 Jun 1880 - d. 28 Jul 1969)
Hunter, William H (b. 22 May 1880 - d. 1 Jan 1964)
Hutchens, Anna M (b. 8 Apr 1911 - d. 23 May 1981)
Hutchens, Arville Ray (b. 20 Jun 1937 - d. 16 Jul 1995)
Hutchens, Buford E (b. 27 Apr 1915 - d. 19 Apr 1986)
Hutchens, Carolyn Thomas (b. 11 Jul 1940 - d. 21 Feb 2001)
Hutchens, Henry A (b. 1912 - d. 1989)
Hutchens, Infant Son (b. 1 Nov 1950 - d. 1 Nov 1950)
Hutchens, Jerry Alvin (b. 13 Sep 1929 - d. 21 Jun 1985)
Hutchens, Leona H (b. 1916 - d. 1995)
Hutchens, Vicki S (b. 29 Jun 1970 - d. 29 Jul 1991)
Jackson, Betty (b. 2 May 1855 - d. 11 Jan 1951)
Jester, Harvey W (b. 25 Feb 1908 - d. 17 Nov 1977)
Jester, Mary L (b. 16 Feb 1914 - d. 27 Feb 1995)
Jones, Peggy Gough (b. 15 Apr 1943 - d. 11 Jul 1994)
Joyner, Dorothy Hunter (b. 18 Oct 1929 - d. 5 Mar 2006)
Joyner, Minnie (b. 22 Dec 1893 - d. 4 Jul 1960)
Joyner, Perlina (b. 22 Mar 1853 - d. 28 Feb 1933)
Knott, James Henry (b. 3 Jun 1883 - d. 9 Feb 1955)
Knott, James Wesley (b. 6 Jan 1853 - d. 24 Aug 1942)
Knott, Mary Jane (b. 15 Oct 1841 - d. 29 Apr 1929)
Lane, Alice S (b. 25 Jan 1899 - d. 31 Dec 1993)
Lane, Infant Son (b. Unknown - d. 20 Jan 1932)
Logan, Isabell Welch (b. 31 Jan 1882 - d. 6 Sep 1960)
Maples, Letha M (b. 28 Oct 1926 - d. 22 Dec 2006)
Marler, Joseph Franklin (b. 9 Sep 1907 - d. 22 Jul 1969)
Marler, Lena Hennings (b. 23 Oct 1908 - d. 13 Dec 1996)
Marler, Richard H. (b. 5 Mar 1931 - d. 4 Sep 1984)
Martin, Nellie Hauser Ridings (b. 22 Sep 1888 - d. 16 Jun 1967)
Marvin, John (b. 17 Sep 1902 - d. 12 May 1969)
McKnight, J. Gaither (b. 28 Jan 1909 - d. 4 Dec 1928)
McKnight, James Madison (b. 29 Sep 1907 - d. 23 Apr 1950)
McKnight, Lorine (b. 3 Jan 1930 - d. 5 Nov 1935)
McKnight, Mollie C Hunter (b. 27 Jan 1877 - d. 16 Mar 1962)
McKnight, William B. (b. 27 Jan 1877 - d. 24 Nov 1954)
Mikles, Julius W (b. 1881 - d. 1949)
Mikles, Mirtie L. Henning (b. 1885 - d. 1974)
Murphy, Richard Lee "Rich" (b. 25 Dec 1937 - d. 2 Apr 2008)
Myers, Charlie Frank (b. 28 Feb 1916 - d. 23 May 2008)
Myers, Howard Monroe "Nick" (b. 18 Apr 1910 - d. 21 Jul 1993)
Myers, John Pershing (b. 24 Mar 1918 - d. 27 May 1994)
Myers, Josephine H. (b. 10 Mar 1912 - d. 8 Feb 1999)
Myers, Winifred B Bowman (b. 7 Dec 1919 - d. 9 Jun 2012)
Nichols, Calvin Ellis (b. 21 Sep 1941 - d. 14 Nov 2011)
Patterson, Ellen Shore (b. 27 Jun 1866 - d. 14 Dec 1950)
Patterson, James O. (b. 20 Dec 1869 - d. 29 Jan 1958)
Patterson, Johnnie Avalon (b. 6 Feb 1935 - d. 6 Sep 2010)
Patterson, Paul W. (b. 10 Aug 1902 - d. 9 Nov 1973)
Patterson, Sallie D. (b. 1 May 1910 - d. 30 May 1985)
Phillips, Bonnie S. (b. 12 Nov 1926 - d. 16 Dec 2004)
Phillips, Fred Leak, Sr (b. 20 Jun 1930 - d. 9 Dec 2002)
Pilcher, Lucy Lucille Speer (b. 18 Mar 1928 - d. 26 Dec 2004)
Plowman, Cora Lee (b. 13 Dec 1868 - d. 1 Sep 1929)
Plowman, Daisey A (b. 12 Mar 1877 - d. 11 Jun 1948)
Plowman, Herman Dean (b. 11 Jan 1942 - d. 11 Jan 1942)
Plowman, Infant (b. Unknown - d. 1 Feb 1926)
Plowman, Lee Grant (b. 15 Aug 1868 - d. 4 Jan 1944)
Poindexter, Clinton Brooks (b. 8 Sep 1888 - d. 31 Aug 1971)
Poindexter, Lucy Speas (b. 17 Jan 1890 - d. 6 Oct 1973)
Poindexter, Virginia S (b. 30 Oct 1929 - d. 17 Oct 1964)
Quesenberry, Elizabeth B (b. 25 Aug 1927 - d. 21 Jan 1989)
Quesenberry, Raymond Andy (b. 5 Feb 1926 - d. 15 Mar 1990)
Randleman, Bonnie Jean (b. 17 Dec 1944 - d. 18 Dec 1944)
Randleman, Buna P (b. 6 Jun 1893 - d. 17 Jul 1982)
Randleman, Junus Wright (b. 1 Jun 1916 - d. 3 Oct 1930)
Randleman, Ray (b. 2 Apr 1920 - d. 30 Sep 1983)
Randleman, Willie Lee (b. 19 May 1889 - d. 20 Aug 1965)
Ridings, J. Thomas (b. 11 Jun 1863 - d. 6 Nov 1941)
Robbins, Etta (b. 5 Mar 1895 - d. 23 Jul 1967)
Robbins, William (b. 1 Mar 1897 - d. 22 Apr 1952)
Shelton, Clifton W (b. 10 Feb 1925 - d. 31 Jul 1996)
Shelton, Margie R (b. 26 Jan 1931 - d. 27 Dec 2010)
Shore, Artie Apperson (b. 4 Apr 1880 - d. 15 Dec 1960)
Shore, Charlotte J (b. 1908 - d. 1983)
Shore, John B (b. 19 Aug 1913 - d. 15 Apr 1993)
Shore, John Benjamin (b. 8 Aug 1867 - d. 6 Apr 1946)
Shore, Pauline V (b. 18 May 1913 - d. 5 Jul 1989)
Shore, Ralph Benjamin (b. 15 Feb 1904 - d. 31 Aug 1966)
Smitherman, B. Pearl (b. 13 Aug 1916 - d. 13 Mar 1994)
Smitherman, Edgar Martin (b. 16 Nov 1924 - d. 9 Sep 2008)
Smitherman, Howard Gray (b. 12 Aug 1931 - d. 12 Aug 1931)
Smitherman, Ila H. (b. 15 Jul 1898 - d. 28 Feb 1974)
Smitherman, Leak (b. 10 Aug 1922 - d. 1 Jun 1944)
Smitherman, Robert "R.B." (b. 9 May 1917 - d. 14 Aug 2007)
Smitherman, Robert S. (b. 1895 - d. 1981)
Smitherman, Teresa Jean (b. 26 Feb 1952 - d. 4 Oct 2005)
Speas, Anna Mae (b. 14 Nov 1894 - d. 27 Mar 1924)
Speas, Elsie M (b. 25 Feb 1895 - d. 10 Apr 1984)
Speas, John Henry (b. 3 Apr 1892 - d. 6 Oct 1969)
Speas, Julia Doub (b. 15 Dec 1868 - d. 8 Nov 1948)
Speas, Mary Virginia (b. 22 Sep 1899 - d. 23 Feb 1986)
Speas, Samuel Martin (b. 24 Mar 1853 - d. 2 Nov 1946)
Speer, Geneva S (b. 1 May 1900 - d. 27 Dec 1986)
Speer, Hubert Henry (b. 26 Jan 1901 - d. 15 Mar 1973)
Speer, Infant Daughter (b. 11 Jan 1930 - d. 12 Jan 1930)
Speer, Lewis G (b. Unknown - d. Unknown)
Speer, Minerva M (b. 15 May 1907 - d. 14 May 2000)
Speer, Rommie W (b. 27 Apr 1931 - d. 17 Jul 1931)
Speer, Sampson S (b. 1884 - d. 1968)
Speer, Thomas W (b. 1 Jul 1906 - d. 11 Oct 1988)
Speer, Vivian L (b. 11 Jun 1946 - d. 3 Mar 1947)
Speer, Willie D "Bud" (b. 4 Aug 1931 - d. 26 Dec 1974)
Speer, Willie H (b. 16 Dec 1896 - d. 27 Dec 1978)
Spillman, Avalon Hall (b. 27 May 1930 - d. 1 Feb 2012)
Spillman, Edith S (b. 21 Sep 1910 - d. 19 Aug 2001)
Spillman, Ellis L (b. 21 Jul 1913 - d. 28 Sep 1987)
Spillman, Mary (b. 26 Nov 1917 - d. 10 Oct 2001)
Spillman, Roy F (b. 4 Jul 1918 - d. 18 Oct 1988)
Thomas, Bonnie Gene (b. 30 Jun 1926 - d. 7 Mar 1927)
Thomas, Charles Edward (b. 15 Jul 1932 - d. 17 Feb 1933)
Thomas, Irvin H (b. 29 Jun 1893 - d. 5 Jan 1941)
Thomas, Lee Odell (b. 11 Dec 1911 - d. 16 Dec 1936)
Thomas, Lois Mikles (b. 16 Apr 1918 - d. 30 Dec 2002)
Thomas, Pearl I (b. 9 Dec 1916 - d. 22 Dec 1916)
Thomas, Pernie R Plowman (b. 11 May 1895 - d. 19 Jan 1966)
Thomas, Thomas Elwood (b. 28 Jan 1915 - d. 3 Jun 1980)
Wallace, Bruce Evans (b. 5 Jun 1927 - d. 5 Jul 1997)
Wallace, Ward Harrison (b. 15 Sep 1957 - d. 11 Nov 1990)
Welch, Ritta (b. 28 May 1854 - d. 10 May 1925)
Wooten, Glendon E (b. 22 Jun 1927 - d. 28 May 2007)
Web page created 4 February 2013
Index of All Cemeteries
Alphabetical Index of All Burials
Previous Page