Index of All Cemeteries
Alphabetical Index of All Burials
Previous Page
Use the following to search across all the cemeteries listed.
Example: "Smith, Roger" (yes, use the quotes)
006 UNION CROSS FRIENDS MEETING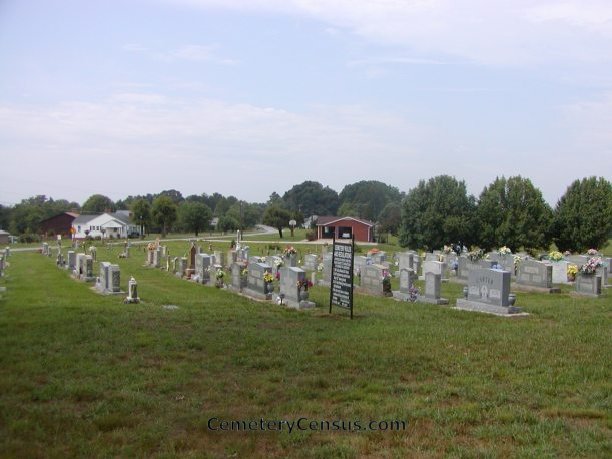 Location: 2533 Union Cross Ch Rd, Yadkinville, Yadkin Co., NC.

Coordinates: 36d 10m 58.4s N; 80d 36m 14.4s W Click here for Google maps

Directions: From intersection of old US 421 and Union Cross Rd (east of Yadkinville), go north on Union Cross Rd for 3.7 miles and church and cemetery are on the left.

View #2 of the cemetery. View #3 of the cemetery. View of the church.

Surveyed by Bob Carter on July 6, 2007.
Township or district: South Fall Creek.
Public or Private: Public access.
GPS Accuracy (ft.): 20.
Elevation above sea level (ft.): 1019.
Status of cemetery: Well maintained.

Very old cemetery with over 400 graves with current burials. Some markers are field stones or river slate with some unreadable from the 1800s.
Survey by Allen Dew in January 2013.


Adams, Amanda Jane Hobson (b. 24 May 1872 - d. 13 Jul 1962)
Adams, Amanda Lula Matthews (b. 31 May 1882 - d. 27 Feb 1968)
Adams, Berlie C (b. 9 Jan 1905 - d. 17 Jan 1999)
Adams, Blanch Caudle (b. 2 Dec 1902 - d. 4 Aug 1958)
Adams, Charles H (b. 16 Sep 1910 - d. 26 Dec 1995)
Adams, Charles H, Jr (b. 26 Mar 1931 - d. 9 Mar 1995)
Adams, Collie Groce (b. 24 Jul 1878 - d. 23 Aug 1925)
Adams, Daniel Agbert (b. 22 Nov 1888 - d. 24 Mar 1974)
Adams, Daniel J. (b. 28 Jan 1832 - d. 10 May 1903)
Adams, Doris M (b. 23 Aug 1932 - d. 23 Nov 1990)
Adams, Effie (b. 1896 - d. 1899)
Adams, Ellis B. (b. 9 Jul 1909 - d. Unknown)
Adams, Evan G. (b. 11 Nov 1856 - d. 11 Nov 1941)
Adams, Fatema Y. (b. 3 Mar 1833 - d. 4 Apr 1899)
Adams, Floyd Nelson (b. 1 Dec 1912 - d. 1 Jan 1971)
Adams, Gaston C (b. 5 Apr 1922 - d. 29 Jan 2001)
Adams, George W (b. 13 Apr 1920 - d. 10 Jan 1927)
Adams, Goldie B. (b. 1906 - d. 1908)
Adams, Gurney Columbus (b. 6 May 1901 - d. 19 May 1973)
Adams, Hattie Bovender (b. 1 Jan 1896 - d. 24 Jun 1965)
Adams, Ida Ellen (b. 16 Oct 1894 - d. 10 Apr 1915)
Adams, Infant (b. Unknown - d. Unknown)
Adams, Infant (b. 1 Jan 1919 - d. 1 Jan 1919)
Adams, Infant Daughter (b. 20 Jun 1926 - d. 20 Jun 1926)
Adams, John Ellis (b. 23 Aug 1856 - d. Unknown)
Adams, John Wesley (b. 5 May 1891 - d. Unknown)
Adams, John William (b. 1887 - d. 1981)
Adams, Lucille Hobson (b. 8 Jun 1913 - d. 10 Jul 2002)
Adams, Lucy Blanche Hutchens (b. 11 Mar 1915 - d. 20 Nov 1975)
Adams, Lucy C. (b. 1900 - d. 1901)
Adams, Lucy Comilla Caudle (b. 1 Dec 1896 - d. 2 Dec 1980)
Adams, Luther C. (b. 4 Dec 1882 - d. 3 Dec 1896)
Adams, Mahlon (b. 16 May 1863 - d. 10 Apr 1956)
Adams, Mamie P (b. 4 Apr 1911 - d. 20 Apr 1983)
Adams, Margaret A (b. 1875 - d. 1915)
Adams, Mary Catherine (b. 28 Nov 1932 - d. 11 Jan 1941)
Adams, Maude Williams (b. 10 Jun 1902 - d. 20 Nov 1985)
Adams, Nancy C. Steelman (b. 18 Jun 1856 - d. 10 Apr 1924)
Adams, Nathan Julius (b. 29 Jan 1882 - d. 11 May 1958)
Adams, Odell L (b. 17 Apr 1908 - d. 26 Sep 1995)
Adams, Olar Lee (b. 15 Jul 1895 - d. Unknown)
Adams, Paul Hugh (b. 9 Jun 1945 - d. 23 Dec 1957)
Adams, Phisa C. Freeman (b. 1837 - d. Unknown)
Adams, Samuel G (b. 14 Jun 1886 - d. 15 Apr 1974)
Adams, Samuel S (b. 8 Sep 1859 - d. 26 Mar 1938)
Adams, Sarah Malinda Vestal (b. 4 Aug 1886 - d. 10 Jan 1919)
Adams, Sarah V. Myers (b. 25 May 1858 - d. 14 Jun 1938)
Adams, Sherrill Hampton (b. 8 Jan 1902 - d. 9 Feb 1997)
Adams, Troy Eugene (b. 21 Jul 1942 - d. 26 Feb 1963)
Adams, Wade Hampton (Rev.) (b. 20 May 1867 - d. 2 Jun 1951)
Adams, Willis (b. 1899 - d. 1933)
Adams, Willis Lee (b. 10 Oct 1859 - d. 21 Feb 1933)
Adams, Zimiriah Jones ""Zimiri"" (b. 22 May 1830 - d. 10 May 1903)
Allen, Infant Son (b. 1904 - d. 1904)
Allman, Estell Blakely (b. 15 Nov 1911 - d. 9 Nov 1968)
Allman, Fannie S. (b. 1870 - d. 1939)
Allman, John (b. 1860 - d. 1896)
Allman, John (b. 1890 - d. 1896)
Allman, John Henry (b. 5 May 1897 - d. 20 Aug 1974)
Anderson, H.E. (b. 26 Apr 1832 - d. 4 Jul 1908)
Atwood, Annie (b. 1917 - d. 1976)
Atwood, John R (b. 1912 - d. 1980)
Bavinder, Mahala Hutchens (b. 23 Aug 1858 - d. 26 Oct 1928)
Billings, Bertha Scott (b. 16 Apr 1936 - d. 15 Jan 2007)
Bovender, Allie C. (b. 1898 - d. 1899)
Bovender, Arbell (b. Unknown - d. 14 Mar 1880)
Bovender, Dallas (b. 1888 - d. 1889)
Bovender, Delbert E. (b. 1902 - d. 1904)
Bovender, Goba (b. 1899 - d. 1901)
Bovender, J. V. (b. 16 May 1843 - d. 4 Aug 1920)
Bovender, Jane (b. 1 Aug 1838 - d. 17 Dec 1906)
Bovender, Jerry B. (b. 1872 - d. 1890)
Bovender, John (b. Unknown - d. 5 May 1869)
Bovender, John W. (b. 1868 - d. 1896)
Bovender, Mahala Hutchens (b. 23 Aug 1858 - d. 26 Oct 1928)
Bovender, Permelia Williams (b. 6 Sep 1856 - d. 8 Jan 1931)
Bovender, R. M. (b. 21 Feb 1853 - d. 25 Jan 1881)
Bovender, William E. (b. 29 Dec 1842 - d. 22 Nov 1901)
Brown, Agnes Delancia Brown (b. 6 Jul 1888 - d. 30 Jan 1975)
Brown, Austin A (b. 6 Jun 1915 - d. 3 Feb 1986)
Brown, Calvin R (b. 12 Mar 1926 - d. 2 Dec 1926)
Brown, Carrie Hobson (b. 12 Aug 1894 - d. 10 Oct 1981)
Brown, Colie E Vestal (b. 8 Aug 1893 - d. 9 Jan 1971)
Brown, Conrad E (b. 26 May 1915 - d. 10 Nov 1949)
Brown, Cressie J (b. 1 Jul 1913 - d. 11 Aug 1995)
Brown, Dallas Boyde (b. 23 Sep 1929 - d. 4 Jun 2007)
Brown, Daniel Oliver (b. 6 Mar 1877 - d. 1 Sep 1969)
Brown, Edith P (b. 29 Aug 1937 - d. 2 Jul 1938)
Brown, Gurnie M. (b. 30 Oct 1895 - d. 3 Jul 1944)
Brown, Harold Gray (b. 5 Apr 1935 - d. 2 Sep 2009)
Brown, Howard (b. 15 Dec 1903 - d. 13 May 1915)
Brown, Infant Daughter (b. Unknown - d. 21 Apr 1934)
Brown, Infant Daughter (b. 10 Jan 1890 - d. 8 Feb 1892)
Brown, Irene Elizabeth "Betty" Adams (b. 1855 - d. 1931)
Brown, James Clary (b. 10 Apr 1905 - d. 29 Dec 1996)
Brown, Joel Edward (b. 11 Nov 1878 - d. 1 Dec 1962)
Brown, John Hugh (b. 9 Sep 1880 - d. 13 May 1960)
Brown, John R (b. 1 Sep 1853 - d. 28 Feb 1904)
Brown, Louisa W (b. 11 Jan 1910 - d. 16 Jan 1999)
Brown, Luther Montgomery "Mann" (b. 19 Oct 1885 - d. 18 Dec 1957)
Brown, Martha Alice (b. 26 May 1879 - d. 4 Nov 1961)
Brown, Martha Jane (b. 26 Jul 1922 - d. 7 May 2011)
Brown, Max H (b. 26 May 1936 - d. 2 Jan 1998)
Brown, Mollie Adell Styers (b. 20 Jul 1916 - d. 7 Nov 2004)
Brown, Mollie J Hobson (b. 17 Sep 1878 - d. 4 Feb 1959)
Brown, Roscoe Dallas (b. 21 Dec 1887 - d. 18 Aug 1946)
Brown, Rufus King (b. 22 Jun 1891 - d. 9 Oct 1975)
Brown, S. Glenn (b. 22 Jul 1918 - d. 4 Mar 1936)
Brown, Sally Hutchens (b. 22 Nov 1914 - d. 23 Apr 1934)
Brown, Shirley Ann (b. 10 Sep 1940 - d. 18 Feb 2001)
Brown, Stephen (b. 1851 - d. 1902)
Brown, Turnie Louise Carter (b. 24 Nov 1888 - d. 26 Aug 1964)
Brown, Vallie (b. 14 Aug 1888 - d. 8 Sep 1966)
Brown, Vena Ella Matthews (b. 31 Mar 1916 - d. 30 Apr 2003)
Brown, Wavie Lee (b. 5 May 1912 - d. 2 Jun 1912)
Brown, Weldon "Bill" (b. 24 Sep 1921 - d. 29 Mar 2004)
Brown, Winnie R Huffman (b. 2 Aug 1909 - d. 4 Feb 1990)
Brown, Zettie Ella (b. 14 Jun 1893 - d. 29 Feb 1944)
Burch, Richard Marshall (b. 29 Apr 1909 - d. 12 Mar 1957)
Carter, Bessie A (b. 24 Dec 1893 - d. 27 Jun 1966)
Carter, Clarence William (b. 26 Feb 1900 - d. 29 Nov 1931)
Carter, Infant (b. Unknown - d. Unknown)
Carter, Infant Daughter (b. Unknown - d. Unknown)
Carter, Infant Son (b. Unknown - d. Unknown)
Carter, Lula Mae (b. 30 Sep 1927 - d. 12 Feb 2009)
Carter, Luther M (b. 30 Jun 1891 - d. 5 Apr 1959)
Carter, Mary L. Adams (b. 16 Sep 1870 - d. 25 Nov 1948)
Carter, Ralph Hampton (b. 12 Oct 1920 - d. 26 May 2011)
Carter, W. A. (b. 29 Nov 1867 - d. 7 Apr 1943)
Carter, William Zeno (b. 15 May 1917 - d. 24 Jun 2008)
Caudle, Clingman G. (b. 11 Sep 1882 - d. 17 Feb 1914)
Caudle, Coy B. (b. 13 Feb 1915 - d. 13 Sep 1994)
Caudle, Floyd Garfield (b. 1 Jan 1907 - d. 18 May 1988)
Caudle, Hazel (b. 10 Jun 1913 - d. 14 Apr 1914)
Caudle, Herman Garfield (b. 30 May 1921 - d. 3 Dec 2001)
Caudle, Ila Carter (b. 15 Feb 1897 - d. 21 Dec 1981)
Caudle, Ina Pearl (b. 10 Jun 1908 - d. 2 Mar 1964)
Caudle, James Robert (b. 8 Dec 1891 - d. 20 Dec 1966)
Caudle, Jennie F (b. 16 Jul 1890 - d. 12 Mar 1965)
Caudle, Lillie Groce (b. 7 Dec 1881 - d. 9 Sep 1956)
Caudle, Lola Shelton (b. 27 Jul 1927 - d. 20 Apr 2000)
Caudle, Thurman N (b. 2 Jan 1936 - d. 16 Oct 1953)
Caudle, Violet Bowman (b. 2 Dec 1918 - d. 28 Jul 2010)
Caudle, Virgie Mae Sipe (b. 7 Sep 1908 - d. 7 Mar 2004)
Caudle, Witt Herb (b. 22 Jun 1892 - d. 29 Apr 1982)
Cleary, Zedic Reuben (b. 9 May 1872 - d. 22 Nov 1965)
Collins, Billie Gray (b. 26 Sep 1929 - d. 14 Oct 1948)
Collins, Eula W (b. 2 May 1909 - d. 30 Jan 1996)
Collins, John H (b. 4 Nov 1907 - d. 13 Oct 1979)
Cooper, Infant Girl (b. Unknown - d. Unknown)
Coram, Thomas B (b. 26 Nov 1912 - d. 25 Aug 1980)
Coram, Thomas Stephen (b. 6 Jun 1949 - d. 26 Aug 1994)
Coram, Virginia S (b. 2 Mar 1923 - d. 31 May 1972)
Coram, Walter Lee (b. 15 May 1956 - d. 27 Apr 1985)
Crews, Cora Melton (b. 15 Nov 1915 - d. 8 Apr 1968)
Dahmer, Infant (b. Unknown - d. 6 Nov 1948)
Darnell, Thurmond J (b. 10 Aug 1919 - d. 2 Nov 1991)
Davis, Betty Lou Adams (b. 9 Mar 1935 - d. 10 Feb 2003)
Davis, George Glenn (b. 13 Oct 1916 - d. 28 Dec 2003)
Davis, Hallie Brown (b. 10 Jun 1913 - d. 25 May 1999)
Davis, Robert Darrell (b. 31 Dec 1947 - d. 23 Dec 2008)
Dayton, Margie Totten (b. 18 May 1886 - d. 11 May 1942)
Dinkins, Dallas E (b. 16 Apr 1890 - d. 15 Jul 1955)
Dinkins, Delbert Ray (b. 5 Sep 1894 - d. 27 Jan 1965)
Dinkins, Fannie F (b. 12 Feb 1893 - d. 16 Apr 1985)
Dinkins, Infants (b. Unknown - d. Unknown)
Dinkins, Jesse Franklin (b. 20 Jan 1870 - d. 23 Jan 1952)
Dinkins, Mary Jane (b. 13 Nov 1860 - d. 18 Apr 1935)
Dinkins, Vera Mae Willard (b. 10 Mar 1892 - d. 21 Mar 1963)
Durham, William (b. 9 Jun 1866 - d. 22 Jan 1913)
Durham, William Alexander (b. 9 Jun 1866 - d. 26 Sep 1944)
Freeman, H. Stantford (b. 21 Oct 1898 - d. 22 May 1969)
Freeman, Mallie M. (b. 4 Apr 1911 - d. 21 Feb 1972)
Freeman, Richard Dwight (b. 17 Jul 1930 - d. 8 Apr 1993)
Freeman, Tilden B. (b. 28 Sep 1894 - d. 25 Jul 1959)
Freeman, W. G. (b. 1868 - d. 1898)
Goss, Ruby S. McCollum (b. 11 Aug 1923 - d. 17 Feb 2007)
Groce, J. Wayne (b. 28 Mar 1920 - d. 4 Dec 1988)
Groce, Mary Ellen Casey (b. 20 Jul 1849 - d. 16 Jan 1918)
Groce, Moses G. (b. 23 Jul 1851 - d. 5 Oct 1915)
Groce, Sarah Fronia (b. 20 May 1890 - d. 10 Dec 1965)
Grose, M. G. (b. 23 Jul 1851 - d. 3 Oct 1915)
Grose, Mary E. (b. 20 Jul 1849 - d. 13 Jan 1916)
Hardy, Ann Snodgrass (b. 29 Oct 1941 - d. 8 May 2001)
Hardy, Jules Coke "Jake" (b. Unknown - d. Unknown)
Harris, Wilborn G. (b. 11 Jun 1930 - d. 20 Mar 2000)
Helton, Infant Son (b. 10 Oct 1933 - d. 11 Oct 1933)
Hinshaw, Ruby F. (b. 24 Feb 1903 - d. 9 May 1971)
Hitchcock, Eric W. (b. 14 Jul 1993 - d. 20 Jul 1993)
Hobson, Anna (b. 3 Jul ???? - d. Unknown)
Hobson, David Gray (b. 1874 - d. 1969)
Hobson, David S. (b. 13 Nov 1847 - d. 21 May 1933)
Hobson, Etta (b. 24 Jul 1905 - d. 8 Mar 1908)
Hobson, Fannie Pearl Choplin (b. 9 Nov 1889 - d. 18 Apr 1972)
Hobson, George D. (b. 1837 - d. 1902)
Hobson, George Fred (b. 23 Oct 1907 - d. 2 Jul 1959)
Hobson, Infant Son (b. 2 Apr 1912 - d. 4 Apr 1912)
Hobson, Infant Son (b. Unknown - d. 24 Dec 1911)
Hobson, John (b. 24 Aug 1812 - d. 25 May 1888)
Hobson, John H. (b. 29 Dec 1861 - d. 17 Dec 1929)
Hobson, Lula Jane Brown (b. 30 Jul 1882 - d. 4 Dec 1956)
Hobson, Lunford Winfield (b. 3 Oct 1879 - d. 5 Oct 1957)
Hobson, Maud (b. 14 Oct 1903 - d. 23 Aug 1916)
Hobson, Rachel (b. 1843 - d. 1934)
Hobson, Roy J. (b. 18 Oct 1904 - d. 18 Sep 1915)
Hobson, Sarah Cordelia Adams (b. 5 Jul 1873 - d. 12 Jun 1919)
Hobson, Susan (b. 1 Aug 1808 - d. 6 Nov 1893)
Hobson, Thomas Anthony (b. 23 Oct 1869 - d. 12 Jan 1948)
Hobson, Virginia L. (b. 1 Jun 1865 - d. 8 Sep 1938)
Hutchens, Agnes D. (b. 6 Jul 1889 - d. 31 Jan 1975)
Hutchens, Annie Lou Caudle (b. 1 Oct 1883 - d. 20 Jan 1943)
Hutchens, Benjamin (b. 22 May 1923 - d. 21 May 1925)
Hutchens, Cynthia Hampton (b. 28 Oct 1915 - d. 4 Apr 1962)
Hutchens, Edna B. (b. 13 Jun 1915 - d. 1 Apr 1994)
Hutchens, Ernest T. (b. 19 Oct 1908 - d. 24 Nov 1971)
Hutchens, Ethel Mae Blakley (b. 19 Nov 1925 - d. 5 Nov 1945)
Hutchens, Eva (b. 1 May 1915 - d. 5 Jul 1915)
Hutchens, Fairy Rachel (b. 1 Jan 1901 - d. 2 May 1902)
Hutchens, Fannie P. (b. 14 Mar 1921 - d. 14 Sep 1921)
Hutchens, Herbert H "Herby" (b. 12 Aug 1874 - d. 26 Jul 1967)
Hutchens, James (b. 30 Dec 1820 - d. 12 Dec 1893)
Hutchens, John H. (b. 7 Mar 1885 - d. 16 Apr 1952)
Hutchens, Lunsford C. (b. 2 Feb 1918 - d. 9 Jul 1982)
Hutchens, Luzina (b. 11 May 1907 - d. 11 May 1907)
Hutchens, Margie (b. 1914 - d. 1914)
Hutchens, Millie Elizabeth Mathews (b. 13 Oct 1870 - d. 10 Jul 1915)
Hutchens, Nathan C. (b. 14 Feb 1859 - d. 19 Mar 1925)
Hutchens, Permelie W. (b. 17 Jan 1888 - d. 19 Mar 1962)
Hutchens, Ralph G. (b. 21 Oct 1922 - d. 23 Nov 1998)
Hutchens, Ruby A. (b. 29 Jul 1932 - d. 13 Aug 1932)
Hutchens, Treva C. (b. 1 Jun 1911 - d. 27 Oct 1991)
Hutchens, Wesley James (b. 9 Dec 1913 - d. 26 Feb 1999)
Hutchins, Barney (b. 1878 - d. 1935)
Hutchins, Dollie (b. 1900 - d. 1919)
Hutchins, Gurney (b. 1898 - d. 1919)
Hutchins, Margaret (b. 1876 - d. 1919)
Hutchins, Robert (b. 19 Sep 1904 - d. 5 Mar 1983)
Hutchins, T. (b. Unknown - d. Unknown)
Jester, E Locksley (b. 11 May 1939 - d. 24 Apr 1962)
Jester, Everette C (b. 10 Sep 1914 - d. 23 Mar 1962)
Jester, John M (b. 27 Feb 1845 - d. 16 May 1921)
Jester, Julia Ann Cordle (b. 27 Nov 1852 - d. 8 May 1918)
Jester, Nellie Groce (b. 26 Mar 1918 - d. 26 Oct 1992)
Johnson, Nell Williams (b. 19 Oct 1925 - d. 9 Mar 2011)
King, Allie Prim (b. 17 Dec 1892 - d. 22 Mar 1949)
Kirk, Bertha M (b. 21 Oct 1889 - d. 18 May 1976)
Kirk, Infant (b. 23 Feb 1911 - d. 3 Jun 1911)
Kirk, Infant Daughter (b. Unknown - d. 14 Jan 1919)
Kirk, James Bruce (b. 21 Mar 1913 - d. 19 Jan 1916)
Kirk, John Frank (b. 12 Jul 1886 - d. 4 Nov 1963)
Ladd, Lester James (b. 21 Feb 1914 - d. 8 Jan 1978)
Ledbetter, Mary Bates (b. 26 Feb 1914 - d. 4 Oct 1998)
Legains, Emmett R. (b. 16 Oct 1905 - d. 27 Mar 1977)
Legains, Flossie R. (b. 10 Jun 1907 - d. 4 Jan 1976)
Legans, James Monroe (b. 24 Mar 1858 - d. 13 Aug 1934)
Legans, Mary J Myers (b. 3 Feb 1861 - d. 4 Mar 1905)
Long, Arthur Burge (b. 28 Sep 1926 - d. 13 Feb 2008)
Long, Regina Grace (b. 19 May 1938 - d. 22 May 2006)
Matthews, Cecil Welburn (b. 26 Nov 1908 - d. 2 Apr 1989)
Matthews, Ellen Brown (b. 1847 - d. 4 Aug 1927)
Matthews, Isaac Wilburn (b. 25 Jul 1879 - d. 7 Mar 1965)
Matthews, John (b. 22 Oct 1849 - d. 11 Feb 1919)
Matthews, Kernie H. (b. 2 Mar 1900 - d. 20 Jul 1975)
Matthews, Martha F. (b. 1872 - d. 18 Mar 1943)
Matthews, Mozell (b. 18 Aug 1926 - d. 14 Jan 1929)
Matthews, Newell C. (b. 19 Jun 1924 - d. 15 May 1999)
Matthews, Pansy Norman (b. 27 Apr 1915 - d. 10 Jul 2004)
Matthews, Permelia C. (b. 25 Apr 1903 - d. 8 Oct 1974)
Matthews, Roger Bruce (b. 18 Jun 1918 - d. 26 Jun 1949)
Matthews, Ronald Lee (b. 21 Oct 1940 - d. 22 Apr 1998)
Matthews, William C. "Buck" (b. 6 Dec 1928 - d. 11 Jun 1992)
McBride, Georgia C Matthews (b. 27 Sep 1919 - d. 14 Apr 2000)
McCollum, Clay Thomas (b. 1 Jun 1905 - d. 17 May 1951)
McCollum, N. E. "Joe" (b. 3 Aug 1872 - d. 26 Nov 1940)
McCollum, Sallie May (b. 1865 - d. Unknown)
McCollum, Sarah M Hobson (b. 10 Dec 1867 - d. 28 Feb 1934)
McCormick, C. Edward (b. 23 Mar 1913 - d. 21 Mar 1973)
McCormick, Pauline B (b. 5 Sep 1912 - d. 30 Aug 2000)
McGuire, R. Dean (b. 16 Apr 1933 - d. 31 Dec 1993)
Melton, Baxter W. (b. 24 Mar 1912 - d. 23 Jan 1981)
Melton, Daisy B. (b. 10 Aug 1908 - d. 17 Feb 1909)
Melton, Earnest Spencer (b. 7 Nov 1938 - d. 11 Jul 1939)
Melton, Ellis D. (b. 18 Oct 1888 - d. 7 Nov 1902)
Melton, Emmett M. (b. 11 Aug 1894 - d. 22 Jan 1946)
Melton, Fannie P. (b. 18 Feb 1914 - d. 28 Nov 2002)
Melton, Hannah P. Durham (b. 7 Mar 1860 - d. 19 May 1938)
Melton, Haywood L. (b. 24 Feb 1910 - d. 11 Jun 1957)
Melton, Howard Lee (b. 6 May 1936 - d. 11 Jun 1987)
Melton, Ora D. (b. 7 Aug 1895 - d. 2 Jan 1974)
Melton, Parmelia "Mellie" Prim (b. 9 Nov 1889 - d. 29 Mar 1972)
Melton, Richard H. (b. 13 Nov 1886 - d. 21 Dec 1940)
Melton, Robert L. (b. 22 Sep 1878 - d. 10 Nov 1955)
Melton, Rovey (b. 19 Jul 1892 - d. 13 Nov 1903)
Melton, William G. (b. 8 May 1853 - d. 20 Apr 1933)
Miller, Edward Ray (b. 9 Sep 1925 - d. 6 May 1984)
Miller, William (b. 28 Nov 1882 - d. Sep 1953)
Money, Asa Coon (b. 29 Aug 1858 - d. 21 Mar 1949)
Money, Benjamin C. (b. 16 Jul 1875 - d. 8 Dec 1970)
Money, Gurney (b. Unknown - d. Unknown)
Money, M. G. (b. 24 May 1835 - d. 16 Jan 1923)
Money, Sallie Evans (b. 23 Dec 1848 - d. 23 Mar 1927)
Money, Sarah E (b. 16 Dec 1871 - d. 23 Mar 1954)
Money, William B (b. 25 May 1872 - d. 27 Aug 1937)
Moxley, Infant Son (b. Unknown - d. 26 Feb 1930)
Murphy, Celia Carter (b. 16 Sep 1914 - d. 10 Jan 1996)
Murphy, Florence V Brown (b. 25 Feb 1912 - d. 21 Nov 2001)
Murphy, Gorrell Dean (b. 12 Jul 1936 - d. 22 Mar 1996)
Murphy, J. Wesley (b. 25 Mar 1884 - d. 16 Jan 1955)
Murphy, Margaret Bell "Maggie" Groce (b. 14 Feb 1875 - d. 6 Nov 1959)
Norman, Cora Bovender (b. 16 Aug 1875 - d. 18 Jun 1956)
Norman, Elizabeth P. (b. 25 Apr 1867 - d. 24 Dec 1896)
Norman, Inez W. (b. 18 Dec 1922 - d. 19 Oct 1988)
Norman, John Isom, Sr. (b. 13 Oct 1826 - d. 12 Dec 1912)
Norman, Leo C. (b. 2 May 1919 - d. 17 Jan 1999)
Norman, Nancy Radford Apperson (b. 10 Feb 1830 - d. 2 Feb 1889)
Norman, Robert A. (b. Jul 1859 - d. 8 Oct 1903)
Norman, Sanford Ervin (b. 23 May 1869 - d. 18 Jan 1940)
Norman, William Wesley (b. 1894 - d. 1903)
North, James Austin "Jamie" (b. 30 Mar 1972 - d. 18 Jun 1988)
Pardue, Andrew (b. Unknown - d. Unknown)
Pardue, Mary E. (b. Unknown - d. Unknown)
Pardue, Thomas C. (b. 12 May 1837 - d. 22 Nov 1913)
Parker, Annie Dusty Carter (b. 13 Aug 1881 - d. 15 Feb 1935)
Parker, David Harold (b. 18 Mar 1938 - d. 5 Nov 1991)
Parker, Infant (b. Unknown - d. Unknown)
Parker, James A. (b. 18 Jan 1909 - d. 29 Apr 1975)
Parker, Lena M. (b. 18 Nov 1913 - d. 1 Dec 1987)
Parker, Lois Laverne Hutchens (b. 3 Nov 1906 - d. 29 May 2004)
Parker, Loris Elizabeth (b. 27 Jun 2004 - d. 27 Jun 2004)
Parker, Parnelia Pauline (b. 17 Nov 1933 - d. 4 Feb 1937)
Parker, Tandy E. (b. 21 Oct 1879 - d. 29 Jan 1960)
Peele, John Henry (b. 20 Aug 1861 - d. 3 Feb 1943)
Peele, Romie D. (b. 19 Aug 1905 - d. 2 Jun 1978)
Peele, Sallie W. (b. 4 Jul 1910 - d. 25 Jan 1991)
Prim, Clara May (b. 13 Jun 1922 - d. 15 May 1923)
Prim, George Willie (b. 2 Jan 1888 - d. 1 Oct 1972)
Prim, Horace (b. 11 Jun 1926 - d. 19 Apr 1927)
Prim, Ila Rose Vestal (b. 11 Jul 1895 - d. 25 Nov 1976)
Prim, Infant Sons (b. 1915 - d. 1915)
Prim, Roxie Vestal (b. 17 Feb 1891 - d. 4 Oct 1971)
Prim, Roy J. (b. 17 Aug 1894 - d. 18 Jan 1957)
Prim, Windol C. (b. 2 Jun 1911 - d. 13 Jul 1986)
Reece, Amanda (b. 9 May 1859 - d. 18 Dec 1937)
Reinhardt, Daniel Blune (b. 29 Mar 1876 - d. 18 Dec 1945)
Reinhardt, Infant (b. Unknown - d. Unknown)
Reinhardt, Rachel Clementine Groce (b. 5 Nov 1882 - d. 11 Feb 1931)
Rockett, Cline (b. 27 Jun 1911 - d. 24 Dec 1927)
Rockett, Pearl W. (b. 15 Dec 1881 - d. 18 Nov 1960)
Rockett, William L. (b. 9 Mar 1879 - d. 29 Jan 1953)
Rutledge, J. T. (b. 27 Aug 1855 - d. 8 Jan 1940)
Rutledge, Martha J. (b. 26 Jun 1859 - d. 18 Mar 1955)
Rutledge, William Edward, Sr (b. 13 Nov 1887 - d. 2 Apr 1966)
Salmons, Nellie A. (b. 14 Mar 1937 - d. 17 Jun 1992)
Scott, Buford Buron (b. 31 May 1934 - d. 10 Mar 2001)
Scott, Herman Buford (b. 5 Dec 1914 - d. 10 Nov 1967)
Scott, J. D. (b. 15 Feb 1936 - d. 17 Sep 1999)
Scott, Minnie Leamon (b. 31 Aug 1910 - d. 11 Nov 1990)
Scott, Terry W. (b. 21 Sep 1958 - d. 29 Mar 1997)
Scott, Wendy E. (b. 17 Aug 1962 - d. 15 Apr 1995)
Shore, Bonnie Ruth Matthews (b. 7 Jan 1922 - d. 9 Sep 2010)
Shore, Infant (b. Apr 1914 - d. Dec 1916)
Shore, John B. (b. 15 Apr 1918 - d. 18 Oct 2002)
Shore, John Irving (b. 5 Nov 1862 - d. 1 Mar 1932)
Shore, Malissa M. (b. 14 Aug 1865 - d. 6 Jul 1911)
Shore, Mary Jane (b. 22 Nov 1937 - d. 9 Jan 1999)
Shore, Thomas G. (b. Apr 1881 - d. 20 Dec 1894)
Sizemore, Eloyse May (b. 13 May 1913 - d. 12 May 1915)
Smith, Infant (b. Jan 9 - d. Jan 9)
Smith, Ruth Vestal (b. 6 Feb 1936 - d. 19 Aug 2009)
Stoneman, Avinell (b. 26 Dec 1923 - d. 9 Mar 1925)
Styers, Ethel W. (b. 15 Nov 1895 - d. 3 Apr 1986)
Styers, Fred Franklin (b. 6 Dec 1926 - d. 3 Nov 1942)
Styers, Infant Son (b. 5 Jan 1952 - d. 8 Jan 1952)
Styers, Lucy Pearl (b. 17 Nov 1921 - d. 6 May 1938)
Styers, Luther Amelius "Duck" (b. 19 Sep 1918 - d. 6 Oct 1994)
Styers, Marshall Walter "Mock" (b. 26 Mar 1914 - d. 14 Sep 1992)
Styers, Minnie Ruth Brown (b. 2 May 1922 - d. 6 Feb 1975)
Styers, Ralph Gray (b. 30 Sep 1929 - d. 19 Apr 1957)
Styers, Thomas Walter (b. 12 Oct 1874 - d. 7 Nov 1946)
Styers, Thomas Walter, Jr (b. 10 Sep 1931 - d. 17 Apr 1992)
Vestal, A. Boyd (b. 15 Apr 1831 - d. 24 Nov 1901)
Vestal, Alexander Boyd (b. 15 Apr 1831 - d. 24 Nov 1901)
Vestal, Charles H. (b. 20 Sep 1910 - d. 17 Jun 1949)
Vestal, Child (b. 1906 - d. 1916)
Vestal, Dotson (b. 1899 - d. 1969)
Vestal, E. B. (b. 28 Jul 1866 - d. 7 May 1943)
Vestal, E. J. (b. 25 Sep 1869 - d. 21 Apr 1957)
Vestal, Elizabeth Ann Geliah "Betsy" Glenn (b. 4 Nov 1834 - d. 11 Feb 1928)
Vestal, Everet M. (b. 10 Feb 1906 - d. 10 Feb 1906)
Vestal, Herman J. (b. 29 May 1905 - d. 24 Sep 1966)
Vestal, Infant (b. 9 Mar 1908 - d. 9 Mar 1908)
Vestal, Infant (b. 13 Oct 1909 - d. 13 Oct 1909)
Vestal, Infant Son (b. 12 Nov 1901 - d. 25 Nov 1901)
Vestal, Infant Son (b. Feb 1906 - d. 21 Oct 1916)
Vestal, James E. "Jim" (b. 18 May 1934 - d. 5 Mar 2000)
Vestal, K. A. (b. 29 Jul 1866 - d. 21 Jul 1940)
Vestal, Maggie W. (b. 1908 - d. 2004)
Vestal, Margaret Caudle (b. 3 Feb 1868 - d. 1 Aug 1941)
Vestal, N. N. (b. 11 Oct 1858 - d. 7 Apr 1924)
Vestal, R. L. (b. 26 May 1859 - d. Unknown)
Vestal, Ruby W. (b. 16 Apr 1910 - d. 8 Feb 2000)
Vestal, Thomas B. (b. 1880 - d. 1957)
Vestal, Tommy, Jr (b. 2 Jun 1930 - d. 24 Dec 1985)
Vestal, Treva Spillman (b. 31 Oct 1939 - d. Unknown)
Wall, Benbow M. (b. 12 Sep 1894 - d. 25 Apr 1956)
Wall, Hubert M. (b. 1 Aug 1916 - d. 25 Apr 1984)
Wall, Maude A. (b. 4 Sep 1899 - d. 13 Feb 1980)
Warden, Percie Sizemore (b. 13 Mar 1887 - d. 26 Jun 1969)
Warden, William Edgar (b. 8 Nov 1882 - d. 24 Jan 1936)
Watt, Pauline C. (b. 6 Jun 1917 - d. 8 Jun 2010)
Willard, Archie Lee (b. 14 Sep 1922 - d. 30 Nov 1989)
Willard, Bessie Carter (b. 11 May 1893 - d. 24 Jan 1976)
Willard, Brad (b. 12 Jan 1980 - d. 12 Jan 1980)
Willard, Brent (b. 12 Jan 1980 - d. 12 Jan 1980)
Willard, Charlie Edward (b. 24 Jan 1915 - d. 19 Oct 1996)
Willard, E. Matilda "Til" Bovender (b. 7 Apr 1828 - d. 10 Nov 1897)
Willard, Elkanah (b. 4 Feb 1827 - d. 24 Mar 1904)
Willard, Goregina Gowland (b. 29 Sep 1923 - d. 23 Nov 1975)
Willard, Irene Beane (b. 12 Nov 1928 - d. 24 Oct 2007)
Willard, J Charles (b. 4 Sep 1954 - d. 12 May 2009)
Willard, Jimmy Edward (b. 18 Jun 1942 - d. 21 Jun 1942)
Willard, Margaret Lucille Murry (b. 21 Aug 1922 - d. 10 Mar 2005)
Willard, Rossie William (b. 30 Sep 1913 - d. 16 Sep 1983)
Willard, Viola Elizabeth Wolfe (b. 9 Mar 1922 - d. 27 Apr 2011)
Willard, William R. (b. 15 Nov 1884 - d. 13 May 1966)
Williams, Ambrose Wade (b. 13 Mar 1925 - d. 13 Mar 1997)
Williams, Beecher (b. 1902 - d. 1915)
Williams, Bertha (b. 18 Oct 1882 - d. 12 Feb 1928)
Williams, Debbie Yvonne (b. Unknown - d. 5 Feb 1953)
Williams, Flora P Bovender (b. 6 Apr 1881 - d. 12 Sep 1915)
Williams, Gorrell (b. 1901 - d. 1913)
Williams, Hesekiah Radford "H R" (b. 1 Jun 1840 - d. 3 Dec 1915)
Williams, Hobert Bonson (b. 16 Nov 1930 - d. 4 Dec 2004)
Williams, Ida Jane (b. 22 Feb 1911 - d. 29 Jan 1970)
Williams, Ida Mae Bovender (b. 3 May 1888 - d. 24 Sep 1947)
Williams, Jackson J. (b. 1873 - d. 1962)
Williams, James B. (b. 10 Feb 1850 - d. 4 Mar 1921)
Williams, John Wade (b. 23 Nov 1914 - d. 12 Feb 2005)
Williams, John Wesley (b. 1 May 1908 - d. 15 Mar 2003)
Williams, Joshua Wade (b. 2 Oct 1845 - d. 10 May 1925)
Williams, Laura Howell (b. 20 Jul 1873 - d. 30 Oct 1964)
Williams, Laura J. (b. 21 Mar 1860 - d. 2 Dec 1903)
Williams, Luda Bovender (b. 20 Jun 1852 - d. 14 Nov 1947)
Williams, Luther (b. 10 Dec 1910 - d. 11 Jan 1911)
Williams, Luther Montgomery (b. 24 Jun 1910 - d. 25 Aug 1964)
Williams, Mark Edwards (b. 30 Sep 1960 - d. 20 Mar 1961)
Williams, Mary J. (b. 16 Jul 1912 - d. 19 Apr 1979)
Williams, Mattie Ann Scott (b. 26 Nov 1896 - d. 16 Sep 1988)
Williams, Mattie Wilmoth (b. 8 Apr 1915 - d. 2 Jan 2008)
Williams, Miles Jason (b. 1870 - d. 1960)
Williams, Minnie V. (b. 1878 - d. 1963)
Williams, Nancy Katherine Hutchens (b. 1871 - d. 1942)
Williams, Nancy S. (b. 28 Dec 1851 - d. 9 Oct 1911)
Williams, Newell (b. 6 Apr 1892 - d. 5 Nov 1960)
Williams, Opal Adams (b. 26 Jan 1913 - d. 21 May 1973)
Williams, Opal H. (b. 11 Apr 1907 - d. 9 Sep 1986)
Williams, P. G. (b. 18 Jul 1823 - d. 26 Sep 1905)
Williams, Pearl Kirk (b. 6 Feb 1917 - d. 19 Sep 1996)
Williams, Philip L (b. 12 Jun 1855 - d. 1 Mar 1899)
Williams, R. L. (b. 2 Aug 1887 - d. 4 Oct 1944)
Williams, Radford Roosevelt (b. 9 Oct 1900 - d. 27 May 1988)
Williams, Robin Annette (b. 3 Jun 1964 - d. 9 Mar 1999)
Williams, Ruby E. Angell (b. 13 Jan 1911 - d. 29 Nov 1969)
Williams, Sallie Bet Styers (b. 5 May 1912 - d. 29 Apr 2009)
Williams, Sarah Dixon (b. 17 Apr 1839 - d. 26 Aug 1930)
Williams, Sherrill Carl (b. 20 Aug 1908 - d. 6 Jan 1975)
Williams, Sidney Pierson (b. 21 May 1912 - d. 21 Nov 1980)
Williams, T. Perry (b. 1 Aug 1911 - d. 23 Apr 1990)
Williams, Vida Lee (b. 16 Mar 1895 - d. 7 May 1957)
Williams, W. Laster (b. 22 Feb 1912 - d. 13 Aug 1995)
Williams, Walter (b. 1909 - d. 1911)
Williams, Wesley (b. 1903 - d. 1905)
Williams, William Montgomery (b. 17 May 1872 - d. 18 Feb 1951)
Wiseman, Clyde Hauser (b. 15 May 1899 - d. 13 Apr 1944)
Wiseman, Fred Eugene (b. 24 Dec 1931 - d. 16 Aug 1934)
Wiseman, Goldie E Carter (b. 5 Apr 1908 - d. 18 Nov 1980)
Zachary, A. Earlie (b. 11 Mar 1898 - d. 3 Jan 1970)
Zachary, Sarah Stella Brown (b. 14 Sep 1897 - d. 30 Jun 1953)
Web page updated 3 January 2016
Index of All Cemeteries
Alphabetical Index of All Burials
Previous Page