Index of All Cemeteries
Alphabetical Index of All Burials
Previous Page
Use the following to search across all the cemeteries listed.
Example: "Smith, Roger" (yes, use the quotes)
001 FARRINGTON and PATTERSON FAMILY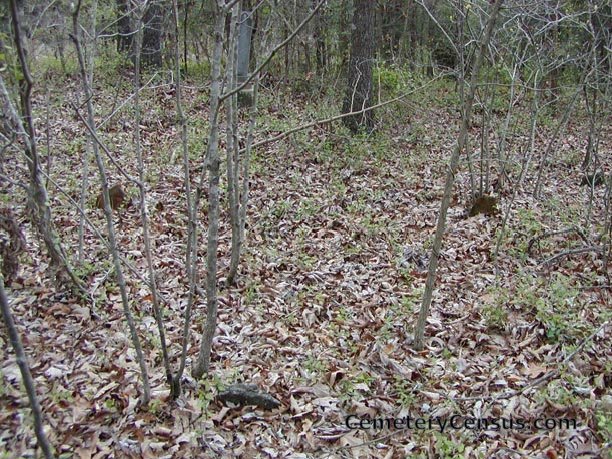 Location: Patterson Mill Rd, Boonville, Yadkin Co., NC.

Coordinates: 36d 11m 33.0s N; 80d 41m 39.6s W Click here for Google maps

Directions: From intersection of NC Hwy 67 and Old US Hwy 601 in Boonville, NC, go south on Hwy 601 for abt 2 miles and turn right on Patterson Mill Rd (SR 1373). Then go abt .3 miles and pull off the road just before the trash transfer station on the right. The graves are in a clump of trees on the right on a slight hill next to the transfer station. Very hard to climb up the hill.

View #2 of the cemetery.

Surveyed by Bob Carter on March 30, 2007.

Also known as: Greenberry Patterson Graveyard.
Township or district: Boonville.
Public or Private: Private Property.
GPS Accuracy (ft.): 15.
Elevation above sea level (ft.): 963.
Status of cemetery: Abandoned.

Located in a small grove of trees immediately on the right before a county trash station. Occupants are Greenberry Paterson II (b. 9-15-1775, d. 12-19-1852) and his sister Rebecca Patterson Harding Creson (b. 9-15-1777, d. 10-24-1835); Mariada (Meredith) Franklin Farrington (b. abt. 1827, d. 5-16-1902, aged 75) and 1st wife Lydia Carter (b. 5-15-1825, d. 5-13-1893), and 2nd wife Mary E. Speer (burial unknown); and several unknown graves that are field stones.


Creson, Rebecca Patterson (b. 15 Sep 1777 - d. 24 Oct 1835)
wife of 1st Rene Harding and 2nd Joshua Creson. daughter of Greenberry Patterson I and Rebecca Bohannon.

Farrington, Lydia Carter (b. 15 May 1825 - d. 13 May 1893)
Age 77 yrs. 1st wife of Meredith Franklin Farrington

Farrington, Meredith Franklin (b. abt 1827 - d. 16 May 1902)
Age 75 yrs. husband of 1st Lydia Carter Farrington, 2nd Mary Ellen Speer Farrington.

Patterson, Greenberry, II (b. 15 Sep 1775 - d. 19 Dec 1852)
husband of Catherine Creson Patterson. son of Greenberry Patterson I and Rebecca Bohannon.
Web page updated 20 August 2016
Index of All Cemeteries
Alphabetical Index of All Burials
Previous Page