Index of All Cemeteries
Alphabetical Index of All Burials
Previous Page
Use the following to search across all the cemeteries listed.
Example: "Smith, Roger" (yes, use the quotes)
003 ROSE - BEST FAMILY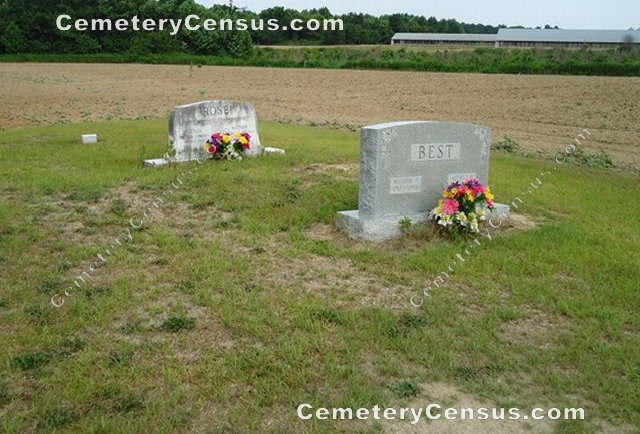 Location - Located across the road from 958 Selah Church Rd, Grantham.

Coordinates: 35d 18m 44.1s N; 78d 12m 23.1s W Click here for Google maps

Survey by Laurie Knight in July 2011.

Credit also given to:
JR and TD White for initially finding the cemetery.
Permission granted by K. Best Family.
Photos by Laurie Knight and JR & TD White.


Best, Althea Elizabeth Rose (b. 9 Jun 1915 - d. 8 Jul 2004)
Wife of William Theophilus Best. Daughter of George Pinkney Rose and Sarah Holmes Rose.

Best, William Theophilus "Buddy" (b. 16 Oct 1913 - d. 16 Jul 1976)
Huisband of Althea Elizabeth Rose Best. Son of Theophilus Frederick Best and Mary Elizabeth Blackman Best.

Rose, George Pinkney (b. 19 Mar 1895 - d. 16 Jun 1928)
Husband of Sarah Elizabeth Holmes Rose. Son of James Ingram Rose and Margaret Ann Cox Rose. In Memory of Father and Mother. Closeup of marker.

Rose, Sarah Elizabeth Holmes (b. 15 Jun 1893 - d. 9 Apr 1944)
Web page updated 10 April 2017
Index of All Cemeteries
Alphabetical Index of All Burials
Previous Page