Index of All Cemeteries
Alphabetical Index of All Burials
Previous Page
Use the following to search across all the cemeteries listed.
Example: "Smith, Roger" (yes, use the quotes)
002 TWITTY FAMILY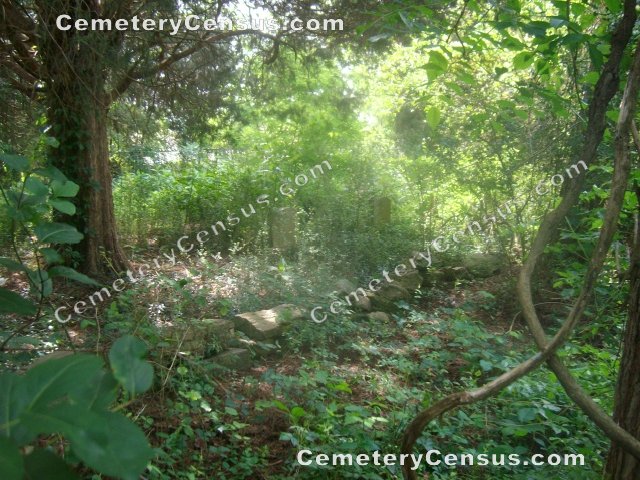 Location - off SR-1152 (Duke Dr), about 2.0 miles from SR-1113 (Liberation Rd).

Coordinates: 36d 24m 34.2s N; 78d 16m 01.8s W Click here for Google maps

Directions: From exit 223 on Interstate 85 in Warren County, Turn right from I-85 North, or left from I-85 south onto Manson Drewry Rd. Continue 0.9 mile bearing slight left onto US #1, taking the 1st right onto Collins Rd. Take the 2nd right onto Manson-Axtell Rd. Turn left to stay on Manson-Axtell Rd. Take the 2nd left onto Liberation Rd. Turn left onto Duke Drive. Keep left to the Tennis Court parking lot. Park and walk up the path approx. 50 yards. Cemetery is in the large grove of trees. Race-White.

Cemetery is grown up with saplings and thick underbrush. There is a stone wall surrounding the cemetery. There are at least 8 graves marked only with fieldstones.

Survey and photos by Joey and Dee Dickerson on 12 May 2012.


Thrower, Fitts Henry (b. 6 Aug 1849 - d. 18 Jun 1853)
Aged 3 yrs, 10 mos, 12 days, Son of William E. and Harriet Fitts Thrower
Aged 29 yrs, 6 mos, 28 days. "Our loss but His eternal gain"
Aged 4 mos, 20 days, Son of William E. and Harriet Fitts Thrower.
Aged 71 years. Wife of William T. Twitty
Daughter of Robert C. and Sarah Palmer Twitty.
Husband of Sarah F. Palmer Twitty. Co. E, 1st NC Cavalry, CSA.
Wife of Robert Cheek Twitty
Web page updated 4 November 2017
Index of All Cemeteries
Alphabetical Index of All Burials
Previous Page