Index of All Cemeteries
Alphabetical Index of All Burials
Previous Page
Use the following to search across all the cemeteries listed.
Example: "Smith, Roger" (yes, use the quotes)
312 HUTSPETH FAMILY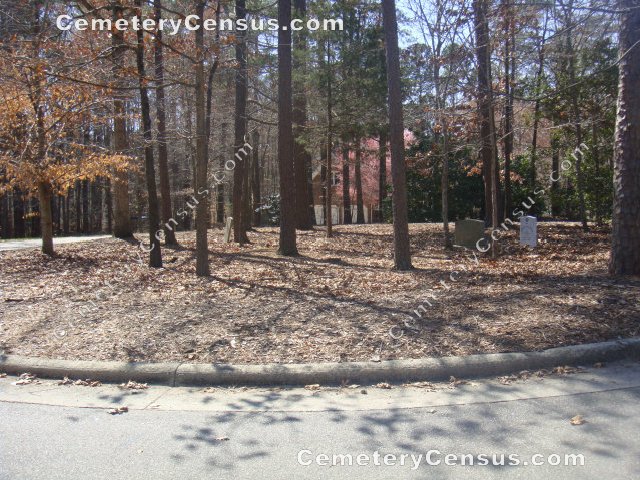 Location - on the cul-de-sac of Carlow Court in Raleigh.

Coordinates: 35d 56m 29.3s N; 78d 40m 26.0s W Click here for Google maps

The small cemetery is in the middle of the cul-de-sac. It is lightly wooded, and needs little maintenance.
The cemetery was once part of the land of Robert Hutspeth.
The graveyard is owned by the Stonebridge Homeowner's Association, in Raleigh, N.C.

This information was compiled from the 3 headstones located in the cemetery. There are a couple of unmarked graves there as well.

Survey compiled by John A. Perry in March 2011.


Hutspeth, Elcie B. (b. 1845 - d. 1911)
Birth year on stone (1851) is incorrect; correct year is 1845.

Hutspeth, Robert (b. 9 May 1842 - d. 25 Aug 1922)
Co. I, 3rd NC Infantry, C.S.A.

Medlin, Annie E. (b. 13 Oct 1869 - d. 6 May 1921)
Wife of B.M. Medlin. "May we meet again, in that bright heavenly home, where she waits 'till that great day, to greet us when we come."
Web page updated 28 July 2016
Index of All Cemeteries
Alphabetical Index of All Burials
Previous Page