Index of All Cemeteries
Alphabetical Index of All Burials
Previous Page
Use the following to search across all the cemeteries listed.
Example: "Smith, Roger" (yes, use the quotes)
311 MAYNARD FAMILY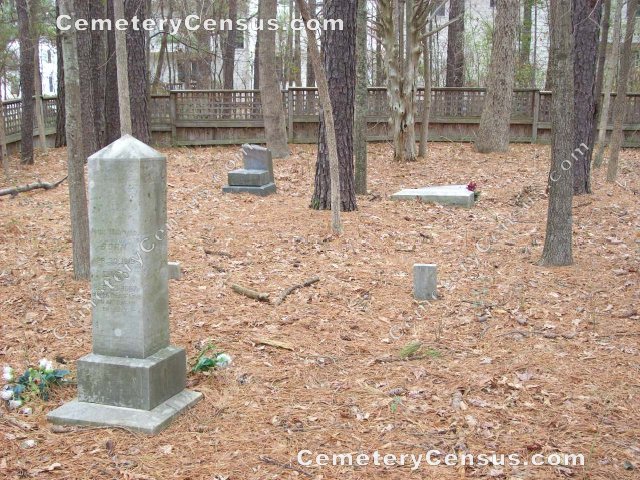 Location - in Park Village Subdivision, Cary.

Coordinates: 35d 46m 26.7s N; 78d 50m 51.4s W Click here for Google maps

Directions: From Hwy, 64, Apex Intersection; Turn north onto Davis Drive (SR-1613). Go 1.7 miles and turn left onto Park Village Dr. Go a short distance to a right turn on Halls Mill Dr., and then turn right on Silk Hope Dr. The cemetery is on the right side of the road on a rise, fenced in with a gate for access, directly across from the intersection of Silk Hope Rd. and Snow Camp Dr.

There are at least six graves; Two are marked only by upright rough stones. A third tombstone is laying face down and off it's base and unreadable.

Survey and photographs submitted by Shirley Olson in March 2011. Thanks to Amanda Megery for pointing out this tidy little cemetery.


Maynard, Amos (b. 30 Apr 1819 - d. 23 Feb 1887)
Husband of Kiddy Maynard. Closeup of inscription.
Wife of Amos Maynard. Closeup of inscription.
(toppled and face down on ground)
Web page updated 28 July 2016
Index of All Cemeteries
Alphabetical Index of All Burials
Previous Page