Index of All Cemeteries
Alphabetical Index of All Burials
Previous Page
Use the following to search across all the cemeteries listed.
Example: "Smith, Roger" (yes, use the quotes)
305 WATKINS FAMILY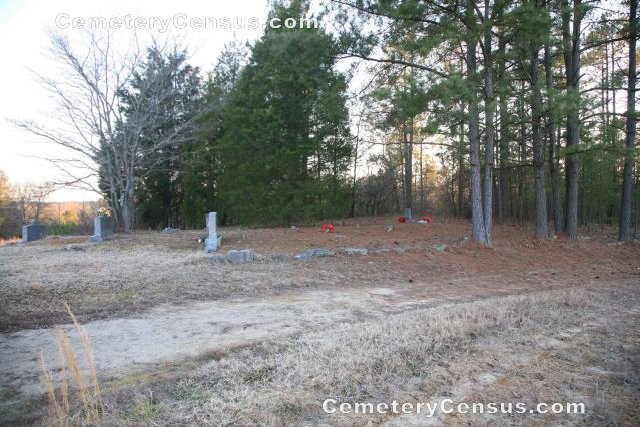 Location - on Stells Rd in the Wake Crossroads community.

Coordinates: 35d 53m 08.5s N; 78d 29m 35.3s W Click here for Google maps

Directions: From 540 take 401 exit North to a right [heading East] onto Mitchell Mill Rd. Past the Wake Crossroads intersection, bear left onto Louisbury Rd [not Louisburg Rd.] Make a right onto Stells Rd almost to it's end. Cemetery is on the right.

The cemetery is outlined by old stones on an embankment. There are numerous fieldstones that probably mark many unknown burials.

Surveyed and photographed by Mrs. Deborah Scott Spencer with assistance from Preston Wright on 20 February 2010.


Faison, Ector Edwin (b. 29 Mar 1879 - d. 5 Dec 1944)
Husband of Eula Watkins Faison. Footstone: Father. (dates from death records)
Wife of Ector Edwin Faison. Footstone: Mother. [maiden name = Watkins per Preston Wright]. (dates from death records)
Husband of Bessie Davis Hagwood. "Beloved Husband". "Rest In Peace"
Husband of Ethel Watkins Medlin
Wife of E. Howard Medlin [maiden name = Watkins per Preston Wright]
"Our Mama". (Per death certificate, her full name was Ruby Neva Watkins Perry, daughter of A.J. Watkins and Annie E. Stell. She died at Mary Elizabeth Hospital of toxemia while pregnant.)
Husband of Annie E. Watkins
Wife of Andrew J. Watkins. (Per death certificate, she is the daughter of Wesley Stell and Mary E. Peebles. Dates: b. 24 Sep 1873, d. 29 Oct 1944.)
Shared burial plot outlined in field stones
Shared burial plot outlined in field stones
Shared burial plot outlined in field stones
Shared burial plot outlined in field stones
Wife of W. Marvin Watkins
Husband of Nellie H. Watkins
Web page updated 28 July 2016
Index of All Cemeteries
Alphabetical Index of All Burials
Previous Page