Index of All Cemeteries
Alphabetical Index of All Burials
Previous Page
Use the following to search across all the cemeteries listed.
Example: "Smith, Roger" (yes, use the quotes)
304 UPCHURCH, KEARNEY FAMILY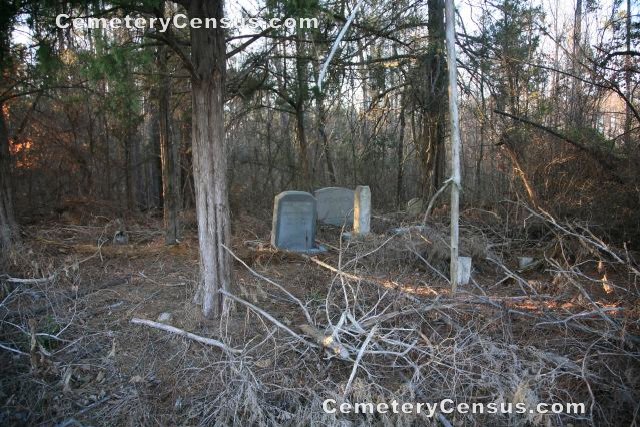 Location - about 50 feet north of Buffaloe and Forestville Roads intersection in St. Matthews Twp, a few miles south of Wake Crossroads.

Coordinates: 35d 50m 42.5s N; 78d 30m 48.5s W Click here for Google maps

Directions: Take I-540 to Buffaloe Rd exit, turn left [heading north] onto Forestville Rd. Cemetery will be on left in the woods.

Surveyed and photographed by Mrs. Deborah Scott Spencer with assistance from Preston Wright on 20 February 2010.

View #2 of the cemetery. View #3 of the cemetery. View #4 of the cemetery.

There are numerous fieldstones and manmade markers that probably mark many unknown burials. The cemetery is abandoned and unkempt. Many fallen trees and undergrowth litter the cemetery.


Dodd, Emma Watson (b. 7 Apr 1862 - d. 2 Aug 1949)
Upchurch, Emily Perry (b. 1 Jun 1813 - d. 8 Dec 1872)
Footstone with initials: O.P.W.
Obelisk toppled over, laying on ground. "Blessed are the pure in heart.". Footstone: E.C.W.
Web page updated 28 July 2016
Index of All Cemeteries
Alphabetical Index of All Burials
Previous Page