Index of All Cemeteries
Alphabetical Index of All Burials
Previous Page
Use the following to search across all the cemeteries listed.
Example: "Smith, Roger" (yes, use the quotes)
295 GILL AND DUNN FAMILY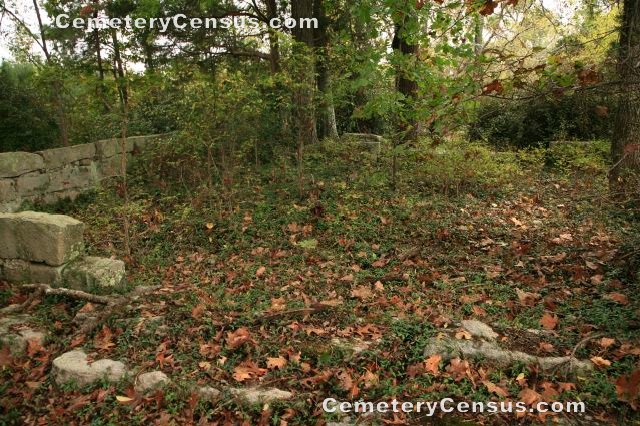 Location - a little west of the intersection of Burlington Mills Rd (SR-2045) and Ligon Mill Rd (SR-2044).

Coordinates: 35d 55m 12.6s N; 78d 31m 43.6s W Click here for Google maps

Directions: from Capital Blvd (US Hwy 1) turn east onto Burlington Mills Rd. Before reaching Ligon Mill Rd, turn into the first dirt path on the left that forms a half moon drive. Cemetery is on your left enclosed by an old stone wall.

Surveyed and photographed by Mrs. Deborah Scott Spencer in October 2009. Additional information about graves outside the stone wall provided by Doug Snyder.

There are no graves with readable inscriptions. At least six graves are discernable. There are more graves on the back side of of the stone wall (approximately 4-6 more), and also approximately 30 more graves in the woods on the left side. These are all marked with field stones at the head or foot of each grave. You can make out the deep depressions for the graves. These may have been plantation workers or slaves,

Nearby No Trespassing signs are posted by the Smith Creek Hunting Club.

Previous land owners: Nathaniel Dunn, Peterson and Elizabeth High Dunn, William and Junietta Dunn Smith [operating a Cotton Gin on the premises], David D. Gill and Ella Dunn Gill, John R. Dunn, John C. and Frances C. Gill Fort, as well as many of their descendants. Most are buried at Forestville Baptist Church Cemetery.


Unknown, ?? (b. - d. )
Web page updated 28 July 2016
Index of All Cemeteries
Alphabetical Index of All Burials
Previous Page