Index of All Cemeteries
Alphabetical Index of All Burials
Previous Page
Use the following to search across all the cemeteries listed.
Example: "Smith, Roger" (yes, use the quotes)
279 THOMPSON MILL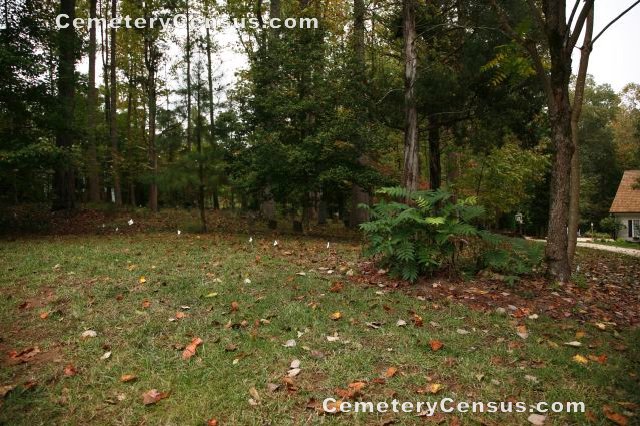 Location - Laurelford Lane off of Thompson Mill Rd., Wake Forest.

Coordinates: 35d 58m 52.0s N; 78d 33m 52.1s W Click here for Google maps

Directions: Head North onto Thompson Mill Road from Hwy 98 to Laurelford Lane to the end of the cul-de-sac. Cemetery will be on the left in a front yard, sitting back a ways in the front yard and is in a partially wooded area.

Surveyed and photographed by Mrs. Deborah Scott Spencer on 16 Oct 2009.

Notes: The homeowner has chosen to include the cemetery within the boundaries of their recently installed electronic fence for their dogs to use. Cemetery is on private property and permission must be asked of the property owner.


Crenshaw, John Martin (b. 25 Jul 1822 - d. 28 Jan 1910)
Crenshaw, Sarah Brodie (b. 30 Mar 1783 - d. 8 May 1857)
Wife of William Crenshaw. Closeup of inscription.

Crenshaw, William (b. 1845 - d. 1858)
Son of Mary and John M. Fleming. "How many hopes lie buried here"

Crenshaw, William (b. 19 Jul 1783 - d. 16 Jul 1861)
Husband of Sarah Brodie Crenshaw. Closeup of inscription.

Crenshaw, William M. (b. 12 Feb 1812 - d. 9 Aug 1878)
Buried next to daughter Mary Ann Fleming

Fleming, John M. (b. 1804 - d. 1862)
Masonic symbol at the top of his tombstone

Fleming, John Martin (b. 7 Jan 1836 - d. 18 Mar 1921)
Husband of Nannie McK. Fleming

Fleming, Mary Ann Crenshaw (b. 1806 - d. 1874)
Wife of John M. Fleming and Daughter of Sallie Brodie and William Crenshaw

Fleming, Mary B. (b. 12 Feb 1861 - d. 24 Jul 1899)

Fleming, Nannie McK. (b. 21 Dec 1837 - d. 20 Jan 1899)
Wife of John Martin Fleming

McKay, Claude (b. 1871 - d. 1872)
Son of Leaonora Fleming and D. McN. McKay

Thompson, A. F. (b. 10 Apr 1845 - d. 29 Jun 1880)

Thompson, Etta Francis (b. 15 May 1862 - d. 31 Jan 1926)

Thompson, F. W. (b. 9 Mar 1808 - d. 4 Dec 1886)

Thompson, George W. (b. 4 Dec 1804 - d. 5 Dec 1892)

Thompson, Henry A. (b. 4 Dec 1841 - d. 4 Mar 1872)

Thompson, Isabella C. (b. 8 Aug 1840 - d. 11 Aug 1916)

Thompson, L. C. (b. 25 Jan 1855 - d. 12 May 1855)

Thompson, M. J. (b. 23 Feb 1818 - d. 24 Jun 1878)

Thompson, Mary W. (b. 1848 - d. 1851)

Thompson, Michael (b. 15 Jan 1817 - d. 22 Jul 1877)

Thompson, R. F. (b. 29 Mar 1831 - d. 20 Oct 1869)

Thompson, S. E. (b. 3 Nov 1841 - d. 11 Jul 1860)

Thompson, Sanford W. - M.D. (b. 2 May 1852 - d. 15 Apr 1926)

Thompson, V. F. (b. 4 May 1843 - d. 2 Jul 1865)

Unknown, ?? (b. - d. )

Unknown, ?? (b. - d. )

Unknown, ?? (b. - d. )

Unknown, ?? (b. - d. )

Young, Henry A. (b. 22 Feb 1822 - d. 2 Nov 1905)

Young, Henry A. (b. 10 Oct 1834 - d. 10 Oct 1836)
Web page updated 28 July 2016
Index of All Cemeteries
Alphabetical Index of All Burials
Previous Page