Index of All Cemeteries
Alphabetical Index of All Burials
Previous Page
Use the following to search across all the cemeteries listed.
Example: "Smith, Roger" (yes, use the quotes)
262 WILLIAMS - NICHOLS FAMILY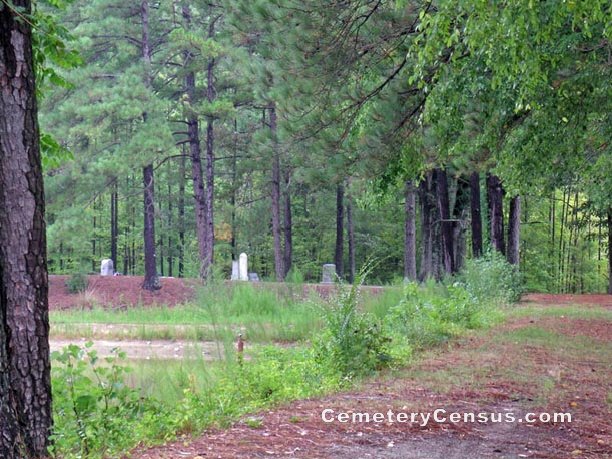 Location - in St. Matthews township, on Massey Farm Rd. off of Marks Creek Rd. near Knightdale.

Coordinates: 35d 47m 46.6s N; 78d 27m 27.7s W Click here for Google maps

Directions: Marks Creek Rd. runs from Hwy 64 Business (Knightdale Blvd) south to Poole Rd. On the west side of Marks Creek Rd. you will find an easment to the backwoods area and cemetery, labeled Massey Farm Rd.

The area is heavily posted and you need the owner's permission to enter.

Surveyed by Wayne J. Schulz in September 2008.


Massey, Lois W. (b. 30 Jun 1923 - d. reserved)
Massey, Marcus Raines (b. 9 May 1921 - d. 23 Mar 2002)
Nichols, Anna Belle (b. 24 Aug 1944 - d. 8 Jan 2001)
Nichols, Mildred W. (b. 3 Nov 1911 - d. 31 Dec 1993)
Nichols, Peter Paul (b. 23 Oct 1942 - d. 9 Jul 1994)
Nichols, Peter Paul, II (b. 29 Feb 1916 - d. 15 Mar 1962)

Upchurch, Elizabeth (b. - d. )

Upchurch, Harriett (b. - d. )

Williams, Ann E. (b. 14 Feb 1844 - d. 17 May 1929)

Williams, Anne Belle K. (b. 5 Jun 1884 - d. 19 Feb 1966)

Williams, C. Sydney (b. 4 Oct 1919 - d. 21 Jan 2003)

Williams, Charles S. (b. 6 Apr 1841 - d. 17 Jan 1929)

Williams, Charles Y. (b. 27 Jun 1887 - d. 20 Jun 1962)

Williams, Corinna (b. 4 Mar 1875 - d. 12 Apr 1905)

Williams, Estelle P. (b. 18 May 1921 - d. reserved)

Williams, J. Marshall (b. - d. )

Williams, Lucian B. (b. 25 Apr 1878 - d. 20 Mar 1938)

Williams, Mary A. (b. 25 Jul 1880 - d. 2 Mar 1954)

Williams, Robert Macon (b. 23 Oct 1871 - d. 4 Oct 1911)
Web page updated 28 July 2016
Index of All Cemeteries
Alphabetical Index of All Burials
Previous Page