Index of All Cemeteries
Alphabetical Index of All Burials
Previous Page
Use the following to search across all the cemeteries listed.
Example: "Smith, Roger" (yes, use the quotes)
257 BAPTIST GROVE CHURCH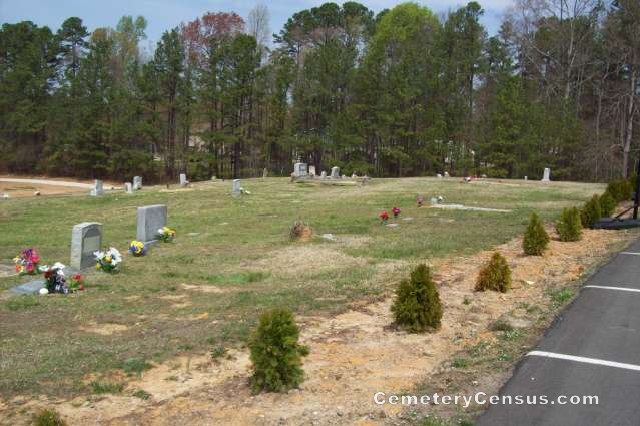 Location - 7109 Leesville Rd, Leesville Township, at the intersection of Lynn Rd (SR-1819) and Leesville Rd (SR-1822).

Coordinates: 35d 52m 25.0s N; 78d 42m 13.0s W Click here for Google maps

Directions.: From the intersection of Lynn Rd. (SR 1819) and Hwy. 70 West, Raleigh, take Lynn Rd. for about 1 mile to the intersection of Lynn Rd. and Leesville Rd. (SR 1822). Turn left onto Leesville Rd. to the church and cemetery which are immediately visible on the left side of the road .

The church property contains 6.43 acres in an irregular shape which fronts on Leesville Rd. and has side access to Lynn Rd. There is a paved parking lot behind the church with ample parking. The cemetery is owned by the church, is currently in use, and has room for more burials. The cemetery slopes down hill away from the church and has some erosion problems but is generally well kept and tidy.

View #2 of the cemetery. View of the church. View #2 of the church. View of the church sign.

Surveyed and photographed by Shirley Olson on March 28, 2008.

1 unreadable stone
1 unreadable next to Milton Chavis
1 broken stone next to Mildred Evans


Alexander, Mary E. (b. 6 Oct 1943 - d. 11 Jan 1997)
Blalock, Daisy (b. 1913 - d. 1999)
26 yrs., shared with Irving Brewer
age 16. son of Joe and Alice Brewer
shared with Dock Brewer, stone broken
son of Joe and Alice Brewer
shared with Hermon Cannady
Beloved Wife and nurturing mother .
shared with Carson Cannady
shared with Theoga Carrington. Closeup of inscription.
shared with Daisy Bell Carrington
daughter of Garfield and Luella Chavious
age 39, Wife of K. C. Chavious
A loving father and Husband
Husband of Rubistein W. Clark. Capt US Army WW-II
Wife of Nathaniel C. Clark
Stm 1 US Navy, "Our dearly beloved Husband, father and grandfather"
Infant of ?? Grissons. stone is broken
no dates, inscribed on Bettie C. Hayes stone
Wife of Thornie G. Holden. Eastern Star emblem.
Loving Wife, mother and friend
Husband of Gladyes K. Holden. Masonic emblem.
age 59, "Remembrance of our loving mother"
Tec 5 US Army WW-II Bronze Star Medal with 3 Oak Leaf Clusters
Husband of Daisy Bell Leathers
PFC US Army, "Loving Husband, beloved father"
shared with Clifton and Gladys Moore
shared with Clifton and Fannie Moore
Aunt Cindy. Erected by J.B. Cullins
Mess Attendant US Navy, Spanish American War
Husband of Nixie Peebles.
Beloved Miss Maggie. Daughter of Edward Peebles and Nixie Peebles.
Wife of Willie Peebles, Sr.
Mother. Wife of Edward Peebles.
Husband of Martha R. Peebles
daughter of Lucinda Smith
stone is broken into fragments
son of S.G. and Virginia Stephenson
daughter of S.G. and Virginia Stephenson
NC PFC Co C 55 Engr Tng Bn WW-II
NC S-Sgt 3659th QM Truck Co WW-II
Husband of Artelia Evans Thompson
beloved Husband and father
Wife of Dempsey T. Turner
Husband of Bettie B. Turner
small grave; may be baby.
... loved and wept. Here mother lies.
Wife of Nelson Williams, age 38 yrs.
Web page updated 28 July 2016
Index of All Cemeteries
Alphabetical Index of All Burials
Previous Page