Index of All Cemeteries
Alphabetical Index of All Burials
Previous Page
Use the following to search across all the cemeteries listed.
Example: "Smith, Roger" (yes, use the quotes)
254 MITCHINER FAMILY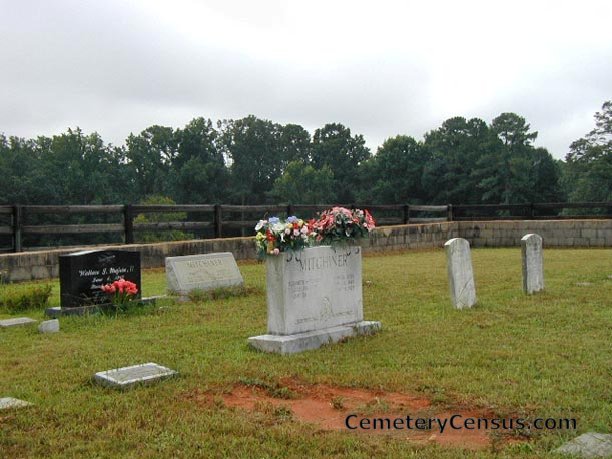 Location - on Hwy 50 (Benson Highway) about 1/4 mile from the intersection with Timber Drive near Garner.

Coordinates: 35d 40m 22.0s N; 78d 36m 12.0s W Click here for Google maps

Directions: go south on Hwy. 70, Garner, to the intersection of Timber Drive. Turn right onto Timber Dr. Stay on Timber Drive until it dead ends on Hwy. 50 and turn right. Go about 1/4 mile to the cemetery on your left.

The cemetery is well cared for, with a wall enclosing it. It is private, with no parking place except the roadside. It does not appear to be currently in use.

Surveyed and photographed by Shirley Olson in September 2001.


Allen, Lydia Mitchiner (b. 1909 - d. 2001)
Wife of William Kennon Allen

Allen, William Kennon (b. 15 May 1907 - d. 8 Oct 1980)
Husband of Lydia Mitchiner Allen. Sgt. US Marine Corps, WW-II

Dowd, Patrick Henry (b. 24 Apr 1879 - d. 30 Sep 1956)
Husband of Penelope J. Dowd

Dowd, Penelope J. (b. 12 Aug 1881 - d. 8 Jul 1969)
Wife of Patrick Henry Dowd

Majure, Wallace G., II (b. 6 Jun 1947 - d. 22 Mar 1992)
son of Margaret and Wallace Majure, brother of David Majure, father of Wally Majure

Mitchiner, Bessie Jackson (b. 4 Aug 1892 - d. 13 Oct 1980)

Mitchiner, C. Marie (b. 10 Feb 1922 - d. 8 Jul 1922)

Mitchiner, Charity D. (b. 22 Apr 1883 - d. 17 Mar 1922)

Mitchiner, Edna Taylor (b. 24 Apr 1902 - d. 2 Dec 1992)

Mitchiner, Elizabeth H. Turner (b. 26 Jul 1848 - d. 24 Jan 1938)

Mitchiner, Eveline Nance (b. 1813 - d. 1889)

Mitchiner, George A. (b. 16 Jan 1845 - d. 4 Apr 1921)
Husband of Sallie A. Newsom Mitchiner

Mitchiner, George N. (b. 10 Apr 1889 - d. 19 Sep 1907)

Mitchiner, Harvey S. (b. 10 Jun 1884 - d. 18 Feb 1966)

Mitchiner, Infant (b. - d. )
(five Mitchiner babies all buried in a row of little tombstones with no names and no dates)

Mitchiner, Infant (b. - d. )
(five Mitchiner babies all buried in a row of little tombstones with no names and no dates)

Mitchiner, Infant (b. - d. )
(five Mitchiner babies all buried in a row of little tombstones with no names and no dates)

Mitchiner, Infant (b. - d. )
(five Mitchiner babies all buried in a row of little tombstones with no names and no dates)

Mitchiner, Infant (b. - d. )
(five Mitchiner babies all buried in a row of little tombstones with no names and no dates)

Mitchiner, James Jackson (b. 26 Jun 1905 - d. 7 Jun 1982)

Mitchiner, James Octavious (b. 30 Mar 1882 - d. 21 Jul 1906)

Mitchiner, James Octavious (b. 26 Jan 1925 - d. 13 Feb 1998)

Mitchiner, John (b. 1808 - d. 1871)

Mitchiner, John T (b. 3 Aug 1876 - d. 21 Mar 1962)

Mitchiner, Mary W. (b. 8 Jan 1845 - d. 5 Nov 1879)

Mitchiner, Mary Whitfield (b. 2 Dec 1903 - d. 29 Dec 1971)

Mitchiner, P. V. (b. 29 Aug 1907 - d. 29 May 1909)

Mitchiner, Percy V. (b. 16 Jan 1869 - d. 28 Jun 1952)

Mitchiner, Percy V. Majure (b. 15 Jan 1943 - d. 16 Jan 1943)

Mitchiner, Philo (b. 11 Apr 1836 - d. 16 Jun 1915)

Mitchiner, Robert K. (b. 7 Apr 1890 - d. 15 May 1958)

Mitchiner, Sallie A. Newsom (b. 13 Apr 1847 - d. 29 Jan 1923)
Wife of George A. Mitchiner

Mitchiner, Samuel J. (b. 8 Jun 1892 - d. 1 Jun 1975)

Mitchiner, Samuel John (b. 13 Jan 1843 - d. 15 Jun 1923)

Mitchiner, Simm Turner (b. 11 Apr 1886 - d. 28 Nov 1974)

Mitchiner, Thomas Louis (b. 22 Jun 1879 - d. 15 Mar 1896)
Web page updated 28 July 2016
Index of All Cemeteries
Alphabetical Index of All Burials
Previous Page