Index of All Cemeteries
Alphabetical Index of All Burials
Previous Page
Use the following to search across all the cemeteries listed.
Example: "Smith, Roger" (yes, use the quotes)
249 OAKY GROVE CHURCH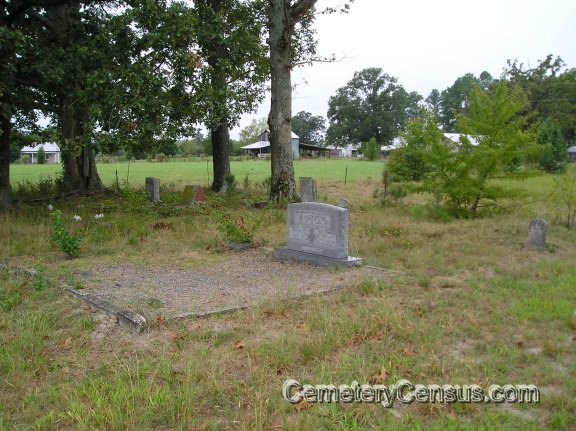 Location - on Mial Plantation Rd. about 1/4 mile from the intersection of Major Slade Rd. and Mial Plantation Rd., Shotwell, Marks Creek Twp., Wake Co., NC

Coordinates: 35d 43m 56.0s N; 78d 26m 51.0s W Click here for Google maps

Directions: From the east side of the Raleigh Beltline take Exit # 15, Poole Rd. (SR 1007) about 4 miles to Smithfield Rd. (SR 2233). Turn south on Smithfield Rd.and go 3/4 mile to the intersection with Major Slade Rd.(SR 2506). Follow Major Slade Rd. south for 1/2 mile to Mial Plantation Rd.(SR 2509) Turn east (left) onto Mial Plantation Rd.,a gravel road. 1/4 mile ahead on the south side of the road an abandoned church can be seen. Drive in and park. The small cemetery is behind the church.

Surveyed by Shirley Olson on October 6, 2007. All pictures provided by Shirley Olson.

There is an unmarked grave and several more depressions indicating burials.
Old Oaky Grove house.


Auton, Georgie Ann P. (b. 1885 - d. 1935)

Auton, Infant (b. 7 Nov 1929 - d. 22 May 1930)
son of Mr. and Mrs. James G. Auton

Auton, Infant (b. 18 Nov 1924 - d. 22 Nov 1924)
daughter of R. C. and Jane Auton

Auton, James G. (b. 1881 - d. 1931)
Husband of Georgie Ann P. Auton

Auton, Sarah (b. 22 Feb 1928 - d. 28 May 1929)
daughter of R. C. and Jane Auton

Hubbard, John (b. 1863 - d. 1940)

Pennell, Baby (b. - d. )

Pennell, David A. (b. 22 Mar 1896 - d. 2 Nov 1946)

Pennell, Everett L. (b. 19 Oct 1912 - d. 14 Jun 1951)

Pennell, Hettie R. (b. 21 Apr 1890 - d. 15 Feb 1985)
Wife of William G. Pennell

Pennell, William G. (b. 2 Jun 1889 - d. 6 May 1943)
Husband of Hettie R. Pennell

Phips, Ann (b. 1841 - d. 1931)
"Rest Mother rest in quiet sleep while friends in sorrow o'er thee weep."

Wall, Doris E. (b. 6 Jul 1914 - d. 4 Jan 1919)
Web page updated 28 July 2016
Index of All Cemeteries
Alphabetical Index of All Burials
Previous Page