Index of All Cemeteries
Alphabetical Index of All Burials
Previous Page
Use the following to search across all the cemeteries listed.
Example: "Smith, Roger" (yes, use the quotes)
247 PINE FOREST MEMORIAL GARDENS &nbsp- &nbsp A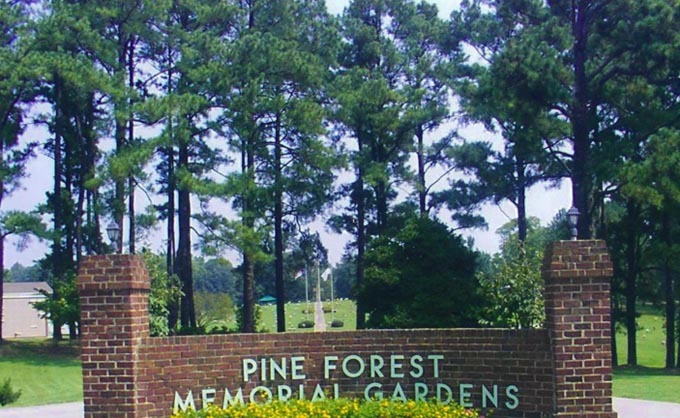 Location - 770 Stadium Dr., Wake Forest, NC, about 3 blocks east of Capital Blvd. and 6 blocks west of N. Main St.

Coordinates: 35d 59m 17.0s N; 78d 31m 19.0s W Click here for Google maps

Pine Forest Memorial Gardens is nestled on 30 rolling, wooded acres around a picturesque pond in historic Wake Forest, North Carolina. Started in 1975, it is an open cemetery laid out in nine landscaped Gardens that include mausoleums and columbariums. There are 1,470+ burials to date, with 15 untouched acres for future gardens. Burial spaces and entombment spaces of all types are readily available.

The Mausoleum --- The Scattering Garden --- Christus Garden --- Fall view of the lake

Pine Forest Memorial Gardens ------ Phone: 919-556-6776 ------ Mobile: 919-219-2256
PO Box 685
770 Stadium Dr.
Wake Forest, NC 27588

The office is located just inside the front entrance at 770 Stadium Dr., Wake Forest, NC.

For a complete list of available services, please visit the website: PineForestMemorial.com or send Email: pfgmemorial@yahoo.com

This is a complete listing of all burials from 1975 through July 12, 2007 - provided by the cemetery manager on September 25, 2007.

NOTE: All death dates are actually burial dates, unless noted in the comments for each burial.


Abernathy, Janet Lee Hall (b. 23 Feb 1948 - d. 15 Jan 2012)
Lot number: ??. Born in Durham County, NC. Daughter of Virginia Barnes Hall and Grover Alexander Hall. Wife of Harley G. Abernathy, Jr. Bright Funeral Home, Wake Forest, NC.

Abernathy, Rachael (b. - d. 3 Jun 1998)

Accongio, John (b. - d. 23 Nov 1983)

Accongio, Mary Valerio (b. - d. 28 Nov 1983)

Adams, Alfred (b. - d. 31 Oct 2003)

Adams, Carlton Lewis (b. - d. 24 Jan 1998)

Adams, Frances Smith (b. - d. 9 Sep 2002)

Adams, Horace Clayton (b. - d. 14 Oct 1998)

Adams, June Butler (b. - d. 15 Sep 2004)

Adams, Lovie L. (b. - d. 28 Jun 1997)

Adams, Paul Bruce (b. - d. 11 Sep 1999)

Al-Qsem, Baby Son (b. - d. 5 Jun 1985)

Alderman, Anna Willodean (b. - d. 17 May 2003)

Alford, Grover (b. - d. 7 Apr 1998)

Alford, Lota A. (b. - d. 13 Nov 2005)

Alford, Marie (b. - d. 20 Jan 2004)

Alicea-Myers, Angelica (b. - d. 4 Sep 2003)

Allen, Betty S. (b. - d. 20 Jan 1989)

Allen, Ethel J. (b. - d. 28 Dec 1996)

Allen, Julia (b. - d. 21 Oct 1984)

Allen, Kaylen (b. - d. 27 Feb 2002)

Allen, Kenneth J. (b. - d. 17 Aug 1984)

Allen, Margaret (b. - d. 3 Nov 2005)

Allen, Shawn Alexander (b. - d. 22 Apr 1999)

Allen, Steven (b. - d. 16 Jan 1996)

Almasy, Alexander A. (b. - d. 18 Jul 1986)

Alyssa, Robinson (b. - d. 19 Jun 2007)

AmacherBaby, Boy (b. - d. 22 Jul 1987)

Amirante, Dominic (b. - d. 16 Aug 1982)

Amirante, William Vincent (b. - d. 23 Mar 1981)

Andersen, Terry Dane (b. - d. 9 Jun 1989)

Anderson, Bonnie Jane (b. - d. 6 Jan 1987)

Anderson, Neil Ross (b. - d. 16 Sep 2006)

Aneskesich, Edward (b. - d. 13 Jan 2000)
Lot number: PC-0005-B-12A

Aneskewich, Margaret M. (b. - d. 13 Jul 1988)

Anthony, DuPree (b. - d. 20 Jun 2007)

Arneberg, Rex Joseph (b. - d. 13 Apr 1987)

Arnold, Mary Sue (b. - d. 21 Jun 2006)

Assousa, Elias Tadros (b. - d. 1 Oct 1997)

Assousa, Michael Tadrus (b. - d. 1 Feb 2001)

Assousa, Virginia Z. (b. - d. 23 May 1997)

Ataei-Kachuei, Kim Marie (b. - d. 12 Oct 2004)

Atkinson, Edwin (b. - d. 13 Jul 1996)

Ault, John Franklin (b. - d. 9 Jun 2007)

Austin, Michael R (b. - d. 14 Aug 1992)

Autenrieth, Edwards A. (b. - d. 15 Jun 2002)

Auundel, Earle Edwin (b. - d. 20 Apr 2001)

Axberg, Donald (b. - d. 21 Jul 1993)
Web page created 7 May 2012
Index of All Cemeteries
Alphabetical Index of All Burials
Previous Page