Index of All Cemeteries
Alphabetical Index of All Burials
Previous Page
Use the following to search across all the cemeteries listed.
Example: "Smith, Roger" (yes, use the quotes)
246 GETHSEMANE MEMORIAL GARDENS &nbsp- &nbsp Surname starts with A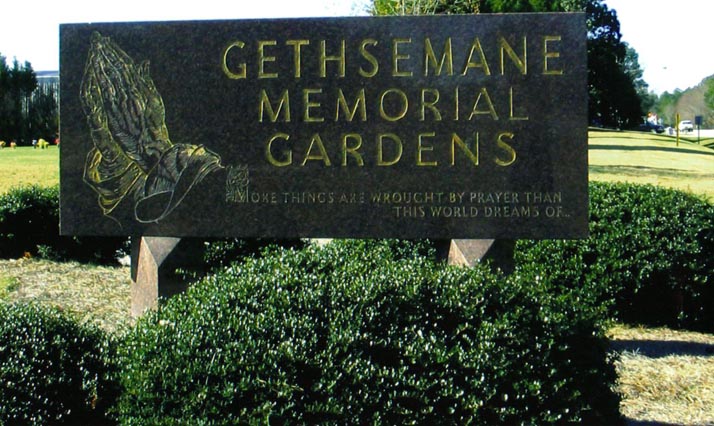 Location - 809 W. Gannon Ave., Zebulon, NC, west of the split of US highway 64 business and NC highway 97 (Gannon Ave.).

Coordinates: 35d 49m 15.0s N; 78d 20m 02.0s W Click here for Google maps

Gethsemane Memorial Gardens is located on 45 sunny acres in Zebulon, North Carolina. Created in 1965, it is an open cemetery laid out in five landscaped Gardens with classical mausoleums and columbariums; there are 1,720+ burials to date. About half of the total space is untouched, reserved to open future gardens. Burial/entombment spaces of all types are readily available.

The Mausoleum --- Gethsemane Garden --- Devotion Garden

Gethsemane Memorial Gardens ------ Phone: 919-556-6776 ------ Mobile: 919-219-2256
PO Box 685
Wake Forest, NC 27588

Meetings at Gethsemane are readily available by appointment. [The joint Pine Forest/Gethsemane office is located just inside the front entrance at Pine Forest: 770 Stadium Dr., Wake Forest, NC.]

For a complete list of available services, please visit the website: GMGardens.com or send Email: pfgmemorial@yahoo.com

This is a complete listing of all burials from 1962 through July 12, 2007 - provided by the cemetery manager on September 25, 2007.

NOTE: All death dates are actually burial dates, unless noted in the comments for each burial.


Adams, David Delmar (b. - d. 13 Sep 2003)

Adams, Irene (urn) (b. - d. 10 Sep 2001)

Adams, Jarious (b. - d. 22 Nov 1989)

Agee, Alton (b. - d. 27 Dec 2001)

Agnew, Johnny (b. - d. 17 Sep 2004)

Alford, Alpha Eddins Hendricks (b. - d. 18 Nov 2005)

Alford, Issac Clifton (b. - d. 15 Dec 2002)

Alford, J. Proctor (b. - d. 5 Nov 1979)

Alford, Joseph M. (b. - d. 29 Jun 1977)

Alford, Lila L. (b. - d. 28 Nov 1987)

Alford, Nellie Whitley (b. - d. 21 Jun 1991)

Alford, Pattie (b. - d. 3 Feb 2001)

Alford, Sonnie (b. - d. 26 Oct 1970)

Allen, Sylvester (b. - d. 29 Jun 1999)

Alligood, Edward E. (b. - d. 10 Apr 1997)

Allmon, Bobby Joe (b. - d. 25 Apr 2006)

Alverson, Letha (b. - d. 9 Jul 1999)

Amor, Ramon Ignacio (b. - d. 1 Jun 1996)

Amos, Jean Bunn (b. - d. 24 Nov 2000)

Anderson, Letha M. (b. - d. 10 May 1973)

Anderson, Needham (b. - d. 28 Dec 1980)

Anderson, W. Guy (b. - d. 25 Oct 1982)

Anderson, Willia Mae (b. - d. 4 Feb 2004)

Andrews, H. V. (b. - d. 23 Oct 1987)

Andrews, Melma (b. - d. 17 Feb 1969)

Antone, B. A. (b. - d. 4 Jul 1987)

Antone, Lottie (b. - d. 6 Aug 1974)

Aponte, Angelo (b. - d. 10 Apr 2003)

Apple, William Buchanan (b. - d. 20 Dec 1994)

Arnold, Casey (b. - d. 9 Mar 2002)

Arnold, John (b. - d. 13 Jan 2001)

Arsenault, Ercelle (b. - d. 4 Nov 2006)

Ashworth, Marie Canady (b. - d. 31 Dec 2005)
Lot number: Love Maus-0026

Atkinson, Ned (b. - d. 16 Dec 2003)

Auteri, Debbie Stone (b. - d. 2 Nov 2001)

Ayscue, Grover Hugh (b. - d. 21 Jan 1997)
Web page updated 28 July 2016
Index of All Cemeteries
Alphabetical Index of All Burials
Previous Page