Index of All Cemeteries
Alphabetical Index of All Burials
Previous Page
Use the following to search across all the cemeteries listed.
Example: "Smith, Roger" (yes, use the quotes)
242 CARTER-FINLEY STADIUM PARKING LOT SITE #2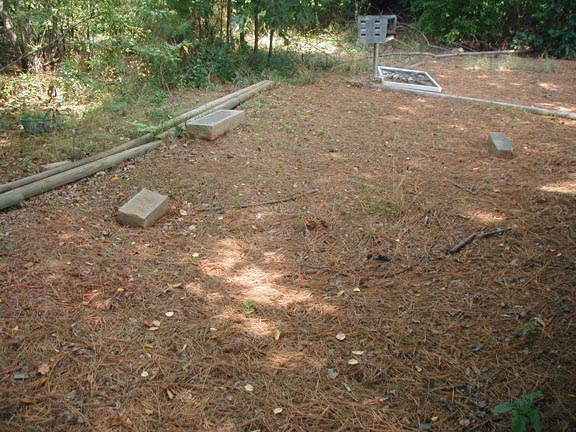 Location - In Carter-Finley Stadium parking lot towards the stadium and slightly to the right is a wooded area where four headstones are visible in front of Parking Space # 00589.

Coordinates: 35d 48m 09.7s N; 78d 43m 04.3s W Click here for Google maps

Directions: from the intersection of Hillsborough St.,(Hwy. # 54),and Youth Center Rd.,Raleigh, on the west side of the Fair Grounds, take Youth Center Rd. 1/2 mile to Trinity Rd. Directly in front of you is Stadium Rd., the entrance to the parking lot of the stadium. Enter Stadium Rd.

Everyone in Wake Co. knows where Carter-Finley Stadium is located, across from the Hunt Horse Complex and the NC State Fairgrounds on Trinity Rd., but hardly anyone knows there is one single burial site and one small cemetery in the parking lot. A third cemetery has disappeared, probably the victim of the retaining wall fronting on Trinity Rd. where that cemetery once was located. Overhead satelite view of the cemetery location.

Surveyed by Shirley Olson on June 29, 2007. Another view of the cemetery. Many additional burials surveyed by Rick Moss in April 2008. View #3 of the maintained area inside the cemetery.

In 2008, the graveyard is in very bad shape - many broken and missing markers, lots of beer cans and trash strewn around. It is still being used - the most recent stone is dated 2006 and folks still come by and leave flowers or mementos.


Cain, Dollie M. (b. 18 May 1908 - d. 12 Apr 1927)
"daughter of Peter and Hattie Cain" (stone is broken)

Cain, Peter (b. 2 Jun 1854 - d. 25 Oct 1925)
"Our Farther" (as spelled on stone). "Another link is broken In our household band But a chain is forming In a better land". Masonic emblem.

Copeland, Elizabeth (b. 1853 - d. 1923)
"My own dear mother has gone"

Evans, Betty Carolyn (b. 19 May 1943 - d. 16 Jul 2006)
"I'm Alright". Footstone: Mama

Evans, Mary Elizabeth Bronson (b. 27 Dec 1921 - d. 25 Nov 1994)

Garvin, Marshaunessy (b. 2003 - d. 2003)
(infant grave - immediately below footstone for Mary Evans. Haywood funeral home marker)

Hooker, Bernice (b. 31 Mar 1936 - d. 9 Apr 1995)

Hooker, Emmaline (b. 1 Apr 1868 - d. 9 Jan 1959)

Hooker, Gus Hosta (b. 1826 - d. 1923)

Jones, Harris Lee, Jr. (b. 5 Mar 1959 - d. 7 Jul 2002)

Jones, Harris Lee, Sr. (b. 4 Mar 1938 - d. 29 May 2003)
"Father". (Haywood funeral home marker). Footstone: Hog Jones

Jones, Pearl Evans (b. 4 Apr 1943 - d. 21 Mar 2004)

Pennington, Andrew L. (b. 4 Apr 1920 - d. 20 Feb 1963)
North Carolina, TEC4 523 Port. Bn. TC, WW-II

Rogers, Bertha M. (b. 5 Aug 1922 - d. 12 Feb 1968)

Unknown, ?? (b. - d. )
next to Bertha Rogers, a matching headstone with no inscription. Sunken area indicates a grave.

Whitaker, William (b. 1907 - d. 1979)
Web page updated 28 July 2016
Index of All Cemeteries
Alphabetical Index of All Burials
Previous Page