Index of All Cemeteries
Alphabetical Index of All Burials
Previous Page
Use the following to search across all the cemeteries listed.
Example: "Smith, Roger" (yes, use the quotes)
240 PENNY FAMILY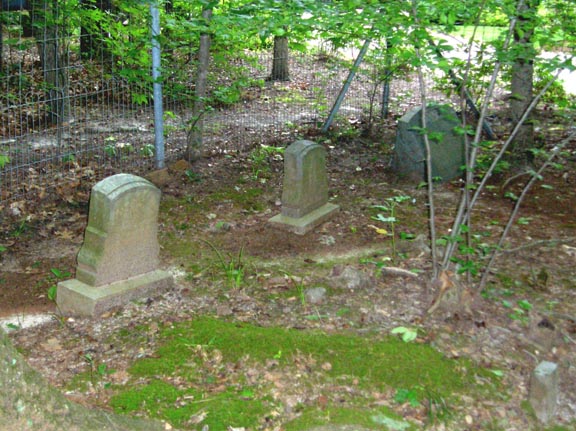 Location - off Golden Heights Rd., Middle Creek Twp., Wake Co., NC.

Coordinates: 35d 43m 05.5s N; 78d 41m 37.7s W Click here for Google maps

Directions: From Lake Wheeler Rd. (SR 1371) intersection with Penny Rd.(SR 1379),take Penny Rd.(only runs west) for a very short distance (maybe 1/8 mile), then bear right on to Yates Mill Pond Rd.(SR 1381). Pass a Wake Co. Recycling Site, (about another 1/8 mile) and turn right on to Golden Heights Dr.,an unpaved road. Drive about 1/4 mi. to the cemetery on the left in a patch of woods.

This road borders "Historic Yates Mill Park", and the cemetery is in a lovely serene setting, hidden from the hustle and bustle that exists a few miles away. A fence surrounds the graves and flowers are planted by the path leading to the gate. View #2 of the cemetery.

Surveyed by Shirley Olson on June 20, 2007.


Adams, Henry Gilman (b. 14 Jan 1870 - d. 11 Jul 1870)
son of S.C. and Mary A. Adams

Adams, Lucy Agnes (b. 23 Sep 1877 - d. 19 Sep 1883)
daughter of S.C. and Mary A. Adams

Penny, J. Thomas (b. 9 Dec 1858 - d. 14 May 1898)

Penny, James (b. 18 May 1817 - d. 25 Sep 1904)
Husband of Mary Wood Penny. "Father", shares with Mary and Nancy Penny

Penny, Mary Wood (b. 20 Sep 1820 - d. 4 Aug 1902)
Wife of James Penny. "Mother", shares with James and Nancy Penny

Penny, Nancy Pollock (b. 12 Sep 1862 - d. 24 Oct 1862)
Infant daughter of James and Mary Penny
Web page updated 28 July 2016
Index of All Cemeteries
Alphabetical Index of All Burials
Previous Page