Index of All Cemeteries
Alphabetical Index of All Burials
Previous Page
Use the following to search across all the cemeteries listed.
Example: "Smith, Roger" (yes, use the quotes)
237 NEW HILL BAPTIST CHURCH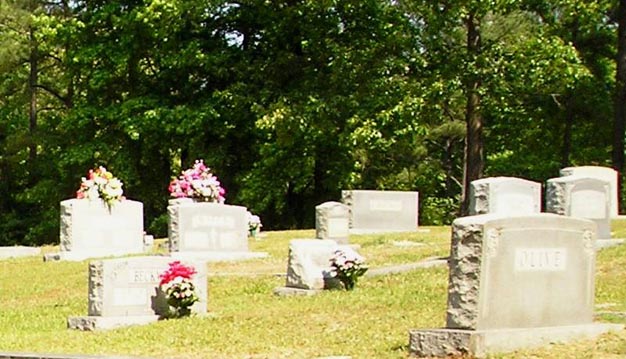 Location - 3700 Old US 1, Buckhorn Twp., New Hill, NC

Coordinates: 35d 40m 48.1s N; 78d 56m 18.1s W Click here for Google maps

Directions: From the Cary intersection of Hwy. #64 and US. 1, take US # 1 South 8.8 miles to Exit # 89, New Hill-Holleman Rd. Go 1 mile on New Hill-Holleman Rd. to the intersection of SR 1011, (Old US # 1), turn left on SR 1011 for .1 mile to New Hill Baptist Church on the north side of the road.

Drive in and park. The cemetery is at the right rear of the church and is the property of the church. Church and cemetery are on 3.76 acres. There is room for more burials. The cemetery is in excellent condition.

Surveyed by Shirley Olson on May 23, 2007.


Alexander, Walter B. (b. 23 Mar 1952 - d. 31 Aug 1970)
Baker, Pattie Mae (b. 16 Jun 1924 - d. 23 Apr 1987)
Barker, Charles R. (b. 3 Jul 1874 - d. 19 May 1936)

Barker, Evie M. (b. 11 Jan 1878 - d. 28 Jan 1942)

Beckwith, Claude J., Jr. (b. 20 Feb 1924 - d. )
shares with Magdalene Beckwith

Beckwith, Gerald C (b. 25 Mar 1951 - d. 11 Sep 1959)

Beckwith, Magdalene S. (b. 4 Nov 1920 - d. 26 Dec 1999)

Bennett, John A. (b. 1899 - d. 1966)

Booth, Ola (b. 1916 - d. 1989)

Booth, Thomas G. (b. 1906 - d. 1963)

Bright, Jennie (b. 22 Mar 1888 - d. 6 Nov 1888)
daughter of C.J. & Sarah Bright

Bright, John Harry, Jr. (b. 24 Feb 1926 - d. 8 May 1979)

Bright, Margaret L. (b. 30 Nov 1885 - d. 25 Jun 69)
daughter of C.J. & Sarah Bright

Broadwell, Eric S. (b. 29 Jun 1924 - d. 18 Jan 2006)
shares with Kathleen Broadwell

Broadwell, Ila Clark (b. 4 Dec 1902 - d. 22 Jan 1999)

Broadwell, Kathleen K. (b. 3 May 1932 - d. ??)

Broadwell, R.A. "Buddy" (b. 31 Mar 1930 - d. 22 Jul 2003)
Official Umpire ASA 1971-1992

Chapman, William Clyde (b. 17 Feb 1971 - d. 14 Jul 2006)

Clark, Ila M. (b. 29 May 1915 - d. ??)

Clark, Peggy Mae (b. 2 Dec 1942 - d. 23 Mar 1960)

Clark, Robert G. (b. 24 May 1912 - d. 6 Sep 1974)

Crews, Earl G. (b. 1893 - d. 1969)

Crews, Lexie Mims (b. 1898 - d. 1957)

Dean, Myrtle Ann (b. 29 Feb 1948 - d. 22 Mar 2004)

Eanes, Elizabeth A. (b. 25 May 1916 - d. 31 Oct 1989)

Eanes, Odell (b. 29 Jun 1907 - d. 30 Jan 2000)
shares with Elizabeth Eanes

Edwards, A. Junius (b. 30 Jul 1919 - d. 15 Oct 1976)

Edwards, Arthur J. (b. 11 Jul 1880 - d. 28 Apr 1954)

Edwards, Lora S. (b. 7 Jun 1928 - d. 10 Feb 1986)

Edwards, Nora C. (b. 28 Sep 1887 - d. 14 Dec 1966)

Everest, Mary Dixie (b. 29 May 1925 - d. 24 Dec 2002)

Everest, Robert Edward (b. 1 Oct 1923 - d. )

Ferguson, Caleb E. (b. 13 Mar 1899 - d. 27 Oct 1982)
shares with Lector Ferguson

Ferguson, Christopher C. "Buck" (b. 13 Jun 1891 - d. 21 Dec 1951)

Ferguson, Florence Bennett (b. 31 Mar 1892 - d. 29 Sep 1964)

Ferguson, Irene S. (b. 1911 - d. )

Ferguson, Lector H. (b. 19 Oct 1904 - d. 24 May 1987)

Ferguson, Sherwood L. (b. 1911 - d. 1952)
shares with Irene Ferguson

Fink, Bernard (b. 31 Jan 1917 - d. 16 Aug 1984)

Fink, Charlotte Mims (b. 14 Apr 1919 - d. 4 Apr 1984)

Gardner, Ernest S. (b. 26 Jul 1932 - d. 11 Nov 2002)

Gardner, Mary S. (b. 27 Sep 1919 - d. 20 Mar 2002)

Gardner, Orus T. (b. 11 Jan 1922 - d. 25 Apr 1984)

Gardner, Thelma D. (b. 13 Mar 1935 - d. )
shares with Ernest Gardner

Gentry, Lester Grey (b. 17 Jul 1897 - d. 13 Feb 1957)

Goodwin, Catherine S. (b. 10 Sep 1937 - d. 19 Jul 2002)

Goodwin, Winston D. (b. 19 Nov 1946 - d. )
shares with Catherine Goodwin

Hilliard, David D. (b. 2 Nov 1926 - d. 30 Oct 1999)
shares with M. Elizabeth Hilliard

Hilliard, James M. (b. 22 Feb 1900 - d. 3 Nov 1961)

Hilliard, M. Elizabeth (b. 25 Feb 1931 - d. 16 Mar 2001)

Hilliard, Tessie M. (b. 23 Sep 1901 - d. 9 Mar 1971)
shares with James Hilliard

Hinsley, Eunice M. (b. 11 Oct 1913 - d. 22 Sep 2004)

Hinsley, John P. (b. 8 Feb 1921 - d. 11 Feb 1985)
shares with Eunice Hinsley

Hinsley, Lucy H. (b. 7 Nov 1916 - d. 30 Apr 1977)

Hinsley, Paul D. (b. 29 Jun 1911 - d. 22 Apr 1986)

Hinsley, Paul Nelson (b. 1 May 1946 - d. 1 Aug 1983)

Holder, Billy E. (b. 8 Jul 1935 - d. 11 Mar 1973)

Holder, Hilda S. (b. 13 Jan 1941 - d. )

Holt, E. Melton (b. 7 Feb 1874 - d. 1 May 1926)

Holt, Una Johnson (b. 14 Mar 1876 - d. 16 Jun 1956)

Horton, Ernie Utley (b. 2 Aug 1894 - d. 18 Sep 1994)

Horton, Henry B. (b. 7 Sep 1928 - d. 4 Feb 2006)

Horton, Lessie L. (b. 16 Apr 1894 - d. 7 Apr 1963)

Horton, Nomie G. (b. 15 Jun 1895 - d. 17 Feb 1966)

Horton, Romie M. (b. 4 Feb 1894 - d. 25 Aug 1947)
shares with Lessie Horton

Horton, Stuart McGuire (b. 19 May 1927 - d. 14 Jul 1997)

Horton, Willis C. (b. 24 Mar 1921 - d. 12 Feb 1948)

Hyatt, J.C. (b. 20 Aug 1938 - d. 22 Aug 1994)

Johnson, Flonnie Lee (b. 20 Jun 1925 - d. 6 Jul 2003)

Johnson, Kenneth Lee (b. 24 Jun 1913 - d. 15 ??? 1989)

Jones, Mary Sue (b. 21 Mar 1966 - d. 22 Mar 1966)
daughter of Allie & Faye Jones

Jones, Ruby Smith (b. 4 Sep 1928 - d. 12 Jan 1995)

Lashlee, Jessie Kemp (b. 31 Aug 1896 - d. 3 Jun 1953)

Lashlee, Leon Lacy (b. 24 Feb 1900 - d. 17 Oct 1972)

Lashlee, Pauline Smith (b. 20 Sep 1910 - d. 13 Nov 1972)

Lashley, Edith M. (b. 1904 - d. 1983)

Lashley, Johnie D. (b. 1914 - d. 1978)
shares with Edith Lashley

Lawrence, A.N. (b. 3 Dec 1882 - d. 7 Dec 1960)

Lawrence, C. Wray, Sr. (b. 30 Apr 1915 - d. 13 Mar 1973)
shares with Mabel Lawrence

Lawrence, Carra H. (b. 22 May 1882 - d. 2 May 1964)

Lawrence, Esther (b. 6 Jan 1885 - d. 11 Apr 1972)

Lawrence, Eugene B. (b. 1894 - d. 1985)

Lawrence, Eva S. (b. 1904 - d. 1981)

Lawrence, Mabel (b. 22 Sep 1918 - d. ??)

Lawrence, Sam R. (b. 25 Apr 1911 - d. 26 Nov 1986)

Lawrence, Tom (b. 15 May 1874 - d. 19 Feb 1948)

Mann, Douglas (b. 20 Jun 1934 - d. 7 Sep 1953)

Mann, Grace Mason (b. 6 Apr 1912 - d. 23 Jan 1992)

Mason, Alice S. (b. 15 May 1927 - d. 5 Aug 1986)

Mason, Jerry (b. 25 May 1949 - d. 31 Jul 1957)

Mason, Mozelle (b. 9 Jun 1917 - d. 12 Jun 1978)

Mason, R. Dillard (b. 9 Nov 1921 - d. 21 Aug 1997)

Mason, Stacy (b. 5 Oct 1886 - d. 23 Oct 1968)

Mason, Veola (b. 2 Apr 1895 - d. 4 May 1983)

Mims, B. Vester (b. 14 Apr 1889 - d. 22 Feb 1950)

Mims, Margaret Gayle (b. 1917 - d. 1921)
daughter of B.V. & A.B. Mims

Moore, Alonza A. (b. 1873 - d. 1958)

Moore, Bill H. (b. 1917 - d. 1963)

Moore, Maggie H. (b. 1875 - d. 1961)

Moore, Percy James (b. 4 Sep 1897 - d. ?? Jul 1979)

Morris, Jasper H. (b. 23 Dec 1878 - d. 19 Mar 1948)
shares with Leonie Morris

Morris, Leonie (b. 29 May 1888 - d. 10 Jan 1976)

Morris, Ruby Lashlee (b. 10 Nov 1929 - d. 31 May 1981)

Nelli, John N. (b. 30 Mar 1957 - d. 8 Oct 2004)

O'Briant, Thomas L., Sr. (b. 9 Oct 1934 - d. 27 Apr 1992)

Obler, Maxie H. (b. 14 Jul 1915 - d. 4 Jul 1974)

Obler, Michael (b. 18 Jan 1949 - d. 22 Oct 1967)

Obler, Victor (b. 30 Aug 1894 - d. 4 Dec 1974)

Olive, Ava Lena (b. 17 Sep 1890 - d. 17 Feb 1985)

Olive, W. Jarvis (b. 12 Nov 1883 - d. 10 Aug 1963)

Palmer, Ada B. (b. 7 Jun 1912 - d. 17 May 1998)

Palmer, Caley R. (b. 18 Nov 1910 - d. 6 Feb 1978)

Pierce, Ursula Goodwin Roundy (b. 7 Jun 1900 - d. 9 Nov 1988)

Prior, Tula Mims (b. 29 May 1906 - d. 22 Jun 1982)

Ramsey, Claris W. (b. 27 Oct 1923 - d. 29 Aug 1990)

Ramsey, James W. (b. 13 Dec 1942 - d. )

Ramsey, John W. (b. 1 Nov 1914 - d. 30 Apr 1997)
shares with Claris Ramsey

Ramsey, Marie W. (b. 5 Feb 1944 - d. 2 Aug 2004)

Renfrew, Henry Wilson, Jr. (b. 1909 - d. 1978)

Roundy, W.T., Jr. (b. 9 Jan 1923 - d. 19 Sep 2002)

Roundy, William Roy (b. 10 Jan 1896 - d. 18 Aug 1965)

Sandy, Marjorie L. (b. 1939 - d. )

Sandy, Myatt J. (b. 1905 - d. 1992)
shares with Marjorie Sandy

Seagroves, Fonzy (b. 13 Jun 1873 - d. 25 Apr 1944)
shares with Ida Seagroves

Seagroves, Ida Holt (b. 20 May 1873 - d. 4 Jan 1963)

Seagroves, Ileane S. (b. 31 Dec 1907 - d. 24 Oct 2003)

Seagroves, J. Vaton (b. 1 Sep 1908 - d. 24 Jul 1992)
shares with Ileane Seagroves

Settle, Maude Lashley (b. 22 May 1895 - d. 10 Apr 1946)

Smith, Annie Eanes (b. 2 May 1905 - d. 29 Mar 1999)

Smith, Billie Jean Walsh (b. 12 Dec 1943 - d. 28 Aug 1997)

Smith, Luther H. (b. 4 Jan 1902 - d. 12 Nov 1979)
shares with Octavia Smith

Smith, Octavia B. (b. 26 Aug 1903 - d. 13 Apr 1980)

Stephens, Bonnie B. Hinsley (b. 25 Dec 1940 - d. 12 Mar 2004)

Strickland, Mildred Roundy (b. 7 Aug 1928 - d. 21 Feb 2003)

Tingen, Elizabeth C. (b. 17 Oct 1906 - d. 26 Aug 1994)

Tingen, Herman G. (b. 26 Nov 1901 - d. 26 Apr 1972)
shares with Elizabeth Tingen

Utley, E.B. (b. - d. 22 Nov 1946)

Utley, Ernest C. (b. 2 Apr 1891 - d. 29 Dec 1937)

Utley, M.F. (b. - d. 21 Jan 1940)

Utley, Nell Bundy (b. 17 Dec 1893 - d. 5 Dec 1977)

Welch, Carey (b. 15 Jul 1870 - d. 9 Jan 1937)
shares with Katie Welch, his Wife

Welch, Katie Ausley (b. 1 Jun 1872 - d. 30 May 1952)

Wilson, Florence (b. 4 Feb 1899 - d. 24 Nov 1976)

Womack, Jacki Lane (b. 1961 - d. 1989)

Womble, Archie M. (b. 11 Nov 1926 - d. 2 Nov 1976)

Wood, Alice M. (b. 5 Dec 1919 - d. 19 Jan 1998)

Wood, Daniel L. (b. 2 Nov 1918 - d. 2 Nov 1972)

Wood, Donald Ray (b. 23 Oct 1946 - d. 20 Oct 1981)

Woodlief, Jessie Lashlee (b. 24 Nov 1931 - d. 15 Mar 1998)
Web page updated 28 July 2016
Index of All Cemeteries
Alphabetical Index of All Burials
Previous Page