Index of All Cemeteries
Alphabetical Index of All Burials
Previous Page
Use the following to search across all the cemeteries listed.
Example: "Smith, Roger" (yes, use the quotes)
214 WILLIAMS GROVE CHURCH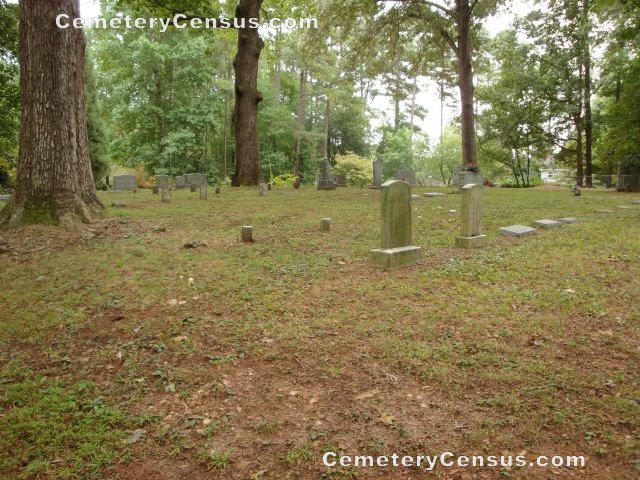 Location - off Blue Ridge Rd. (SR-1664 changes to SR-1670 at this point) a little south of the intersection with Glen Eden Dr. and Morningside Dr.

Coordinates: 35d 49m 39.0s N; 78d 41m 37.0s W Click here for Google maps

Directions: From the intersection of Duraleigh Rd. and Blue Ridge Rd. take Blue Ridge Rd. (SR 1664 changes to SR 1670 at this point) north east for 3/4 mile. Park on the south side of the road and cross on foot, since there is no place to park on the other side of the road.

Surveyed by Shirley Olson on August 17, 2005. Photographs provided by Mrs. Deborah Scott Spencer in November 2009.
View #2 of the cemetery.

Although the cemetery fronts on Blue Ridge Rd. it is in a field next to a wooded area and the headstones are in the rear and difficult to spot from the road. Blue Ridge Rd. which starts out as SR 1664, gives up that number to Duraleigh Rd. when Blue Ridge Rd. splits off and becomes SR 1670.

There is no church at the cemetery site. The owner, Williams Grove Baptist Church, is located at 735 Rock Quarry Rd., Raleigh, NC 27610, some distance from the cemetery. The cemetery is a nice 1/2 acre but unkempt. The headstones are in various states, some in good condition, some broken, some home made and hard to read. There are some unmarked graves. The cemetery is no longer in use.

FH marker, rusted, unreadable next to Angeline Lipscomb.


Abram, John D. (b. 30 Jun 1914 - d. 16 Jul 1961)
NC S/Sgt Co A, 25 Sig HV Const Bn, WW-II. Closeup of inscription.

Alston, Bessie W. (b. 6 May 1894 - d. 14 Jul 1942)

Alston, Phillips, Sr. (b. 11 Nov 1885 - d. 9 Nov 1957)

Booker, Amelia (b. abt 1844 - d. 8 Sep 1919)
age 75 yrs. Wife of John Booker. "Our Mother"

Booker, June (b. abt 1880 - d. 9 Jan 1925)

Durham, Maggie Tyler (b. 25 Dec 1885 - d. 23 May 1968)

Hayes, Ida W. (b. 1 Sep 1875 - d. 17 Nov 1940)

Hayes, William (b. 12 May 1882 - d. 29 Jun 1922)

Hayes, William, Jr. (b. 11 Aug 1907 - d. 31 Mar 1989)

Hicks, Earthlen (b. 19 Dec 1920 - d. 13 Nov 1921)
daughter of W. H. and G. H. Hicks

Hinton, Rosabell Alston (b. 1909 - d. 1993)

Lipscomb, Angeline (b. 15 Sep 1871 - d. 4 Nov 1949)
Wife of Zack Lipscomb. Ellis D. Jones and Son, FH, Durham, NC

Lipscum, Carrie (b. 15 Oct 1912 - d. 13 Nov 1912)
daughter of Zack and Angeline Lipscum

Osborne, Tom (b. 1896 - d. 25 Sep 1942)

Tyler, David (b. abt 1877 - d. 1 Nov 1927)

Unknown, ?? (b. - d. May 1914)

Unknown, ?? (b. - d. )

Wilson, John (b. abt 1885 - d. 29 Aug 1925)

Woods, Jefferson David (b. 18 Aug 1920 - d. 18 Jul 1974)

Woods, Lillie L. (b. 1898 - d. 1961)
Wife of Robert A. Woods. Closeup of inscription.

Woods, Lucindy (b. ???? - d. 19 Jun 1931)
Age 60 years. Wife of Jefferson Woods. "Was always a kind mother. Gone but not forgotten. At rest."

Woods, Robert A. (b. 1885 - d. 1952)
Husband of Lillie L. Woods. Closeup of inscription.
Web page updated 28 July 2016
Index of All Cemeteries
Alphabetical Index of All Burials
Previous Page