Index of All Cemeteries
Alphabetical Index of All Burials
Previous Page
Use the following to search across all the cemeteries listed.
Example: "Smith, Roger" (yes, use the quotes)
208 PERRY FAMILY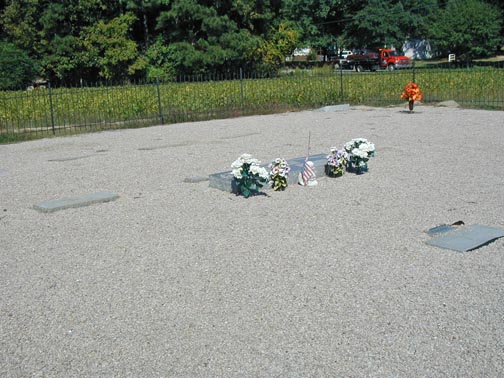 Location - Old Oak Tree Rd., Wendell, Marks Creek Twp., Wake Co., NC. Take Wendell Blvd.(Bus. 64) to Old Oak Tree Rd., which intersects at the 2200 block of Wendell Blvd. Turn onto Old Oak Tree Rd. The cemetery is on the right side of the road about 100 ft. from Wendell Blvd.

Coordinates: 35d 48m 03.2s N; 78d 23m 37.6s W Click here for Google maps

Surveyed by Shirley Olson on 4 October 2006.

NOTE: Old Oak Tree Rd. is "horse shoe" shaped. One entrance is paved, the other is not paved. It is at the unpaved entrance from Wendell Blvd. where the cemetery can be found.


Liles, Gideon (b. 1827 - d. 1905)
son of Wrightman and Nancy Jordan Liles

Liles, Kenchin E. (b. 1852 - d. 1924)
son of Gideon and Mary Rhodes Liles

Liles, Martha H. Horton (b. 1861 - d. 1910)
Wife of Kenchin Liles, daughter of John W. and Frances Broadwell Horton

Liles, Mary Rhodes (b. 1833 - d. 1884)
Wife of Gideon Liles, daughter of Henry W. and Chloe T. Rhodes

Perry, Armada Liles (b. 28 Sep 1886 - d. 7 Nov 1958)

Perry, Elva H. (b. 6 Aug 1918 - d. 11 Sep 1961)

Perry, John G. (b. 27 Apr 1886 - d. 26 Jul 1948)

Perry, Mary Givens (b. 29 Jun 1922 - d. 16 Jul 1996)
shares with William Perry

Perry, Thomas Exum (b. 22 Jan 1926 - d. 20 Jan 2003)

Perry, William Elvis "Bill" (b. 10 Apr 1909 - d. 19 Oct 1977)
Web page updated 28 July 2016
Index of All Cemeteries
Alphabetical Index of All Burials
Previous Page