Index of All Cemeteries
Alphabetical Index of All Burials
Previous Page
Use the following to search across all the cemeteries listed.
Example: "Smith, Roger" (yes, use the quotes)
194 HOUSE - TILLIE FAMILY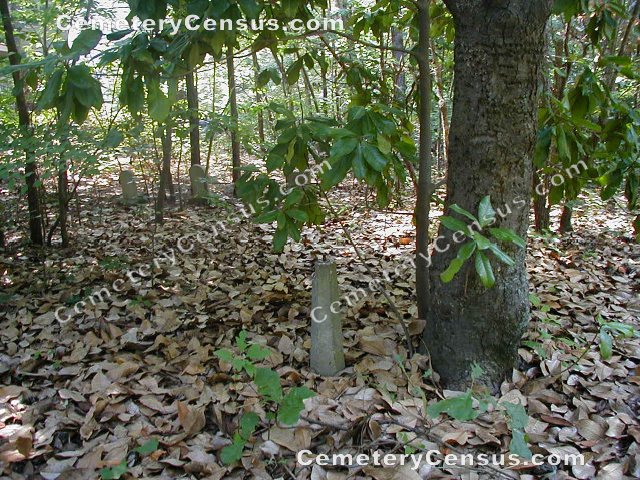 Location - In a wooded front corner of a residential lot at 3601 Old Post Rd, Raleigh.

Coordinates: 35d 49m 53.0s N; 78d 42m 13.0s W Click here for Google maps

Directions: from the junction of Blue Ridge Rd. and Duraleigh Rd., Raleigh: Take Edwards Mill Rd. northeast (toward Hwy. 70). Go through the stop light at the shopping center and turn left onto Laurel Hills Rd. Take the first right onto Old Post Rd. You will go into a slight curve and then see Lantern Place intersecting on the right. Park on Old Post Rd. just past the intersection. There is a high wooded area across the road just before 3601 Old Post Rd. That is the cemetery location. You may park on the shoulder of Old Post Road and climb the 12' slope of the road bank or access it through the driveway at 3601 Old Post Road. It is located in the front yard. It is about 30'X30' in size and needs maintenance at this time.

Surveyed by Shirley Olson in September 2002. Surveyed by Donna Bradbury and Grady Doyle on 28 January 2012.

This is an abandoned family cemetery, rather overgrown with brush, in an established neighborhood. My thanks to Marie Cooke for locating the cemetery. Pictures by Marie Cooke in 2006.

Note, it is believed that there are more unmarked graves here.


Grady, Arrah Besse (b. 22 May 1903 - d. 11 Sep 1921)
Daughter of Charles Grady and Mary Alice Horse Grady

House, Brinkley (b. 1852 - d. 19 Oct 1904)
This is the earliest death date found.

Johnson, Almetria (b. 26 Aug 1886 - d. 6 Mar 1907)

Perkins, Alexander Fuller (b. 17 May 1881 - d. 29 Oct 1938)
Husband of Maggie House Smith Perkins. Son of Charles Perkins and Mildred C. Nelson Perkins. "My love goes with you; my soul waits to join you". Note: This appears to be Maggie's 2nd Husband. In the 1930 Census, Alexander is listed as a household member of Arthur Smith and Maggie's boarding house. After Arthur's dead, Maggie married Alexander.

Perkins, Maggie House Smith (b. 22 Jun 1894 - d. Unknown)
no death date. This a large granite head stone engraved with both Alex and Maggie's names but neighbors believe that Maggie was buried in a Durham, NC cemetery.

Smith, Arthur (b. 1885 - d. 1932)
1st Husband of Maggie House by 1930 US Federal Census.

Tillie, Bessie Lee (b. 11 Jan 1927 - d. 19 Jul 1928)
daughter of J.L. and Ida Tillie. "Asleep in Jesus"

Tillie, Infant (b. 24 Nov 1914 - d. 24 Nov 1914)
son of J.L. and Ida Tillie. "Asleep in Jesus"
Web page updated 28 July 2016
Index of All Cemeteries
Alphabetical Index of All Burials
Previous Page