Index of All Cemeteries
Alphabetical Index of All Burials
Previous Page
Use the following to search across all the cemeteries listed.
Example: "Smith, Roger" (yes, use the quotes)
139 OLD POPLAR SPRINGS UNITED CHURCH OF CHRIST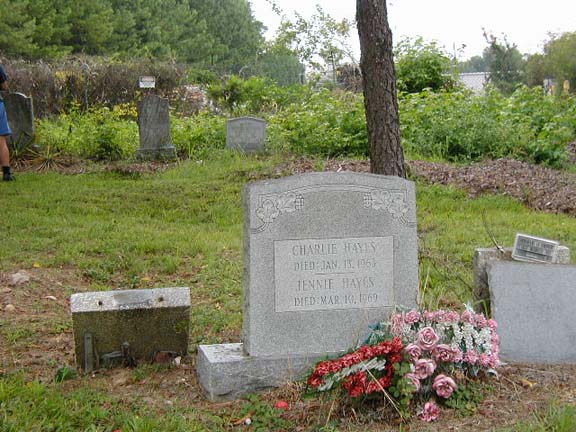 Location - 6115 Old Stage Rd., Garner, Wake Co., NC.

Coordinates: 35d 41m 44.0s N; 78d 39m 10.0s W Click here for Google maps

Surveyed by Shirley Olson on July 13, 2001.

Directions - from Raleigh, N.C.: South on Hwy 401 about 8 miles, angle left on to Old Stage Rd. and continue south about 2 miles to Poplar Springs Church on the left. The old cemetery is along side of the church on Old Stage Rd.; the newer and larger cemetery is hidden behind the church up a paved road that runs about 100 yards to the burial locations.

This is an African American church and cemetery, located in a formerly rural area which is now a suburban neighborhood. This is an old church, founded in 1871, a few years after the end of the Civil War. From humble beginnings in a brush arbor the church has grown and flourished and is now a magnificent brick edifice. Alongside and joined to the large new church built in 1996 is the beautiful old brick church built in 1931 which replaced the small frame church that preceded it.

The old cemetery is not in good condition. Many graves are unmarked, and some of the stones are teetering over. There are plans to restore the fallen stones and determine, if possible, the names of those in the unmarked graves. At this time we have recorded only the old cemetery and at least 50 per cent of these graves are unmarked. Unfortunately the church has no records of the old cemetery.


Baker, Moses (b. 1864 - d. 1936)
(son of Kenny I. Baker, Lineage 1986 is inscribed on stone)

Baker, Moses Sr. (b. 1864 - d. 1936)

Banks Magnolia (b. 1 Jun 1913 - d. 2 May 1928)

Banks, Clem (b. 24 Jun 1881 - d. 22 Feb 1930)

Burt, Ralph (b. 26 Jun 1938 - d. 7 Feb 1963)

Crowder, Flora L. (b. 1880 - d. 1952)

Evans, Coy (b. 3 Mar 1900 - d. 17 Dec 1965)

Evans, Halsy (b. 31 Oct 1911 - d. 12 Aug 1928)
(daughter of John S. Venje)

Evans, John (b. 12 Mar 1866 - d. ????)

Evans, Viola (b. 27 Dec 1905 - d. 7 May 1938)

Goodson, Martha (b. 1860 - d. 13 Jun 1940)

Goodson, W. A. (b. 5 May 1885 - d. 26 Oct 1926)

Gunning, Laura Ann (b. 1885 - d. 8 Jun 1929)

Hayes, Anner J. (b. 30 Jan 1878 - d. 23 Jul 1969)

Hayes, Charlie (b. - d. 13 Jan 1963)

Hayes, Jennie (b. 1886 - d. 10 Mar 1969)

Jones, Lillie Whitaker (b. Dec 1882 - d. Jan 1964)

Jones, Mattie W. (b. 14 Jan 1873 - d. 1 Jan 1950)

McClain, Jennie McKoy (b. 6 Dec 1880 - d. 31 Jun 1955)

McCoy, Susie (b. 15 Dec 1890 - d. 3 Oct 1937)

McKoy, A. M. (Rev.) (b. 1876 - d. 1953)

McKoy, Allison (b. 30 Jan 1870 - d. 1 Apr 1930)

Morgan, Willie (b. 1905 - d. 1939)

Palmer, Alonzo (b. 19 Jul 1891 - d. 17 Jan 1966)
NC PFC Co B 346 Svc Btn QMC WWI

Turner, Narcissey B. (b. 1910 - d. 1959)

Whitaker, Annie L. (b. 27 May 1874 - d. 11 Apr 1961)

Whitaker, Judge D. (b. 25 Feb 1878 - d. 10 Aug 1957)

Whitaker, M. C. (b. 1868 - d. 6 Aug 1927)

Wilde, Lonnie (b. 3 Sep 1891 - d. 23 May 1967)

Wilder, Thomas (b. 26 Aug 1893 - d. 7 Feb 1959)

Williams, Moses (b. 1870 - d. 11 Mar 1929)

Williams, Walter (b. 3 Oct 1908 - d. 25 Dec 1965)
Web page updated 28 July 2016
Index of All Cemeteries
Alphabetical Index of All Burials
Previous Page