Index of All Cemeteries
Alphabetical Index of All Burials
Previous Page
Use the following to search across all the cemeteries listed.
Example: "Smith, Roger" (yes, use the quotes)
121 ST. MICHAEL'S EPISCOPAL CHURCH COLUMBARIUM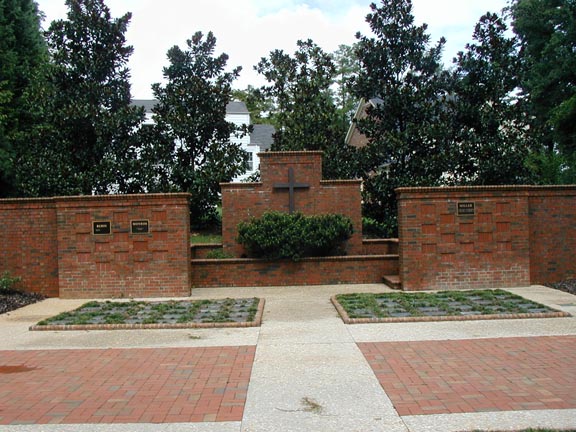 Location - 1520 Canterbury Rd., Raleigh, Wake County, NC 27608. From the Raleigh Beltline Exit # 4, take Wade Avenue (SR 1728) east and go 1.2 miles to a left turn (north) on to Canterbury Rd. Go .6 mile to St. Michaels on the right (east) side of the road. Drive in and park near the columbarium, which is on the left side of the property.

Coordinates: 35d 48m 35.4s N; 78d 40m 02.7s W Click here for Google maps

Surveyed by Shirley Olson on 22 September 2006.

The property contains a church and a school on 6.42 acres, with the columbarium located in a secluded and beautifully landscaped area featuring a garden-like setting with the inscribed stones set in grassy squares and surrounded by brick paths. Two brick walls are in the background and a wrought iron gate is in front. It is a peaceful and lovely place. A columbarium is a place for the respectful storage of cinerary urns (i.e. urns holding a deceased's cremated remains). The term comes from the Latin and originally referred to compartmentalized housing.


Albright, Frances Stanley (b. 12 Feb 1917 - d. 21 Feb 1984)
Armstrong, Thomas Frederick (b. 9 Feb 1919 - d. 6 Jan 2000)
Atkinson, Charlotte Houston (b. 12 Sep 1912 - d. 21 Mar 1988)
shares with Herbert Atkinson

Atkinson, Herbert Emerson (b. 20 Sep 1908 - d. 12 Dec 1995)

Beckwith, Elizabeth Graham (b. 23 Apr 1910 - d. 16 Feb 1983)

Bell, Virginia Ferguson (b. 22 Sep 1914 - d. 14 Dec 1988)

Benton, Fred (b. 5 Jul 1919 - d. 1 Oct 1988)

Benton, Pat (b. 19 Jan 1925 - d. 16 Apr 1983)

Burlingame, Clayton C. (b. 19 Feb 1894 - d. 28 Jul 1966)

Burlingame, Dorothy Caswell (b. 13 Jul 1987 - d. 26 Oct 1998)

Caldwell, Dorothy Patton (b. 31 Jan 1916 - d. 12 Jul 2004)
shares with Harry Caldwell

Caldwell, Harry Plummer (b. 12 Jun 1916 - d. )

Carter, Noel Ray (b. 14 May 1942 - d. 20 Nov 1994)

Chisena, Frederick Michael (b. 9 Jul 1916 - d. 4 Jul 2002)

Clos, John Pulver (b. 31 Jan 1924 - d. 21 Feb 1987)

Cockayne, Thelma "Bobbie" (b. 1 Dec 1904 - d. 5 Aug1992)
shares with William Cockayne

Cockayne, William "Bill" (b. 25 Jun 1907 - d. 23 May 1996)

Coleman, David James, Jr. (b. 23 Jul 1916 - d. 19 Nov 1987)

Conkling, Charles Wesley (b. 21 Feb 1924 - d. 15 Nov 1996)

Craner, Frank Taylor, Jr. (b. 6 Feb 1922 - d. 9 Oct 2000)

Crawley, Adelaide Winslow (b. 19 Mar 1918 - d. 14 Mar 2004)
shares with R. Oliver Crawley

Crawley, R. Oliver (b. 10 Nov 1915 - d. 5 Feb 1993)

Cummings, Thomas Walter (b. 5 Sep 1970 - d. 24 Jun 2002)

Davis, Evangeline M. (b. 25 Sep 1914 - d. 25 May 2004)

Davis/Sasko, Maybelle Stanfield (b. 22 Oct 1903 - d. 3 Sep 1989)

Dick, Theodore Arpad (b. 8 Feb 1914 - d. 11 Aug 1997)

Dickerson, Anna Rae (b. 5 Apr 1940 - d. 27 Mar 1992)

Disbrow, Candy Lynn (b. 5 Apr 1949 - d. 3 Aug 1997)

Dixon, James David (b. 2 Nov 1934 - d. 9 Feb 1983)

Dunham, Margaret C. (b. 3 Dec 1892 - d. 11 Mar 1991)

Durant, Jack Davis (b. 7 Sep 1930 - d. )

Durant, Judy Johnson (b. 18 Mar 1931 - d. 29 Dec 1991)

Eckhardt, Ruth Lillian (b. 8 Aug 1906 - d. 24 Dec 1989)

Elliott, Muriel Robinson (b. 6 Jun 1923 - d. 23 Jun 2003)
shares with Thomas Elliott

Elliott, Thomas William, Jr. (b. 30 Dec 1921 - d. 8 Jul 1993)

Farmer, Ann Sisk (b. 28 May 1918 - d. 7 Oct 1989)

Farmer, John Deaver (b. 23 Feb 1915 - d. 10 Jan 2002)

Fisher, Dolphus Taylor (b. 25 Jul 1916 - d. 29 Aug 1984)

Glascock, Helen Crowder (b. 3 Sep 1917 - d. 9 Apr 1975)

Goodwin, James Clivie (b. 2 Jul 1909 - d. 30 Sep 1987)

Grantham, Betty Parham (b. 9 Oct 1898 - d. 26 Jun 1982)

Hale, Edwin, Dr. (b. 2 Apr 1914 - d. 29 Jun 1999)
shares with Pattie Thornhill

Hayner, Ruth Esther (b. 2 Apr 1908 - d. 6 Dec 1982)
shares with Wray Ada Hayner

Hayner, Wray Ada (b. 17 Feb 1896 - d. 16 Jul 1982)

Henson, Carter Allen, Jr. (b. 8 May 1943 - d. 14 Jul 1983)

Hill, Robert Tomlinson (b. 13 Apr 1975 - d. 8 Aug 1990)

Howard, Jack T. (b. 3 Jun 1915 - d. 15 Nov 2003)

Howard, Mary Florence (b. 5 Oct 1913 - d. 1 Feb 2005)

Howsam, Peter Somerville (b. 10 Oct 1924 - d. 29 Oct 2001)
shares with Shirley Howsam

Howsam, Shirley Ruth (b. 31 Oct 1926 - d. 1 Sep 2005)

Hubbard, Blanche Cox (b. 10 Sep 1916 - d. 10 Feb 1985)

Hubbard, James Begg (b. 10 Feb 1915 - d. 14 Jan 1993)

Jacocks, Francis Atherton (b. 21 Mar 1908 - d. 13 Feb 2003)
shares with Helen Jaycocks

Jacocks, Helen Burnette (b. 4 Aug 1913 - d. 3 Mar 2002)

Johns, Ellen Calvert (b. 18 Jan 1924 - d. 26 Oct 2004)

Johns, Robert Eugene, III (b. 10 Oct 1949 - d. 31 Mar 1985)

Johnson, Selma Mason (b. 25 Jan 1919 - d. 19 Sep 2001)

Johnson, Troy Humphrey (b. 27 Oct 1913 - d. 26 Sep 1996)

Johnston, Elizabeth Banks (b. 13 Feb 1914 - d. 22 Aug 1997)
shares with William Johnston

Johnston, William P. (b. 2 Feb 1914 - d. 21 Mar 1993)

Keezell, Kathleen Pickett (b. 18 Dec 1923 - d. 7 Aug 1990)
shares with Walter Keezell

Keezell, Walter B., Jr. (b. 9 Dec 1924 - d. 1 Jul 2000)

Keravuori, Aito Juhani (b. 20 Feb 1939 - d. 23 Aug 1975)

Kernan, John Robinson (b. 17 Mar 1910 - d. 20 Feb 1974)
shares with Louise Kernan

Kernan, Louise Everson (b. 13 Aug 1910 - d. 18 Nov 2000)

Kindel, Emily Anderson (b. 2 Jun 1916 - d. 1 Feb 2000)
shares with William Kindel

Kindel, William Allen, Jr. (b. 15 Aug 1911 - d. 19 Sep 2002)

King, Renee Hinnant (b. 24 Feb 1947 - d. 28 Feb 1995)

Knight, Eugene S. (b. 21 Sep 1913 - d. 18 Dec 2003)
shares with Margaret Knight

Knight, Kenneth Thigpen (b. 27 Feb 1912 - d. 8 Jan 1998)

Knight, Margaret Smith (b. 16 Mar 1915 - d. 23 Dec 2004)

Knight, Thompson Scott (b. 2 Sep 1946 - d. 24 Feb 2002)

Lamb, Carroll, Jr. (b. 24 Oct 1911 - d. 15 Mar 1999)

Lightfoot, Evelyn Lyons (b. 25 May 1910 - d. 22 Dec 1995)

Lightfoot, Robert Mitchell, Jr. (b. 23 Jan 1910 - d. 26 Jan 1993)
shares with Evelyn Lightfoot

Lindsay, Penny (b. 22 Aug 1943 - d. 8 Apr 1989)

Logan, William Allan (b. 9 Sep 1922 - d. 15 May 1990)

Mann, Mary Jayne Hutchins (b. 13 Nov 1909 - d. 8 Dec 1985)

Manning, Allen Stancill (b. 17 Apr 1966 - d. 21 Feb 1995)

Manning, Henry Stancill, Jr. (b. 8 Jun 1938 - d. 24 Jan 2004)

Margeson, George L., III (b. 30 Mar 1920 - d. 7 Oct 1988)

Margeson, George L., Jr. (b. 25 Sep 1895 - d. 3 Mar 1935)

Martin, Paul Andrew (b. 18 Apr 1964 - d. 28 Mar 1977)

Martin, Shirley J. (b. 11 Jun 1936 - d. 29 Nov 1988)

Martin, Tom Elbert (b. 8 Jun 1916 - d. 29 Oct 1988)

Martin, Tommy, Jr. (b. 28 Dec 1961 - d. 3 Jan 1973)

Matthews, Ellinor C. (b. 1 Jun 1915 - d. 26 Dec 2003)
shares with W. Forrester Matthews

Matthews, W. Forrester, Jr. (b. 28 Aug 1913 - d. 7 Jun 1997)

Mercer, Charles Venable (b. 6 Jun 1930 - d. 17 Jul 1985)

Miller, Harry S. (b. 14 Mar 1925 - d. 30 Jun 1998)
shares with Lucile Miller

Miller, Herschel J. (b. 5 Oct 1911 - d. 16 Nov 1981)

Miller, Lucile Maury (b. 2 Apr 1927 - d. 26 Sep 2001)

Morgan, Edward Donald (b. 22 Apr 1920 - d. 29 Mar 1988)

Morse, Tamara Stultz (b. 25 Jul 1957 - d. 10 Sep 2001)

Morton, Hugh MacRae, Jr. (b. 24 Sep 1948 - d. 30 Jul 1996)

Moss, Arthur B. (b. 13 Jan 1922 - d. 18 Nov 1998)
shares with Margaret Moss

Moss, Margaret Parker (b. 27 Feb 1923 - d. 5 Jun 1985)

Musser, Betty Rogerson (b. 6 Jan 1920 - d. 17 May 1997)

Nicholson, Henry Gilliam (b. 2 Oct 1918 - d. 15 Oct 1997)

Olsen, Irene Wilson (b. 22 May 1917 - d. 13 Sep 1987)

Ong, John Nathan (b. 6 Feb 1891 - d. 11 Feb 1963)

Ong, Lucille Bristol (b. 20 Sep 1902 - d. 19 Apr 1974)

Otis, Duval H. (b. 19 Aug 1913 - d. 25 Nov 2000)

Otis, Harrison Gray (b. 11 Sep 1911 - d. 1 Jul 1991)

Otis, Lois Adeline (b. 6 Jan 1913 - d. 25 Feb 1984)

Phillips, Richard Morlan (b. 28 Mar 1949 - d. 13 Sep 1986)

Pratt, Stuart Graham (b. 18 Sep 1905 - d. 20 May 1988)

Ramsey, Walter Reeve, Jr. (b. 20 Sep 1910 - d. 12 Dec 1987)

Raymond, Dorothy Sibley (b. 9 Oct 1920 - d. 17 Sep 2005)
shares with Richard Raymond

Raymond, Richard Taylor (b. 13 Jan 1920 - d. 8 Dec 2002)

Reiff, Ellen K. (b. 21 Aug 1907 - d. 18 Apr 1983)

Rice, Harriett Willis (b. 15 Sep 1921 - d. 14 Dec 1988)

Rice, Philip Morrison (b. 9 Aug 1916 - d. 6 Jun 1993)

Richards, Edward Nelson (b. 5 Nov 1910 - d. 1 Feb 1987)

Richards, Helen Holden (b. 11 Jun 1914 - d. 14 Jan 1989)
shares with Edward Richards

Richards, Roger Edward (b. 13 Jan 1921 - d. 16 Oct 1988)

Rubin, Yanna Ascik (b. 12 Apr 1948 - d. 6 Sep 2005)

Rush, Christopher Shaw (b. 29 Jan 1985 - d. 4 Feb 1985)

Scott, Willard Edward (b. 16 Sep 1911 - d. 11 Sep 1989)

Sink, Henry Harrison, Sr. (b. 17 Jul 1918 - d. 20 Sep 1980)

Sink, Susan Dieterle (b. 27 Apr 1921 - d. 22 Jan 1993)

Slaughter, Robert L. (b. 18 Dec 1950 - d. 14 Oct 2004)

Smith, Doris Eyre Dodge (b. 11 Apr 1912 - d. 14 Jul 1993)

Smith, Gordon A "Chuck" (b. 30 May 1937 - d. 25 Sep 2002)

Smith, Margaret Darst (b. 8 Sep 1917 - d. 2 Jul 1988)

Smith, Mark Daniel (b. 11 Jan 1980 - d. 23 Feb 2004)

Smith, Mary L. Anderson (b. 23 May 1940 - d. )

Spurlin, William F., Jr. (b. 22 Aug 1923 - d. 7 Nov 1984)

Starritt, Helen Rogerson (b. 7 Jan 1925 - d. 15 Apr 1998)
Wife of Zack Benjamin Starritt

Starritt, Zack Benjamin (b. 9 Dec 1922 - d. 27 Mar 1986)
Husband of Helen Rogerson Starritt

Thompson, Sarah Bartlett (b. 28 Mar 1886 - d. 28 Nov 1973)

Thornhill, Pattie Marie S., M. D. (b. 2 May 1915 - d. 30 Mar 1995)

Tropman, Anna M. (b. 17 Jun 1914 - d. 15 Feb 1994)

Tropman, John R. (b. 3 Nov 1913 - d. 14 May 2006)

Underhill, Gary Madison (b. 20 Jan 1910 - d. 23 Jan 1985)
shares with Sarah Underhill

Underhill, Sarah Jane Reed (b. 22 May 1912 - d. 27 Jan 1989)

Utermohlen, Elizabeth Graves (b. 14 Feb 1918 - d. 12 Dec 1996)
shares with William Utermohlen

Utermohlen, Mark William (b. 7 Mar 1946 - d. 11 May 1989)

Utermohlen, William P., Jr. (b. 9 Mar 1916 - d. 14 Aug 1998)

Uzzell, Steve Carter Cecil (b. 5 Jun 1924 - d. 30 Jun 2001)

Wall, Roger I., M. D. (b. 29 Aug 1909 - d. 21 May 1980)

Weppler, Edna G. "Ted" (b. 20 May 1894 - d. 15 Sep 1977)

Wilcox, M. Burnet (b. 10 Dec 1915 - d. 25 Feb 2005)
shares with M. Louise Wilcox

Wilcox, M. Louise (b. 17 Dec 1920 - d. 20 Mar 2002)

Willett, Hilda Pope (b. 15 Jul 1923 - d. )
shares with Robert Willett

Willett, Robert Walter (b. 5 Jun 1925 - d. 24 Jun 2001)

Williams, Charles Thomas (b. 8 Jan 1924 - d. 27 Apr 1997)

Wilson, Nancy Barwick (b. 1 Aug 1921 - d. )
shares with Stewart Wilson

Wilson, Stewart Leigh (b. 16 Jan 1921 - d. 1 Feb 2003)

Wood, P. Earl, Jr. (b. 11 Jul 1926 - d. 7 Aug 1995)

Woodruff, Benjamin Watson (b. 27 Apr 1976 - d. 12 May 1996)

Wright, John N. (b. 21 Aug 1920 - d. 25 Jul 1997)

Wright, Norma Dodds (b. 5 Aug 1920 - d. 25 May 2003)

Yow, Ala Wilson (b. 4 Apr 1926 - d. 22 Dec 1995)

Yow, Elmer Carl, Jr. (b. 15 Jul 1923 - d. 25 Apr 2002)
Web page updated 28 July 2016
Index of All Cemeteries
Alphabetical Index of All Burials
Previous Page