Index of All Cemeteries
Alphabetical Index of All Burials
Previous Page
Use the following to search across all the cemeteries listed.
Example: "Smith, Roger" (yes, use the quotes)
076 MT. OLIVET BAPTIST CHURCH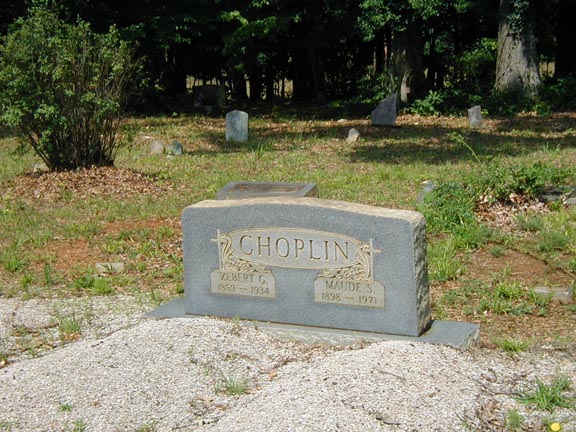 Location - 0 State Farm Rd., Raleigh, Meredith Twp., Wake Co., NC.

Coordinates: 35d 48m 55.0s N; 78d 43m 17.0s W Click here for Google maps

Surveyed by Shirley Olson on June 12, 2006. Another view of cemetery. Photos of cemetery by Shirley Olson in June 2006.

Directions: from the intersection of Blue Ridge Rd., (SR 1664) and Reedy Creek Rd., (SR 2400) at the traffic light in front of the NC State Museum of Art, turn NW on Reedy Creek Rd. Go exactly 1 mile on Reedy Creek Rd. You will cross Edwards Mill Rd., (SR 2300) at 0.6 mile, and continue on Reedy Creek Rd. which is a gravel road after you cross Edward's Mill Rd. Take a left turn on to State Farm Rd., a dirt road, no SR number, and go 0.1 mile to the cemetery on your right. Behind the cemetery is state property, with a sign "Schenk Forest".

Park on the side of the road and enter through a gate. This is a pleasant small cemetery, tidy and cared for. There is room for more burials. Located near the burgeoning growth around the RBC Center, (home to the NHL Hurricanes), it is surprisingly untouched and surrounded by green rolling fields. Originally a log cabin church stood next to the cemetery, long since moved and now, no longer a small log cabin church, Mt. Olivet Church is located at 3500 Edward's Mill Rd., about 5 miles away. The cemetery belongs to the church and contains about 0.5 acre.

My thanks to Beth Medlin and her Grandma, Ms. Louise Hicks, for their kind assistance.

Unreadable FH marker next to Ella Maynard
Five unmarked field stones grouped
Unmarked grave behind Walter Jackson Emry
Two unmarked field stones next to Percy Fry
A grave marked with a field stone behind Betty Blake
Two broken unreadable headstones
Grave marked with a field stone behind Oscar Maynard, in front of a tree
A large plot marked out with cement blocks contains 4-5 unmarked field stones next to David Dean.


Blake, Betty Ella (b. 1 Jan 1879 - d. 24 Oct 1935)
Choplin, Maude S. (b. 1898 - d. 1971)
Choplin, Nancy B. B. (b. 29 Feb 1864 - d. 3 May 1933)

Choplin, Ransom (b. 8 Dec 1858 - d. 8 Oct 1936)

Choplin, Zebert G. (b. 1889 - d. 1934)

Cooper, Andrew J. (b. 22 Jan 1878 - d. 23 Aug 1936)

Cooper, Jerusha Bishop (b. 13 Mar 1888 - d. 23 Jul 1953)

Cooper, Jessie Edwin (b. Sep 1929 - d. Dec 1929)

Cooper, William Caleb (b. Jan 1916 - d. Jul 1960)

Dean, David Lee (b. 1928 - d. 1969)

Edgar, Thomas (b. 11 Feb 1876 - d. 9 Mar 1970)

Emory, W. F. (b. 9 Aug 1846 - d. 5 May 1916)

Emry, Walter Jackson (b. - d. 8 Jan 1903)
Aged 29 yrs., 11 ms., 3 ds.

Fry, Percy A. (b. 28 Sep 1913 - d. 18 Jan 1914)
son of L. H. and Reada Fry

Hicks, Charles Earl (b. 20 Sep 1947 - d. 4 Jun 1981)

Hicks, Charles Franklin (b. 3 Oct 1916 - d. 27 Nov 1992)

Hicks, Clara Collins (b. 16 Feb 1887 - d. 9 Jun 1965)

Hicks, Jesse Mae (b. 28 Jul 1925 - d. )
shared with Charles Franklin Hicks

Hicks, LeRoy, Sr. (b. 12 Mar 1872 - d. 7 Jan 1943)

Hicks, Selma K. (b. 5 Dec 1923 - d. 23 Apr 1931)
daughter of LeRoy and Clara Hicks

Jackson, Charles Henry (b. 1847 - d. 1908)

Jackson, Sarah A. R. (b. 1876 - d. 1955)

Jackson, Winney Ann (b. 1844 - d. 1926)

Jessup, Henry W. (b. 28 May 1916 - d. 7 Aug 1937)

Liggins, Margie Ann (b. 14 Feb 1962 - d. 17 May 1985)

Maynard, Alvis (b. 1905 - d. 1934)

Maynard, Ella Foy (b. 8 Jul 1907 - d. 7 Jun 1998)

Maynard, Ida (b. 1873 - d. 1950)

Maynard, James Carl (b. 24 Mar 1898 - d. 8 May 1972)

Maynard, James David (b. 1866 - d. 1930)

Maynard, Oscar (b. 20 Aug 1870 - d. 2 Sep 1899)

McMahan, Philip Ray (b. 6 Jun 1931 - d. 13 Jun 1931)
son of K. G. and Mary Hicks McMahan

Patterson, Jessie Lee (b. - d. 27 Nov 1984)

Truelove, Leonard P. (b. 19 Mar 1881 - d. 27 Nov 1948)

Truelove, Lonnie Jack (b. 8 Sep 1922 - d. 23 Dec 1947)

Truelove, Unnie F. (b. 14 Mar 1888 - d. 27 Jan 1930)
Web page updated 28 July 2016
Index of All Cemeteries
Alphabetical Index of All Burials
Previous Page