Index of All Cemeteries
Alphabetical Index of All Burials
Previous Page
Use the following to search across all the cemeteries listed.
Example: "Smith, Roger" (yes, use the quotes)
070 GREENLAWN MEMORIAL GARDENS &nbsp- &nbsp Surname starts with A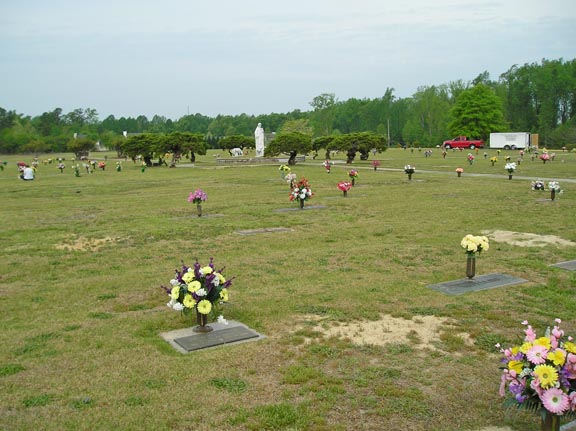 Location - 1621-23 N. Broad St. (Hwy. # 55), Fuquay Varina, Middle Creek Twp., Wake County, NC.

Coordinates: 35d 36m 22.0s N; 78d 48m 22.0s W Click here for Google maps

Surveyed by Shirley Olson on June 4, 2006.

The cemetery is located on Hwy. # 55, diagonally across the road from the intersection of Hwy. 55 and James Slaughter Rd. (SR 1399) in Fuquay Varina.

This is a commercial cemetery with plenty of room for new burials. It is neat and well cared for, with room to park . There is a loop road through the cemetery. There are in-ground tablets and no headstones. Another view of cemetery.

Wake County records show the Property Owner as "Greenlawn Memorial Gardens Inc." and the property Description as "Blanchard Plus Cemetery", consisting of 2 parcels containing a little over 14 acres.


Abernathy, Betty Wells (b. 1933 - d. )
shared with Cecil Abernathy

Abernathy, Cecil Cade (b. 1933 - d. 1985)

Abernathy, Frances Marie (b. 12 Sep 1924 - d. 6 Feb 1996)

Abernathy, Peggy Miller (b. 1922 - d. 2004)
shared with Preston Abernathy

Abernathy, Preston Lanier (b. 1927 - d. 2004)

Adams, Blannie Medlin (b. 14 Apr 1914 - d. 30 Jul 1998)
shared with Charlie Adams

Adams, Charlie B. (b. 22 May 1879 - d. 31 Dec 1975)

Adams, Daisy P. (b. 30 Sep 1906 - d. 4 Dec 1987)

Adams, Eveline Stephens (b. 28 Nov 1921 - d. 21 Mar 2001)

Adams, Hazel Tilley (b. 1918 - d. )

Adams, James C. (b. 13 Aug 1900 - d. 20 Dec 1974)

Adams, James David (b. 1917 - d. 2001)

Adams, Martha Smith (b. 21 Feb 1928 - d. )
shared with Winstead Adams

Adams, Shockley Colon (b. 1 Mar 1918 - d. 23 Jun 1991)
shared with Eveline Adams

Adams, Winstead Dwight (b. 3 Mar 1925 - d. 8 Dec 1994)

Adcock, Clara Matthews (b. 22 Apr 1904 - d. 13 Jul 1971)
Eastern Star, shared with John Adcock

Adcock, George W., Jr., Dr. (b. 15 Dec 1919 - d. 4 May 2001)

Adcock, Inez M. (b. 1916 - d. )

Adcock, John Calvin (b. 20 Mar 1899 - d. 2 Sep 1985)

Adcock, John Wallace (b. 20 aug 1905 - d. 18 Nov 1991)

Adcock, Margaret Patton (b. 18 Jan 1922 - d. 6 Jun 2004)

Adcock, Tildon M. (b. 1906 - d. 1981)

Aiken, Jamie L. (b. 28 Aug 1926 - d. 25 Jul 2003)

Akins, Annie Adams (b. 1891 - d. 1985)

Akins, Herbert Sherrill (b. 7 Oct 1925 - d. 10 Sep 1966)

Akins, James Herbert (b. 1889 - d. 1965)

Akins, Waverly Francis (b. 28 Sep 1932 - d. 19 Nov 1997)

Alexander, Joseph B. (b. 16 Aug 1921 - d. 16 Apr 1972)

Alexander, Pauline P. (b. 6 Aug 1924 - d. 9 Feb 1983)
shared with Joseph Alexander

Allen, Doris Knott (b. 1 Jul 1919 - d. 8 Apr 1991)

Allen, Elizabeth B. (b. 31 May 1928 - d. ?)

Allen, James Clyde (b. 21 Feb 1917 - d. 11 Mar 2004)

Allen, Janet Overby (b. 21 Dec 1937 - d. 17 Sep 1992)

Allen, Keith D. (b. 28 Oct 1956 - d. 9 Aug 1991)

Allen, Thomas R. (b. 1930 - d. 1974)

Anderson, Jerry Lee (b. 16 Mar 1949 - d. 8 Apr 1995)

Anderson, John Augustus (b. 13 Aug 1933 - d. 3 May 1994)
shared with Rilla Anderson

Anderson, Larry Wayne (b. 24 Jun 1951 - d. 21 Sep 1991)

Anderson, Luther J. (b. 31 Mar 1907 - d. 14 Feb 1978)

Anderson, Maggie McGee (b. 3 May 1912 - d. 5 Sep 1999)
shared with Luther Anderson

Anderson, Rilla Mae Ellis (b. 23 Dec 1925 - d. )

Anderson, Sybil Grady (b. 29 Jul 1953 - d. )
shared with Larry Anderson

Arbushitis, Bernice Rhodes (b. 1927 - d. 2000)

Arbushitis, Joseph Michael (b. 1921 - d. )
shared with Bernice Arbushitis

Arnold, Alma Knight (b. 10 Jul 1918 - d. 3 Apr 2003)

Arnold, Amy Anne (b. - d. 10 Nov 1971)
Inf. daughter of Melvin and Frances Arnold

Arnold, Benjamin Earl (b. 7 Dec 1957 - d. 10 Sep 1986)

Arnold, Carolyn Knott (b. 5 Sep 1940 - d. )

Arnold, Halford (b. 17 Sep 1909 - d. 26 Oct 1964)

Arnold, J. Relue (b. 24 Jun 1908 - d. 27 May 1994)
shared with Roselle Arnold

Arnold, James Hoyt (b. 8 Oct 1931 - d. 29 Mar 1990)

Arnold, John C. (b. 8 May 1893 - d. 23 Mar 1970)

Arnold, Nettie M. (b. 14 Feb 1903 - d. 19 Apr 1967)

Arnold, Roselle L. (b. 29 Jan 1910 - d. 10 Sep 1996)

Arnold, Ruby B. (b. 15 Sep 1915 - d. 26 Dec 1993)

Arrington, Edna Oakley (b. 1927 - d. 1991)

Arrington, Emmie O. (b. 10 Jan 1911 - d. 9 Oct 1999)

Arrington, George Nelson (b. 1925 - d. 2000)
shared with Edna Arrington

Arrington, John C. (b. 11 Apr 1911 - d. 10 Apr 1975)
shared with Emmie Arrington

Ashley, Alline Underwood (b. 1920 - d. 1992)

Ashley, Otha Hughes (b. 1918 - d. 1987)

Ashworth, Charles T. (b. 7 Aug 1930 - d. 22 Feb 2000)

Ashworth, Charlie C. (b. 7 May 1909 - d. 22 Dec 1975)
shared with Esther Ashworth

Ashworth, Esther Mills (b. 27 May 1914 - d. 13 Nov 1989)

Ashworth, Ethel C. (b. 1928 - d. 1992)
shared with James Ashworth

Ashworth, James A. (b. 1923 - d. )

Ashworth, Jane Beasley (b. 9 Jun 1925 - d. 11 Oct 2001)
shared with W. D. Ashworth

Ashworth, Lawrence R. (b. 1953 - d. 2000)

Ashworth, W. D., "Skinny" (b. 6 Jul 1922 - d. )

Atkins, Betty Brown (b. 13 Jul 1937 - d. 28 Aug 1978)

Atkins, William H. "Bill" (b. 3 May 1939 - d. 13 Jan 2001)

Ausley, Bobby L. (b. 1933 - d. )
shared with Geneva Ausley

Ausley, Geneva S. (b. 1924 - d. )

Ausley, I. Wally (b. 1928 - d. )

Ausley, Irvin A. (b. 1904 - d. 1990)
shared with Lessie Ausley

Ausley, Lessie L. (b. 1908 - d. 1981)

Ausley, Norma Thebault (b. 1931 - d. 1987)

Austin, Allen Sylvester (b. 5 Jul 1887 - d. 24 Jul 1979)

Austin, Doris Lee (b. 3 Nov 1928 - d. )

Austin, Edith Vaughan (b. 10 Jan 1930 - d. )

Austin, James Wallace (b. 16 May 1926 - d. 11 Apr 1998)

Austin, Mattie Ashworth (b. 25 Jul 1905 - d. 8 Sep 1969)

Austin, Nancy Holt (b. 12 Jul 1885 - d. 1 Dec 1978)

Austin, Norman D. (b. 30 Aug 1898 - d. 24 Dec 1965)
shared with Mattie Austin

Averette, Estelle Oglesby (b. - d. )
no dates, shared with Harry Averette

Averette, Harry Hartwell (b. 1924 - d. 1994)

Avery, Gerald L. (b. 1937 - d. 1996)
Web page updated 28 July 2016
Index of All Cemeteries
Alphabetical Index of All Burials
Previous Page